Vapers Digest 8th October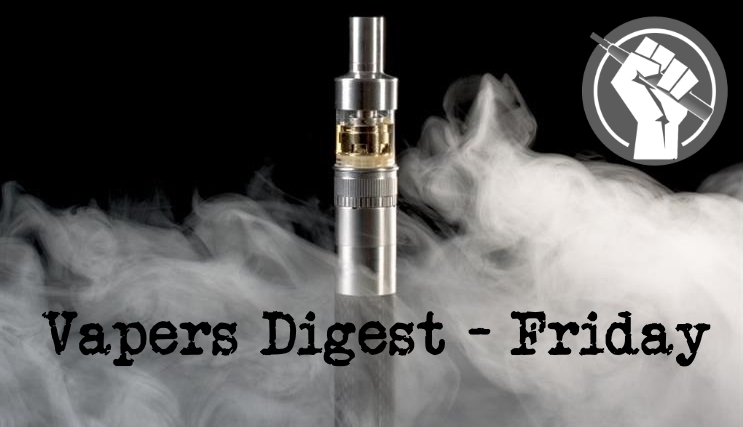 Friday's News at a glance:
Smoke and Mirrors: Orwellian Echoes of 1984 – CDC Releases 2020 Adult Smoking & Vaping Data – Respecting the Agency of Smokers: – Calling on doctors to support the opportunity of vaping for the fight against cancer – FDA Warns 20 Vape Companies – Cabinet Minister Wants to Reverse Thailand's Vaping Ban – Huge Pinoy Support For Vaping – New Misinformation Research Released – The EU's Tobacco Tax Directive – USA Youth Vaping Falls Again – Proposed Michigan Flavor Restrictions – New California Vape Taxes – Federal Health Agencies Confused About Statistics – Bloomberg's Anti-Vaping Policies are Exploitative and Wrong – Survey Proves Indian Vaping Ban A Total Failure – Public Health Ignores Declining Youth Vaping Rates – Nicotine Science and Policy Daily Digest
Orwellian Echoes of 1984 – INNCO
Liquid is smoke. Products that do not contain tobacco are tobacco products. If these statements have a familiar ring, it is because you may remember reading George Orwell's Nineteen Eighty-Four… or at least heard about it. In Orwell's dystopian future, 1984, the totalitarian government of Oceania promotes "Doublespeak" as a means of thought control.

Doublespeak was a way to communicate Doublethink which, according to Orwell, is "to know and not to know, to be conscious of complete truthfulness while telling carefully constructed lies, to hold simultaneously two opinions which cancelled out…, to use logic against logic, to repudiate morality while laying claim to it…" The most well-known examples of Doublespeak include "War is Peace" and "Freedom is Slavery."
Brad Rodu, Tobacco Truth
The Centers for Disease Control and Prevention has released data from the 2020 National Health Interview Survey (NHIS).

The prevalence of current smoking was 12.4%; that's 30.7 million.  Twenty-two percent of Americans were former smokers, the same as the year before.

Prevalence of current vaping declined to 3.7% from 4.3% in 2019.  That translates to about 9.13 million American adult vapers in 2020.

The 9.13 million current adult vapers includes 2.44 million who are also current smokers.  Think about this: If America's public health leaders abandoned their war on vaping and instead adopted their British counterparts' practice acknowledging that it's vastly safer, those smokers might walk away from the fire. That would result in a one-year smoking decline of 8%.
---

---
The Liberalism of Harms Reduction and the Illiberalism of Prohibitionism
Jacob Grier, LiberalCurrents
Two years ago, I published my book The Rediscovery of Tobacco, in which I made a case for taking a liberal approach to tobacco regulation with an emphasis on encouraging harm reduction. The timing coincided with a low point for the cause in the United States. A deadly outbreak of lung injuries caused by dangerous additives in mostly illicit cannabis cartridges had been falsely blamed on nicotine vaping. State and local governments responded by banning vapor products, the Food and Drug Administration ordered many flavored products off the market, and police went store-to-store enforcing emergency rules. In one state, people possessing newly illegal e-cigarettes could have been penalized with up to six months in prison.
The opportunity of vaping for the fight against cancer – SOVAPE
Appel aux pouvoirs publics et aux autorités sanitaires : le vapotage est une opportunité qu'il faut intégrer dans les plans de lutte contre le cancer, pour mieux combattre le tabagisme, premier facteur de risque.

On le sait : ne pas fumer permet d'éviter de nombreux cancers. Arrêter de fumer diminue très fortement les risques de contracter un cancer au fil des années. Si un cancer est déclaré, cesser de fumer améliore l'efficacité des traitements et prolonge l'espérance de vie.

La nicotine de substitution est un traitement validé qui facilite l'arrêt en réduisant la difficulté du sevrage. La nicotine ne provoque pas de cancers. Le vapotage permet lui aussi de se substituer avec une nicotine débarrassée des toxiques résultant uniquement de la combustion, responsables des pathologies du tabagisme.
---
A common misperception is that the tobacco industry is driving the growth of #vaping. Look at these graphs and note that the rise in vaping is *harming* tobacco industry profits, because it is displacing smoking. Anti-vaping propaganda protects the cigarette trade https://t.co/8GJhMMNNX0

— Louise (@grannylouisa) October 8, 2021
Bloomberg funded group tweets an article in Bloomberg media about a study from Bloomberg school of public health…

h/t @Dale___Roberts https://t.co/2XsKBbutZm

— Jukka Kelovuori (@jkelovuori) October 7, 2021
---
For Selling MDO Products – Jim McDonald
The FDA announced today it has issued warning letters to 20 companies the agency says have continued to sell products that should have been removed from the market. The products were submitted to the agency for premarket review and rejected with Marketing Denial Orders (MDOs).

The FDA has so far issued MDOs to 323 vaping manufacturers, mostly for products in flavors other than tobacco and menthol. The FDA announced on Aug. 26 that flavored vaping products would not be considered for authorization unless manufacturers could show "sufficient product-specific scientific evidence to demonstrate enough of a benefit to adult smokers that would overcome the risk posed to youth."
Thailand's Vaping Ban – Jim McDonald
Thailand is known for its ban on vape product sales—and its harsh, drug war-style enforcement of the ban. But one Thai cabinet minister has decided to swim against the tide and support legalization of e-cigarettes.

Chaiwut Thanakamanusorn, the Minister of Digital Economy and Society, told the Bangkok Post this week that he is looking at ways to make vaping available in the country as an alternative to smoking. Thanakamanusorn says there are at least 10 million smokers in Thailand who could benefit.

Five from Dave Cross, Planet of the Vapes:
A survey conducted by ACORN Marketing & Research Consultants has shown huge public support for tobacco harm reduction and vaping. "The Philippine Senate will be on the right side of the people when it approves the most progressive vaping legislation in Asia Pacific," says Nancy Loucas, Executive Coordinator of the Coalition of Asia Pacific Tobacco Harm Reduction Advocates (CAPHRA).

The survey, 'A Survey of Attitudes Among Adult Tobacco & Nicotine Users in the Philippines', was commissioned by consumer advocacy group, Vapers PH. Results confirm wide public support for a tobacco harm reduction approach, using less harmful alternatives to combustible cigarettes such as e-cigarettes, HTPs and other smoke-free products.
New international research conducted by independent research firm Povaddo reveals that while the harms of smoking are nearly universally known, too many smokers remain unaware that better alternatives exist, they can't access them, or they are confused by false or misleading information that prevents them from making an informed choice.

#The study was commissioned by Philip Morris International (PMI) and discovered that despite the growing societal support for smoke-free alternatives to cigarettes that are scientifically substantiated to be better than continued smoking, misinformation poses a real threat to progress toward a smoke-free future.
A summary report of the contributions to the Tobacco Tax Directive consultation has been published online. Most of the consultation related to smoking tobacco but there was a section that dealt with the harmonisation of taxation for novel "tobacco products" such as vape products and e-liquid.

Back in June, the European Tobacco Harm Reduction Associates (ETHRA) called for both a zero minimum and a maximum tax rate in its submission to the public consultation
Partial results released by the Centers for Disease Control and Prevention (CDC) and the Food and Drug Administration (FDA) show that teen vaping in the United States has fallen for the second consecutive year (1). Despite never showing any significant vaping uptake in non-smoking teens, the USA has persisted with its war on tobacco harm reduction in the name of 'saving children'.

The American Vaping Association (AVA) says: "The new data shows that youth vaping fell by over 40% compared to 2020. Among high schoolers and middle school students, vaping fell from 19.6% and 4.7% to 11.3% and 2.8%, respectively.
Adam Afriyie asked about smokeless tobacco product evidence. Daisy Cooper was interested in medicinal licensing. Mark Pawsey asked questions relating to the World Health Organization, David Jones enquired about regulatory categories, Jim Shannon returned to teens and negative impacts of vaping, while Mark Jenkinson focussed on the Tobacco Control Plan for England.

Windsor's Adam Afriyie asked the Secretary of State for Health and Social Care if there will be a comparative assessment of the scientific evidence on the impact on health of the use of smokeless tobacco products like snus compared to smoking as part of the Tobacco and Related Products review.
---

---
Will Put the Squeeze on Synthetic Nicotine – Alex Norcia
On October 4, Governor Gavin Newsom approved a 12.5 percent excise tax on vaping products in California.

The bill, authored by Democratic State Senator Anna Caballero, intends to tax vaping products at a rate closer to cigarettes and, runs the theory, consequently discourage youth vaping. According to The Los Angeles Times, it's projected that the tax will yield $38.4 million in revenue by 2023, "with money to be split among several programs, including early childhood education, public health education and grants to students from disadvantaged communities pursuing an education in the health field."
All About Protecting Tobacco Money – Madeline Peltzer
Supporters of a rule proposed by the Michigan Department of Health and Human Services would restrict some vaping products popular with young people. It is proposed in the name of public health, but some in the vaping industry say that's not the real agenda, and the proposal would not do what it promises.

The potential regulation, labeled "Protection of Youth from Nicotine Product Addiction," is said to discourage youth from vaping by outlawing vape flavors they might find appealing. The draft rule would prohibit the sale or distribution of flavored nicotine vapor products in the state, regardless of the buyer's age.
About Statistics, Policymakers Should Pay More Attention
 Lindsey Stroud
Another year and another round of alarmism surrounding the so-called youth vaping epidemic. The Centers for Disease Control and Prevention (CDC) recently published the results from the 2021 National Youth Tobacco Survey (NYTS) and despite the great news that vaping rates among youth have significantly decreased, both the CDC and U.S. Food and Drug Administration (FDA) are using the opportunity to further mislead and poison the discussion about tobacco harm reduction.

According to the NYTS, in 2021 only 11.3 percent of high school students and 4.7 percent of middle school students reported current e-cigarette use – or having used an e-cigarette on at least one occasion in the 30 days prior to the survey.

Are Exploitative and Wrong – Alys Watson Brown
Plastered with eye-catching slogans and stirring photographs of young activists, ex-New York mayor and billionaire Michael Bloomberg's "Campaign for Tobacco-Free Kids" (CTFK) website boasts a virtuous protection scheme for future generations of poorer countries by promising to "Advance Health Equity and Save Lives." The campaign seems to want to make everything in the world better, praising itself for "taking on the toughest fights." Surely this is enough to touch the heart of even the most cynical among us.

Yet, Bloomberg's campaign appears to be behind the push from unaccountable global forces to ban e-cigarettes — the proven, safer alternative to smoking. This movement is a direct attack on public health and will achieve little in reducing tobacco-related deaths.
About the US FDA's thinking on tobacco – Barnaby Page
While some of the biggest questions surrounding the US Food and Drug Administration (FDA)'s evaluation of e-cigarettes – in particular, the fate of major players like Juul and British American Tobacco (BAT) in the premarket tobacco product application (PMTA) process – remain opaque, light has been dawning on some truths long suspected.

Three things seem clear now:
CAPHRA
"This is the most significant independent survey we've seen coming out of India since its 2019 vaping ban. It shows an overwhelming call for the Government to lift the ban and regulate access to safer nicotine products," says Nancy Loucas, Executive Coordinator of the Coalition of Asia Pacific Tobacco Harm Reduction Advocates (CAPHRA).

Her comments follow the release of a 'Survey of Current & Former Smoke-Free Product Users: India' conducted by Povaddo – a firm specializing in global public opinion research. The survey was commissioned by consumer advocacy group, Fact Asia.
Public Health Ignores Declining Youth Vaping Rates | RegWatch
---
A look back at how things have moved on or otherwise….
Brent Stafford, RegWatch
In this episode of RegWatch we are joined by Dr. Derek Yach, President of the Foundation for a Smoke-Free World to discuss the results of the Tobacco Transformation Index and how this first-of-its-kind measure could help large institutional investors pressure tobacco companies into taking substantial action to mitigate the world's smoking burden.
thatgotmethinkingblog
The Irish Heart Foundation is calling on the government to implement a tax on e cigarettes of 6c per mil in the forthcoming budget.

That's a 10% increase on average on a bottle of juice.

The New Nicotine Alliance Ireland is appalled at this call to increase the cost of quitting smoking. Given the reason for this is "e-cigarettes must be priced out of the purchasing reach of children and adolescents, but remain affordable for adults who are using them as a smoking cessation device."
Cate McCurry, PA, Belfast Telegraph
The Government is facing calls to introduce a new tax on e-cigarettes in next week's Budget and to raise the cost of 20 cigarettes to 20 euro by 2025.

The Irish Heart Foundation is urging the Government to introduce an excise tax of 6c per millilitre of e-cigarette liquid – which would add in the region of 10-25% to the price of e-cigarettes.
---
Visit Nicotine Science & Policy for more News from around the World

---