Vapers Digest 6th October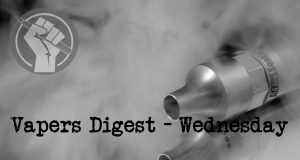 Wednesday's News at a glance:
A More Integrated Approach to Harm Reduction ~ Consumer-Centric Tobacco Harm Reduction Needed ~ How Can We Integrate Nicotine Into Harm Reduction Programs? ~ More Vape Manufacturers Challenge PMTA Denials ~ UKVIA's Stoptober App ~ Stoptober Is Back ~ INNCO Calls For Impact Studies ~ EU Asked to Scrutinize Lithuania's Flavor Ban ~ Red Tape Around The Aussie Vape ~ Biden Promised To Follow the Science; So, Why Isn't He Doing So on Vaping?
Stacey McKenna, Mazen Saleh, RStreet
Tobacco harm reduction is one of the more effective tobacco control measures, especially when compared to methods such as bans and tax hikes, and is increasingly popular. It is also a measure that the tobacco industry contributes positively to in the form of innovative, reduced-risk next generation products providing safer alternatives to combustible cigarettes.

While the industry invests in the r&d that enables it to deliver these innovative products, focusing on reducing harm to people's health from smoking and answering growing consumer demand for such products, its motives in doing so continue to be questioned by the public health and anti-smoking sectors.
---
Kevin Garcia, Filter Magazine
---
Jim McDonald, Vaping 360
Oct. 5 update
Another manufacturer, Bad Modder Fogger LLC (which does business as BMF Labs), has filed a petition in federal court challenging the FDA's Sept. 8 denial of its flavored e-liquid. The company, best known for its MRKT PLCE E-Liquid, filed in the 4th Circuit Court of Appeals in Virginia on Oct. 4. BMF Labs is a member of the American Vapor Manufacturers Association (AVM).
---

---
THREE from Dave Cross, Planet of the Vapes
The UK Vaping Industry Association (UKVIA), the largest trade body representing the vaping sector in the UK, has joined forces with the world's most successful stop smoking app, Smoke Free, to encourage more smokers to completely give up their habit by using a range of evidence-based alternatives to conventional cigarettes.
It's October, which means it's time for the Public Health England (PHE) and NHS Stoptober campaign where smokers are encouraged to quit or switch to vaping. Stoptober is an annual event that PHE claims has helped 2.3 million smokers to quit over the ten years it has been running.
The International Network of Nicotine Consumer Organisations (INNCO) calls on local governments to conduct health impact studies on proposed flavour bans as research analysis finds anti-vaping arguments counterproductive to reducing harm caused by smoking.
---
Tobacco Reporter
The Independent European Vape Alliance (IEVA) has called on the European Commission to scrutinize Lithuania's plan to ban all vapor flavors except tobacco.

Lithuanian lawmakers want to amend the country's tobacco control laws to reduce the attractiveness and demand for e-cigarettes and. The legislators say they are worried about the growing popularity of vaping, especially among young consumers.
---

---
Dave Morris, Inside Sources
On September 11, 2019, then-President Donald Trump announced that due to vaping-related lung injuries, his administration would be banning flavored nicotine vaping products. The ban was announced despite the fact that it had already been proven that these lung injuries were being caused by black market marijuana vape products that contained vitamin E acetate. This ban was announced despite the abundance of evidence to the contrary of their stated reasoning.
---
To Stop Vaping Being Used As A Tool Of Coercion?
Dick Puddlecote
For years, many smokers have expressed concern about e-cigs to me. They are obviously quite happy for others to exercise their choice to vape, but they are worried that e-cigs – if accepted by the authorities – will be used as a tool to bully them into quitting smoking. I have always said that these fears are far-fetched, and I certainly would never agree with the idea of any organisation being so crass.
Mawsley, Planet of the Vapes
Last week, we broke the news that the 2017 Stoptober campaign will feature television adverts suggesting vaping as a quit method – for the very first time. It has provoked consternation in certain circles and calls for e-cigarette users to be told there is "little evidence of benefits or harms".
The documented success of vaping has helped to break previous quit smoking record. A University College London report details that 20% of those who attempt to quit managed to succeed, in the first half of this year. Previous averages hung around the 15% mark.
---
Visit Nicotine Science & Policy for more News from around the World

---