Vapers Digest 1st October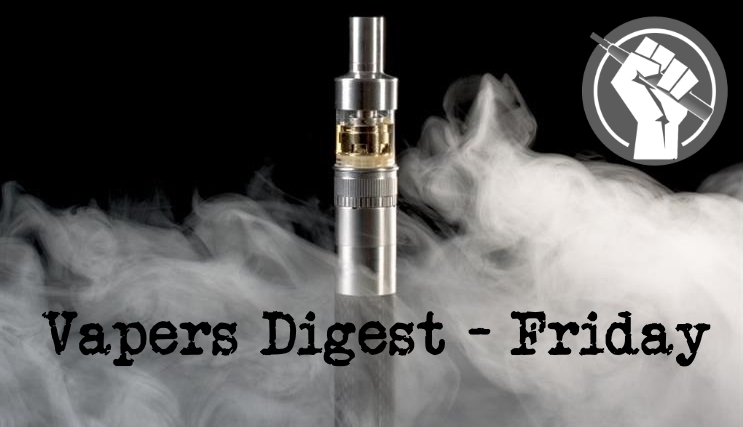 Friday's News at a glance:
ETHRA September news roundup – Combat addiction with harm reduction, not prohibition – CDC Says Youth Vaping Dropped – Teen Vaping Fell by Over 40% in 2021 – Youth Vaping Rates Decline Steeply in the US – U.S. Trade Agency Orders IQOS Off the U.S. Market – WHO's Manipulation Caught Out – WHO Should Adopt UK Ecig Approach – Trading Standards Hunt Illegal Disposables – WHO Releases New Report – The Great De-Vape – Freedom of choice has been cancelled and will cost lives – Buying Nicotine in Australia Is About to Get Even Harder – Australia makes smoking so much easier – Advocates and Prohibitionists Temporarily Unite – Experts Urge Authorities To Embrace THR – San Jose Prohibits Flavored Vape and Tobacco Products – SA tobacco bill clouds the issues – A safer alternative for 1.3 billion people – Missing the mark on e-cigarettes – Nicotine Science and Policy Daily Digest
ETHRA
ETHRA's monthly roundup of news: Tobacco tax consultation summary report & data published – BECA draft report receives pro-THR amendments – New WHO report, same prohibitionist recommendations – France support for THR – NNA UK call to action – ETHRA announces new partner – Country updates. Read on for more.
Not prohibition – Dr. Michael Madden
The Prohibition-era of the 1920s and early '30s and the War on Drugs of the last 50 years show that outright prohibitions and bans on alcohol and drugs of all kinds fail to curtail use of the banned substance. Despite this historical evidence, many modern advocates are attempting to ban nicotine and tobacco products from sale and use – ostensibly to "save the children" from nicotine addiction. However, former leaders of the nation's leading scientific organization dedicated to the study of nicotine and tobacco are attempting to remind us of history's lessons: bans don't work, but a measured, evidenced-based, harm-reduction strategy will.
---

---
More Than 40% in 2021 – Jim McDonald
Preliminary results from the 2021 National Youth Tobacco Survey show a massive decline in youth vaping since 2020. The percentage of high school students reporting vaping in the past 30 days has only been this low one other year since 2013. The data were in a report published today by scientists from the CDC and FDA.

High school past-30 day vaping fell from 19.6 percent in 2020 to just 11.3 percent this year—a 42.3 percent decline. That's on top of last year's results, which represented a 28.7 percent decline over 2019's high school past-30 day result.
Greg Conley, AVA
Today, the Centers for Disease Control and Prevention and the Food and Drug Administration released partial results from the 2021 National Youth Tobacco Survey (NYTS). The new data shows that youth vaping fell by over 40% compared to 2020. Among high schoolers and middle school students, vaping fell from 19.6% and 4.7% to 11.3% and 2.8%, respectively.

This news comes after a tumultuous month for the vaping industry and its adult consumers. The FDA has banned over one million vaping products sold by small- and- medium-sized manufacturers from across America.
---
---
Alex Norcia
On September 30, the Centers for Disease Control and Prevention (CDC) and the Food and Drug Administration (FDA) released new, long-awaited data on youth vaping rates in the United States.

Although the agencies note that remote learning might have affected students' access to nicotine products, and discourage comparisons to years prior, there was a dramatic decrease. The rate of current use fell from 19.6 percent (per last year's figures) to 11.3 percent among high schoolers; and from 4.7 percent to 2.8 percent of middle schoolers. ("Current" e-cigarette use is defined as using at least once in the past 30 days.)
Jim McDonald
The U.S. International Trade Commission (ITC) has found that Philip Morris International's IQOS heated tobacco product violates British American Tobacco patents, and therefore imports of the device to the United States are illegal. The ban will take effect in 60 days.

The ruling, which affirmed a preliminary decision from earlier this year, applies to imported devices sold within the U.S. The Biden administration's U.S. Trade Representative could overrule the trade agency's decision, but that happens rarely, according to Bloomberg News. The ITC supported BAT's patent claims during the trial.

Four from Dave Cross, Planet of the Vapes
The World Health Organization has been badly caught out ahead of the Ninth Session of the Conference of the Parties (COP9) to the WHO Framework Convention on Tobacco Control (FCTC) in November. COP9 organisers declared months ago there would be no discussions or decisions around Tobacco Harm Reduction (THR) products at COP9.

The WHO said that THR work would be delayed until COP10 in 2023.

"It's now clear, however, that was a complete pretence aimed at minimising a growing backlash against the WHO's anti-vaping agenda," says Nancy Loucas, Executive Coordinator the Coalition of Asia Pacific Tobacco Harm Reduction Advocates (CAPHRA).
The World Vapers' Alliance (WVA) and WeVape joined forces to commend the UK Government for embracing science and to call on them to convince the World Health Organization (WHO) and global leaders to back vaping to beat smoking. 200 million lives could be saved if global leaders acted like their UK counterparts and followed the science on vaping.

While the WHO has waged a war on vaping and other alternatives to smoking through taxes, bans on advertising and other measures, the UK has led from the front in reducing tobacco harm with progressive vape policies. The WHO's COP 9 global conference in November will set the direction for smoke cessation and vaping policies around the world…
Trading Standards are carrying out a hunt to identify vendors stocking illegal disposable vapes, following an investigation by the UK Vaping Industry Association (UKVIA). Reports are coming in that letters have been sent to vendors about the sale of products containing over the maximum 20mg/ml nicotine limit.

A Trading Standards spokesperson is quoted as saying: "There has been a recent rise in reports across the UK of illegal vaping products being found on sale. These products are commonly referred to as 'disposable vapes', 'nicotine puffs', 'Elf Bars' or 'Geek Bars'."
The World Health Organization doubles down on its negative Bloomberg-driven agenda by releasing a new report that "sheds light on the dark impact of e-cigarettes and heated tobacco products". The document looks at novel and emerging "tobacco products", which it believes vapes are, and attacks "toxic ingredients" and nicotine.

The WHO manages to touch base with facts and evidence at one point, where it states that tobacco kills "more than 8 million people a year, with more than 7 million of those deaths attributed to direct tobacco use and about 1.3 million – to exposure of non-smokers to second-hand smoke. Tobacco also eventually kills up to half of its users and therefore remains a global health emergency."
---

---
The Great De-Vape:
A three part series from The Latch's News and Culture Editor Jack Revell
Walking around in any urban centre pre-lockdown, it would be impossible to miss the clouds of sugary vapour emanating from the mouths of seemingly anyone and everyone. Nor would it be possible to miss the build-up of those little metallic tubes, not much larger than a lipstick, that littered the pavements and pathways.

It appears that vaping has caught on in Australia in a massive way. While the ability to vapourise nicotine and its associated flavourings and chemicals has been around in a consumer sense for a little over a decade, it's not until last year that Australia really seemed to make the switch — almost overnight.
While tobacco has been consumed by humans for thousands of years, it wasn't until the 1920's, with the advancement of industrial manufacturing techniques and subtle marketing campaigns, that cigarette smoking really took off.

It wasn't until the late 1950s that research really began to demonstrate that cigarettes were a major cause of serious diseases and health conditions.
From tomorrow, Friday, 1 October, vapes will now be harder to access than cigarettes. While the Therapeutic Goods Administration — Australia's medicine's regulatory body — has said that this will prevent young people from accessing nicotine, it's hard to square with the fact that tobacco remains a consumer product, available at over 20,000 outlets across Australia.

Experts have warned that this change will push those using the devices back to tobacco if access is made more difficult for vaping products than the alternative and that Australia will have missed a monumental opportunity to prevent some of the 24,000 deaths caused by smoking in this country each year.

And will cost lives from tomorrow – Colin Mendelsohn
Smoking rates will almost certainly increase, with legal access to nicotine for vaping harder than ever.

Authorities have imposed fines up to $222,000 for attempting to import nicotine liquid for vaping without a doctor's prescription. With a public health system already reeling from COVID-19 Australia's 600,000 vapers are set to push it to its limit from 1 October.

Currently, only about 15 GPs are listed publicly as willing to write nicotine prescriptions and many vapers and smokers will be unable to get one, especially in regional Australia. Doctors have had little or no training in vaping and have been exposed to unjustified negative messaging about it for years.
Is About to Get Even Harder – Alex Norcia
Australian vapers will soon have an even harder time getting nicotine. On October 1, the government will ramp up a strict prescription-only vaping model. The law, which has already been in effect but seemingly brushed aside, will now have harsh penalties attached. The Australian Border Force plans to crack down on anyone importing nicotine illegally into the country; those who defy the rule can expect up to a $222,000 fine in Australian dollars.

Australia treats nicotine for vaping as a medicine, which is regulated by the Therapeutic Goods Administration (TGA). The agency classifies nicotine liquid in its Poisons Standard, though explicitly excludes combustible cigarettes. In practice, this means that it's much easier for citizens to buy cigarettes than vaping products.
CAPHRA
"Friday, 1 October marks the day deadly cigarettes become a lot easier to obtain in Australia than safer nicotine vaping products," says Nancy Loucas, Executive Coordinator of the Coalition of Asia Pacific Tobacco Harm Reduction Advocates (CAPHRA).

Australia's Therapeutic Goods Administration (TGA) has expanded its prescription-only model with customs to clampdown at the border. This means no more personal importation of nicotine vaping liquids, via overseas websites, without a doctor's prescription.
A Model For Cutting Tobacco Use And Teen Vaping – Cameron English
Many tobacco control advocates have attacked vaping by emphasizing the risk it poses to teenagers. While children should never use any nicotine product, there's a strong case to be made that the campaign against teen vaping has distracted us from tackling a critical public health threat: adult smoking.
Temporarily Unite to Slam the FDA – Alex Norcia
On September 28, a string of mainstream public health organizations including the American Lung Association and the American Heart Association, together with the Campaign for Tobacco-Free Kids (CTFK), sent a letter to Janet Woodcock, acting commissioner of the Food and Drug Administration (FDA). Aside from its actual substance—a predictable demand that all flavored vaping products, including menthol, be removed from the market—the letter hit some rare notes of agreement with tobacco harm reductionists: urging the agency to expedite its long-awaited review process and panning the accompanying lack of transparency.
Yet War on Vaping Continues
A new report from leading international public health and medical experts says that tobacco use is still too high in the Africa region and is being bolstered by myths about tobacco harm reduction (THR).

The report by the International Commission to Reignite the Fight Against Smoking shows that tobacco demand has declined far too slowly in some low-and middle-income countries (LMICs). More than 80% of all tobacco users live in LMICs like Kenya.
The lesser of two evils – Lord Matt Ridley
It is always better to "take the small risk of the unknown than the known risk of large hazards", said Lord Matt Ridley, medical scientist, author and member of the House of Lords. He was urging acceptance of vaping to help people quit smoking, at the Global Tobacco and Nicotine Forum (GTNF) held in Britain last week, writes Chris Bateman for MedicalBrief.

Lord Ridley, a tobacco harm reduction lobbyist and best-selling science author, began his keynote address at the GTNF with an audience poll – on COVID-19 vaccination
Jim McDonald
San Jose, California has become the largest U.S. city to ban all flavored tobacco and vaping products after a unanimous city council vote Tuesday night. The ban covers vaping products in all flavors except tobacco, menthol cigarettes and smokeless tobacco, but exempts hookah products.

The ban will take effect June 30, 2022. San Jose, considered the "capital of Silicon Valley," is home to just over a million residents. The city has more than 650 tobacco and vaping retailers, according to the San Jose Mercury News.
One in three South Africans is looking for a job. This is according to Stats SA's most recent quarterly labour force survey, which notes that unemployment in the country is at a record high 34.4%. And it's not about to get any better given the ongoing effects of the Covid-19 pandemic as well as the unrest in the country earlier this year.

The pandemic and unrest are not the only forces at play, though. SA's poor record of developing and implementing sound public policies is as much a contributing factor, if not more so.
Ahmed Affan
THE World Health Organization (WHO), in its latest fact sheet on Tobacco, indicated that tobacco smoking kills up to half of its users, causing the death of more than eight million people each year, seven million of which are the result of direct tobacco use while around 1.2 million are the result of non-smokers being exposed to second-hand smoke.

WHO also highlighted that the enormous socio-economic burden and the alarming impact of smoking-related illnesses on the global public-health ecosystem each year. "
Risks imperilling the fight against smoking – Abigail Snyder
A new study from the Barcelona Institute for Global Health (ISGlobal) has indicated that infants and young people who are exposed to tobacco smoke may see their metabolism and physiology permanently altered.

The analysis is the first to investigate links between early-life environmental exposures and epigenetic age in children, or the measure of biological age in an individual. The study found that persons exposed to tobacco smoke before birth or in early childhood demonstrated accelerated epigenetic ageing, something that has been linked to a higher risk of metabolic, cardiovascular or neurodegenerative diseases.
---
A look back at how things have moved on or otherwise….
Minnesota Smoke Free Alliance
Nicotine is an emotional subject. Loved by some and hated by others, it's the perfect topic for a documentary. Those at the premier were treated to an unexpected surprise. As the closing credits rolled by, some sat dazed as they tried to soak in what they had just seen.
Vape HK
The World Health Organization (WHO) has always been an indicator of global public health. It has the ability to influence the regulatory policies of countries and regions. Its decision-making is also closely related to public health institutions and relevant health organizations.

With the rapid development of new tobacco industry in recent years, electronic cigarettes have become the focus of attention of WHO. Governments often cite WHO statements to combat electronic cigarettes.
Manila Standard Business
Consumer groups have accused the World Health Organization of being used by big pharmaceutical companies, charity foundations funded by billionaires and state-controlled tobacco companies to perpetuate cigarette trade by driving less harmful alternatives to the black market, leaving more than a billion smokers exposed to serious health risks from smoking.
---
Visit Nicotine Science & Policy for more News from around the World

---