Vaping Digest 30th September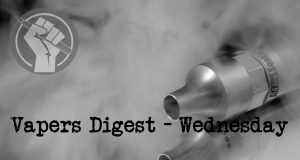 Wednesday's News at a glance:
Movie Review: "You Don't Know Nicotine" ~ WHO uses the Framework Convention on Tobacco Control to intervene in e-cigarettes again ~ Donors distort WHO's tobacco control policy, say experts ~ The Death of Smoking: Is Vaping Killing Combustibles? ~ Tobacco Regulation: Who is Getting It Right? ~ Life as a Criminalized Vapes Dealer in Buenos Aires ~ United States Vaping Index ~ Vaping Isn't the Gateway to Smoking That Many Believe ~ Respond to the SCHEER consultation ~ Happy Birthday, ETHRA! ~ Triumph Dashed In Denmark ~ COVID-19 Trends Among School-Aged Children — United States, March 1–September 19, 2020 ~ Greg Hunt's vaping inquiry is disappointing, misleading and unhelpful ~ Release: ANU Report is a smokescreen ~ Michigan Gov. Whitmer Pushes a Permanent Flavor Ban
Minnesota Smoke Free Alliance
Nicotine is an emotional subject. Loved by some and hated by others, it's the perfect topic for a documentary. Those at the premier were treated to an unexpected surprise. As the closing credits rolled by, some sat dazed as they tried to soak in what they had just seen.
Vape HK
The World Health Organization (WHO) has always been an indicator of global public health. It has the ability to influence the regulatory policies of countries and regions. Its decision-making is also closely related to public health institutions and relevant health organizations.

With the rapid development of new tobacco industry in recent years, electronic cigarettes have become the focus of attention of WHO. Governments often cite WHO statements to combat electronic cigarettes.
Manila Standard Business
Consumer groups have accused the World Health Organization of being used by big pharmaceutical companies, charity foundations funded by billionaires and state-controlled tobacco companies to perpetuate cigarette trade by driving less harmful alternatives to the black market, leaving more than a billion smokers exposed to serious health risks from smoking.

Samrat Chowdhery of the Association of Vapers India said that while the WHO was predicting that the number of smokers globally would remain at more than a billion over the next five years, the UN health body was not doing anything to change its ineffective prohibitionist policy.
Smoking used to be everywhere. The first time I went to the pub – more years ago than I would like to admit – it was a decidedly smoky experience. It seemed like basically everybody at the pub smoked as they drank, to a level that youngsters today would probably find quite shocking.

I quickly found myself among them, holding court on some nonsense topic over a student-priced beer and loosely holding a cigarette as if I was some world-weary story-teller. But soon, things started to change.
---
Derek Yach, Foundation for a Smoke-Free World
I recently addressed the 2020 GTNF conference on the topic of "who is getting tobacco regulation right?". My answer was blunt: at present, very few!

If we were, we would not have eight million deaths a year from tobacco use. Nor would we have 1.3 billion people still using tobacco products, most in a toxic combustible or dangerous smokeless form. The goal of a regulator should be primarily to reduce that harm in the fastest possible time. Sadly, this isn't the case today.
Gianluca Capellani, Filter Mag
Natalia is sitting in a leather chair in the corner of her office. "I need stealth," she says, insistently. She's moving her hands, one over the other. It seems to relax her. She takes off her glasses and gestures to me to sit. "Do you want a maté?"

In the dimly lit room, an entire wall is filled with shelving, holding white files and small, neatly stacked, multi-colored boxes. "Of course I have misgivings," she continues, as she clears her desk of extremely organized paperwork and serves me the maté. "Even fear."
---

---
Consumer Choice Center
Since 2009, the Food and Drug Administration has had regulatory authority over all tobacco products. Because e-cigarettes and vaping devices have been included in that category, rather unfairly, these regulations forced firms that produce vaping products to undergo a complex Premarket Tobacco Product Application process that provides scientific proof that these products are beneficial to public health.

Report in PDF: United States Vaping Index
, TechStory
Vaping obtained a terrible reputation last year when quite a few young adults became ill after vaping. While it was later found that 98 percent of those who became ill did so after using illegal products, the media failed to share this information widely as they did with the illnesses and hospitalizations. Today, experts speak of the dangers of vaping and the gateway effect. This refers to the likelihood that young adults who vape are more likely to begin smoking. However, two recent studies suggest that young adults who vape aren't more likely to smoke. Why is this of importance?
European Tobacco Harm Reduction Advocates, ETHRA
Every minute you can spend on this will be a minute well spent

The SCHEER Preliminary Opinion on electronic cigarettes, an important element in the TPD evaluation, has now been published. There is a public consultation for the Opinion, which ends on 26th October.

We are concerned by the report and fear it will be used to argue for harsher restrictions in the EU TPD, including e-liquid flavour bans. Our first reading of the Preliminary Opinion leaves us with the impression that it is heavily biased and has huge flaws. Here are some of our general observations:
---
TWO from Dave Cross, Planet of The Vapes
A year ago, Planet of the Vapes announced the formation of a new campaigning consumer organisation that united vaping bodies across Europe: The European Tobacco Harm Reduction Advocates (ETHRA). It has grown in strength over the last twelve months, gained new members and scientific partners, and scored notable successes along the way.
The Danish government notified the European Commission that it planned to ban flavoured eliquids as part of its quest to stop teens smoking. The move defied logic and evidence, inspiring consumer organisations, vapers and advocates across Europe to inundate the Commission with objections directed at the politicians involved. Denmark dropped the proposal but has just announced it plans to press ahead regardless.
---
New from @CDCgov:

175,782 age 12-17 tested positive for SARS-CoV-2

323 (0.18%) were "current or former smokers" (ever-smokers)

In 2019, past-30-day high school "tobacco" use (including vaping) was 31%. Ever-smoking by 12th graders was 22%.@phil_w888https://t.co/FLsCjpBDjS

— Charles A. Gardner, PhD (@ChaunceyGardner) September 28, 2020
CDC
What is already known about this topic?

Children aged <10 years can transmit SARS-CoV-2 in school settings, but less is known about COVID-19 incidence, characteristics, and health outcomes among school-aged children (aged 5–17 years) with COVID-19.
---
Australian Tobacco Harm Reduction Association
A REPORT ON VAPING commissioned by the Health Minister from the Australian National University has provided the answers that Greg Hunt wanted. However, the results are misleading and biased, omitting important evidence, and in places just plain wrong.

The conclusions of the report in many cases do not reflect real-world experience, other recent reports on vaping and the views of the Health Departments of the UK and New Zealand.
Legalize Vaping
The findings of an interim report on vaping commissioned by Greg Hunt has today been slammed by vapers and vaping advocates alike for cherry picking data and shying away from real, credible statistics that are freely available. Legalise Vaping Australia's Campaign Director, Brian Marlow called into question the validity of this study, highlighting what he believed to be serious omissions by the author.
Jim McDonald, Vaping 360
Michigan Governor Gretchen Whitmer is again trying to ban flavored vaping products through executive rulemaking. But this time, instead of a temporary "emergency" rule like the one she sought last year, Whitmer is attempting to impose a permanent ban.

Michigan citizens who vape are actually facing two threats from their state government: Whitmer's attempt to ban flavors, and an unrelated package of bills from the state legislature that includes a tax and a law mandating the creation of a list of legally available products, which was lobbied for by a tobacco company.

---
While people get sick from illicit THC and remain uninformed – Dr Farsalinos
It is ironic to realize that today's period of information revolution has not only improved access and education for everyone but has also resulted, in many cases, in an unprecedented spread of misinformation and confusion. Take for example the recent case of e-cigarettes and lung disease cases, a story that will be listed in public health history books as one of biggest campaign of misinformation and public deception ever. An immoral "moral panic" campaign based on fiction, intimidation, terror, confusion and misinformation.
Vape Carts are a Major Culprit in Respiratory Disease Outbreak
Michael Siegel, The Rest Of The Story
The CDC has finally admitted that black market THC vape carts are a major culprit in the respiratory disease outbreak that has affected 805 people and resulted in 13 deaths. Instead of continuing to emphasize that "no single product" is linked to all the cases, the CDC clearly stated yesterday that "THC is the most prominent link across patients" and the agency changed its warning to specifically mention THC: "While this investigation is ongoing, CDC recommends that persons consider refraining from using e-cigarette, or vaping, products, particularly those containing THC."
Must join the larger fight – Simon Clark
American writer and tobacco risk reduction expert Carl Phillips posted an interesting thread on Twitter at the weekend.

It concluded with him urging advocates of the right to vape to join what he called the 'larger fight' to erode 'the credibility of the myth-creating [tobacco control] machine'. But more on that later.
---
Visit Nicotine Science & Policy for more News from around the World

---