Vaping Digest 28th September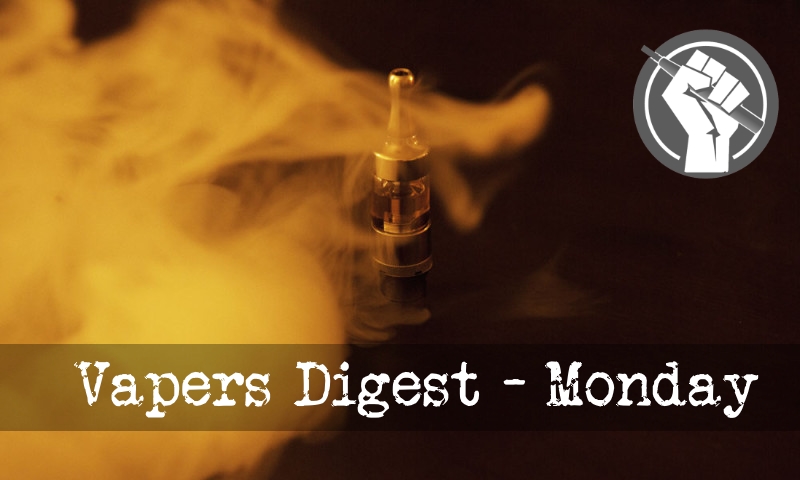 Monday's News at a glance:
Happy Birthday ETHRA! – SCHEER NECK! – Largest ever survey of Australian vapers – Access to nicotine vaping products: more conversation needed – SCHEER Ignorance – Lockdown Beneficiaries – 3rd Hand Stupidity – HNB And Air Quality – Voices4Vape Webinar – Vaping ban in Hamilton back on – Nicotine Science and Policy Daily Digest
It was just a year ago when we launched European Tobacco Harm Reduction Advocates
ETHRA is powered by 22 European consumer groups, all dedicated to defending the rights for adults to use safer nicotine products, all signed up to ETHRA's core principles. Working as a consortium of equal partners, we pool our expertise, our dedication, and our passion, and it has led to spectacular results. Our grouping is a voice for our partners who arrange their own revenue and who give their time to ETHRA for free, as we run it collectively and without funding.

Together we have aimed to amplify the Tobacco Harm Reduction (THR) consumer voice in Europe and highlight our commonalities while still celebrating our differences. We are very honoured to be supported in this endeavour by our Scientific Partners, all experts in the tobacco harm reduction field.

Our first year has exceeded our expectations.
thatgotmethinkingblog
Scientific Committee on Health, Environmental and Emerging Risks
(SCHEER)

Preliminary Opinion on electronic cigarettes

Yep this is now published  here

I've given it the quick read and am going to comment here. This is not a full response, that will be done using the mandatory template and within the restrictive framework SCHEER allow, instead this is just a commentary. Keeps my thoughts in one place kind  of thing. I'll quote the bits and comment, to save your eyesight I will do like the SCHEER did and put my conclusion right up at the start;
---

---
Legalise Vaping Australia
Legalise Vaping Australia has released the results of the largest ever survey of Australian vapers, which has shown some vapers will go back to the smokes should the 1 January vaping ban go ahead.

The survey of 6,733 Australian vapers found that 42% would likely go back to the smokes should the vaping ban proceed. Also of worry, some 37% said they would source their vapers from the black market should the band go ahead, while just under 7% of vaper support the proposed prescription model.

The key takeouts of the survey:

200,000 vapers will go back to smoking if the January 1st vaping ban goes ahead.
Vapers overwhelming DO NOT support a prescription model for accessing vaping
Vapers are now a powerful voting block. 400,000 vapers will consider their vaping intention based on a party that supports the legalisation of vaping
---
---
More conversation needed
THE regulation of vaping products that contain nicotine (nicotine vaping products [NVPs]), differs markedly between Australia and other similar countries (the United Kingdom, New Zealand, the United States, Canada), where NVPs are sold as consumer goods so people can buy them to use as a lower risk alternative to cigarettes or a smoking cessation aid.

In contrast, Australia currently regulates NVPs as a prescription medicine (Schedule 4) for therapeutic use, or a dangerous poison (Schedule 7) for non-therapeutic use. However, the TGA recently announced an interim decision to expand the Schedule 4 entry to include all human use (not just therapeutic use).

Four from Dave Cross, Planet of the Vapes:
The European Commission and its Scientific Committee on Health, Environmental and Emerging Risks (SCHEER) has published its "preliminary opinion on electronic cigarettes" – and it isn't very good. The Committee has been quite unfair in the past and the latest document does little to correct this position.

The main purpose of this work, according to SCHEER, "is to assist the Commission in assessing the most recent scientific and technical information on e-cigarettes. Findings presented in the scientific opinion will feed into the Commission's reporting obligations under Article 28 of the Tobacco Products Directive (TPD), and will also help the Commission in assessing the potential need for legislative amendments under the Directive or other regulatory/enforcement measures".
Statistical projections being waved by Action on Smoking and Health may have pointed to an increase in people attempting to quit smoking during lockdown but this had no impact on tobacco company share values. The situation in the United Kingdom has been mirrored throughout Europe.

Back in May, the United Kingdom was promised a "world-beating track and trace programme" by Prime Minister Johnson. It came towards the end of a lockdown period [lockdown timeline] that saw almost all vape stores forced to close [link], with just those operating within hospitals remaining open.
San Diego State University, supported by a load of anti-vape organisations, is pushing a farcical link between third-hand smoke/vape and catching the COVID-19 virus. Researchers are claiming that "cleaning toxic residue in our homes" reduces risk because of bogus claims that "thirdhand smoke" sticks to surfaces.

"The COVID-19 pandemic has created a number of challenges, including that many are spending more time at home than ever before. This is a significant problem for those with neighbours who smoke. Smoking continues to be a problem in multi-unit housing, and while stay-at-home orders have helped to reduce transmission of COVID-19, they have also increased exposure to second-hand smoke from neighbours," write the researchers.
Heated tobacco products, frequently referred to as HTBs or HNBs, are widely regarded as being a good alternative to combustible tobacco for those who don't get along with other alternative nicotine products. Now a tobacco company funded study says that HTBs do not negatively affect the quality of sampled indoor air.

HTPs are electronic devices that heat instead of burning a tobacco plug. While a cigarette burns at around 800 degrees centigrade, the heated product achieves a much lower temperature thanks in part to the tobacco being soaked in PG (one of the constituents of eliquid). Evidence has shown that although levels of toxins are above that for vapour, it is still much reduced from that found in cigarette smoke and therefore use offers reduced harm to smoking.
---

---
CAPHRA Asia Pacific
---

Mike Mather
Vaping could soon join smoking as a forbidden activity in city streets and parks in Hamilton. The Hamilton City Council is set to revisit the issue of banning vaping at a meeting of its community committee on Tuesday, which could result in the organisation belatedly following the lead of other councils around the country – including the Hauraki and Matamata-Piako district councils – that have amended their Smokefree policies to include vaping.

In March last year the city council backed away from including vaping in a ban on smoking at council-owned and operated parks, playgrounds and buildings including the Hamilton Transport Centre, bus stops and at all council-operated events.
---
A look back at how things have moved on or otherwise…
Launches to promote safer nicotine use – ETHRA
Reduced risk products are providing a gateway out of smoking for millions of Europeans but they face many threats. Today sees the launch of ETHRA, a new group formed by consumers and other advocates, to promote sensible regulation of innovative solutions for those who wish to continue using nicotine in a far safer form.

Tobacco harm reduction is facing challenging times in Europe, as the EU Tobacco Products Directive review is already underway, and the WHO's Framework Convention on Tobacco Control (FCTC) Conference of the Parties will be held in the Netherlands in just over a year's time.
New Nicotine Alliance
NNA is delighted to announce that we have joined with other European tobacco harm reduction groups to partner with European Tobacco Harm Reduction Advocates (ETHRA).

The challenges faced by tobacco harm reduction are not confined to individual countries but are regional and global and ETHRA meets the long standing need for a regional network in Europe.

ETHRA will give European advocates a platform for sharing information and experiences, will enable us to co-ordinate actions and will amplify the message that tobacco harm reduction is a vital strategy for many smokers.
Read more on ETHRA from:
---
Visit Nicotine Science & Policy for more News from around the World

---