Vaping Digest September 27th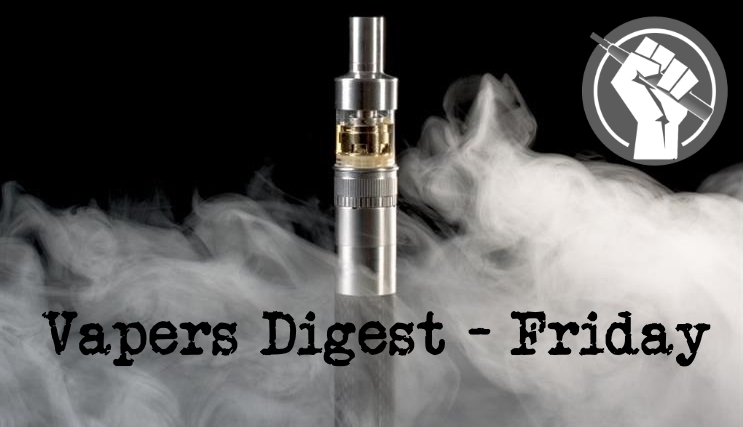 Friday's News at a glance:
Europe-wide consumer organisation launches to promote safer nicotine use – NNA partners with ETHRA – New Facts From ASH UK – Washington Washout – Pharma Ecig On The Horizon – VOKE To Be Prescribed – CDC's Failure to Demand Urine THC Testing – Bootleg marijuana vapes tainted with hydrogen cyanide – Crusade Against Vaping E-Cigarettes – Israel mulls total ban of e-cigarettes – Matamata-Piako vaping ban 'detrimental' – SRNT Europe 2019 conference in Oslo – India faces first court challenges to ban – Juul Accepts Proposed Ban – 'Murderers!' they wrote – Massachusetts Ban on Vaping Products – Nicotine Science and Policy Daily Digest
Launches to promote safer nicotine use – ETHRA
Reduced risk products are providing a gateway out of smoking for millions of Europeans but they face many threats. Today sees the launch of ETHRA, a new group formed by consumers and other advocates, to promote sensible regulation of innovative solutions for those who wish to continue using nicotine in a far safer form.

Tobacco harm reduction is facing challenging times in Europe, as the EU Tobacco Products Directive review is already underway, and the WHO's Framework Convention on Tobacco Control (FCTC) Conference of the Parties will be held in the Netherlands in just over a year's time.
New Nicotine Alliance
NNA is delighted to announce that we have joined with other European tobacco harm reduction groups to partner with European Tobacco Harm Reduction Advocates (ETHRA).

The challenges faced by tobacco harm reduction are not confined to individual countries but are regional and global and ETHRA meets the long standing need for a regional network in Europe.

ETHRA will give European advocates a platform for sharing information and experiences, will enable us to co-ordinate actions and will amplify the message that tobacco harm reduction is a vital strategy for many smokers.
Read more on ETHRA from:
---

---
Four from Dave Cross, Planet of the Vapes
The number of people vaping in the UK has reached 3.6 million – about half the number of smokers – figures from Action on Smoking and Health (ASH) suggest. The data indicates most vapers are former smokers, with the main reason for using e-cigarettes being to give up tobacco. ASH has been monitoring trends in use since 2012.

The National Centre for Smoking Cessation and Training, a body that trains and supports professionals so they can be effective in helping people stop smoking, said ASH's release should be "read all over the world."
The White House made hasty plans to invite a number of vaping advocacy groups to meet with Donald Trump following his anti-harm reduction outburst. Then, as quickly as plans had been made, they were cancelled. The action has caused more ill feeling and opened up Trump to accusations of misjudging Conservative feelings on the subject.

Paul Blair, Americans for Tax Reform, was one of those issued an invitation, along with the Competitive Enterprise Institute's Michelle Minton. It was to be an opportunity for pro tobacco harm reduction advocates to argue their case and explain why the President had acted too rashly.
Following the moves taken in New York and Michigan, other parts of America and other countries are following down the 'ban vape flavours' road. Wrapped in a cloak of "Think of the children", the weak arguments being used look even weaker now that a Big Pharma JUUL-lookalike gets closer to launch.

Michigan Governor Gretchen Whitmer announced her desire to push through a flavour ban at the beginning of the month. It isn't going to be plain sailing for Whitmer, as we wrote earlier this week [link]. Michigan was swiftly followed by New York
The VOKE product was granted a medicines licence by the Medicines and Healthcare products Regulatory Agency (MHRA) in 2014. At the time British American Tobacco (BAT) held an interest, but the rights to Voke are now fully owned by Kind Consumer. Public Health England recognises the company as having "no current links with the tobacco industry". The £11.99 device will be available on prescription to NHS patients – which has an bearing on vaping.

BAT terminated the VOKE program in 2017, stating at the time that it was focussing on its vapour and heated tobacco segments instead. In electing to not pursue the distribution rights, they returned to patent holder Kind Consumer.
---
---
Michael Siegel, The Rest Of The Story
The CDC has irresponsibly botched its entire investigation of vaping-associated respiratory illness (VARI) by failing to recommend or demand that clinicians perform a urine THC drug test on every case patient, and this is putting the entire nation at risk while leading to terrible public policies that are causing immediate harm to thousands of people.

The CDC continues to insist that we have no idea what is causing this "mystery illness" and that "no single product" has been identified that explains all of the cases.
Tainted with hydrogen cyanide – NBC News
Fabian Castillo was suffering from crippling anxiety when his uncle handed him a marijuana vape pen one day last December. "It will help calm you down," Castillo said his uncle told him.

Over the next several months, the vape worked as advertised. Castillo, who had just graduated high school in southern California, found himself more mellow and more productive.

He had no idea at the time that he was using, what he now believes, was a bootleg vape pen filled with a toxic mix of chemicals.

Is Catastrophic for Public Health – Konstantinos Farsalinos
Who would ever bet that products used without serious issues for over a decade by more than 20 million people worldwide would suddenly cause an outbreak of acute (sudden, developing within a few days of weeks) lung failure and several deaths only in one geographical region?

For the past month, this has been a prevailing narrative about electronic cigarettes in the United States. Health authorities describe a "vaping disease," a severe inflammatory condition affecting the lungs. The illness develops within a very short period and is in reality poisoning of the lung. Over 800 cases have been reported in the past few weeks, including thirteen deaths.
---
Thanks as always to @dnglos for the YouTubage
---
Rachel Davies, Vaped
In recent weeks it has felt like the vaping industry has entered a time warp, like we have rewound 6 years. Vaping has been the topic of news once again and the headlines have been misleadingly bleak. But the UK is currently leading the way with positive vaping news.

We are once again seeing an influx of poorly researched and inaccurately portrayed anti-vaping stories hitting the front pages. But this time the discussion surrounding these stories in the UK has shifted, and respected public health commentators have provided a backlash against erroneous reporting. Media channels that were once quick to believe the negativity, now seem to be more critical of the front pages. More open to informed discussion.
---

---
A large part of the conference was dedicated to e-cigarettes. Two keynote speakers (Lynne Dawkins and Robert West) focused on this topic and several of the sessions had this focus. Although the media were talking about the recent deaths that may have been caused by e-cigarettes, most of the speakers at the conference talked mainly about the benefits of e-cigarettes for people who want to quit smoking tobacco. Speakers at the conference worried about the lack of knowledge among the public about nicotine. Many people incorrectly believe that nicotine is the ingredient in tobacco that is causing most of the harms of smoking.
The Health Ministry on Tuesday said it was weighing a total ban on sales of e-cigarettes, following other countries that have sought to crack down on what has been described as a vaping epidemic.

The ministry said it was imposing an immediate ban on sales of flavored cartridges of oil used in the smoking devices. It was also considering imposing a blanket ban on sales via a temporary injunction, without waiting for the Knesset to pass new regulations.
Tom Rowland
A ban on vaping in the Matamata-Piako District will be detrimental to smokers looking to quit says the chairman of Action for Smokefree 2025.

The Smokefree Outdoor Policy is to be rolled out in Matamata, Morrinsville and Te Aroha CBDs on March 1, 2020, which includes vaping, and prevents smokers and vapers in certain public spaces and council areas.
Aditya Kalra, Reuters
The Indian government banned the sale, import and manufacture of e-cigarettes this month and warned of an "epidemic" among young people. The move could dash the expansion plans of companies such as Juul Labs Inc and Philip Morris International in the country.

Two separate challenges have been filed to the high court in Kolkata, by e-cigarette importer Plume Vapour and another company named Woke Vapors, according to court listing records publicly available online.

On Flavored Vaping Products As CEO Steps Down
Juul Labs has agreed to stop advertising its popular e-cigarettes in the United States and announced that its chief executive officer is stepping down as state and federal regulators examine hundreds of cases of people who are sick from what appears to be a vaping-related lung disease.

The company also said in a Wednesday statement that it will not push back on a Trump administration plan to pull flavored e-cigarettes from the market until the controversial products win approval from federal regulators.
How not to win friends and influence people – Simon Clark
I haven't written about the 'US vape scare' until now. One, I've been busy on other things and, two, there's been no shortage of people commenting, or adding their tuppence ha'penny, on both sides of the Atlantic. I have however done one or two interviews on the subject and issued a statement on behalf of Forest.

On Monday, for example, I was on a new digital radio station, Voice of Islam UK. They wanted to have a discussion about the 'harmful effects of smoking and the dangers of vaping and e-cigarettes as an alternative.'
Is Bad for Public Health – Jacob Sullum
Yesterday, Massachusetts Gov. Charlie Baker (R) announced an "emergency" ban on the sale of all vaping products, including devices used to consume cannabis extracts, nicotine, or solutions with no psychoactive ingredients. Unlike the bans on flavored e-cigarettes in Michigan and New York or the similar ban planned by the Food and Drug Administration (FDA), which were presented as responses to underage consumption, the Massachusetts edict is based mainly on concerns about recent reports of severe respiratory illnesses associated with vaping.
The Vapor Technology Association (VTA), the industry's national trade association, Benevolent e-Liquids, Inc., a New York manufacturer, and Perfection Vapes, Inc., a New York retailer, filed a lawsuit seeking declaratory judgment, a temporary restraining order, and a preliminary and permanent injunction in the Supreme Court of the State of New York for Albany County against the New York State Department of Health (NYSDOH) and Public Health and Health Planning Council (PHHPC) to nullify the ban in New York State of flavored vapor products and to prevent it from being enforced.
Why aren't youth alcohol and cigarette use also in the crosshairs?
Amid growing reports linking serious lung illnesses to vaping, California health officials issued a pointed warning Tuesday: Stop vaping immediately. Almost two weeks earlier, the Trump administration announced plans to remove all flavored electronic cigarettes — favored by youth — from the market.

At least 530 cases of vaping-associated respiratory illnesses have been reported. Nine of these cases
have been fatal, two of them in California.
---
A look back at how things have moved on or otherwise….
Helen Redmond, Filter
There's a war on nicotine. And just like the War on Drugs in general, it cannot be won. We will never live in a world where nicotine isn't used by millions.

A nicotine-free world is as unobtainable as one without caffeine or heroin. Why? Because people have always needed and loved drugs–for recreational, spiritual and medicinal purposes. And in the 21st century, drugs are never more than a couple of clicks away, through legal prescriptions or illicit markets.
Harry Shapiro, Nicotine Science and Policy
It is a central tenet of those opposed to tobacco harm reduction as it applies to safer nicotine products that the whole thing is a massive con trick by Big Tobacco to both entice kids to move onto regular daily smoking and inveigle ex-smokers to take up the habit once more. The purpose of e-cigarette promotion they argue, is to 'boost Big Tobacco profits'. Well as things stand, BT are doing a piss poor job of 'boosting their profits'; total global turnover of all products among all companies whether Big, Middling or Little Tobacco probably accounts for less than 2% of cigarette sales.
---
Visit Nicotine Science & Policy for more News from around the World

---