Vaping Digest 25th September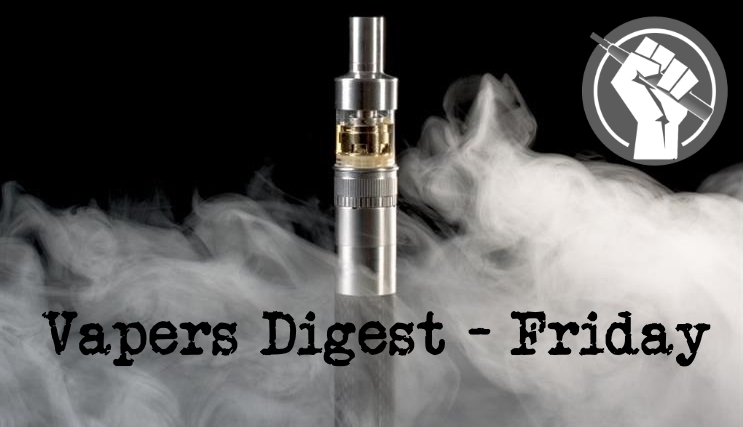 Friday's News at a glance:
75% of French people do not know that vaping is less harmful than smoking – The CDC Nicotine Brain Fallacy – Public consultation on electronic cigarettes – The Double Standard for Nicotine and Cannabis – World Evidence Based Healthcare Day – The Effectiveness of Vaping – Study: Vaping Reduces Smoking – Polarised – WHO Relies on Lies – Australia Proposes a Vape Prescription Plan…Seriously – Australia's 'backward' Position On Vaping To Be Explored At Webinar – Banning flavoured vapes would 'kill the whole industry' – Pharmacy-only e-cigarettes decision slammed – Electronic Cigarettes: Coronavirus – Declaration of Founding Members of SCOHRE – Nicotine Science and Policy Daily Digest
That vaping is less harmful than smoking – ETHRA
The results of the new BVA-SOVAPE survey show that most French people still have false perceptions of the risks of vaping and nicotine. This is detrimental to public health and, because there has been no public information campaign to redress it, has not changed since 2019. Sovape, public health experts, addiction experts and smoking cessation experts are sounding the alarm.

How many smokers are discouraged from quitting because of false beliefs about effective alternatives? The French population's state of misinformation about vaping and nicotine, as revealed by the BVA survey commissioned by the SOVAPE association, is very worrisome. Only 8% of respondents know that vaping massively reduces the risks compared to smoking. 78% mistakenly believe that nicotine is carcinogenic.
Brad Rodu, Tobacco Truth
The U.S. Centers for Disease Control and Prevention is out with a false advertisement telling kids that "Nicotine in e-cigarettes can harm brain development."  The headline says, "It's not like you can buy a new brain."  To make it accurate, I've added "…for your pet mouse."

Let me be crystal clear.  The harm in brain development federal officials talk non-stop about only happens in laboratory torture of mice.  Mouse studies are well known to be of questionable value in predicting human effects.  There is absolutely no scientific evidence to support the claim that nicotine causes harm to human brain development, so it is astounding that federal officials traffic in this false narrative.  This nonsense is an affront to 34 million adult current smokers and 55 million former smokers in the U.S., virtually all of whom started when they were teenagers.  There is no evidence that their brain development was harmed, a fact that was specifically acknowledged by a prestigious nicotine researcher Dr. Neal Benowitz at an international tobacco meeting this week.
---

---
European Commission
The European Commission and its Scientific Committee on Health, Environmental and Emerging Risks (SCHEER) publish today the Preliminary Opinion on electronic cigarettes.

Interested parties are invited to submit comments on the scientific evidence online before 26 October 2020.

Following a request from the European Commission, the Scientific Committee on Health, Environmental and Emerging Risks (SCHEER) provided a preliminary opinion on electronic cigarettes.

The main purpose of the scientific opinion is to assist the Commission in assessing the most recent scientific and technical information on e-cigarettes.
---
---
Michelle Minton
The U.S. House of Representatives may soon vote on a historic measure to end federal prohibition on cannabis. Ironically, just as the public and political leaders realize the folly of prohibiting cannabis, we are rushing toward a new prohibition with many of the same pitfalls.

Prohibiting nicotine vapor is unjustified by all the science so far, which shows health risks are low. Worse, prohibition would prove tragic for smokers, who will be deterred from quitting their deadly habit.

When e-cigarettes entered the U.S. market in 2007, opponents argued there was limited evidence about product hazards. That implied opponents would relent if and when scientific evidence could establish e-cigarettes' relative safety. Yet, as evidence mounted, incontrovertibly proving vaporized nicotine was much safer than smoking, efforts to prohibit vaping have only amplified.

Five from Dave Cross, Planet of the Vapes
The Cochrane Tobacco Addiction Group (TAG) is hosting the World Evidence-Based Healthcare (EBHC) Day on October 20, 2020, to raise awareness of the need for better evidence to inform healthcare policy, practice and decision making in order to improve health outcomes globally. Planet of the Vapes took part in the TAG research priority setting process two years ago.

TAG says the EBHC day offers, "an opportunity to participate in debate about global trends and challenges, but also to celebrate the impact of individuals and organisations worldwide, recognising the work of dedicated researchers, policymakers and health professionals in improving health outcomes."
The journal Nicotine and Tobacco Research is currently carrying a meta-analysis by researchers at the Medical University of Vienna. They found that vaping could offer a solution to tobacco-related harm due to how it delivers nicotine and how vapers use their devices, and that the papers they looked out suggest it is better than placebos, traditional NRT, or counselling alone.

Grabovac, Oberndorfer, Fischer, Wiesinger, Haider, and Dorner looked at 13950 publications before identifying 12 studies as eligible for systematic review and 9 for random-effects meta-analyses.

They say: "Electronic-cigarettes have emerged as a potential and novel aid in smoking cessation interventions providing an experience similar to combustible cigarettes."
Researchers from New Zealand's University of Otago and Canada's University of Waterloo have discovered that alternative nicotine products like e-cigarettes are helping to reduce smoking and could achieve an end to the epidemic of ill health and death caused by smoking. The study has been published in the International Journal of Environmental Research and Public Health.

Richard Edwards, James Stanley, Andrew Waa, and Maddie White (Otago) worked with Susan Kaai, Janine Ouimet, Anne Quah, and Geoffrey Fong (Waterloo) to look at vaping in New Zealand.
University of Minnesota's Dana Mowls Carroll led a team of researcher to produce a paper about the 'polarization within the field of tobacco and nicotine science and its potential impact on trainees'. The paper, published in the journal Nicotine & Tobacco Research, warns about the impact on scientific rigor if juniors are influenced by their line managers.

A striking case in point is that of the anti-vape/tobacco harm reduction hothouse at the University of California San Francisco. Not even being subjected to sexual harassment, racial slurs and having the authorship of her work stolen by Stanton Glantz shook the institutional brainwashing of Dr Eunice Neeley [link].
The American Vaping Association (AVA) warns that it's "another day, another embarrassment" as the World Health Organization (WHO) cites a retracted Stanton Glantz anti-vaping study. Glantz' claims that vaping caused heart attacks before people began vaping was roundly mocked, but it took months of constant effort to force the publishing journal into making the humiliating withdrawal. The WHO not caring about facts will surprise nobody.

AVA has been going since early-2014 and has become one of America's most vocal organisations in opposing ridiculous regulation across the nation. It says: "The AVA has not been shy to identify and criticise those trying to destroy the growing vaping industry, whether they be governmental agencies or health activist groups."
---

---
Jim McDonald, Vaping 360
Australia is tentatively planning to make nicotine-containing vaping products available with a prescription at pharmacies beginning next June. The Therapeutic Goods Administration (TGA) announced the plan today, but will accept public comment on the process until Nov. 6, and issue a final rule by the end of the year.

Sales of vaping products containing nicotine is currently illegal in Australia, and even possession is outlawed in all but one state. The law, as it stands now, allows vapers to import up to a three-month supply of nicotine with a doctor's prescription—but that is largely ignored by both vapers and the authorities.
To Be Explored At Webinar – CAPHRA
Vapers are being encouraged to attend an online conference on Saturday, 26 September. Dubbed Voices4Vape, the virtual event will shed light on vaping and other alternatives to combustible cigarettes.

Initiated by the Coalition of Asia Pacific Tobacco Harm Reduction Advocates (CAPHRA), the webinar includes two well-known Australian vaping advocates, Victorian MP Fiona Patten, and public policy consultant Terry Barnes.

Both will be panellists on the webinar's expert panel discussing risk proportionate regulation, with registration free and the event open to all. The public is encouraged to ask questions via a chatbox, with the webinar running from 8.00pm until midnight (NZT) via https://voices4vape.org
Rosie Lewis
Retailers, convenience store owners and "smoke-free" advocates have blasted the Therapeutic Goods Administration's interim decision to allow Australians to buy nicotine-based e-cigarettes from pharmacies if they have a script from their doctor.
The TGA, which published its decision on Wednesday after it was revealed in The Australian, said the requirement for a prescription would help prevent nonsmokers from being introduced to nicotine via vaping.

"The requirement for a prescription provides an opportunity for a medical practitioner to fully assess a patient's need for e-cigarettes … and allow for the provision of advice to patients on all of the potential risks," a TGA delegate said.

Question for Department of Health and Social Care
To ask the Secretary of State for Health and Social Care, what assessment his Department has made of the potential effect of vaping on the transmission on covid-19.

There is currently no evidence that COVID-19 is more likely to be transmitted via passive exposure to cigarette smoke or e-cigarette vapour. However, being in close proximity to anyone with an active infection would carry a risk of infection regardless of whether they are smoking or vaping.
Would 'kill the whole industry' – Bailey Moreton,
The territorial government is asking the public for their take on a potential ban on selling flavoured vapes.

GWNT introduced the Tobacco and Vapour Products Control Act back in March, with the aim of protecting peoples' health by implement stricter regulations on vaping products.

Under the new legislation, vaping products can't be bought by anyone under the age of 19 years and retailers are subject to strict rules on how they can advertise vaping products. Advertising vaping products where youth could see the advertisement is completely prohibited.
SCOHRE
The founding of the International Association on Smoking Control & Harm Reduction (SCOHRE) was announced today, at the closing of the 3rd Scientific Summit; a voting and endorsement of the Association Founders' Declaration followed.

Despite knowing the harmful health effects of smoking for decades, still more than 1 billion people globally smoke and more than 7 million die prematurely every year from smoking-related disease.

Nicotine has an addictive potential but plays a minor role in smoking related mortality. In an epistemological climate where perceptions on the effects of nicotine is inconsistent with medical consensus, our purpose is to provide stakeholders with science-based and balanced information on the effects of nicotine. Nicotine is an addictive substance. However, it is been used successfully in smoking control and smoking cessation, and it could be used in smoking harm reduction.
---
A look back at how things have moved on or otherwise….
Action On Smoking and Health (ASH)
SUMMARY OF KEY FINDINGS: This fact sheet provides a detailed analysis of adult attitudes and behaviour with respect to e-cigarettes and how they have changed over time. The data are taken from an annual survey, Smokefree GB, carried out for ASH by YouGov. The survey first started asking about e-cigarette use in 2010 and this update includes the results of the 2019 survey carried out in Spring 2019.

Related:  'Half as many Britons' vape as smoke
Harry Shapiro, Nicotine Science and Policy
Not sure if this riff goes anywhere, but with the Amazon on fire, huge storms battering the Caribbean, a memorial service in Switzerland for melting glaciers, animal species lost forever as habitats vanish and thousands out on the streets protesting about climate destruction (forget 'change'), there are some synergies around the refusal of world health leaders, governments, health practitioners and academics of every stripe, to accept the reality that right now we have a world smoking pandemic that could be massively helped by encouraging the uptake of safer nicotine products. Not only are they sitting on their hands, they are actively lying to the general public and colleagues with all their Big Tobacco (BT) conspiracy theories, fake science, scare-mongering and ad hominin attacks. And anybody who fights back with what used to be called 'evidence' is simply dismissed as a BT stooge.
---
Visit Nicotine Science & Policy for more News from around the World

---