Vaping Digest 23rd September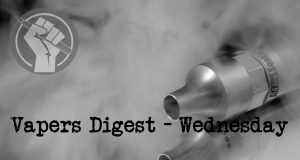 Wednesday's News at a glance:
Studies show e-cigarettes reduce smoking related illnesses ~ Tobacco Harm Reduction – The Right Policy Approach For Africa? ~ The Netherlands wants to implement plain packaging for vaping products. Big mistake! Discover why… ~ A vaping flavour ban sets back public health ~ Vaping 'dangers' stopping UK becoming smoke-free ~ Vapers mark government's vape ban anniversary as 'black day', hold protests in Hyderabad ~ Neutral packaging for safer nicotine products will cause more smoking ~ Government delivers another knockout punch to vapers ~ Government is using 'appalling justification' to ban vaping ~ Backwards Australia ~ The Tobacco Transformation Index ~ Another Day, Another Embarrassment: WHO Cites Retracted Anti-Vaping Study ~ NYTS Survey: Youth Vaping Rates Drop Between 2019 and 2020 ~ Coronavirus: Retailer fury at vape pharmacy sale plan ~ Vaping category grows by 12.6% since menthol ban
Tim Sandle, Digital Journal
Three recent studies demonstrate the improved health effects that come from the use of e-cigarettes, when such vaping products are used on a permanent basis and the use of all tobacco products is halted.
Campaign for Safer Alternatives
Policy makers in Africa find themselves confronted by a phenomenon of rising cigarette smoking rates. Despite some effort by African governments in achieving some of the Sustainable Development Goals, reducing tobacco smoking has proved the hardest to deliver. Although the prevalence rate of cigarette smoking in Africa today is only 14%; low, compared to North America (23%) and the Eastern Mediterranean (31%), its growth is the highest on the planet!
, Property Rights Alliance
The Property Rights Alliance submitted comments to express its significant concerns about the Dutch Executive Order– a proposed bill that would introduce plain packaging (PP) for vaping products and e-cigarettes from 1 January 2022. This measure will create an inhospitable environment for intellectual property rights. Intellectual property rights are human property rights covering dynamic assets and should never be weakened or diluted to meet other political objectives.
---
David Clement, Yael Ossowski, Michael Landl, The Parliament Magazine
Vaping has been proven to be an effective harm reduction tool for adults who are trying to quit traditional cigarettes.
It reduces the harms posed by smoking by decreasing or removing the combustion of tobacco altogether, which is why in 2015, Public Health England declared vaping was 95% less harmful than combustible tobacco and began recommending current smokers switch to electronic cigarettes.
Express UK
Dangerous misconceptions about the safety of vaping are hampering the UK's ambition to become smoke-free by 2030, campaigners claim. Mark Oates runs WeVape – which promotes the practice as a safer alternative to conventional smoking.
---

---
The New Indian Express
Marking the anniversary of India's vape ban as 'black day', the Association of Vapers India (AVI), held a protest in Hyderabad recently. Protests were held in Delhi, Bengaluru and Kolkata too.

An online protest rally was also organised where ex-smokers, vapers and their family members, along with global health, legal and advocacy experts expressed anger over the arbitrary ban imposed by the government last September.
European Tobacco Harm Reduction Advocates
ETHRA has made a submission to the Netherlands Ministry of Health, Wellbeing and Sports' public plain packaging consultation, which ended last Friday. The purpose of the draft legislation is to "set requirements by ministerial regulation for the standard packaging of cigars and electronic vapor goods." If enacted the legislation will see plain packaging requirements, which are currently applied to combustible tobacco products, also applied to products which are far less risky to health, such as vaping products.
---
Australian Tobacco Harm Reduction Association
THE AUSTRALIAN GOVERNMENT has continued its vendetta against Australian smokers by making vaping nicotine even more difficult to access. Under the new interim announcement by the TGA (medicines regulator) today, vapers will need to get a doctor's prescription and visit a pharmacy for nicotine supplies.
Alan Jones, Sky News
Sky News host Alan Jones says the idea vaping could become illegal without a prescription under the grounds it may be defined as a drug of abuse is an appalling justification on the government's part.
Sky News
---
TWO from Dave Cross, Planet of The Vapes
The Coalition of Asia Pacific Tobacco Harm Advocates (CAPHRA) believes Australia is increasingly out of step with forward thinking nations, rapidly becoming the "odd one out" in the Asia Pacific region when it comes to tobacco harm reduction and vaping.
The Foundation for a Smoke-Free World (FSFW) says its Tobacco Transformation Index (TTI) is the first index to rank the world's largest 15 tobacco companies (accounting for nearly 90% of global cigarette volume) on their relative performance, commitment, and transparency to deliver material progress in supporting tobacco harm reduction. It finds the industry is not doing enough in tobacco harm reduction.
---
TWO from American Vaping Association
In its quest to mislead health practitioners and policymakers on the relative risk of vaping compared to smoking, the World Health Organization (WHO) is citing a discredited paper that was retracted by its publishing journal.

Earlier this year, a controversial study co-authored by now-retired UCSF Professor Stanton Glantz linking vaping to heart attacks was retracted by the Journal of the American Heart Association. As it turned out, a second analysis of the data revealed that many of the heart attacks actually occurred before the vapers ever began using e-cigarettes.
On September 9, the Centers for Disease Control and Prevention (CDC) published results from the 2020 National Youth Tobacco Survey (NYTS), which indicated that youth vaping declined by one-third from 2019 to 2020.

Published in the September 9, 2020 Morbidity and Mortality Weekly Report, data from the NYTS found that current e-cigarette and vapor product use – defined as using such products on at least one occasion in the 30 days prior to the survey – declined from 27.5 percent of high school students and 10.5 percent middle school students to 19.6 percent and 4.7 percent, respectively. Among middle school students, vaping rates declined by 55 percent.

---
Rosie Lewis, The Australian
Retailers have urged the Morrison government to scrap its plan to sell vaping products in pharmacies with a prescription, warning the "deliberate exclusion" of small businesses from selling the "less harmful" products was "unconscionable, illogical and indefensible".

In a letter from the National Retail Association sent to government members and senators on Monday, chief executive Dominique Lamb said the prescription model was the "worst of both worlds" from a health and economic perspective.
Priyanka Jethwa, Better Retailing
In the 12 weeks since the menthol ban came into force, the vaping category has grown by 12.6%, with sales of menthol products up 44.6%.

According to Juul Labs UK, e-cigarettes are the largest sector in the next-gen nicotine category, and recent data from industry analysts IRI shows double-digit growth in e-cigarette sales in the 12 weeks after the removal of menthol cigarettes from stores, compared to the twelve weeks prior.
---
Officials Rush to Ban Flavors – Jim McDonald
The moral panic over teen vaping has grown more intense almost daily for two years, but what has happened in the past month has shocked even seasoned observers of the space. Between the already white hot hatred of JUUL (over a variety of real and imagined sins), the early release of survey data showing that teen experimentation with vapes has increased again this year, and the outbreak of "vaping-related" lung poisonings that has so far left eight people dead and hundreds in the hospital, the country is now in the grip of full-blown vapor madness.
Michael McGrady, Vaping Post
Things to think about… How can a government justify criminalizing people for using safer methods to use a legal recreational substance? This question is the centerpiece of all prohibitions against vaping as the global outrage about the behavior grows exponentially.

India, a country of millions of smokers, just banned e-cigarettes nationwide. "The decision was made keeping in mind the impact that e-cigarettes have on the youth of today," India's finance minister, Nirmala Sitharaman, said in a press conference.
Into Respiratory Disease Outbreak Has Contributed Absolutely Nothing
Michael Siegel, The Rest Of The Story
Before the CDC initiated its investigation of vaping-associated respiratory illness (VARI) on August 1, here is what we knew about the outbreak:

This outbreak is associated with vaping. If you want to avoid getting sick, you should avoid vaping.

After nearly eight weeks of CDC investigation, here is what the CDC's current conclusion is about the outbreak:

This outbreak is associated with vaping. If you want to avoid getting sick, you should avoid vaping.
---
Visit Nicotine Science & Policy for more News from around the World

---