Vaping Digest 21st September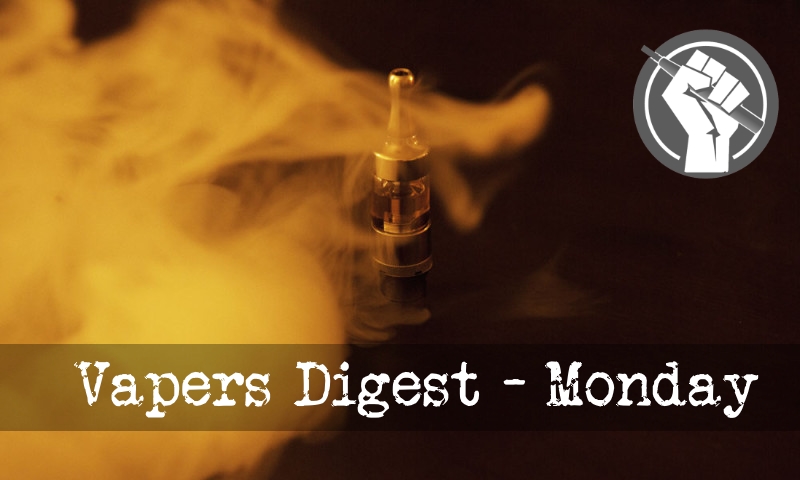 Monday's News at a glance:
Illegal Vaporesso Sales Slammed In Court – Ombudsman Supports Consumer Voices – Smokers Use E-Cigarettes To Quit – EVALI outbreak and vaping in the COVID-19 era – Secondhand Smoke Hoax Stanton Glantz Retires – Contradictions and Conflicts – The Realities of Smoking and Vaping – Tobacco Transformation Index – Supreme Court won't revive state's flavored vaping ban – Nicotine Science and Policy Daily Digest
Dave Cross, Planet of the Vapes,
Shenzhen Smoore Technology Limited has won a major battle against clone manufacturers and resellers by taking them to court in the United States. A New York federal judge found in Smoore's favour in a case involving over one hundred defendants for infringing upon Smoore's brand trademarks including Vaporesso.

The $5.4 million judgement places a permanent injunction against the 100+ defendants accused of selling Vaporesso and other Smoore's self-branded counterfeit goods. The default judgment is for $50,000 dollars per defendant and the fines have been automatically transferred to Smoore from the defendants' frozen assets.
Dave Cross, Planet of the Vapes,
The Office of the Ombudsman in Thailand has called on the government's agencies to listen to the voices of vapers and harm reduction advocates before continuing or lifting the ban on vaping. Thailand has implemented a number of bans over the years, but the current one has been implemented with ferocity and seen many arrested, fined, and/or jailed.

"Thailand has banned vaping more times than a new vaper dry burns their wicks. Each time the fresh ban has been accompanied by stark warnings. This changed in 2018 when the government actually did ban all vape products and locked up people transgressing the legislation," we wrote in 2018.
---

---
Hank Campbell
When e-cigarettes – vaping – began to gain in popularity in the early part of this decade, critics like Dr. Stan Glantz at UC San Francisco claimed they were only going to be used in addition to cigarettes, so risk reduction and smoking cessation would not happen.

Former smokers dismissed both him and his Johnson & Johnson funding – they make nicotine patches that compete with vaping – as a little too convenient, and data since has shown his claims were unfounded.
---
---
In the COVID-19 era – K Michael Cummings
The public should be able to rely on reputable medical journals like the Lancet. That is why we have taken the time to write this response to what we consider to be the misguided editorial published in the Lancet Respiratory Medicine entitled: The EVALI outbreak and vaping in the COVID-19 era (1). The possible relationship between use of nicotine vaping products, smoking behavior, EVALI, and COVID-19 are all worthy topics of concern. We also recognize and share the editors' concerns about youth vaping and acknowledge that the scientific debate about the benefits and risks of nicotine vaping are unsettled.

Stanton Glantz Retires, Legacy Marred by Fraudulent Science
---

---
State ownership of tobacco companies and the WHO Framework Convention on Tobacco Control
CONTRADICTIONS AND CONFLICTS | Tobacco products kill 8 million people every year. Between 2000 and 2019, overall global tobacco use declined by less than a quarter of a percentage point per year, despite global attempts to address the pandemic, spearheaded by the World Health Organization's Framework Convention on Tobacco Control (FCTC), in force since 2005. There are currently 182 parties to the FCTC, which has as its main objective "to protect present and future generations from the devastating health, social, environmental and economic consequences of tobacco consumption and exposure".
Jerry Rogers
The American Lung Association's How to Quit Smoking offers tips, secrets, and myriad reasons to help smokers quit. Why? Simple, because nearly all Americans who use tobacco know how difficult it is to quit. Most people who smoke cigarettes want to quit. In fact, many have tried to quit – only to fail.

According to the American Lung Association, ex-smokers say quitting tobacco was the most challenging feat they had ever accomplished. Giving up cigarettes is more difficult than climbing mountains or corporate ladders; ex-smokers profess quitting was tougher than childbirth—and the research backs it up. The data shows that smokers make – on average – 30 attempts to quit smoking before they can kick the habit for good.

Finds Most of the 15 Largest Tobacco Companies are Failing to Advance Harm Reduction
The first Tobacco Transformation Index, released today and made possible with funding from the Foundation for a Smoke-Free World, finds that most of the 15 largest tobacco companies are not making substantive progress in phasing out cigarettes and other high-risk tobacco products and transitioning smokers to reduced-risk alternatives. A small group of companies have made public commitments to harm reduction and backed them with significant investments. A majority of companies have made no such commitment to tobacco harm reduction. With 1.3 billion tobacco users in the world, of which 8 million die annually from tobacco-related diseases, the stakes for global health are high. Adult cessation and tobacco harm reduction could reduce deaths within the next two decades.
Won't revive state's flavored vaping ban – Beth LeBlanc
The Michigan Supreme Court on Friday denied a request to reconsider a lower court's ruling that halted Gov. Gretchen Whitmer's ban on flavored vaping products.

The Michigan Court of Appeals ruled 3-0 in May to uphold an injunction on the ban put in place by Court of Claims Judge Cynthia Stephens.

The state had appealed the decision to the Michigan Supreme Court and was denied in short order Friday. "The court is not persuaded that the questions presented should be reviewed by this court," it said.
---
A look back at how things have moved on or otherwise…
As CNN bans vape ads & Sally Davies talks more nonsense
Fergus Mason, Vaping Post
In a shock move last week, President Donald Trump announced that he plans to ban all flavoured vaping products in the USA with the exception of tobacco flavours. The FDA has been tasked with drawing up the new law, which is expected to take several months. New York's governor doesn't want to wait for Trump to take action, though – he's just imposed a similar ban on his state. Meanwhile Britain's Chief Medical Officer has launched a fact-free blast against vaping in one of her last interviews before stepping down.
New York and Michigan Pass Flavor Bans
Jim McDonald, Vaping 360
Two states now have bans in place on flavored vaping products. And although prohibition of drugs never works and always leads to unintended consequences, the politicians who have enacted these bans through executive action don't seem interested in the history of drug prohibition—or the welfare of the people who use the products.

Michigan's Department of Health and Human Services issued rules prohibiting sales of flavored vaping products (except tobacco) today, just two weeks after being announced by Gov. Gretchen Whitmer. Retailers now have just 14 days—not the 30 days originally announced—to sell or remove products before the rule takes effect.
---
Visit Nicotine Science & Policy for more News from around the World

---