Vaping Digest September 20th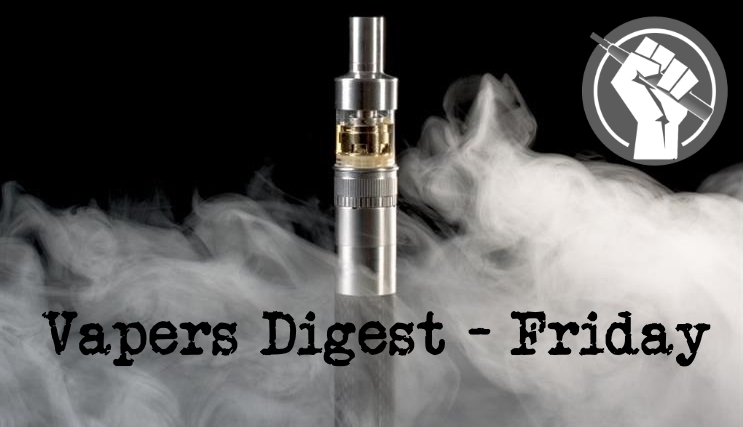 Friday's News at a glance:
Flavours to be banned across the USA as CNN bans vape ads & Sally Davies talks more nonsense – 14 Days to Prohibition – In Seeking the Truth – A United Voice for the Canadian Vaping Industry – NNA: UK Government's Green Paper Detrimental to Public Health – NY Blood Money Ban – AVA Responds To NY Ban – $20 million Campaign – Tanks For Not Vaping – Michigan Ban Challenge – Vaping: Why Wait for the Evidence? – White House abruptly cancels meeting – Lung Disease Misinformation – Don't Protect Cigarettes – A dim-witted war on vaping – Nicotine Science and Policy Daily Digest
As CNN bans vape ads & Sally Davies talks more nonsense
Fergus Mason, Vaping Post
In a shock move last week, President Donald Trump announced that he plans to ban all flavoured vaping products in the USA with the exception of tobacco flavours. The FDA has been tasked with drawing up the new law, which is expected to take several months. New York's governor doesn't want to wait for Trump to take action, though – he's just imposed a similar ban on his state. Meanwhile Britain's Chief Medical Officer has launched a fact-free blast against vaping in one of her last interviews before stepping down.
New York and Michigan Pass Flavor Bans
Jim McDonald, Vaping 360
Two states now have bans in place on flavored vaping products. And although prohibition of drugs never works and always leads to unintended consequences, the politicians who have enacted these bans through executive action don't seem interested in the history of drug prohibition—or the welfare of the people who use the products.

Michigan's Department of Health and Human Services issued rules prohibiting sales of flavored vaping products (except tobacco) today, just two weeks after being announced by Gov. Gretchen Whitmer. Retailers now have just 14 days—not the 30 days originally announced—to sell or remove products before the rule takes effect.
---

---
You have to get both sides of the Story – Nancy Loucas
Now lets focus on the two ministers who are ultimately responsible for the introduction and implementation, via the Ministry of Health, of regulation around nicotine flavoured e liquid, equipment and the retail market requirements for this.

Up until the outbreak of "respiratory illnesses" in the United States in early September, New Zealand was headed towards risk proportionate regulation based upon recommendations from the Technical Expert Advisory Committee commissioned by the Ministry of Health, as well as advice from experts such as the head of ASH NZ, Dr. Robert Beaglehole and Dr Chris Bullen who is the lead THR researcher at the University of Auckland.
Vaping Industry Trade Association (VITA)
Today, the industry officially launched the Vaping Industry Trade Association (VITA), a newly formed association representing vaping industry stakeholders with a goal to speak with one voice on issues of importance to the industry.

As Canada's largest trade association representing the industry's manufacturers, importers, distributors and retailers, VITA is committed to working with stakeholders and governments to set and uphold regulations for vaping products in Canada. VITA's approach is based on credible evidence, science, facts, and logic. In our efforts to responsibly grow and defend the category, the Association commits to collaborating with Health Canada and other regulatory bodies to identify best practices and to inform the development of evidenced-based regulations.
---
---
India's biggest cigarette maker
The Narendra Modi government Wednesday announced a complete ban on e-cigarettes, citing the risk they posed to India's youth.

However, it is a little known fact that the Union government is a shareholder in the largest domestic manufacturer of conventional cigarettes, which have been proven to cause cancer and other ailments. This makes India's government perhaps the only one in the world with a stake in a cigarette company, and raises questions about a potential conflict of interest in the ban on e-cigarettes.
Detrimental to Public Health – Diane Caruana
Earlier this month, reported the NNA, the Cabinet Office and Department of Health and Social Care joint-released their intentions in a Green Paper, reportedly forced through by Theresa May the advice of her Secretary of State.

"We are setting an ambition to go 'smoke-free' in England by 2030. This includes an ultimatum for industry to make smoked tobacco obsolete by 2030, with smokers quitting or moving to reduced risk products like e-cigarettes," read the Government's Green Paper. In response to this statement the NNA said that while it welcomes the initiative and the recognition safer alternatives' potential, aspects of this paper are problematic.
---

---
Five from Dave Cross, Planet of the Vapes
Governor Andrew Cuomo proposed an executive order to ban flavoured juices, claiming it was a proportionate response to the rash of reported lung disease incidents. The health council met yesterday and feigned listening as people spoke out against the emergency legislation. New York is now the second state in the USA to have banned flavoured eliquids, following on the heels of Michigan.

Andrew Cuomo said: "It is undeniable that vaping companies are deliberately using flavours like bubblegum, Captain Crunch and cotton candy to get young people hooked on e-cigarettes — it's a public health crisis and it ends today."
Unelected members of the New York State Department of Health's Public Health and Health Planning Council (PHHPC) voted to pass an "emergency" measure to ban the sale of vaping products in flavours other than menthol, tobacco, and unflavoured for the next 90 days. The American Vaping Association (AVA) says that these "unelected bureaucrats" will create a massive black market and have "blood on their hands". The AVA also promises a fight in court.
---
Skip to 16:43 to listen to Linda Bauld & Lion Shahab
Thanks as always to @dnglos for the YouTubage
---
California is to spend $20 million on a campaign aimed at telling people not to vape. It calls it a "public awareness campaign" and yet will highlight "the dangers of vaping". The move was announced by the Californian governor, Democratic Gavin Newsom, as part of yet another "executive order". Along with New York, California is in real trouble with its Tobacco Master Settlement Agreement bonds.

Newsom claims the executive order is justified because of the outbreak of lung diseases "linked to vaping", he said. "California has seen at least 63 cases and one of the six deaths reported."
Army Foundation College Harrogate has declared vaping to be "unacceptable" for recruits and conflates it with smoking. Teen recruits joining the UK's primary training centre this week will find that vaping is banned because it isn't "isn't compatible with health, fitness and developing potential". Lieutenant Colonel Richard Hall says he expects criticism of the action. The college has previously been embroiled in a bullying scandal.
Beau LaFave is demonstrating that not everybody entering politics is inept or stupid as he launches a bill to prevent the proposed vape ban in Michigan. The 27-year-old holds a drive and passion for his role that hasn't been tainted by extended periods in office, and his refreshing attitude embraces science and facts to counter the simplistic and populist stance of the state's governor.

LaFave graduated from High School to earn a bachelor's degree in International Relations and Political Economy from Michigan State. Then he completed his first Law School but placed the law degree on hold to enter the political arena. This means he has a delightful career history on his resume, working as a delivery driver for Jimmy Johns and as a camp counsellor with the Amputee Coalition of America.

Steven Greenhut
Underage drinking remains a nationwide problem, but there's one approach that policymakers never consider: banning the sale of most types of alcoholic beverages to adults to keep it out of the hands of youth. That's true even though virtually all liquor that underage people consume was originally sold at retail businesses. They typically get booze from older friends and siblings, who buy it legally.

Lawmakers never propose that "solution" because it's wrong to punish all adults for the actions of a small number of them who provide liquor to teens. Some products — alcohol, tobacco, and guns, to name a few — are meant for adults only.
With vaping advocates – Daniel Lippman, Dan Diamond
The White House abruptly organized — and then quickly canceled — a meeting Thursday with frustrated conservative policy leaders, to try to tamp down anger about a sweeping vaping ban that's inflamed the Trump administration's traditional allies, four individuals with knowledge of the meeting told POLITICO.

President Donald Trump last week announced a ban on flavored e-cigarettes, a policy that officials portrayed as a response to an epidemic of teen vaping amid a potentially unrelated outbreak of a mysterious vaping-related disease that's stricken 530 and killed seven people.
CBS News
Researchers are working hard to determine the cause of more than 500 reported cases of lung illness affecting e-cigarette users. But even before this outbreak, e-cigarettes divided the medical community. Public Health England describes e-cigarettes as "at least 95% less harmful than tobacco cigarettes" – a claim New York University professor David Abrams agrees with. Abrams tells "CBS This Morning" Tony Dokoupil why he's concerned about what the current panic about e-cigarette safety could mean for public health.
"Biggest public health opportunity" in 120 years 
Researchers are working hard to determine the cause of more than 500 cases of lung illness affecting e-cigarette users. Eight of those people have died, sparking a criminal investigation from the FDA – but even before this outbreak, e-cigarettes divided the medical community. The American Lung Association has said that "e-cigarettes are not safe," but the American Cancer Society said they're "likely to be significantly less harmful for adults than smoking regular cigarettes."
Has Compounded Confusion About the Hazards of E-Cigarettes
Jacob Sullum, Reason
The percentage of Americans who understand that e-cigarettes are less hazardous than the conventional, combustible kind has fallen by 14 points since June 2018, according to a new Morning Consult poll. That shift is no doubt largely due to misleading warnings from public health agencies and irresponsible reporting by major news media outlets about recent cases of severe respiratory illnesses among vapers. Although the available information indicates that the vast majority of those patients used black-market cannabis products, the government and the press continue to blame their symptoms on "vaping" and "e-cigarettes" in general, leaving the false impression that legal nicotine products, which have been in wide use for years, pose a potentially deadly threat.
By Banning Far Less Harmful Nicotine Vapor Products – Bill Godshall
When cigarette smokers switch to Electronic Nicotine Delivery Systems (ENDS) (electronic cigarettes), they are exposed to exponentially fewer toxins (such as tar and carbon monoxide) and, thus, are far less likely to get cancer or circulatory disease.

That's why the Food and Drug Administration should encourage their use by smokers — instead of demonizing them and banning their sales. This view has been known in England for years and was confirmed in the New England Journal of Medicine a few months ago: "E-cigarettes were more effective for smoking cessation than nicotine-replacement therapy, when both products were accompanied by behavioral support."
Vaping illnesses sparked the e-cig crackdown. But marijuana is likely to blame.
Paige Winfield Cunningham
Public officials are cracking down on e-cigarette use amid an outbreak of vaping-related illness and seven resulting deaths. But pot might be more to blame than anything else.

Nearly all of the 380 patients with lung illness reported using a marijuana oil called THC in their vape pens, my Washington Post colleague Lena H. Sun reports. THC is the chemical behind most of marijuana's psychological effects, stimulating the brain to create pleasurable feelings. It's essentially what leads to feeling "high."
Dan Hannan
My teenage daughter vapes. She half-heartedly tries to hide it from me, but parents are rarely as slow-witted as their 17-year-olds think. Not that I especially mind. At her age, I was smoking actual, you know, cigarettes. So were most of my friends.

The shift among young people from tobacco to nicotine-infused water is one of the many ways in which her generation is healthier than mine.

In Britain, vaping is recognized as a welcome way to cut tobacco-related deaths. Studies show that switching to e-cigarettes is twice as likely to make smokers quit as the next most effective method (nicotine patches).
---
A look back at how things have moved on or otherwise….
Terry Barnes, The Spectator Australia
It took a while, but yesterday there was a strange burst of rationality from the ship of fools also known as the Coalition party room.

Months after receiving a parliamentary committee report on nicotine e-cigarettes, in which both the Liberal chairman and leading Liberal member extraordinarily dissented from their own committee's negative report, health minister Greg Hunt is daring the wrath of the public health puritanical pooh-bahs in agreeing to commission an independent expert inquiry.
Colin, Australian Tobacco Harm Reduction Association
In a major turnaround, the federal Liberal Party took the first step today towards legalising vaping by voting for an independent scientific inquiry into vaping.

In today's Liberal party room meeting, the Health Minister Greg Hunt (pictured) agreed to commission an inquiry into the scientific evidence of vaping, possibly by the National Centre for Epidemiology and Population Health (NCEPH) at the Australian National University. ATHRA sees this as a positive first step towards legalising the use of nicotine for vaping in Australia.
---
Visit Nicotine Science & Policy for more News from around the World

---