Vaping Digest September 23rd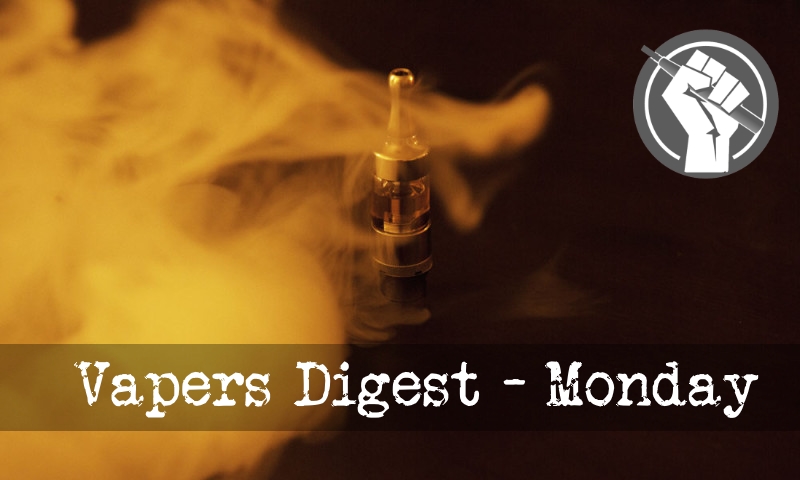 Monday's News at a glance:
Still blowing smoke in Asia – Call on Consultant to Withdraw Misinformation – Officials Rush to Ban Flavors – Vaping In the News – Vaping ban will sink Trump in 2020 – Electronic cigarettes and the precautionary principle – No Quarter for the Nicotine Folk Devils – The Big Drop – "Half-Baked" India – Ban on e-cigarettes is moral policing – A bad case of the vapours – CDC Investigation into Respiratory Disease Outbreak – Co-Author of San Francisco's E-Cig Ban – Finnish MPs becoming more positive – Businessman arrested for selling e-cigs – My journey to a smoke-free life – Nicotine Science and Policy Daily Digest
Heneage Mitchell, NSP
Over half a billion smokers live in Asia, and Asian countries have some of the highest per capita smoking rates – and some of the highest numbers of smoking-related deaths – in the world.

Given the staggering damage to its citizens' health that smoking is responsible for you'd think that regional governments would be eagerly embracing any less harmful alternatives such as vapes and heat-not-burn (HNB) devices to encourage people to wean themselves off conventional tobacco products.
Call on Consultant to Withdraw Misinformation
It was with some shock that Irish Vape Vendors Association learned of an outlandish article in Irish Sunday Mirror yesterday, Sept 23. Prof Sherif Sultan from Galway Clinic called for a ban on vaping and warned: "It's more dangerous than smoking and booze combined". Speaking this morning, Declan Connolly, director of IVVA, said that "this statement from Prof Sherif Sultan is blatantly untrue, and these ill-informed comments should be withdrawn immediately.
---

---
Officials Rush to Ban Flavors – Jim McDonald
The moral panic over teen vaping has grown more intense almost daily for two years, but what has happened in the past month has shocked even seasoned observers of the space. Between the already white hot hatred of JUUL (over a variety of real and imagined sins), the early release of survey data showing that teen experimentation with vapes has increased again this year, and the outbreak of "vaping-related" lung poisonings that has so far left eight people dead and hundreds in the hospital, the country is now in the grip of full-blown vapor madness.
Kevin Crowley, Vaping Links
Marilyn ~ Mark Slis (Scientist & Vape Shop Owner) ~ Compliance Checks ~ Speaking of Michigan ~ Flavored E-Cigarette Bans Propagate America's War On Drugs ~ No Quarter for the Nicotine Folk Devils ~ Uncool Mint Research ~ Don't Protect Cigarettes by Banning Far Less Harmful Nicotine Vapor Products ~ 14 Days to Prohibition: New York and Michigan Pass Flavor Bans ~ Flavors with Governors Cuomo & Whitmer
Alayna Treene
Conservative leaders are circulating data to White House staff that claims adults who vape will turn on President Trump if he follows through with his planned ban on flavored e-cigarettes, Axios has learned.

Between the lines: The data (shown below) reveals that the number of adult vapers in key battleground states greatly outweighs the margins by which Trump won those states in 2016 — and they argue it could cost him reelection.
---
---
John Britton, BMJ Opinion
Smoking kills. That such a damaging and irrational behaviour persists in many countries where the health risks of smoking are well understood and most smokers want to quit, is testimony to the power of nicotine addiction. Quitting is difficult, particularly without medication and behavioural support, but persuading smokers to accept help can also be difficult: most choose to quit unaided, and usually fail.
Michael McGrady, Vaping Post
Things to think about… How can a government justify criminalizing people for using safer methods to use a legal recreational substance? This question is the centerpiece of all prohibitions against vaping as the global outrage about the behavior grows exponentially.

India, a country of millions of smokers, just banned e-cigarettes nationwide. "The decision was made keeping in mind the impact that e-cigarettes have on the youth of today," India's finance minister, Nirmala Sitharaman, said in a press conference.
---

---
Two from Dave Cross, Planet of the Vapes
The ongoing work by the researchers behind University College London's Smoking Toolkit Study (STS) has shown that smoking rates in England have dropped by the largest amount in over a decade. Given that cessation services are starved of funding, the only factor that can have played a major part is vaping – despite the negative hysteria.

"Not smoking is now the norm in England", says Public Health England (PHE). "But despite smoking rates being lower than ever before, millions still smoke across the country."
The most recent statistics from India show that 89,486,000 adults use tobacco every day. Each year, the country produces 82.12 billion cigarettes. While the government enjoys the revenue from its quarter stake in the national cigarette industry, almost one million die every year from its products – one death every six seconds. It makes absolute sense that it would pass a ban on the production and sale of vape equipment, doesn't it?

Faced with a massive potential threat to its tobacco interests, the government moved on Wednesday to outlaw the manufacture, import, export, transport, sale, distribution, storage and advertising of all vape products.
Ravi Shanker Kapoor
The ban on e-cigarettes, imposed ostensibly to stop the hazards of vaping and improve the moral health of youngsters, is actually an exercise in moral policing. Some enlightened souls (enlightened, that is, in their own reckoning) decide that some proscription is good for the society; and they, as the Nike motto says, just do it. They have done it again. Without taking into account various facets of their intended action, its impact on the sector concerned, the health of the people, the consequences on the economy, and so on.
---
---
Ivo Vegter, Daily Maverick
After half a dozen deaths allegedly associated with vaping and a surge in teenage e-cigarette use, US President Donald Trump has proposed banning flavoured e-cigarette liquids, which had nothing to do with the health scare in the first place. Local media joined in the hysteria, which will kill more people than it saves.
On Friday 6 September 2019, the Centers for Disease Control (CDC) in the US confirmed in a media conference call that it was investigating cases of lung disease among people who use e-cigarettes.
Into Respiratory Disease Outbreak Has Contributed Absolutely Nothing
Michael Siegel, The Rest Of The Story
Before the CDC initiated its investigation of vaping-associated respiratory illness (VARI) on August 1, here is what we knew about the outbreak:

This outbreak is associated with vaping. If you want to avoid getting sick, you should avoid vaping.

After nearly eight weeks of CDC investigation, here is what the CDC's current conclusion is about the outbreak:

This outbreak is associated with vaping. If you want to avoid getting sick, you should avoid vaping.
Wants the FDA to Silence His Opponents – Jacob Sullum
San Francisco Supervisor Shamann Walton, co-author of that city's pending ban on the sale of e-cigarettes, is complaining that the campaign for Proposition C, a Juul-backed 2019 ballot initiative that would overturn his ordinance, violates federal restrictions on commercial statements about vaping products. Walton's claim vividly shows how the Food and Drug Administration (FDA) suppresses truthful, nonmisleading statements about the nicotine products it regulates.

Towards snus legalisation – Yle
Finnish politicians are becoming more open to legalising snus, an orally-ingested tobacco product that's banned everywhere in the EU except Sweden.

The Swedish People's Party has previously supported legalising snus in Finland. But Yle's poll now finds that support for the measure spans the political spectrum.

Residents can legally import up to 1kg of snus a day for personal use. However the Ministry of Social Affairs and Health has proposed lowering this allowance to 100 grams. Last year, the Finnish Medical Association (FMA) said the import of snus should be banned altogether.
Taskforce police arrested a businessman from Abids and seized 35 electronic cigarettes  along with other incriminating evidence. Acting on specific information, the Central Zone team of Taskforce raided a shop named Gulnar's Perfumes at Mozamjahi Market on Saturday night.

During the raid, police found that shop owner Syed Noor Arif Ali was resorting to illegal sale and marketing of banned electronic cigarettes, containing propylene, glycol, glycerine, water, nicotine  and artificial flavours.
Shrey Dua
Last December I wrote a column in which I attempted to evaluate the evidence against JUUL and other e-cigarette companies used by the Food and Drug Administration to implement more stringent regulations on these devices. My argument was simple — vaporizers are fundamentally different than traditional cigarettes and the evidence that vaping is hurting people in the same way cigarettes historically have is negligible.
Rikki's story – ATHRA
Let me start by thanking ATHRA and A/Prof Colin Mendelsohn for all their hard work in bringing this life-saving technology to the awareness of the public.

My journey started with a phone conversation with a childhood friend. He had mentioned he hadn't smoked in years, and I was intrigued as to how he had done it. He told me he had used a vaporiser, and offered to send me one of his through the post. As soon as I tried it I was sold. For me it was a perfect fit, and instantaneous.
---
A look back at how things have moved on or otherwise….
Australia Is Wobbling On E-Cigs – Dick Puddlecote
The Australian Guardian reported on Tuesday that the Aussie government is to set up a new inquiry into e-cigs.

The health minister Greg Hunt has agreed to an independent inquiry into the health impacts of nicotine e-cigarettes after a concerted push in the Coalition party room over several months to legalise vaping.

Several MPs raised the issue in Tuesday's party room meeting, saying there was widespread support within the government for making nicotine e-cigarettes legally available.

This is significant considering Greg Hunt famously said that legalisation of vaping would never happen 'on his watch' last year.
Christopher Snowdon, Velvet Glove Iron Fist
From the Express…

British taxpayers 'should not subsidise scaremongering anti-vaping laws'

British taxpayers should no longer subsidise "scaremongering" anti-vaping laws advocated by the World Health Organisation, consumer champions said tonight.

It includes a quote from my good self…
---
Visit Nicotine Science & Policy for more News from around the World

---