Vaping Digest 18th September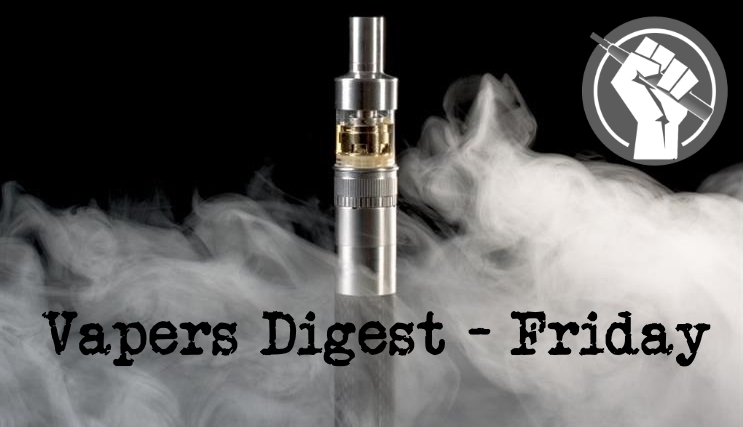 Friday's News at a glance:
The thirdhand smoke grift – Focusing on recent publication of Gaiha et al – India: Vapers Will Protest Ban on Sept. 18th Anniversary – More Than 80% of Doctors Think Nicotine Causes Cancer – The veto was the right call: Gov. DeSantis and SB 810 – Backing #Vaping to beat #Cancer – Teens Turning Away From Vaping – Chicago Makes A Song And Dance – Danish Cancer Society Supports Cancer Sticks – Webinar: The Revision of the EU TPD – Voices4Vape Webinar – Vaping Is NOT Toxic – Lung Foundation Australia continues to mislead the public about vaping – Why Greg Hunt's plan to ban nicotine imports and medicalise vaping will not work – The Double Standards of Cannabis and Nicotine – Snus Revolution #3 is out – Smokers increasingly using e-cigarettes to quit – Nicotine Science and Policy Daily Digest
Christopher Snowdon, Velvet Glove Iron Fist
More essential public health research from California…

The COVID-19 pandemic has created a number of challenges…

Hasn't it!

…including that many are spending more time at home than ever before.

Domestic violence, suicide, loneliness, isolation, depression. It is a major problem.

This is a significant problem for those with neighbors who smoke.

Not so much that, to be honest….
Karthik Ranganathan, Yuchen Xue
As a result of the COVID-19 pandemic, it is a challenge for the scientific community to publish results quickly, and publication often occurs at the price of quality and reproducibility, which in turn undermines the public's trust of science. A recent paper by Gaiha et al evaluated the relation between youth smoking and coronavirus and concluded, "COVID-19 is associated with youth use of e-cigarettes only and dual use of e-cigarettes and cigarettes." If this is true, this finding has major implications for policy and would justify strong additional calls for youth not to use these products during the pandemic.
Of the harm reduction approach in nicotine use
Nicotine Damage Reduction started this petition to Congress of the Republic of Colombia, legislators from Latin America and the world.

In case you want to know more information about us, our project or our initiatives, visit our website: www.nicotinareducciondedaños.com / who-we-are / or our social networks on Twitter (@NicotinaRRD), Instagram (@Nicotinarrd), and Facebook (@Nicotinarrd).
---

---
Sept. 18th Anniversary – Jim McDonald
Indian vaping advocates will hold simultaneous protests around the country this Friday, Sept. 18, to mark one year since the Indian government banned the sales of vaping products. The event is being organized by the Association of Vapers India (AVI).

"We are bringing vapers together to raise our objection against the draconian ban by the government on September 18 last year," said AVI Director Samrat Chowdhery in a statement. "Due to this arbitrary decision, efforts taken to promote harm reduction to reduce India's tobacco health burden have been wasted. In our country, where nearly a million people die of smoking every year, it is important to promote risk reduction tools and sensitise people about them."
Think Nicotine Causes Cancer – Jim McDonald
What do medical schools teach about nicotine? Not much, if the results of a recent Rutgers University study are to be believed. Like the general public, physicians have a poor understanding of nicotine, and many mistakenly believe that nicotine is responsible for harms caused by inhaling cigarette smoke.

The study, published in the Journal of General Internal Medicine, shows that most specialists from fields that treat lifelong smokers believe that nicotine contributes to cancer, heart disease and chronic obstructive pulmonary disease (COPD). The results are shocking. Combining the results from all of the doctors, 83 percent believe that nicotine directly contributes to heart disease, and 81 percent think nicotine contributes to COPD.
---
---
Gov. DeSantis and SB 810 – Jesse Kelley, Jonathan Haggerty
Gov. DeSantis appropriately used his veto power to combat black markets in Florida. Senate Bill 810 would have banned the use of any flavored nicotine liquid not approved by the U.S. Food and Drug Administration and the legislation would have also raised the age to buy tobacco and vaping products in Florida to 21.

Gov. DeSantis in a letter regarding the veto said, "this legislation would almost assuredly lead more people to resume smoking cigarettes, and it would drive others to the hazardous black market." And he is right. Research has shown that banning an addictive product with high demand and few substitutes will shift supply to the illicit market, and that efforts to enforce a ban on such a product lead to violence.
EuReporter
 The upcoming European Union's Beating Cancer Plan is a historic chance to improve public health in Europe. Cancer is the second leading cause of death in the EU. 1.3 million people die from cancer each year in the EU and 700,000 of those deaths are associated with smoking. Despite these terrifying numbers, approximately 140 million Europeans are still smoking. The European Union is right to tackle the disease with a holistic approach, writes Michael Landl (pictured).

A comprehensive approach needs to include prevention and harm reduction. While it is important that lawmakers do everything, they can to prevent people from starting smoking, it is equally important to support current smokers in their quest to quit. Including e-cigarettes (vaping) in the EU Beating Cancer Plan will help millions of European who are struggling to quit smoking and consequently prevent many deaths associated with cancer from smoking.

Six from Dave Cross, Planet of the Vapes
Some public health officials and most tobacco controllers have been worrying about teen uptake since vaping took off. Various studies have demonstrated that teen vaping was small and confined to smokers and ex-smokers, in both the UK and the USA, but those opposed to vaping continued to spread unsupported fear. A latest study shows that not only is teen vaping a minor issue in the UK, but it appears to be plateauing.

While young people's experimentation with vaping has "increased in recent years", write the investigators, "regular use remains limited". Regular vaping in UK teens has been shown to be confined almost exclusively to smokers and ex-smokers, both in the most recent ASH UK study and one by McNeill, Brose, Calder, Bauld, and Robson in 2018 [link].
Chicago makes a song a dance about the harm reduction potential of vaping and hides behind the ridiculous claims made by Bloomberg-funded and other anti-vape organisations to ban flavoured eliquids. Florida's governor recognised the importance of flavours for vaping and refused to bring in an age limit that would have banned them.

"The Chicago City Council today delivered a win for kids over the tobacco industry by voting 46-4 to prohibit the sale of all flavoured e-cigarettes," yammered the Campaign for Tobacco-Free Kids (CTFK). "This legislation is a critical step to help end the worsening youth e-cigarette epidemic and stop e-cigarettes from addicting a generation of kids. This action comes at a critical time as a recent study, highlighted in The New York Times, found that young people who vape are significantly more likely to be diagnosed with COVID-19."
The Danish Cancer Society (DCS) has written to the European Commission (EC), urging them to enact harsher controls on vaping in the new Tobacco Products Directive (TPD). It copied in Danish politicians in its call to make access to vaping harder to prevent "smoking among young people".

"Tobacco smoking is the main preventable source of disease and death in Denmark," said the Danish government as it introduced the Bill amending the Act on the ban on tobacco advertising etc., Act on tobacco products, and Act on Electronic Cigarettes. "A particular problem relates to smoking by children and young people, as they are particularly vulnerable to the harmful effects of tobacco and other nicotine products."
The Independent European Vape Alliance (IEVA) is organising an online event that consumers will be able to view for free. Its webinar will feature experts talking about the new iteration of the European Tobacco Products Directive, commonly referred to as TPD3, and what it means for businesses and end consumers. It is highly possible it will impact on the United Kingdom in some form so consumers may like to know how and what they can do to influence it.

The IEVA says it operates to unite "national associations, companies, manufacturers and wholesalers in the vaping sector, which are independent of the tobacco industry, and providing them with means of​ ​responsible representation at the European level​.
The Coalition of Asia Pacific Tobacco Harm Reduction Advocates (CAPHRA) would like to remind vapers that the Voices4Vape Webinar is almost upon us, stacked with interesting expert analysis, and registration is totally free. The online conference takes place on Saturday, 26 September.

"Voices4Vape" takes place on Saturday September 26, from 8am till Midday GMT. It will involve presentations, live question and answer sessions, and a panel debate. Registration for the event is free [link]. The virtual event will bring together public health policy experts, scientists, professionals, and consumers who believe smoke-free nicotine products are a much safer alternative to cigarettes and a fundamental human right.
Wes Streeting wants to know if a smoking cessation product price rise is on the cards. Lee Anderson thinks all nicotine products should be included in a forthcoming review and is concerned about the advice being given out by GPs. Alex Sobel asked a question regarding the work currently done by Public Health England.

Ilford North's Wes Streeting asked if there are current plans to change the rate of VAT applied to smoking cessation products such as vaping.

Jesse Norman, Financial Secretary to the Treasury, told him: "There are limits to the changes the Government can make to the VAT treatment of these goods under the framework of European law…."
---

---
Say UK Health Experts – Neil Humber
A new study shows categorically vaping is not toxic, but there is some risk to health involved albeit minimal. A group of UK health experts has welcomed the study and say no one as ever said the use of e-cigarettes was completely risk free.

And both the authors of the report and leading scientists point out that vaping is still much much safer than smoking.

To established vapers and those who've watched the evidence on the safety of e-cigarettes unfold, this may seem like nothing new.
Continues to mislead the public about vaping – ATHRA
LUNG FOUNDATION AUSTRALIA (LFA) recently released an 'E-cigarette and vaping fact sheet' strongly opposed to vaping. However, the document is deliberately misleading and misinformed and is likely to lead to an increase in smoking and therefore an increase in lung disease.

The lack of scientific rigour from a leading health charity is very disappointing, but it is not the first time. Earlier this year, LFA CEO Mark Brookes made the blatantly false claim that vaping nicotine is at least as harmful as smoking and claimed to have references to prove it. ATHRA wrote to the LFA Board for evidence to support the assertion but received no response.
Imports and medicalise vaping will not work – ATHRA
GREG HUNT wants to ban nicotine imports and force vapers to go to the doctor for a prescription and then to a pharmacy to purchase nicotine liquid. ATHRA believes nicotine liquid should be available for sale as a consumer product so it can be easily accessed as a quitting aid.

Today we sent this flyer Liquid nicotine. Prescription or consumer product? to all federal MPs and Senators explaining why this proposal must not go ahead.

Low concentrations of nicotine liquid are not medicines. They are a safer consumer product used to replace an existing consumer product, lethal cigarettes.
Of Cannabis and Nicotine – Michelle Minton
The principal benefit of recreational cannabis, as the name implies, is recreation. Many who enjoy using the substance do so solely because of the pleasure they derive from it. Nicotine vapor products or "e-cigarettes" are not only a source of pleasure, but also a critical tool that has helped millions of adults kick their deadly smoking habit. Yet, at the same time that public and political support for legalizing recreational cannabis has soared, so also have calls to virtually eliminate or prohibit legal access to potentially life-saving nicotine vapor products.
Perihelion Creations
As the world reopens from the COVID-19 pandemic, the Snus Revolution podcast just released its third episode. Hosts Bengt Wiberg and Michael McGrady discuss the origins of snus, and an update on a coming study that describes the connection between the use of snus, nicotine, and the transmission of COVID-19 during use.

You can listen to the latest episode of the Snus Revolution podcast at or website, www.snusrevolution.org. Or, you can find the show on the world's most popular podcasting platforms: Spotify, Google Podcasts, PocketCasts, by RSS feed, and on Anchor.fm.

Is a public health failure
For months, the Canadian Vaping Association (CVA) cautioned the Government of Nova Scotia that their proposed vape tax would harm adult smokers and wipe out age restricted specialty vape stores in favour of Big Tobacco owned vape brands.

The Government of Nova Scotia refused any consultation with industry and continued forward with their misguided approach to taxation. Yesterday, the new tax came into effect and will increase costs on e-liquids by 50 cents per millilitre sold and an additional 20% on the retail value of all vaping devices. The tax will disproportionately impact adult ex-smokers who vape using open (refillable) systems, while the additional cost to Big Tobacco owned closed (non-refillable) pod systems will be insignificant.
People who smoke are increasingly using e-cigarettes to try to quit smoking, a study by researchers at the University of Otago, Wellington, has found.

The researchers found that between 2016 and 2018 the level of awareness, as well as the use of e-cigarettes, increased among smokers and those who had recently quit smoking.

The principal investigator of the study, Professor Richard Edwards from the University's Department of Public Health, says e-cigarette use was most common among those aged 18-24 years and among those who had recently quit smoking.
Global Tobacco Companies and Governments Impede Tobacco Control Efforts
New research published by leading international business and corporate governance scholar Daniel Malan identifies inherent conflicts of interest with many of the countries leading the development of global tobacco control policy. The "Contradictions and Conflicts" report specifically identifies contradictions between governments' fiduciary responsibility to maximize  state monopoly profitability and their health responsibility to minimize public health risks, as well as generate potential solutions.
Michael McGrady
When Philip Morris International (PMI) reacted to the Food and Drug Administration's (FDA) approval of a modified risk tobacco product marketing order for its proprietary IQOS heat-not-burn product, it heralded it as a broader public health victory. The FDA confirmed that IQOS eliminates a traditional cigarette's burning characteristics by heating the tobacco sticks to a vapor aerosol.

This product is said to significantly reduce the production of harmful and potentially harmful chemicals adding that the company was able to demonstrate that IQOS reduces a human body's exposure to toxic substances, marking the modification of risk characteristics in the product.
Does not adversely affect indoor air quality
The use of tobacco heating system does not adversely affect the overall indoor air quality, according to several scientific studies published in peer-reviewed publications.

The studies were conducted to determine the impact on air quality of new nicotine products such as tobacco heating system which are considered better alternatives to combustible cigarettes. Researchers said assessing air quality is an important factor of the science behind products that heat and not burn tobacco as it provides a strong indication of the potential impact that a product's use may have on bystanders.
And Monopoly reveals a drastic drop in cigarette sales
Presented in Italy the "Blue Book", the document containing the results achieved last year by the Italian Customs and Monopoly Agency. The most impressive result was the contraction of 6.80% in the sale of cigarettes, that since 2017 has seen a reduction of 1.2 million kilograms of available tobacco. According to the report, the importance of the various awareness campaigns made a valid contribution to this, pushing to change the behaviour of smokers towards healthier lifestyles.
---
A look back at how things have moved on or otherwise….
Following Spate Of US Deaths –  Dominic Smithers, LAD Bilble
One of the country's leading health bodies has addressed claims that vaping should be banned.

Public Health England (PHE) has shared its advice for people trying to give up smoking – and tried to dispel some myths surrounding e-cigarettes.

This comes after reports of six vaping-related deaths in the United States made headlines this month, leading some critics to call for the habit to be outlawed.
Editors, National Review
There has been a burst of panicked news, competing claims, and unfounded fear related to "vaping," the use of electronic devices to produce an inhaled vapor, usually containing nicotine, which has emerged as a common alternative to smoking.

As is commonly the case, the controversy surrounding vaping consists of a rat's nest of discrete issues that need not necessarily be tangled up together.
---
Visit Nicotine Science & Policy for more News from around the World

---