Vapers Digest 29th September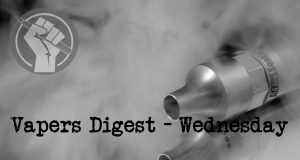 Wednesday's News at a glance:
Nicotine vapes are about to become illegal without a prescription. But will it stop young people from buying them? ~ Government closes loophole on e-cigarettes ~ Australia: New Medical Vaping Plan Begins October 1st ~ Is better health for smokers a possibility? ~ Snus 'best thing that ever happened' in Scandinavia: medical expert ~ THR Radio Programs Get Heartening Feedback from the Community ~ In Memoriam – Father Jack Kearney ~ Does Vape Need Saving? ~ Philippine survey confirms huge support for vaping ~ UKVIA and Smoke Free App Team Up To Save Millions Of Smokers Lives ~ Group slams FDA chief for bias against vaping ~ Misinformation about vaping will keep adults smoking ~ Tobacco Tax Equity Act Perpetuates Economic and Health Disparities ~ Proposed Taxes on Harm Reduction Products Create Concerning Risks ~ CRUCIAL STEP IN TOBACCO HARM REDUCTION~ Two More California Cities Preparing To Ban Flavored Tobacco and Vape Products ~
Changes to the law on 1st October will make it illegal to possess or import an e-cigarette (or "vape") containing liquid nicotine without a prescription. It is currently unlawful to supply vapes containing liquid nicotine, but a loophole in the law means that it is not illegal to import or possess one. Currently, around 500,000 Australians vape, and more than double that number have tried it at least once.
Jim McDonald, Vaping 360
After more than a year of delays, the Australian government will finally implement its notorious prescription-only vaping scheme on Oct. 1. After that date, those caught illegally importing nicotine without a doctor's prescription will face fines of up to $222,000.

Meanwhile, cigarettes—which kill about 21,000 Australians a year—will remain available in all the places they're available now, and treated as a normal consumer product.
---
Mobashir Sandila, Daily Times
Sometimes the best decision you will ever make is to quit, but it is not always so easy. The 25 million smokers in Pakistan may know this feeling a little too well – they know the impact smoking has on their health, but continue to choose to smoke: the sense of a ritual, force of habit, and the taste for nicotine making it hard for them to stop smoking. To these smokers who find it difficult to let go of their habit, it may look like there is no hope left for them for a better lifestyle.
---
In memoriam
Editor Note:
---

---
One from Dave Cross, Planet Of The Vapes
Social media users have been bombarded with adverts from Save My Vape. The paid-for adverts claim that vaping could be banned in the UK and that you need to sign the Save My Vape petition. The linked website contains a button where visitors can donate to Save My Vape. Who is behind this campaign and does vaping need "saving"?
The Daily Blog
"The Philippine Senate will be on the right side of the people when it approves the most progressive vaping legislation in Asia Pacific," says Nancy Loucas, Executive Coordinator of the Coalition of Asia Pacific Tobacco Harm Reduction Advocates (CAPHRA).

Her comments follow the release of a survey conducted by ACORN Marketing & Research Consultants. 'A Survey of Attitudes Among Adult Tobacco & Nicotine Users in the Philippines' was commissioned by consumer advocacy group, Vapers PH.
Neil Humber, EcigClick
The collaboration of UKVIA and the Smoke Free app could save millions of smokers lives and comes with Stoptober just around the corner.

The UK Vaping Industry Association is the largest vape trade body in Britain and has teamed up with the world's most popular quit smoking app, and this dream duo have tons of joint projects planned.
---
Manila Standard Business
Consumer groups denounced Food and Drug Administration director-general Rolando Domingo for openly describing organizers of an anti-vaping event as "our friends," months after he assured the House of Representatives that the regulatory agency would be fair and objective in regulating e-cigarettes and heated tobacco products in the country.
Dr Colin Mendelsohn, A.O.D. Media Watch
A recent article on vaping nicotine in the Daily Telegraph (Sydney teen issues vape warning after being hospitalized, by Hannah Paine, 31 August 2021) was inaccurate, alarmist and unbalanced and could harm public health efforts to help people quit smoking. The journalist and editor were contacted several times to correct the article, but have so far not responded.
Michelle Minton, Competitive Enterprise Institute
Mainstream interest in the issue of structural racism is long overdue. Yet nascent efforts to root out vestiges of racism in the U.S. political system will fail to achieve any real resolution to systemic inequalities if old forms of discrimination are simply replaced with new ones. That is what congressional Democrats will be doing if they enact the Tobacco Tax Equity Act (H.R.2786), which would double the federal cigarette tax and raise taxes on all forms of recreational nicotine, regardless of its relative risks and potential benefits, to an equivalent high level.
 Markus Lindblad, Inside Sources
Alongside the COVID-19 pandemic, much of the political discussion over the course of the past year has been centered on deals to bolster infrastructure in the United States, as well as broader economic and funding packages for lawmakers to advance a host of legislative priorities. While the debates over what exactly makes it into those packages will rage on, there will inevitably be one simple question: How will Congress pay for it all?
---

---
Katy Grimes, California Globe
Californians have heard the constant anti-vaping ads, claiming that flavored nicotine vape products  disproportionately attract teen users and need to be outlawed.

In 2019, San Francisco Mayor London Breed signed into law a vaping ban, passed 11-0 by the county board of supervisors, on the sale of e-cigarettes and all relevant paraphernalia. Steven Greenhut with the R Street Institute, has written extensively about the attempts – and successes – of government to control and even ban vaping. "Welcome to tolerant San Francisco, where you have every right to live as you please as long as you choose only to do the things that are socially acceptable," Greenhut said. "If you want to shoot up or take a dump in the street, that's OK given that you are a victim of society. If you want to, say, smoke tobacco or vape, forget about it."
---
Bill Godshall & Brad Rodu give their opinions on the JAMA study
For years, electronic cigarettes have ridden the vapor of respectability as a technology cigarette smokers can use to get nicotine while avoiding tobacco's health risks. Their use continues growing, based in part on their reputation as a gateway out of the cigarette habit. While that point is not the focus of debate, the discussion has shifted to concern that e-cigarettes may be enticing teenagers and young adults to try regular cigarettes….
Smoking will be banned in all prisons in Wales and four in south-west England from next year, the government says.
This will begin a phased roll-out that will eventually see all jails in England and Wales go smoke-free. And from next month, smoking will be barred inside buildings at all "open" prisons in England and Wales.

The Prison Governors Association, which supports the ban, said it would monitor this initial phase to ensure stability and safety were maintained.
---
Visit Nicotine Science & Policy for more News from around the World

---