Vapers Digest 27th September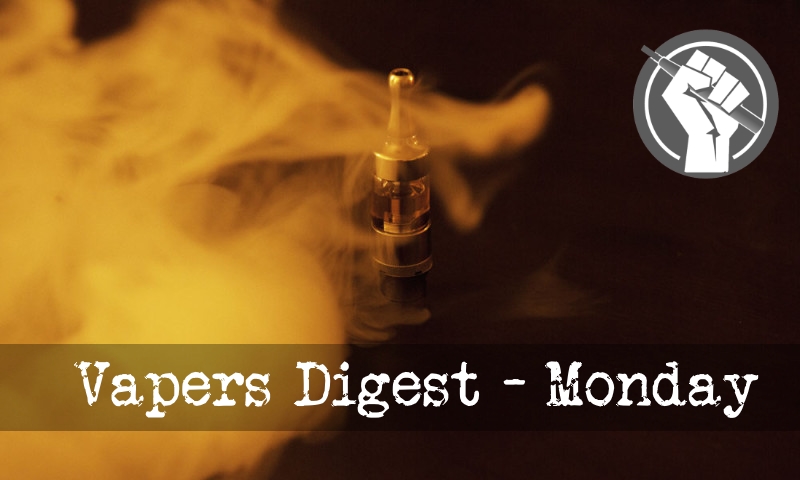 Monday's News at a glance:
October 1 crackdown will drive vapers back to smoking – WHO costing millions of lives with e-cigarettes opposition – Denial Is Not Just a River in Egypt – Anti-Vaping Congressman Insists 'There's Simply No Evidence' – NZ Ignoring The Best Way – POTV's Disposable Vape Position Statement – New Dedicated Website Launched – India should adopt THR tactics – WHO must let all stakeholders have a say – Challenge WHO's stance vs. vaping – Nicotine Science and Policy Daily Digest
Will drive vapers back to smoking – Colin Mendelsohn
Every year, 21,000 Australians die prematurely from smoking cigarettes. That is more deaths than from alcohol, plus prescription drugs, plus illicit drugs, plus road crash deaths, plus HIV, plus suicide. Governments have moral and health obligations to reduce smoking-related deaths by adopting policies that minimise the harm caused by the inhalation of tobacco smoke.

Vaping provides nicotine without the toxic products of combustion and is far less harmful than smoking. Policies that support vaping could help to reduce the huge toll from smoking-related disease. More than 2.5 million Australians still smoke. The National Drug Strategy Household Survey estimated that the number of Australians vaping was 240,000 in 2016 and 520,000 in 2019. If the number of Australians vaping is still increasing, as many as 600,000 may be vaping now.
With e-cigarettes opposition – David Maddox, Sunday Express
Clive Bates, the former director of the anti-smoking campaign group ASH, told journalists at a briefing last week that Britain needs to push internationally for a change of policy to save millions of lives. It came as Parliamentarians have called for the UK Government to use its Brexit freedoms to have a "big independent voice" at the United Nations (UN) COP9 summit on tobacco harm to push for greater use of e-cigarettes as an alternative.

Mr Bates branded the WHO as "negligent and incompetent" and claimed that the global health body is "ignoring the science".

He said: "Millions of lives are on the line. That is not hyperbole. If you resist a life-saving technology where progress has been very slow in the past then essentially you are culpable in denying people that life-saving technology and the result will be more cases of disease and death."
---

---
FDA Damns the E-Cigarette Market – Brad Rodu
On September 14, the FDA Center for Tobacco Products denied Premarket Tobacco Applications from Turning Point Brands (TPB) for 525 flavored vaping liquids (here).

FDA's letter to TPB is instructional, as it provides the rationale for ordering removal of these products from the marketplace.

The FDA acknowledges that TPB provided "clinical studies with abuse liability outcomes and a cross-sectional survey evaluating patterns of use," but the agency judged these as "not sufficient to show a benefit to adult smokers of using these flavored [electronic nicotine delivery systems, or ENDS]."
---
We are delighted to announce that Portuguese consumer group @ohmsdovapor has joined ETHRA as our newest partner. They aim to educate & inform consumers of safer nicotine products and promote tobacco harm reduction at national and EU levels. We are thrilled they have come onboard pic.twitter.com/g1g7Hxasn7

— European Tobacco Harm Reduction Advocates (@europethra) September 27, 2021
We cannot put in place measures that prevent, or, make switching harder. We must listen to real people and use their insights to inform our next steps:#avaperaday pic.twitter.com/9t0UAHVIj6

— APPGVaping (@AppgVaping) September 22, 2021
---
'There's Simply No Evidence' That E-Cigarettes Help Smokers Quit
Jacob Sullum – Reason
In my syndicated column last week, I noted that politicians who favor new taxes and restrictions on nicotine vaping products tend to ignore the lifesaving potential of this harm-reducing alternative to conventional cigarettes. One of those politicians, Rep. Raja Krishnamoorthi (D–Ill.), responded with a letter to the Chicago Sun-Times that proves my point. Krishnamoorthi exaggerates the threat posed by underage vaping, conflates vaping with tobacco use, and insists "there's simply no evidence" that e-cigarettes help smokers quit.

Krishnamoorthi, who last year spuriously urged the Food and Drug Administration (FDA) to ban e-cigarettes as a COVID-19 hazard, thinks "vapes are a huge health threat to millions of America's young people."

Two from Dave Cross, Planet of the Vapes
Recently, debate has raged on the Planet of the Vapes' forum on the subject of disposable electronic cigarettes. The admin team listened to the opinions expressed and decided not to accept further advertising for them. Planet of the Vapes (POTV) welcomes the recent announcement by Totally Wicked on recycling and encourages all vendors to adopt a similar stance.

The POTV admin team said: "The last few days have been incredibly constructive, and we would like to thank every single person who has got involved with the debate about disposable devices. This is exactly what this section is all about, to give a voice to every member."
The Ministry of Health's latest stop-smoking guidelines are disappointing. They do not include the vape option for smoking cessation providers to discuss with Kiwis keen to quit cigarettes, says New Zealand's leading Tobacco Harm Reduction consumer group.

'The New Zealand Guidelines for Helping People to Stop Smoking' acknowledge that vaping can contribute to Smokefree 2025, and it's a less harmful way of delivering nicotine when compared with traditional cigarettes.

"Disappointingly, however, Ministry officials struggle to apply a holistic wraparound approach to reaching the smokefree goal. They cannot seem to get over the fact that 'vaping products are not approved stop-smoking medications'," says Nancy Loucas, co-director of the Aotearoa Vapers Community Advocacy (AVCA).
---

---
Neil Humber, ecigclick
Anti Vaping WHO Killing Millions – UK Vapers Urged To Act – US Senators Demand PMTA Action – UK Fake Disposables Clampdown + More Vape News

With Strategy To End Smoking – Soko Directory
A new web portal has been launched to help policymakers, scientists and ordinary people address myths and misconceptions about nicotine, using evidence-based advice and support to end cigarette smoking. It is currently available in English, French, German, Italian and Spanish versions.

Smoking kills more than 8 million people each year. More than 7 million of those deaths are the result of direct tobacco use while around 1.2 million are the result of non-smokers being exposed to second-hand smoke.

Chelsea Boyd
India has the second largest population of tobacco users in the world. Nearly 270 mill ion Indians use tobacco products, and smoking remains one of the leading causes of premature death and disease in India and the world. India has made great strides in tobacco control over the past 20 years. For example, India prohibited advertising of tobacco products and prohibited the sale of tobacco products to and by people under 18 years of age. These and other measures have led to decreasing tobacco use rates over the past decade. Nevertheless, India is missing a critical tobacco control opportunity.
Have a say on tobacco control
The World Health Organisation (WHO) is meeting for its ninth Congress of the Parties (COP9) from November 8-13, and a Meeting of the Parties (MOP2) to the Illicit Trade Protocol from November 15-17 in The Hague, Netherlands, under the auspices of its Framework Convention on Tobacco Control (FCTC).

However, the "parties" in attendance are a group of pro-FCTC delegates with little connection to the real-world impact of the WHO's hard-line tobacco policies.

Public health bureaucrats and government officials meet behind closed doors to plot ever-tighter restrictions on tobacco products, and there are strict policies in place that exclude anyone with any interest in tobacco or its products.
To challenge WHO's stance vs. vaping
Asia-Pacific countries should challenge the World Health Organization's stance against vaping, an innovative product that has helped reduce smoking rate in New Zealand, the United Kingdom, France and Canada, according to consumer groups.

The Nicotine Consumers Union of the Philippines (NCUP) and Vaper Ako particularly asked the Philippine government to join the four vaping-friendly countries in rebuking the extremist stance of the WHO on vaping that deprives millions of smokersbetter alternatives to combustible cigarettes.
---
A look back at how things have moved on or otherwise…
That vaping is less harmful than smoking – ETHRA
The results of the new BVA-SOVAPE survey show that most French people still have false perceptions of the risks of vaping and nicotine. This is detrimental to public health and, because there has been no public information campaign to redress it, has not changed since 2019. Sovape, public health experts, addiction experts and smoking cessation experts are sounding the alarm.

How many smokers are discouraged from quitting because of false beliefs about effective alternatives? The French population's state of misinformation about vaping and nicotine, as revealed by the BVA survey commissioned by the SOVAPE association, is very worrisome. Only 8% of respondents know that vaping massively reduces the risks compared to smoking. 78% mistakenly believe that nicotine is carcinogenic.
Brad Rodu, Tobacco Truth
The U.S. Centers for Disease Control and Prevention is out with a false advertisement telling kids that "Nicotine in e-cigarettes can harm brain development."  The headline says, "It's not like you can buy a new brain."  To make it accurate, I've added "…for your pet mouse."

Let me be crystal clear.  The harm in brain development federal officials talk non-stop about only happens in laboratory torture of mice.  Mouse studies are well known to be of questionable value in predicting human effects.  There is absolutely no scientific evidence to support the claim that nicotine causes harm to human brain development, so it is astounding that federal officials traffic in this false narrative.  This nonsense is an affront to 34 million adult current smokers and 55 million former smokers in the U.S., virtually all of whom started when they were teenagers.  There is no evidence that their brain development was harmed, a fact that was specifically acknowledged by a prestigious nicotine researcher Dr. Neal Benowitz at an international tobacco meeting this week.
---
Visit Nicotine Science & Policy for more News from around the World

---