Vapers Digest 24th September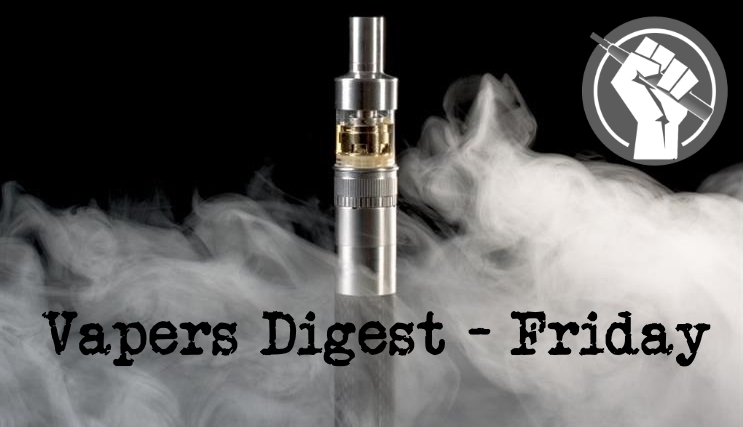 Friday's News at a glance:
Vaping & the workplace – Vaping Can Restore Lung Defence – UK Vape Ban Threat – URGENT Call To Action – NNA Asks UK Vapers to Help Stop FCTC Attacks – 323 Vape Companies Have Received MDOs – Turning Point Brands Sues FDA – Case Studies Trump WHO's Lies – Riding For Vapes – Explosive Research Busts Bullying Billionaire – Academics Attack Shopkeepers – PM Spied Vaping – The Media Needs to Get Vaping Right – Vaping vs. Tobacco Smoking: – The FDA has decimated the market – Truth Initiative Creates Fake Vape Company – WHO Busted – Vaping And Mental Health: – Needlessly killing a powerful anti-smoking tool – Youth Vaping Has Not Led to Smoking – Now it's the great vape conspiracy – False beliefs about tobacco alternatives – Vape flavor bans to worsen global smoking problem – PUDO Inc signs specialized vape product delivery solution – Reignite the Fight Against Smoking – Nicotine Science and Policy Daily Digest
A conversation with Martin Dockrell of Public Health England
On Tuesday, 21 September 2021 we invited Martin Dockrell, the Tobacco Control Lead at Public Health England to speak to us about the often-divisive subject of e-cigarettes. Dockrell began by outlining the consensus reached in the UK since 2008 on nicotine harm reduction following a contemporaneous report by the Royal College of Physicians. He showed that since the advent of e-cigarettes in 2012, rates of smoking among adults in the UK have gone down by 1/4 and in adolescents they have gone down by half. Since 2016, e-cigarettes have been tightly regulated in the UK with an early age of sale of over 18, limits on nicotine concentration, and child-safety precautions of products as well as warnings on packs that are required on all other nicotine products.
James Dunworth, Ashtray Blog
A new study has found that switching from smoking to vaping can restore the lungs' primary defence against harmful substances.  This decreases the risk of infection and lung diseases such as COPD and can help to improve symptoms of pre-existing lung diseases.

The study, conducted by a team led by Professor Polosa of the University of Catania, looked at the impact of switching to vaping on a mechanism called mucociliary clearance (MCC).

MCC is the process through which tiny hairlike structures on our lungs, called cilia, work like an escalator using mucus to trap and move harmful substances out of our body.
---

---
URGENT Call To Action From Advocacy Group – Neil Humber
The World Health Organization has upped the anti on a UK vape ban threat and advocates say vapers MUST act now and fight back.

A quick look at the very latest report from the WHO shows they are targeting ALL open systems – flavours – heat not burn devices – SNUS and even want to ban vapour…yes really!

The New Nicotine Alliance says it needs UK vapers in their droves to write to their MPs to stop the WHO from forcing countries to implement a global ban on open vape systems – in other words, any tank, dripper or pod kit that can be refilled.
Jim McDonald, Vaping 360
As the member countries of the Framework Convention on Tobacco Control (FCTC) prepare to gather virtually in November for the treaty organization's biennial meeting, vaping advocates are fearful the group could recommend restrictive vaping regulations.

The FCTC is a United Nations treaty, in effect since 2005, created under authority of the World Health Organization (WHO). Because the 180 FCTC member countries are parties to the treaty, their large meeting held every other year is called the Conference of the Parties. The November event is the ninth conference, or COP9.
---
---
323 Vape Companies Have Received MDOs – Jim McDonald
The FDA announced today that 28 additional companies have been added to its list of manufacturers that have received marketing denials since its last update on Sept. 17. All the products receiving Marketing Denial Orders (MDOs) were flavored vaping products.

The total number of companies receiving MDOs for flavored product Premarket Tobacco Applications (PMTAs) is now 323. (An alphabetical list can be found at the end of this article.) The FDA says the denials cover nearly 1.2 million flavored products.
Challenging PMTA Denials – Jim McDonald
Turning Point Brands today petitioned a federal court to review the FDA's marketing denial of its flavored e-liquids. The action represents what could be a wider legal response from the independent vaping industry, challenging the FDA's effective ban on products in flavors other than tobacco and menthol.

The petition asks the Sixth U.S. Circuit Court of Appeals to review Marketing Denial Orders (MDOs) of Premarket Tobacco Applications (PMTAs) for various flavored e-liquids made by Turning Point Brands (TPB) and sold under the Solace, VaporFi and Vapor Shark brands.

Five from Dave Cross, Planet of the Vapes
"Countries applying progressive Tobacco Harm Reduction policies are enjoying a significant fall in smoking rates. Whereas those following the World Health Organization's guidance continue to experience excessive smoking-related illnesses and deaths," says the Coalition of Asia Pacific Tobacco Harm Reduction Advocates (CAPHRA).

CAPHRA's comments follow the Property Rights Alliance releasing a 59-page white paper titled 'Vaping Works. International Best Practices: United Kingdom, New Zealand, France and Canada'.
The President of the National Association of Electronic Smoke Manufacturers (ANAFE) is completing a 700km cycling tour of Italy to promote vaping and raise the alarm about vaping supply chain risks from national law and TED directive.

ANAFE is the national association of electronic vape producers belonging to Confindustria. Founded in 2012, it brings together the main manufacturers of electronic cigarettes and e-liquids that represent most of the Italian market. The association is registered in the Transparency Register of the Italian Ministry of Economic Development.
New research has revealed the anti-tobacco Michael Bloomberg and Bill Gates foundations have funnelled millions of dollars into Asia Pacific non-government organisations (NGOs) to lobby their governments to ban vaping and discredit consumer advocacy groups, according to the Coalition of Asia Pacific Tobacco Harm Reduction Advocates (CAPHRA).

CAPHRA is a regional alliance of consumer tobacco harm reduction advocacy organisations. Its mission is to educate, advocate and represent the right of adult alternative nicotine consumers to access and use of products that reduce harm from tobacco use.
"Efforts to discourage people from smoking by banning tobacco retail displays in shops and supermarkets could be weakened by prominent displays of electronic cigarettes", according to a paper published in this month's Tobacco Control journal. Oddly, the paper was produced by some who have been supporters of vaping in the past.

As successful as vaping has been in the United Kingdom, it is generally accepted that more has to be done to reach out to the remaining 6.5 million current smokers. While some believe we should be pushing vape products more, the group of academics from the University of Bristol, University College London, and the University of Cambridge are concerned about vape products being too visible.
UK Prime Minister Boris Johnson was seen vaping in Parliament Square as protesters rallied to protect e-cigarettes. The campaigners are calling for government to stand up to the World Health Organisation, which continues to ignore science and attack vaping.

Not only does the UK lead the world in its approach to tobacco harm reduction by supporting switching to vaping for current smokers, but Planet of the Vapes has been told the Prime Minister himself vapes.

The PM was previously seen smoking a cigar after the birth of one of his children which, if he did that for each one, probably makes him a heavy user of tobacco. Joking aside, the Prime Minister was seen on a video screen, exhaling a plume of vapour as the trailer was towed around Westminster on Wednesday 8 September.
---

---
Alex Norcia
In mid-September, two articles in prominent news outlets caused an uproar over how the media continues to misunderstand and misrepresent vaping.

The first, published September 15 in The New York Times, was an op-ed by former Reddit CEO Ellen Pao about sexism in the tech industry. The piece mainly focused on Elizabeth Holmes and Theranos, the fraudulent blood-testing company that folded in scandal, but also included a long bit about the vaping company Juul.
What The FDA Is Getting Wrong – Steve Forbes
The agency refuses to green-light even a single application, putting the vaping industry in legal limbo. It should follow the science, as other countries are doing.

Real world experience and studies have demonstrated that nicotine vaping is 95% safer than traditional cigarettes. It's by far the most effective way to stop smoking—better than nicotine patches, gums and other antismoking aids. That's why British health authorities strongly recommend vaping to reduce cigarette smoking. In fact, the country's national health service hosts vaping shops in its hospitals.
Guy Bentley, Julian Morris
The U.S. e-cigarette market is rapidly transforming—but not in a good way. Once a place of dynamic competition where small and medium-sized businesses could thrive and offer smokers innovative and safer alternatives to cigarettes, the vape market is now in chaos and only the biggest players are set to survive.

Sept. 9 was the court-imposed deadline for the Food and Drug Administration (FDA) to decide which e-cigarettes, if any, would be allowed to remain on the market and which would be banned. In the end, the FDA failed to authorize a single e-cigarette for sale and gave more than a million products outright denials upon the deadline. The agency says it needs more time to decide on the remaining products it hasn't yet rejected.
Killing a powerful anti-smoking tool – Jacob Sullum
E-cigarettes, which deliver nicotine without tobacco or combustion, are the most important harm-reducing alternative to smoking ever developed, one that could prevent millions of premature deaths in the United States alone. Yet bureaucrats and politicians seem determined to negate that historic opportunity through regulations and taxes that threaten to cripple the industry.

When a court-set deadline for "premarket" approval of vaping products came and went Sept. 9, the Food and Drug Administration had received millions of ­applications but had not approved any.
To Promote Fake "Depression Stick" – Alex Norcia
A man named Craig walks into a convenience store. He serves as a vape company's VP of marketing, and he has a mission: Armed with posters and a suitcase full of samples, he has come to convince unsuspecting retail employees to stock his brand's "Depression Stick," an e-cigarette that "can amplify feelings of depression and anxiety." Truth in advertising, explains Craig.

Craig insists that he wants "to sell depression." A cashier orders him to leave. It's all captured on what appears to be a hidden camera.

Craig, however, is not real. Nor is his company. Nor is the the Depression Stick. The cashier, and many other cashiers with the misfortune to end up with Craig in their stores, have all been fooled—suckers!—by Truth Initiative, the influential nonprofit tobacco control organization that strives to rid society of nicotine dependence.
Does Nicotine Use Cause Teen Depression? – Cameron English
Anti-tobacco group the Truth Initiative claims vaping contributes to depression in teenagers. Its argument is based on a shallow reading of the evidence.

As a new parent, I've rapidly discovered what a dangerous place the world is for children. It's an overwhelming realization at times. Given all the real threats my wife and I have to guard against, I can't understand why anyone would invent health scares that needlessly worry America's moms and dads, yet this seems to be the tobacco control movement's specialty. Earlier this week, for example, the Truth Initiative (TI) launched a campaign highlighting the alleged mental health risks associated with teen vaping as part of their broader effort to restrict access to electronic cigarettes (also called "e-cigarettes" or "vapes.")

Youth Vaping Has Not Led to Smoking – Lindsey Stroud
The Centers for Disease Control and Prevention (CDC) have updated their Behavioral Risk Factor Surveillance System (BRFSS), their annual survey to gauge health and behaviors of American adults. The CDC has been collecting this data since 1995 and numerous public health groups including Campaign for Tobacco-Free Kids (CTFK) rely on the annual survey to determine the number of smokers in a given state.

The great news this year is that smoking levels among adults are at their lowest levels ever. In 2020, just more than 15 percent of adults were considered current smokers. This is a 37.1 decrease from 1995 when 22.7 percent of American adults smoked.
CAPHRA
The World Health Organization has been badly caught out ahead of the Ninth Session of the Conference of the Parties (COP9) to the WHO Framework Convention on Tobacco Control (FCTC) in November.

COP9 organisers declared months ago there would be no discussions or decisions around Tobacco Harm Reduction (THR) products at COP9. That work would be delayed until COP10 in 2023, they said.

"It's now clear, however, that was a complete pretence aimed at minimizing a growing backlash against the WHO's anti-vaping agenda," says Nancy Loucas, Executive Coordinator the Coalition of Asia Pacific Tobacco Harm Reduction Advocates (CAPHRA).
To the Cochrane living review of electronic cigarettes for smoking cessation
Jack Stanton
The ongoing conflation of vaping and tobacco industry e-cigarettes is an intentional misdirection and a dangerous one.

The strongest observation John Safran makes in his book Puff Piece is that the tobacco giant Philip Morris International has bastardised language to reinvent itself as a health and wellness tech start-up. An example of such a linguistic contortion is PMI's mission to 'unsmoke the world', with company CEO Jacek Olczak claiming their "objective is to fully leave cigarettes behind to one day become a smoke-free company."
Barnaby Page
"Misinformation poses a real threat to progress" in a major area of public health concern, we're told this week.

Another study of the way fake "science" contributes to the vaccine hesitancy hampering efforts to damp down the coronavirus pandemic? No, though the pattern of dubious claims leading to misunderstanding leading to public-health opportunities missed is not all that different.
The attempts by different countries to ban flavors used in vapes or e-cigarettes will force vapers to return to smoking, create a huge black market for e-cigarettes under the radar of authorities and incentivize the combustible cigarette industry, according to international consumer groups and health advocates.

Charles Gardner said a new study in Nicotine & Tobacco Research which polled 2,159 US respondents in the age group 18 to 34 found that, if 'flavors' are banned, so only tobacco flavor remains, 33 percent of them would switch back to smoking.
North America's only carrier-neutral parcel pick-up and drop-off counter Network, capitalized on its strong foot-hold in the vaping industry by signing Client Service Agreements ("Agreements") with online vaping industry retailers West Coast Vape Supply Inc, and ELiquid Depot — two of the $15B North American vaping industry's major players.

With these two new Agreements, PUDO has further expanded its role as the definitive delivery solution for the vaping industry, which has struggled to adapt to new U.S. federal legislation making the home delivery of vaping products considerably more difficult.
Worldwide there are over 1.1 billion people who use tobacco. Nearly 8 million die each year from tobacco-related causes and an estimated 200 million disability-adjusted life-years are lost. The International Commission to Reignite the Fight Against Smoking was established with the belief that efforts to prevent premature death and disease from tobacco use require much greater imagination and ambition.

The possibility of dramatic change has emerged, driven by new technologies that deliver nicotine without combustion. These technologies significantly reduce harm, so that smokers who are unable to quit can turn to alternatives that have a far lower risk of sickening or killing them.
---
A look back at how things have moved on or otherwise….
Tim Sandle, Digital Journal
Three recent studies demonstrate the improved health effects that come from the use of e-cigarettes, when such vaping products are used on a permanent basis and the use of all tobacco products is halted.
Campaign for Safer Alternatives
Policy makers in Africa find themselves confronted by a phenomenon of rising cigarette smoking rates. Despite some effort by African governments in achieving some of the Sustainable Development Goals, reducing tobacco smoking has proved the hardest to deliver. Although the prevalence rate of cigarette smoking in Africa today is only 14%; low, compared to North America (23%) and the Eastern Mediterranean (31%), its growth is the highest on the planet!
, Property Rights Alliance
The Property Rights Alliance submitted comments to express its significant concerns about the Dutch Executive Order– a proposed bill that would introduce plain packaging (PP) for vaping products and e-cigarettes from 1 January 2022. This measure will create an inhospitable environment for intellectual property rights. Intellectual property rights are human property rights covering dynamic assets and should never be weakened or diluted to meet other political objectives.
---
Visit Nicotine Science & Policy for more News from around the World

---