Vapers Digest 22nd September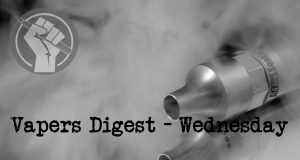 Wednesday's News at a glance:
Vaping: necessary clinic and functional indicators to assess tobacco harm reduction and related benefits ~ Release: Health System Chaos Looms As Greg Hunt's Vaping Prescription Plan Bombs With GPs ~ Why Importing Your Vapes Could Cost You 200k | BONUS ~ Bangladesh Government Says It Will Prohibit Vape Sales ~ C3/SOM breakfast webinars on prevention and work – vaping presentation by PHE ~ The US Obsession With Youth Vaping Looks Odd From Across the Atlantic ~ Bureaucrats and politicians seem determined to cripple a lifesaving alternative to smoking ~ New Cochrane Report ~ Estonian MPs Demand Transparency ~ CASAA Call For Sense On Tax ~ Vaping Works If Governments Allow It To ~ How should state policymakers approach e-cigarettes? ~ Fatal Assumption | Spurious Cost-Benefit Analysis Drives Risky Flavour Ban
Center of Excellence for the Acceleration of Harm Reduction, (CoEHAR)
The international scientific scene is constantly enriched by new evidence and scientific studies that confirm the positive health effects for smokers who can't quit and decide to switch to vaping products.

Data that come from many scientific researches on smokers who switch from cigarette to combustion-free products (such as vaping products or heated tobacco products) show significant improvements not only in terms of overall quality of life, but also for clinical parameters of a variety of diseases, such as diabetes, hypertension, obesity, COPD and asthma.
Legalise Vaping Australia
Only 71 doctors across Australia have signed up to be authourised prescribers of vaping products ahead of the Federal Government's October 1 deadline, setting up a chaotic scenario in GP surgeries around the country in the coming months as more than half a million vapers try to get access to a product that is a normal part of life in countries like the United Kingdom and New Zealand.
Brian Carlton, Triple M
(Editor Note: Audio!)

Founding Chairman of the Australian Tobacco Harm Reduction Association, Colin Mendelsohn discussed the upcoming changes to vape rules. Effectively from October 1, you will only be able to legally buy nicotine vapes if you have a doctor's prescription.
---
Jim McDonald, Vaping 360
Bangladesh is set to join more than a dozen Asian countries that have banned the sale (and in some cases possession and use) of vaping products. Like most other Asian countries with vaping bans, Bangladesh has made the decision in "partnership" with a Bloomberg Philanthropies-funded tobacco control advisor—in this case the Campaign for Tobacco-Free Kids.
---
SOM Admin, Speaker: Martin Dockrell , PHE
---
Martin Cullip, Filter Magazine
Two countries divided by a common language" is a common saying misattributed to George Bernard Shaw. US and UK vocabulary differences are of perennial amusement: elevator, lift; sidewalk, pavement; gas, petrol; soccer, football. Brits say "pants" to mean underwear; Americans say it to mean what we call "trousers."

A ubiquitous British slang word for a cigarette is also an offensive slur in the States. But if social media is anything to go by, the nicotine taboos run deeper than vocabulary.
, Chicago Sun Times
E-cigarettes, which deliver nicotine without tobacco or combustion, are the most important harm-reducing alternative to smoking ever developed, one that could prevent millions of premature deaths in the United States alone.

Yet bureaucrats and politicians seem determined to negate that historic opportunity through regulations and taxes that threaten to cripple the industry.
---
David Sweanor strikes an upbeat note as he tells #GTNF2021 that change is coming and its very hard to hold back progress, but the information deficit is astonishing. pic.twitter.com/Cc5WbJMp4g

— GTNF 2021 (@thegtnf) September 22, 2021
---

---
THREE from Dave Cross, Planet Of The Vapes
A new Cochrane report has been released that looks at using electronic cigarettes to help people achieve long‐term smoking abstinence. They find that vaping works to help get people off smoking – and works better than traditional nicotine replacement products like patches or gum.
Estonian MPs confront the veil of secrecy and demand transparency, broader access and democratic accountability in the lead up to the World Health Organization's (WHO) Framework Convention for Tobacco Control (FCTC) Conference of Parties (COP9). Details were revealed following diligent translating work by the International Network of Nicotine Consumer Organisations (INNCO).
The Consumer Advocates for Smoke-free Alternatives Association (CASAA) is taking action to stop an excessive federal tax on safer nicotine products and calling for American vapers to write to politicians. The move follows the House Ways & Means Committee announcing that it is considering a punitive tax system for vape products.
---

---
Martin Cullip, Town Hall
A new report from the Property Rights Alliance (PRA) has shown that smoking rates decline at a far more rapid rate in countries whose governments allow vaping to flourish.

In recent years, Canada, France, New Zealand, and the United Kingdom (UK) have (intentionally or not) facilitated a fairly liberal market for vaping products.  PRA's research concluded that each country has seen smoking prevalence drop twice as fast as the global average.
John Phelan, American Experiment
One of the questions of economics teaches you to ask is 'compared to what?' Someone might tell you that a job paying $10 an hour is bad, but any reasonable economist would have to ask: 'bad compared to what?' If the alternative to a job paying $10 an hour is no job at all, it might be the preferable option.

We should ask the same question about e-cigarettes. The Economist reports:
Brent Stafford, Regwatch
Joining us today on RegWatch is Clive Bates, tobacco control policy expert and former Director of Action on Smoking and Health (UK). He issues a blistering critique of Health Canada's cost-benefit analysis, which the regulator is using to justify its dangerous new policy.
---
Dick Puddlecote
It's been just over a week since it was announced that PMI were unconditionally throwing $1bn at a former WHO cabinet director to conduct research into reduced risk nicotine products, and the squealing from 'public health' has been a joy to behold.

Let's just revisit what that world-renowned tobacco control expert, Simon Chapman, says about this phenomenon…
Simon Clark, Taking Liberties
On day one I was on a consumer-orientated panel moderated by Chris Greer, CEO of the US-based Tobacco Merchants Association. The other speakers were Giles Roca, director of the UK-based Tobacco Manufacturers' Association; Alex Clark, CEO of Consumer Advocates for Smoke-free Alternatives Association (CASAA); and Audrey Silk, director of New York City Citizens Lobbying Against Smoker Harassment (NYC Clash).
---
Visit Nicotine Science & Policy for more News from around the World

---