Vaping Digest 7th October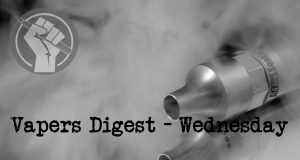 Wednesday's News at a glance:
Lip Service? | Pace of Cigarette Phase-Out Is Negligible ~ Government facing calls to introduce new tax on e-cigarettes ~ Government facing calls to introduce new tax on e-cigarettes (2) ~ Thailand Should Follow the United Kingdom's Lead: Examining Tobacco Policy Abroad ~ Ridiculous Fish Study ~ California Coil Catastrophe ~ ETHRA Makes SCHEER Report Call ~ Have a heart ~ Parents often clueless when teens start vaping, study says
Brent Stafford, RegWatch
In this episode of RegWatch we are joined by Dr. Derek Yach, President of the Foundation for a Smoke-Free World to discuss the results of the Tobacco Transformation Index and how this first-of-its-kind measure could help large institutional investors pressure tobacco companies into taking substantial action to mitigate the world's smoking burden.
The Irish Heart Foundation is calling on the government to implement a tax on e cigarettes of 6c per mil in the forthcoming budget.

That's a 10% increase on average on a bottle of juice.

The New Nicotine Alliance Ireland is appalled at this call to increase the cost of quitting smoking. Given the reason for this is "e-cigarettes must be priced out of the purchasing reach of children and adolescents, but remain affordable for adults who are using them as a smoking cessation device."
Cate McCurry, PA, Belfast Telegraph

The Government is facing calls to introduce a new tax on e-cigarettes in next week's Budget and to raise the cost of 20 cigarettes to 20 euro by 2025.

The Irish Heart Foundation is urging the Government to introduce an excise tax of 6c per millilitre of e-cigarette liquid – which would add in the region of 10-25% to the price of e-cigarettes.
---
Corinne Day, RStreet
The United Kingdom (UK) and Thailand are two countries that are often praised for their tobacco regulation. However, the way the two countries approach novel tobacco products including e-cigarettes differs significantly.

While the UK and Thailand adopted similar approaches to reduce the smoking rates of combustible tobacco products, the UK has seen a more substantial decline in cigarette use than Thailand. This may be due in part to the one area where the two nations' approaches differ: e-cigarette use.
---

---
Kids, be sure to follow the advice of the @AmericanCancer Society: start smoking BEFORE you start vaping. https://t.co/r8nNqWqHWc

— Jim McDonald (@whycherrywhy) October 6, 2020
Reportedly, two of these vaping zebrafish embryos grew up and robbed a bank together. https://t.co/UH0can8Jp9

— Jukka Kelovuori (@jkelovuori) October 4, 2020
---
THREE from Dave Cross, Planet of The Vapes
Researchers at University of Calgary and Hamilton's McMaster University, in Canada, say their research shows "vape flavourants dull sensory perception and cause hyperactivity in developing zebrafish embryos".
The Journal of American Heart Association (JAHA) loves a good piece of vape scare fiction, and this week it carries a "study" from the University of California, Irvine (UCI) School of Medicine and the Huntington Medical Research Institutes (HMRI). The paper claims to find that coils made from nickel-chromium alloy (nichrome) when used for vaping cause "significant lung injury".
The European Tobacco Harm Reduction Advocates (ETHRA) organisation has called on vapers and advocates to respond to The European Commission and its Scientific Committee on Health, Environmental and Emerging Risks (SCHEER) consultation in response to last week's woeful "preliminary opinion on electronic cigarettes".
---
European Tobacco Harm Reduction Advocates
ETHRA partner the New Nicotine Alliance Ireland issued a press release yesterday in response to the Irish Heart Foundation's (IHF) call for the introduction of a tax on e-liquid. We repost the press release below, with this introduction from NNA Ireland:

The rallying call to impose a tax on harm reduction products was made in the IHF pre-budget submission to the government, which was then circulated to newspapers on Monday in a press release. Protection of youth, which has become a mantra for those opposed to tobacco harm reduction, was yet again cited as the rationale. Ironically, repeated suggestions from NNA IE and vendors to introduce U18 legislation that would make it illegal to sell vapour products to under 18's have been ignored.

---
HealthDay News
Parents are often clueless when their kids start smoking e-cigarettes, a new study finds.

On the other hand, Mom and Dad usually can tell if their children take up traditional smoking, said researchers from the University of California, San Francisco.
---
For Smokefree New Zealand 2025 – Clive Bates
I have been pleased to collaborate with ASH (New Zealand) – Action for Smokefree 2025 – on a report on how vaping and other low-risk technologies could help get New Zealand back on track to meet its high profile target to have less than 5% smoking by 2025. The report is called: A Surge Strategy for Smokefree Aotearoa 2025.

…and these are all available here on the ASH Zealand web site.
Of the Youth Vaping "Epidemic" – Lee Johnson
Even in the wake of the vapocalypse, with the lung illness still affecting people across America (likely due to illicit THC cartridges made using vitamin E acetate), the response from the government and public health bodies has still maintained its laser-like focus on teens and youths vaping. The story is the same as always: there is an "epidemic" of youth vaping, and we're told that innocent, wide-eyed kids who'd never have smoked otherwise are lured into nicotine use and ultimately smoking by the "child-friendly flavors" many e-liquids and pods are available in.
Paul Barnes, Facts Do Matter
It's been a while since I had a good look at some junk science. I kind of missed doing it. So, what better way to get back to it then with this steaming pile of festering dingo kidneys?

This study sought to assess: 1) pervasiveness of vaping or electronic cigarette (e-cigarette) use, 2) General understanding of information on vaping or e-cigarette use, 3) Prevalence and respondent awareness of smoking/vaping prevention programs, and 4) Awareness of the harmful effects of e-cigarettes.

Kanyadan et al 2019

Oh boy. To be fair, those are reasonable goals to assess. So, let's look at the method….
---
Visit Nicotine Science & Policy for more News from around the World

---