Vaping Digest 9th October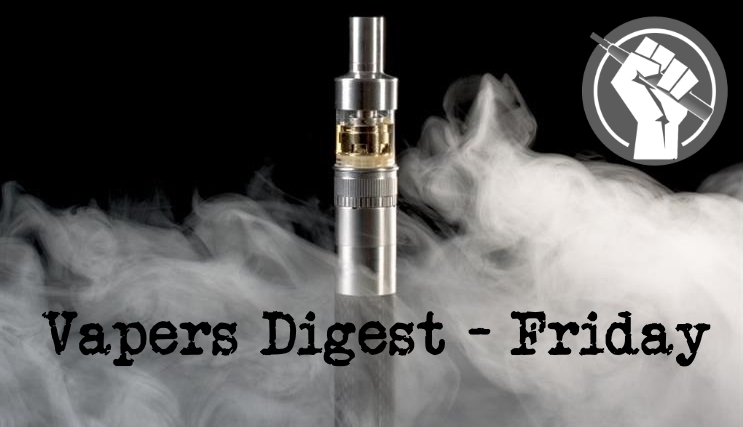 Friday's News at a glance:
Hope on the Fringe – CDC 2019 Smoking & Vaping Data – Smoking Cessation Support in Manchester's homeless hotels during COVID-19 – Netherlands: Government hypocrisy will send STOPtober up in smoke – Efficacy in Austria – Overwhelming Vaper Opinion In Oz – Brexit: Regs on Smoking and Vaping To Change – Fewer US Teens Vaping – What's The SCOHRE? – Vape Taxes and Cannabis on State Ballots – TSFA Applauds Drop in Vapor Use by Teens – Modified risk tobacco products and the future of smoking – Vape Steams Ahead – All vapers should make a submission to the Senate Inquiry. This includes YOU! – Africa: Tobacco Harm Reduction – Harm reduction could be the remedy cancer prevention needs – Stub out misinformation to save lives – Nicotine Science and Policy Daily Digest
David MacKintosh
I confess to having always enjoyed party conference season. This is an annual ritual where the main UK political parties gather at a major city with the aim being to enthuse their membership and map out a vision attractive to the voting public.  When I was a Civil Servant, they often provided a useful insight into the direction of future policy.  Away from the main platform you could, on occasion, discover events where politicians would stray from their doctrinaire trenches and engage in meaningful debate.

So, with hope rather than expectation I dipped into the virtual New Statesman fringe event being run alongside the Labour Party Conference.  The session on How Does England go smoke-free by 2030? attracted my interest. Now it has to be acknowledged that much of the political interest in tobacco harm reduction has tended to come from the libertarian right.
Brad Rodu, Tobacco Truth
The Centers for Disease Control and Prevention has released data from the 2019 National Health Interview Survey (NHIS).  After a short delay, during which I caused the agency to correct an error in their release (here), I can now present the latest figures on smoking and vaping.  Like last year, our government has had the 2019 data for months but has not released any findings.

The prevalence of current smoking was 13.6%, which was not a significant change from 2018 (13.7%); that's 34.1 million.  Twenty-two percent of Americans were former smokers, the same as the year before.

Prevalence of current vaping increased from 3.2% in 2018, to 4.3% in 2019.  That translates to about 10.82 million American adult vapers in 2019, up from 8.07 million the year before.  That is the second annual increase and it represents the largest number of vapers since the CDC started tracking e-cigarette use in 2014.
---

---
In Manchester's homeless hotels during COVID-19
The Covid-19 pandemic has not only re-highlighted the complex health needs of the homeless population in this country but it also highlighted a need to address the additional infection risks from smoking in a very vulnerable group.

As the country entered lockdown, Greater Manchester's Covid-19 Emergency Committee secured emergency accommodation for hundreds of rough sleepers in hotels across the city region.

The Greater Manchester Health and Social Care Partnership (GMHSCP) – which helps to deliver the Making Smoking History programme – used this opportunity to deliver a nicotine management programme directly to residents living in these hotels.
---
---
Will send STOPtober up in smoke
STOPtober is upon us, and the Dutch government is encouraging people to quit smoking to change their lives for the better. While quitting cold turkey works for some, 95% of smokers trying to quit cold turkey fail in their attempt. What's strange is that while encouraging people to quit, the government is making it harder to do so by banning one of the most effective means: flavoured e-cigarettes.

The science on vaping is clear: e-cigarettes are 95% less harmful than smoking and they are one of the most successful and efficient means for smokers to quit. Yet in the midst of a national campaign to encourage smokers to quit, the government is proposing that flavoured e-cigarettes be banned in a misguided effort to tackle youth vaping.

Five from Dave Cross, Planet of the Vapes
Researchers at the Department of Social and Preventive Medicine, in the Centre for Public Health at the Medical University of Vienna, have added another strikingly positive study to the tobacco harm reduction canon. The academics published their paper in the Nicotine and Tobacco Research journal, and state that vaping is 1.69 times more likely to help smokers quit tobacco than those relying on traditional nicotine replacement/quit methods.

They note: "Out of over 5000 different chemical compounds found in tobacco smoke, 73 are known carcinogens either in laboratory animals or humans. As a risk factor, smoking has been associated with various types of cancers such as lung, kidney, larynx, bladder, oesophagus, pancreas and cervix but also with other diseases, including coronary disease, atherosclerosis, chronic obstructive lung disease, infection and infertility."
Australians will be able to buy electronic cigarettes at pharmacies, rejoices the Australian version of the Daily Mail. The sad fact is the government is putting up more blocks to vapers and smokers accessing nicotine harm reduction than it does to smokers buying a packet of cigarettes. The ludicrous situation is being driven by lying ideologues and vapers can see it for what it is.

The anti-vape Therapeutic Goods Administration (TGA) might make it "legal" to buy and use vaping products, but the truth is that most won't bother to go through the laborious process – which is probably what the government wanted all along.
The government has published the draft Tobacco Products and Nicotine Inhaling Products (Amendment) (EU Exit) Regulations 2020, making changes in the UK's approach to some aspects of smoking and vaping. The amended proposals were laid before Parliament on 28 September 2020.

The draft regulations have been set out to amend the Tobacco Products and Nicotine Inhaling Products (Amendment etc) (EU Exit) Regulations 2019. It aims to apply the obligations resulting from the Withdrawal Agreement and the Northern Ireland Protocol into law
A report published by the Centers for Disease Control and Prevention (CDC) has released a new report showing that fears of a teen epidemic were overblown and, even by their numbers, use is declining. Of course, they take full claim for having combatted this supposed menace; and continue to fib that vaping "is unsafe", "highly addictive", "can harm the developing adolescent brain", and "can increase risk for future addiction to other drugs".

Matt Myers at the Campaign for Tobacco Free Kids (CTFK) is the beneficiary of millions of dollars flooding in to his organisation thanks to the fake fears he's stoked over a so-called "epidemic" in teen vaping. He commented, "As long as any flavoured e-cigarettes are left on the market, kids will get their hands on them and we will not solve this crisis," but an imaginary crisis can never be solved.
The founding of the International Association on Smoking Control & Harm Reduction (SCOHRE) was announced at the closing of the 3rd Scientific Summit for Tobacco Harm Reduction (THR): Novel Products, Research, and Policy. The organising committee includes the well-known THR researchers Konstantinos Farsalinos and Konstantinos Poulas.

The virtual Summit grew further in its third year with additional scientific bodies joining the Summit organisers – The Department of Biochemistry-Biotechnology at the University of Thessaly, the Laboratory of Molecular Biology and Immunology at the University of Patras linked up with the Department of Public & Community Health at the University of West Attica and the 2nd Cardiology Department at University Hospital Attikon.
---

---
On State Ballots Nov. 3rd – Jim McDonald
Voters on Nov. 3 will be choosing the U.S. President and Vice President, 35 U.S. Senators, all 435 U.S. House of Representatives members, and 11 state governors—along with thousands of state and local office holders. They'll also be deciding a huge number of state and local ballot issues, including some that affect vapers.

Citizens of two states—Colorado and Oregon—will be deciding whether to impose taxes on nicotine vaping products. In four states, voters will decide whether to approve legal recreational cannabis sales, and two will decide on legal medical marijuana.
The Tennessee Smoke Free Association (TSFA), a trade organization with a focus on tobacco harm reduction (THR) through the use of personal vaporizers, today applauded the news of dropping e-cigarette use among teens in the U.S.

"There has been a significant effort on the part of the Tennessee Smoke Free Association, and other organizations like ours around the world, to discourage those under 21 years of age from using e-cigarette and vapor products," said Dimitris Agrafiotis, executive director of the TSFA. "As with the previous studies, we have also been very encouraged by the confirmation that using vapor products does not typically lead to smoking traditional tobacco products. Many of our association members–myself included–are former cigarette smokers who have kicked the habit completely by responsibly using vapor products."
And the future of smoking
While combustible cigarettes have been named by the Center for Disease Control and Prevention among the number one causes of cardiovascular/respiratory diseases and also posing as the basis for several other health risks for both active and passive smokers for over 30 years, new innovations like the recently FDA approved IQOS Tobacco Heating System with 'Reduced Exposure' and the Oral Tobacco Heated Snus have disrupted the  tobacco ecosystem.

They have also presented hope for smokers and have led to a global exchange on views, ideas and reactions among public health experts, government representatives, investors, and members of the tobacco/nicotine industries, global media round tables and several other tobacco smoking related forums.
Thomas Mulloy
E-cigarettes and vaping products are facing headwinds from all sides — from regulatory challenges to competition from nicotine replacement products to disruption amid COVID-19, which has nudged some vapers back to combustible tobacco products.

Still, demand for e-cigs and vape products continues to grow. C-store dollar sales of electronic cigarettes have risen a hefty 6.8% for the 52 weeks ending Aug. 9, according to IRI, and unit sales are surging, seeing a 15.6% rise for the same period. And that's with an average price drop of $1.13 per unit.

To the Senate Inquiry. This includes YOU! – ATHRA
ALL VAPERS should make a brief submission to the Senate Inquiry into Tobacco Harm Reduction to ensure that vaping survives in Australia and is readily available for vapers and smokers. Please make a brief submission by 5 November 2020.

Why should you bother?
This is serious! The new regulations require doctor and pharmacy visits, greater costs, reduced product range and the closure of most vape shops
Under the new regulations you will need to:
Colin Mendelsohn
THE THERAPEUTIC GOODS ADMINISTRATION held some webinars this week to update stakeholders on the new regulations on vaping and nicotine. The news from Professor Skerritt (pictured) was mixed.

The proposed regulations are based on the changes to nicotine in the Poisons Standard announced in the interim decision on 23 September 2020. Submissions are now open for further comments on this decision until 6 November. A final decision from the TGA is due in mid-December. The changes are then expected to be introduced on 1 April or 1 June 2021.
A quit smoking programme which uses vaping as a stepping stone has seen 70 per cent of participants ditching or cutting down on cigarettes.

Kua kitea i tētahi hōtaka auahi kore e whakamahi ana i ngā pūrehu, e 70 ōrau o te hunga whai wāhi kua whakarere, kua haukoti rānei i te kai hikareti.

Te Piki Oranga, a kaupapa (foundation for action) Māori primary health provider for the top of the south runs Te Hā (the breath), a stop smoking programme which supports Māori, Pacific Islanders, vulnerable whānau and pregnant women to quit tobacco.
Are Policies and Regulations on Tobacco Working Against the Final Consumer?
On September 24th and 25th the third Scientific Summit on tobacco harm reduction was held, also referred to as the "No Smoke Summit". This scientific meeting on tobacco harm reduction is usually organized in Greece but due to the COVID-19 pandemic it was held virtually. 50 speakers were invited and 10 sessions organized.

One of the sessions entitled – "Public health policy & regulation and what is expected in the future?" – allowed the participation of prominent experts in smoking control strategies who shared their insights on this topic. Chaired by Professor Panos Vardas – Head of the Cardiology Department at Heraklion University Hospital in Greece – the scientists discussed recent data and regulatory, medical and scientific information related to tobacco harm reduction.
Joseph Magero
One in every three Kenyan smokers has tried to quit. Yet, only a tiny fraction succeed. Just how do we help them kick this deadly habit? And how do we persuade other smokers that it is a good idea to follow suit?

A sensible start would be to put an end to the well-intentioned but misguided "quit or die" approach to tobacco control.

For thousands of adult smokers for whom quitting nicotine entirely seems like an impossible dream and for others who want to continue consuming nicotine, it is no longer a binary choice.
Cancer prevention needs – Eleonora Mazzoni, Stefano da Empoli
When Europe's Beating Cancer Plan was first opened to public consultation in early February, the feedback was substantial, with a record 348 submissions from citizens, patients, healthcare workers and policymakers. While the submissions offered a rich variety of opinion, one overarching theme appeared to prevail in 20% of the submissions: if the plan is to work, it cannot afford to overlook cancer prevention, and, specifically, we must implement an effective harm reduction plan across sectors of high risk.

It's no surprise that harm reduction policies register as important. Estimates suggest that tobacco and excessive alcohol consumption are responsible for about 40% of total cancer preventable cases. Add in those who develop the disease due to bad diets and a lack of exercise, and the number climbs to around 60%.
---
A look back at how things have moved on or otherwise….
Dave Cross, Planet Of The Vapes
The Public Health Association of New Zealand (PHA) has been forced to make a deserved apology to New Zealander of the Year nominee Marewa Glover. The PPA stated that she had been influenced by Philip Morris International and consequently lied during questioning by a government committee. She hadn't been influenced; she hadn't lied. This isn't the first-time apologies have had to be made following attacks on harm tobacco reduction advocates.
Dave Cross, Planet Of The Vapes
TRT World is a Turkish international news channel broadcast 24-hours per day in English. Its 'Roundtable' show is hosted by David Foster, a discussion programme where guests debate the news. It recently debated vaping with University College London's Professor Robert West, ASH UK chief executive Deborah Arnott, New Nicotine Alliance's Sarah Jakes and Dr Gan Quan (representing the anti-vape voice).
---
Visit Nicotine Science & Policy for more News from around the World

---