Vaping Digest 5th October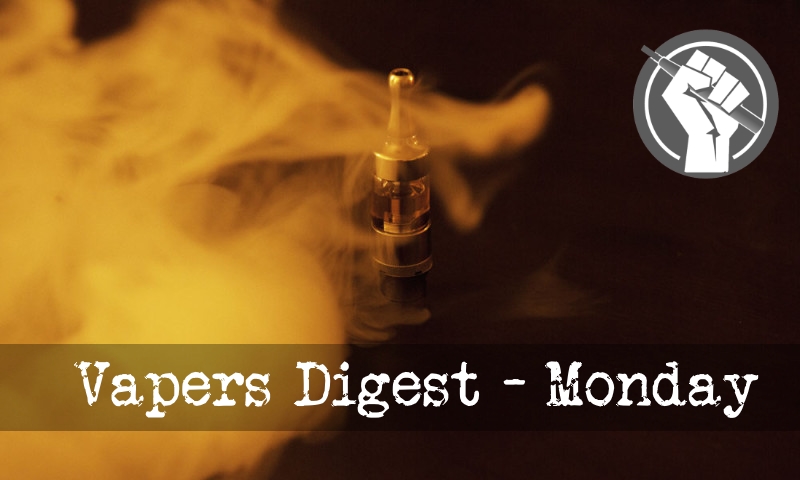 Monday's News at a glance:
Youth Vaping Declines, But the CDC Clings to Its "Epidemic" Narrative – Vaping – Nasty NiCr – Suffolk County, NY Legislator Proposes Tobacco 25 Law – YPBAS Teen Survey – Faulty study linking vaping to lung injury – Traditional tobacco use remains stubbornly high in Middle East as smokers shun e-cigarettes – Nicotine Science and Policy Daily Digest
But the CDC Clings to Its "Epidemic" Narrative – Michael McGrady
On September 9, the Centers for Disease Control and Prevention (CDC) published their latest findings on vaping prevalence among youth. The total number of US youth who vape has declined by almost 2 million, with an estimated 3.6 million middle or high school students now vaping.

The CDC found that 19.6 percent of high school students and 4.7 percent of middle school students reported "current" e-cigarette use. But the large majority of use is not daily: Only 38.9 percent of high school vapers and 20 percent of middle school vapers reported vaping on at least 20 out of the previous 30 days.

According to CDC Director Robert Redfield, the decline in the number of youth who use e-cigarettes is an "achievement." However, he quickly pivoted to a negative tone.
The Early Days of a Better Nation
'Somebody died fae vaping. Yir better aff back on the fags.' — Lady at bus stop, a few months ago.

You might think it bad taste to talk about vaping in the middle of a pandemic, and you'd be right. But this hasn't stopped a slew of public health bodies, politicians, and activists from doing just that, so I see no reason to unilaterally disarm.

If you want some proper science and good sense on the topic, follow Clive Bates on Twitter, and read his excellent blog. Meanwhile, here's my own overdue rant.

I've been meaning to blog about vaping for a while. My Twitter feed sometimes seems to be about little else, rather to my embarrassment whenever I scroll through it. So I'll start by explaining why it matters to me. As with many vapers, my story begins with smoking.
---

---
Scientists have found a new scare to monger – Norbert Zillatron
This time it's NiCr as coil material they claim to cause lung damage. There are a lot of omissions that cast doubt on the scientific quality of this latest click-bait.

First of all, it's not a proper peer-reviewed study, but just an article raising alarms based on conjecture.

On the other hand, the peer-review process has shown itself to be not fit for the task on the subject of vaping. Time and time again it failed to weed out obvious junk before it was published. Maybe it's time to involve people from outside these scientific echo chambers.
---
From a study observing hyperactivity in developing zebrafish embryos exposed to chemicals used in flavours, these anti-vaping fanatics conclude that vaping during human pregnancy causes crime.

A new contender for the most comically absurd inference in the history of science. https://t.co/ZFSEa49VYl

— Clive Bates (@Clive_Bates) October 4, 2020
In which @phil_w888 writes a 800 character peer review of a new paper that is undoubtedly better than any of the official reviews that @JDisorders got before publishing the paper. https://t.co/UYSfZu2Emf

— Carl V Phillips (@carlvphillips) October 4, 2020
---
Jim McDonald, Vaping 360
A Suffolk County, New York legislator has proposed a ban on sales of tobacco and vaping products to anyone under age 25. Federal and New York State law currently prohibits sales to anyone under 21—but New York State allows counties and municipalities to pass stricter laws than the state's.

A similar bill failed earlier this year in the Hawaii legislature. We were unable to find another U.S. municipality or county with a legal age above 21 to sell tobacco or vaping products.

Two from Dave Cross, Planet of the Vapes
Stoptober is back for 2020, and Public Health England (PHE) says it is pushing a primary aim of encouraging the nation's smokers to make a quit attempt for the month of October and beyond. Organisers say that if a smoker can quit for 28 days, they are five times more likely to quit for good. The campaign is promoting vaping as one of the ways smokers can try.

PHE says: "This year's Stoptober will look and feel quite different to previous campaigns. Firstly, it will carry the new 'Better Health' branding which has been created to support a national health reset moment that launched at the end of July with a focus on obesity. This new branding approach responds to new challenges brought about by the COVID-19 pandemic and the impact it's had on people's health behaviours…."
Northern Ireland's Chief Medical Officer Dr Michael McBride has welcomed the findings from the latest "Young Persons' Behaviour and Attitudes Survey" (YPBAS). The survey was conducted by The Central Survey Unit of Northern Ireland Statistics and Research Agency (NISRA). Importantly, the numbers of children and young people reporting regular use of e-cigarettes remains low.

Welcoming the findings, McBride cautioned: "There is no room for complacency."

YPBAS is a school-based survey carried out among 11-16 year olds. It is commissioned jointly by a number of government departments and includes questions on a wide range of topics. This is the seventh time the survey has been conducted and represents an overview of the smoking, alcohol and drugs responses in 2019.
---

---
To faulty study linking vaping to lung injury
A new study published by Science Daily, "Heating in vaping device as cause for lung injury, study shows," has wrongfully concluded that atomizers containing nickel-chromium alloy are causing lung injury. The study claims that subjects who switched from stainless steel atomizers to nickel-chromium alloy displayed immediate symptoms of EVALI.

EVALI (E-cigarette or vaping product use-associated lung injury) was first recognised by the United States in June 2019. The cause of EVALI was discovered to be vitamin E acetate, a prohibited ingredient under CCCR 2001 in regulated Canadian e-liquid. Vitamin E acetate has never been used by reputable e-liquid manufacturers. It was concluded by the CDC that illicit black-market THC products were using vitamin E acetate as a thickening agent. After this conclusion by the CDC in September 2019, EVALI cases rapidly declined and have since ceased.

Remains stubbornly high in Middle East as smokers shun e-cigarettes
Smokers in the Middle East are largely shunning e-cigarettes and other alternatives in favour of traditional tobacco, figures show.

Research company Euromonitor International found only a small minority of smokers used e-cigarettes to quit.

Previous trials showed such devices have helped people who were addicted, although medical opinion remains divided over the benefits of e-cigarettes and vapes.

Analysts found that only 1.8 per cent of smokers in the region took up alternatives to conventional cigarettes this year.
Is UK's Enthusiasm for Vaping on the Wane? | RegWatch (Live)
Chris Ilsley
A report came out yesterday showing vaping may be responsible for young people taking up smoking.

We're talk to Dr Joe Kosterich from the Australian Tobacco Harm Reduction Association about the research.

Download this podcast here
---
A look back at how things have moved on or otherwise…
New Nicotine Alliance
August is generally recognised as 'silly season' where the absence of any concrete political news sees media puff out their content with barely newsworthy articles. There was little going on for NNA last month either so we let the August newsletter slide in favour of a summer and autumn one covering September too, not that we were entirely redundant during the school holidays, as this round-up of our activities will show. It's been a couple of months of exciting new initiatives coupled with fighting the relentless anti-harm reduction zombie arguments emanating from the public health community.
And India is no better – Fergus Mason, Vaping Post
State and local politicians across the USA continue to over-react to the country's lung disease outbreak. With 13 people now dead, a series of knee-jerk bans are being implemented or called for. All these bans will achieve is to drive vapers onto the black market – which is where the contaminated liquids causing the outbreak are coming from. It seems that, a century after Prohibition and decades into the failed "war on drugs", the USA still hasn't learned any lessons from its historic errors.
---
Visit Nicotine Science & Policy for more News from around the World

---