Vapers Digest 8th November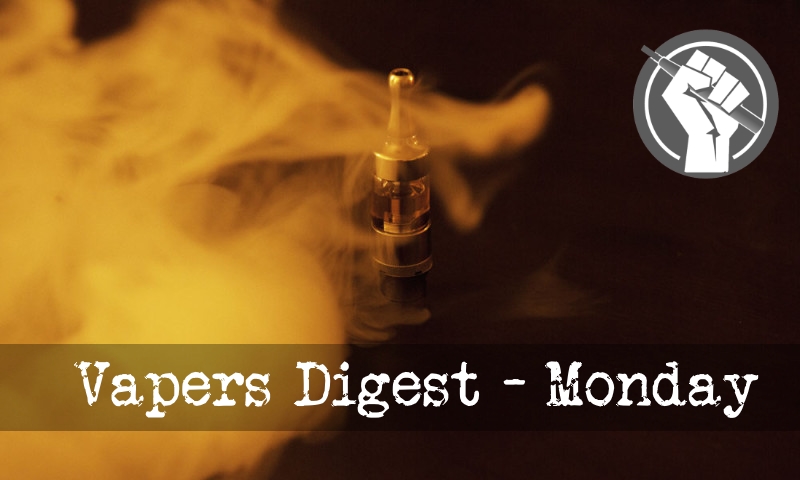 Monday's News at a glance:
Prohibitionists at work: how the WHO damages public health through hostility to THR – The secret tobacco conference starts today – Fighting the Last War – Secretive WHO is ignoring the science on vaping – Open letter by NGO engaged students – COP9: the Secret Tobacco Control Meeting You Can't Attend – Paediatricians Attack Ecigs – News From Parliament – It's time to end smoking for good in the UK – House Democrats Tuck Vape Tax – Melbourne-based individual fined $7,992 – The battle over the government's tough new vaping ban – WHO's Global Tobacco Meet Needs A Reset – WHO undermines democracy – Group rallies support for smoking alternatives – Nicotine Science and Policy Daily Digest
How the WHO damages public health through hostility to THR
Clive Bates, The Counterfactual
This post examines how WHO and related institutions aggressively promote the prohibition of much safer alternatives to cigarettes, such as vaping and heated tobacco products. The effect, if not the intent, is to protect the cigarette trade from competition, to promote black markets, to stimulate harmful workarounds, to nurture criminal networks, to harm young people, and to prolong the epidemic of avoidable smoking-related disease. It's a reckless policy, built on misplaced righteousness, defended by bureaucratic inertia, sustained by group-think, and cultivated by elitist billionaire foundation money. It's a curse and a blight on public health, and government representatives should apply real-world policy disciplines and reject it.
Christopher Snowdon, Velvet Glove Iron Fist
The WHO's secretive international tobacco conference COP9 starts today, online only and with the public barred from watching, let alone participating. COPWATCH will be doing its utmost to find out what's going on. Keep an eye on it.

In the meantime, I'd like to share an excellent article I recently came across in the Fordham International Law Journal called Administering the Mark of Cain: Secrecy and Exclusion in the FCTC Implementation Process. The author, Gregory F. Jacob, looks at the issue from the perspective of democratic accountability and fair representation. I recommend reading the whole thing, but here are some of the more important passages.
---

---
The WHO and International Tobacco Control – GSTHR
Despite all the efforts of tobacco control, there are still 1.1 billion smokers worldwide [i] and many hundreds of thousands of people who use other dangerous tobacco products. Smoking causes eight million deaths a year with a projected one billion lives set to be lost by 2021. The smoking epidemic is a global issue, but eighty per cent of the world's smokers live in low and middle-income countries (LMIC), and they are bearing the brunt of the deaths and diseases.[ii]

The World Health Organization (WHO) claims its monitoring and evaluation tobacco control strategy MPOWER (Monitoring tobacco use and prevention policies, Protecting people from tobacco smoke, Offering help to quit tobacco use, Warning about the dangers of tobacco, Enforcing bans on tobacco advertising, promotion and sponsorship, Raising taxes on tobacco) 'protects' or 'covers' 5.3 billion people from the deaths and diseases caused by smoking.
Mark Oates
Decisions made at the meeting of international delegations will affect cancer rates and influence public health policy in scores of developing and developed countries. But this isn't the COP26, you won't have heard of it and it will not make headlines.

The event is the COP9 ‑ and it is where countries' Governments, aided by the World Health Organisation, make secretive decisions regarding tobacco and smoking.

No journalists are allowed to observe, nor members of the public. British charities have even been turned away. Only Governments, all of whom take in vast tax revenues from cigarette sales, can attend.
---
---
You Can't Attend – Jim McDonald
The ninth meeting of the Framework Convention on Tobacco Control (FCTC) will be held next week, from Nov. 8-13. FCTC is an international treaty organization, created under the auspices of the World Health Organization (WHO) FCTC's 180 member countries ("Parties" to the treaty) meet every two years—although last year's conference was postponed until now due to the coronavirus pandemic.

The biennial FCTC meeting is called the Conference of the Parties. This is the ninth one, so it's referred to as COP9. Because of the pandemic, this year's COP is being held online, depriving hundreds of government bureaucrats of a week-long paid junket to some distant location.
And young health professionals from LMIC – INNCO
A clarion call on behalf of several LMIC context networks of health/medicine students and young professionals and academics

We are elected representatives of students globally as volunteer functionaries of non-profit organizations and initiatives involving recent graduates or students from faculties of health sciences spanning Low-and Middle-Income Countries (LMIC) around the world. In effect, our network spans disciplines from Public Health, Medicine, Pharmacy, Psychology, Global Health, Dentistry and spans geographically from western Africa, around the equator to Kenya, Tanzania, Sudan, Rwanda, Burundi and more after circumnavigating the earth mainly passing through LMIC.

Two from Dave Cross, Planet of the Vapes:
The European Academy of Paediatrics has released a ridiculous position statement in the lead up to the World Health Organisation (WHO) Framework Convention on Tobacco Control (FCTC) Conference of Parties (COP9). The shameful group responsible for the publication includes a paediatrician who works at the Royal Brompton Harefield NHS Foundation Trust.

"As the tobacco epidemic has waned, it has been followed by the advent of electronic nicotine delivery devices," the Academy says – ignoring that vaping has played a fundamental role in reducing smoking rates.
A flurry of questions about vaping, tobacco harm reduction (THR) and tobacco policy have been asked and answered in Parliament over the last fortnight. The last fortnight has been hectic when it comes to THR questions and will be split over two articles.

Dame Margaret Hodge referenced this year's ASH report and asked the Secretary of State for Health and Social Care what steps his department is taking to help reach the target of making England smoke-free by 2030 – given that 51 per cent of remaining smokers have stopped using e-cigarettes.
---

---
With a vaping revolution – Mark Pawsey MP
This week, the attention of the world has been focused on the United Kingdom. Whatever your take on the climate debate, one thing that has impressed me, is the leadership shown by the UK in tackling an issue that requires global action.

Our country has demonstrated a positive vision of what the world needs to do, and are implementing these changes domestically, and we have shown that we are not afraid to stand up to those who are at risk of derailing the process. This is exactly what is required this coming Monday, when another COP begins; a COP which will determine the future of one billion cigarette smokers, globally.
Growing contraband tobacco market raises concerns about Canada's proposed vape flavour ban
As Health Canada reviews the thousands of stakeholder responses submitted during the consultation period of the proposed flavour ban, the Canadian Vaping Association urges the department to strongly consider the black-market ramifications. Canada's increasingly serious problem with contraband tobacco, worsened by the ban on menthol cigarettes, demonstrates the scale of the illicit market that would appear if flavoured vape products were banned.

It is inevitable that a flavour ban will strengthen these channels. It is estimated that contraband tobacco makes up roughly 30% of the total Canadian tobacco market.
---
Global State of Tobacco Harm Reduction | RegWatch
You can watch all the GSTHR interviews here
---
Is Regressive and Counterproductive to Public Health – Krisztina Pusok
In an effort to find new ways to pay for the proposed $1.75 trillion "Build Back Better" package, the House Democrats added a "nicotine tax" on tobacco products including e-cigarettes in their latest 2,135-page version of the bill. Unfortunately, there is nothing innovative about this amendment. There have been multiple attempts at federal and state levels in the past, with some of them successful, to impose this type of 'sin tax.' While the primary objective is to raise revenue and improve public health, the proposal runs counter to the proponent's expectations: this regressive tax hike would keep more people smoking.
Into $1.85 Trillion Spending Bill – Patrick Hauf
The plan would tax vape products at a rate of $50.33 for every 1,810 milligrams of nicotine they contain. If passed, the tax would make vapes more expensive than cigarettes, which are taxed on a per-product basis. The tax would disproportionately hurt poor Americans, who are more likely to use vape products. President Joe Biden has pledged to not tax anyone who makes less than $400,000.

House Democrats had scrapped an earlier plan to tax all tobacco products in order to pay for Biden's trillion dollar spending bill. Tim Andrews, director of consumer issues at Americans for Tax Reform, said Democrats reintroduced a nicotine tax to pay for their proposed State and Local Tax reduction, a $500 billion tax cut for the wealthy.

For alleged unlawful importation of nicotine vaping products
The Therapeutic Goods Administration (TGA) has issued three infringement notices, totalling $7,992, to a Melbourne-based individual for alleged importation breaches involving nicotine vaping products.

It is alleged that the individual imported liquid nicotine vaping products that were not entered, into the Australian Register of Therapeutic Goods (ARTG) at the time of importation.

Under the Therapeutic Goods Act 1989 (the Act), therapeutic goods must be entered into the ARTG, unless a specific exemption, approval or authority applies, before they can be lawfully imported into Australia.
The battle over the government's tough new vaping ban
With more Australian kids picking up vapes and some as young as 13 reportedly becoming addicted to nicotine, the federal government has taken action.

Starting on October 1, Federal Health Minister Greg Hunt closed a loophole that allowed Australians to import nicotine vaping products (NVPs) from overseas without a doctor's prescription.

But some experts are concerned the new laws will put users at a higher risk of harm, by forcing them into the black market to buy a product that could save their lives.
Samrat Chowdhery
While all eyes are on the UN climate change meet, COP26, another crucial conference of parties is taking place from November 8 to 12 as delegates from over 180 nations gather for the ninth session of WHO's Framework Convention of Tobacco Control (FCTC COP9) to discuss and adopt key measures in global tobacco control.

Climate change is a critical issue, but so is getting the policies right on tobacco as it kills almost twice more people every year than COVID has so far.

However, despite two decades of dedicated efforts to reduce consumption since the FCTC was adopted in 2003, though progress has been made on other indicators, the number of tobacco users globally has remained over a billion and is still increasing in some parts of the developing world.

In crusade against tobacco and vaping products – Martin Van Staden
That the World Health Organization (WHO) has of late been undermining democratic institutions worldwide is not necessarily a revelation given the uniform way many governments have, partly at the WHO's instigation, responded to the Covid-19 pandemic. But this should not distract anyone from the anti-democratic aspects of the WHO's long-time obsession: regulating the lifestyle choices of consumers as regards tobacco.
In addressing smoking
The British Chamber of Commerce of the Philippines, citing the United Kingdom's Parliamentary report, urged the government to consider UK's science-based approach in dealing with the smoking problem as the World Health Organization holds a global conference on tobacco control this week.

The UK All-Party Parliamentary Group for Vaping Inquiry report said the WHO should be guided by evidence in recommending policies to its members states and urged it to adhere to the fundamental objectives set forth by the Framework Convention on Tobacco Control given its original commitment to harm reduction as an effective tool to reduce smoking incidence.
Kaithreen Cruz
TOBACCO harm reduction advocate and Executive Director of the Coalition of Asia Pacific Harm Reduction Advocates Nancy Loucas urged officials of the World Health Organization (WHO) to stop turning a blind eye on tobacco alternatives that are using safer nicotine products.

Loucas lamented WHO's stance against "proven and viable harm-reduced alternatives" such as vaping.

"The WHO's attitude to nicotine vaping is misguided, misinformed and utterly mistaken, and is potentially a death trap for millions of smokers struggling to quit," she said.
---
A look back at how things have moved on or otherwise…
The governing idea of tobacco control
Clive Bates, Tobacco Reporter
Sometimes defining an iron rule or governing idea and reorganizing our understanding of the world around it can be immensely revealing. Einstein developed the special theory of relativity from an assumption that the speed of light in a vacuum is unwaveringly constant. The most surprising results follow from that. Darwin showed that a simple mechanism, variation and natural selection, could explain much of the astonishing complexity of the natural world. Governing ideas are found everywhere: supply, demand and prices in economics; innocent-until-proven-guilty in criminal justice; and mutually assured destruction in arms control are further examples.

So, is there a governing idea in tobacco policy? Something that shapes everything and means that the world is understood through rigorous application of that rule? I think there is, but it is playing an ever larger, more polarizing and counterproductive role.
ECigIntelligence
Industry insiders have called for vape stores to be classed as essential outlets as all non-essential shops in England are ordered to close for a month under the new national restrictions to fight the second wave of COVID-19.

The UK Vaping Industry Association (UKVIA) has written to business secretary Alok Sharma, small business minister Paul Scully and minister for public health Jo Churchill, warning that the closure of vape shops "would be hugely detrimental to the sector's contribution to the national economy and the health of the nation".
---
Visit Nicotine Science & Policy for more News from around the World

---