Vapers Digest 10th November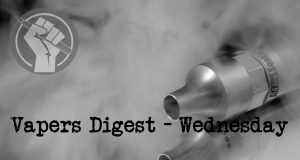 Wednesday's News at a glance:
Bloomberg, World Health Organisation and the Vaping Misinfodemic ~ New INNCO Dossier Raises Major Questions On Anti-vaping Stance ~ Bloomberg, the World Health Organisation & the Vaping Misinfodemic ~ 5 things we'd like to see happen at WHO COP9 – but probably won't ~ COPWATCH: a Consumer Guide to FCTC COP ~ The Bloomberg Health Organisation ~ Britain sparks a new row with the World Health Organisation over VAPING ~ Episode 4: Michelle Minton & Helen Redmond ~ UK Will Send a Powerful Message by Allowing NHS to Prescribe Vapes ~ Boris Called To Stand Up For Vaping At COP 9 ~ News From Parliament ~ IEVA Addresses COP9 ~ COPWATCH ~ Champix COP Out ~ PH commits to science in solving smoking problem ~ Congressman Sets His Sights on Unregulated Synthetic Nicotine ~ Krishnamoorthi Investigates Synthetic Nicotine ~ Careless Laws and Rules Push Vaping Toward a Black Market Future ~ Africa: Is the World Health Organization Slowing Down the Efforts to Reduce Tobacco Harm? ~ Philip Morris International meets with FDA to make its case for Iqos in patent dispute
---
BRITAIN has sparked a fresh row with nannying bosses at the World Health Organisation – who are trying to ban VAPING.

Anti-smoking charities have taken aim at the controversial global health chiefs for trying to outlaw the safer alternative to smoking – after the WHO said they consider them as harmful as cigarettes.
---
Michelle Minton of the Competitive Enterprise Institute and Helen Redmond of Filter Magazine join AVM's Amanda Wheeler to discuss the latest on the proposed Nicotine Tax, Helen's latest piece on the FDA's approach to vaping, Michelle's declaration that the "teen vaping crisis" is over, Dr. Cother Hajat's review of studies on vaping, and the most misleading media coverage on vaping from the past week.
---

---
FOUR from Dave Cross, Planet of the Vapes
A flurry of questions about vaping, tobacco harm reduction (THR) and tobacco policy have been asked and answered in Parliament over the last fortnight. The last fortnight has been hectic when it comes to THR questions and will be split over two articles.
The Independent European Vape Alliance (IEVA) tells World Health Organisation (WHO) Conference of Parties (COP9) delegates that tobacco harm reduction is critical if we are to reduce smoking related disease rates worldwide. Vaping, it says, is a chance for smokers to switch from an extremely harmful to a significantly less harmful alternative and combat the shocking eight million smokers who die from a smoking-related disease every year.
COPWATCH is a new website written and published by consumers of safer nicotine products that will provide information and track activity at the World Health Organisation's (WHO) Conference of Parties (COP9) event. The website offers useful FCTC COP explainer articles, a library of links and information about campaigns. During this week's COP 9 (8-13 November) there are plans for COP LIVE articles.
The World Health Organisation (WHO) has approved a new tobacco cessation consortium to encourage countries to follow its instructions on the best approach to stamp out smoking. The advice won't include vaping but does cover bupropion and varenicline, two pharmaceutical approaches to smoking cessation that it has added to its essential medicines list – but there's a small problem with that.
---
Manila Bulletin
Foreign Affairs Secretary Teodoro Locsin Jr. called on the World Health Organization "to regain the momentum" of tobacco control and consider "evolving and latest scientific information" in solving the global smoking problem.
---

---
TWO from Jim McDonald, Vaping 360
U.S. House Rep. Raja Krishnamoorthi, the Illinois Democrat who chairs a subcommittee of the House Oversight Committee that has held several hearings on vaping issues, announced today that he will lead an investigation of synthetic nicotine used in e-liquid.
In a preview of the vaping future, a man has been arrested and charged with selling both THC and nicotine vaping products to middle school students in Nebraska. The man advertised on the social media site Snapchat.
---
Marie Camara, All Africa
On the 2nd of November 2021, the Vapour Products Association of South Africa (VPASA) organized a Diginar (digital seminar) with an unequivocal title: WHO's (World Health Organization) Dictatorial Tobacco Control Policies Ahead of COP-9.

The ninth session of Conference of the Parties (COP 9) is being held from November 8th to 13, 2021. The Framework Convention on Tobacco Control (FCTC) is the World Health Organization treaty. It has a secretariat that holds a biennial COP in order to influence the global agenda on tobacco control.
Philip Morris International met with the Food and Drug Administration on Friday afternoon to present its argument for why the tobacco giant and Altria should be allowed to import and sell Iqos devices in the U.S., CNBC has learned.

A person familiar with the company's meeting said Philip Morris told the FDA that Iqos is unique, both in its design and ability to convert smokers. Additionally, the company is arguing that the U.S. International Trade Commission overstepped its bounds, given that the FDA is in charge of regulating which tobacco products and alternatives can be sold, this person said.
---
Visit Nicotine Science & Policy for more News from around the World

---