Vapers Digest 12th November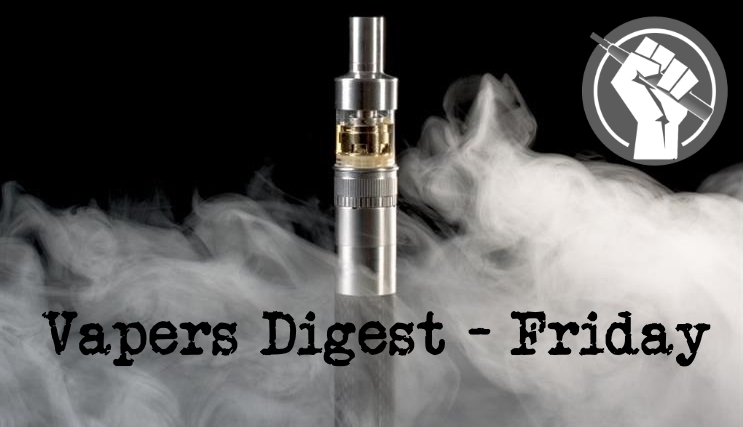 Friday's News at a glance:
#COP9 LIVE 12 November 2021 – BECA draft report: second consideration of amendments – Confusing Communications, Shifting Guidance and Decision Paralysis – FDA: Stop Foot-Dragging – Nicotine Tax Update – Biden's Vaping Tax Sparks Concerns – WHO Set To Fail Again – Antz Attempt To Influence COP9 – CAPHRA Writes To Delegates – COP Concerns – Polosa leads the ranking in his field of research – Vapers Call On Javid to Attend COP9 – The New Nicotine Patch – Women's Voices Among Those Absent at COP – Biden Nomination of Califf as FDA Commissioner – The obscure UN conflab – Thai Government urged by pro e-cig group – Lobby group criticises KRA for increasing tax – Tobacco harm reduction policy in spotlight – PH agrees to follow science – Nicotine Science and Policy Daily Digest
COPWatch
A very special event happened today, COP9 livestreamed its final session! The public was afforded a rare glimpse into the secret meeting that we are not allowed to attend. All decisions had already been made by then, of course.

The main announcement was that the next COP meeting will take place in Panama in 2023. The Panamanian Minister for Health delivered a speech while a video played showing some of the sights of the country.
Second consideration of amendments – ETHRA
On Monday 8 November the European Parliament's Special Committee on Beating Cancer met to debate amendments to the Rapporteur's draft report. This was the second and final consideration of amendments before a vote in Committee, which is scheduled for 6 December. A recurring theme throughout the meeting was the need for compromise in addressing amendments, particularly in the area of prevention. Worryingly for vapers, the topic of e-cigarettes and flavours featured prominently.

In his opening statement BECA Chair, Bartosz Arłukowicz, announced that he believed there was general agreement for preventative measures such as food labelling and moderate alcohol consumption.
---

---
Shifting Guidance and Decision Paralysis are Behavioral Norms at the FDA
Brad Rodu, Tobacco Truth
U.S. health authorities are rightly focused on vaccination as the primary tool to end the Covid-19 pandemic. However, another "critical tool," widely used in other developed countries, is "expensive and hard to find" in the U.S., according to ProPublica. That news outlet is reporting that development and distribution of rapid Covid tests, which should by now be ubiquitous and inexpensive, has been crippled by "an arbitrary, opaque [FDA regulatory] process that meanders on, sometimes long after . . . products have been approved in other countries."

For those interested in tobacco issues, it is worth noting that ProPublica's points about FDA treatment of Covid tests and testing companies mirrors the arbitrary and capricious treatment of e-cigarettes and vaping companies. Following are some examples that will resonate with the vaping community.
Vaping is Safer Than Cigarettes – Steve Pociask
In October, after years of regulatory ambiguity and antagonism toward the e-cigarette industry, the Food and Drug Administration (FDA) finally granted its first-ever authorization for e-cigarette products to be marketed and sold in the United States. While its decision should be applauded, the agency could be doing much more to promote vaping as a harm reduction measure for smokers.

While other countries — like the U.K. and Canada — have successfully integrated e-cigarettes into their tobacco harm reduction strategies, America has moved slowly to lift regulatory hurdles. Last September, more than 500 companies submitted some 6.5 million applications to the FDA seeking authorization to sell their vaping products in the U.S. market.
Of Califf as FDA Commissioner – Jim McDonald
President Biden announced today he will nominate Robert Califf to serve as FDA commissioner—a job Califf also held during the Obama administration. As we reported last month, Califf would probably steer the agency toward more severe regulation of the vaping market.

Janet Woodcock has served as acting FDA commissioner since Biden became President in January, but cannot remain in the job after mid-November without Senate confirmation. The Biden administration feared a Woodcock nomination would face strong opposition in the Senate.
---
---
What's Changed and What's Ahead – Jim McDonald
During months of debate by congressional Democrats over the Build Back Better Act that contains much of President Biden's "social infrastructure" plan and the funding to pay for it, a proposal to tax cigarettes and other nicotine products was included in the bill, then removed, then finally added back without the cigarette tax.

The current version of the nicotine tax applies only to vaping products and nicotine pouches, and they will be taxed at a higher rate than cigarettes if the tax language stays in the bill and it passes.
Sparks Concerns People Will Go Back to Cigarettes
House Democrats are poised to vote on imposing a new federal excise tax on e-cigarettes—but without a tax increase on traditional cigarettes—leading some public-health experts to warn that the provision could push vapers back to cigarette smoking.

The provision is part of the latest version of the party's social-spending and climate bill that could pass as soon as next week. It faces an uncertain path ahead given opposition in the Senate.

The House bill includes a measure intended to tax vaping products on par with the existing federal cigarette tax rate of $1.01 per pack. It would raise about $9 billion over a decade. (Alternative Link)

Four from Dave Cross, Planet of the Vapes:
"The World Health Organization's failure to declare a global emergency in 2020 will be repeated in 2021 when the WHO will likely abandon international tobacco harm reduction efforts and condemn millions of smokers to an early death," says Nancy Loucas, a leading consumer advocate.

"The WHO got it totally wrong on Covid-19, and it's no surprise they've also got it very wrong with safer nicotine products such as vaping," Loucas says.

The New York-born native and passionate tobacco harm reduction advocate is chief organiser of this week's round-the-clock sCOPe broadcast focused on the WHO's COP9 for the Framework Convention on Tobacco Control (FCTC).
A collection of cranks, opportunists, liars and well-meaning dunces have written an open letter to the delegates attending the World Health Organisation's (WHO) virtual Conference of Parties (COP9). It contains all of the familiar debunked lies about vaping and implores governments to take an extreme position on tobacco harm reduction products.

The letter is signed by 44 people who are all strongly opposed to electronic cigarettes, snus, and heated tobacco products. What they fail to mention is how many of them receive funding directly or indirectly from billionaire Michael Bloomberg. People like Maurice Swanson, the Chief Executive of the Australian Council on Smoking and Health.
Advocates for tobacco harm reduction approaches and vaping have spoken out about the unaccountable World Health Organisation, how COP9 is "concerning", and how prohibition damages public health. Adam Afriyie MP believes that the United Kingdom should not listen to the World Health Organisation, Professor Polosa worries about the WHO's indifference to evidence, and Clive Bates has written extensively about the consequences of wrong decisions being made during this week's event.

Writing for CapX [1], Adam Afriyie says that Brexit has opened up opportunities to expand our approach to tobacco harm reduction and wonders why we need to listen to "the unaccountable, unscientific WHO on vaping".
The Coalition of Asia Pacific Tobacco Harm Reduction Advocates (CAPHRA) has written a letter to the delegates attending this week's COP9 event. It points them towards independent evidence, ask that they consider it as part of policy decisions, and demands that they tell the truth.

CAPHRA says: "Dear Minister(s), International Law recognizes health as the right of the individual and thus its protection should be undertaken by the governing bodies across nations. In the context of the health policies aimed at tobacco control globally…."
---

---
CoEHAR
Plos Biology annually updates its online database to edit the ranking of over 100,000 most cited researchers internationally. Like the previous years,  the founder of CoEHAR prof. Riccardo Polosa ranks among the most cited scientists globally, leading the University of Catania to stand among the best research centres worldwide.

Catania, 11 November 2021- The online database "Updated science-wide author databases of standardized citation indicators" includes a ranking of the most cited scientists in the world, divided into 22 specific fields and a further 176 sub-categories.
Vapers from across the UK have called on the Government to take the COP9 Framework Convention Tobacco Control meeting more seriously. Whilst Health Secretary Sajid Javid MP was in attendance at COP26, vapers were left wondering why he didn't instead attend COP9 which is far more relevant to his brief. Currently it is understood the UK delegation of powerless civil servants at COP9 are not getting across the UK domestic policy that vaping works to reduce smoking and save lives.
Grace Browne, WIRED
If you're trying to quit smoking, instead of a stick of nicotine gum or an adhesive square to slap on your upper arm, your doctor could soon hand you an e-cigarette. England could be the first country in the world to allow prescription e-cigarettes, following an announcement on October 29 that the UK Medicines and Healthcare Products Regulatory Agency, the United Kingdom's medicines regulator, is now inviting manufacturers to submit products for approval.

If an e-cigarette device passes the steps required for licensing, doctors will be able to prescribe it to patients who want to quit smoking. E-cigarettes are thought to outperform traditional smoking cessation aids for a number of reasons:
At the Global Tobacco Control COP – Helen Redmond
Global tobacco control is deeply political, divisive, and reflects the prevailing gendered and other social hierarchies that influence policy and research agendas. This critique is not unique to tobacco control; it is seen across global health, which suffers from a lack of women's participation and leadership—and gender-responsive policy, programs, research and resource allocation.

Of 8 million annual smoking-related deaths worldwide, 1.5 million are women. Yet current strategies specifically to help women who smoke are woefully inadequate. More countries have achieved significant decreases in smoking among men than among women, and most are seeing only a minimal decrease—or even an increase—in women's smoking.

That seeks to cut off the world from vaping and harm reduction
Yaël Ossowski, Consumer Choice Center
While most popular attention this month has been on the vital discussions at the United Nation's COP26 Climate Change Conference in Glasgow, there is an equally important UN conference happening in Geneva that also contemplates the fate of millions of lives.

There are also questions on the importance of science, the role of activists and industry, and how humanity can forget a better path based on common agreements to be implemented in each country.
To look at the Philippines and the United Kingdom for their stance on not banning e-cigarettes
ECST revealed the Philippines government emphasizing its stance on balanced tobacco control strategies, including regulatory and taxation, and would not prohibit the use of e-cigarettes in order to avoid undesirable consequences during the 9th edition of the WHO's Framework Convention. While the United Kingdom claimed the lowest smoking rate as a result of a wide range of policies, including encouragement for e-cigarettes as a smoking cessation tool. The group urged Thailand to follow in the footsteps of the two countries for the benefit of the country and smokers.
For increasing tax on cigarette alternatives
Lobby group, Campaign for Safer Alternatives has faulted the Kenya Revenue Authority for increasing tax on nicotine alternatives to cigarettes.

In a statement on Thursday, chairman Joseph Magero said the move is a blow to about 2.5 million smokers in Kenya, who have been struggling to quit.

"While other countries are moving towards a healthier, smoke-free future through their promotion of e-cigarettes and pouches as quitting devices, this sudden tax increase is pricing safer alternatives out of the reach of Kenyans," he said.
Kim So-hyun, Korea Herald
The US Food and Drug Administration recently authorized for the first time an electronic cigarette to be sold in the US, drawing attention to a harm reduction policy, which is designed to lessen the negative social or physical impacts associated with tobacco use.

The US FDA last month issued marketing granted orders to vapor company R. J. Reynolds for its electronic nicotine delivery device and accompanying tobacco-flavored e-liquid pods through the premarket tobacco product application (PMTA) pathway.
In addressing smoking – James Lopes
Foreign Affairs Secretary Teodoro Locsin Jr. called on the World Health Organization "to regain the momentum" of tobacco control and consider "evolving and latest scientific information" in solving the global smoking problem.

Leading a panel of Philippine officials, Locsin addressed delegates at the opening of the ninth conference of parties (COP 9) of the WHO's Framework Convention on Tobacco Control being held virtually this week.
---
A look back at how things have moved on or otherwise….
Julie Cunningham, Tobacco Research and Treatment Center, Massachusetts General Hospital
New research shows that electronic cigarettes (e-cigarettes) can help smokers quit smoking cigarettes, according to an editorial in JAMA by Nancy Rigotti, MD, director of the Tobacco Research and Treatment Center at Massachusetts General Hospital.
Dr Jamie Hartmann-Boyce, Prof John Britton, Prof Paul Aveyard, Dr Nicola Lindson, Dr Nick Hopkinson, Prof Peter Hajek, Science Media Centre
"Randomized controlled trials are considered the best way to test if a treatment works. In this study, the researchers randomized people who smoke to nicotine e-cigarettes, e-cigarettes without nicotine, or no e-cigarettes. No participants in the study experienced serious harms from e-cigarettes.
---
Visit Nicotine Science & Policy for more News from around the World

---