Vapers Digest 15th November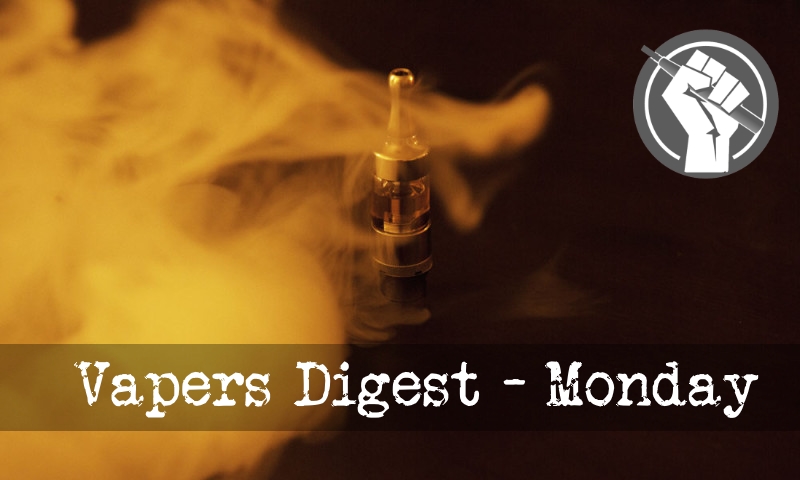 Monday's News at a glance:
Vaping and Stroke Risk: New Study Hypes the Wrong Conclusion – Vaping an effective way to quit smoking – A Federal Vaping Tax Is Bad Policy and Bad Politics – Strategies and Challenges for Tobacco and Nicotine Products – Dossier Raises Major Concerns – COP 9 Comes To An End – Court Denies Breeze Smoke's Motion – Study challenges concern of e-cigarette use in high school students – FDA's Courageous Decision Moves US Tobacco Policy In Right Direction – Nicotine Science and Policy Daily Digest
New Study Hypes the Wrong Conclusion – Cameron English
A new study suggests that electronic cigarette users may experience strokes a decade earlier than traditional smokers. But the authors have overlooked a more interesting result: smokers who switch to vaping have a lower overall stroke risk.

According to a slew of recent headlines, electronic cigarette users (vapers) are more likely than smokers to have a stroke earlier in life. "Adults who vape could suffer a stroke at least a decade younger than those who smoke tobacco," MSN reported on Monday. "E-cigarette users have a 15% higher risk of stroke at a younger age than traditional tobacco smokers, according to preliminary findings."
James Dunworth
WHEN reading the report on Welsh plans to end smoking in Wales by 2030 (Western Mail, November 8), I was surprised to see vaping was not mentioned.

According to Public Health England, vaping is the most popular and one of the most effective ways to stop smoking. The most recent Cochrane Review finds vaping to be more effective than Nicotine Replacement Therapy. Vaping really comes into its own when used in conjunction with behavioural support – with stop smoking services in England that use vaping achieving quit rates between 59.7% and 74% between 2019 and 2020.

Vaping is endorsed by Public Health England, Cancer Research UK, the Royal College of Physicians, the British Heart Foundation and many other respected bodies as a tool to quit smoking. When will Wales join them and start accelerating Welsh cessation rates?
---

---
Is Bad Policy and Bad Politics – Eric Boehm
It remains far from certain that Democrats will be able to cobble together the necessary 50 votes to pass President Joe Biden's "Build Back Better" plan through the Senate.

Here's one thing that is more certain: A new federal tax on vaping that's included in the latest version of the proposal is only making the vote counting more difficult.

Joining Sens. Joe Manchin (D–W.Va.) and Kyrsten Sinema (D–Ariz.) as crucial holdout votes on the package is Sen. Catherine Cortez Masto (D–Nev.), who told The Wall Street Journal this week that she won't vote for the nicotine tax. "I'm very clear. I don't support any type of tax, a regressive tax on the very people that we're trying to cut costs, cut taxes on," she told the Journal.
---
---
Strategies and Challenges for Tobacco and Nicotine Products
Clifford E. Douglas, J.D.
I'm pleased to be a part of this eclectic panel covering some cutting-edge issues around the, if anything, even more eclectic marketplace for tobacco and nicotine products. I'll use my time to address a few current issues that strike me as worthy of attention in this forum. But first, I want to thank FDLI for another terrific conference. I appreciate the opportunity to join you.

So, let me begin on a personal note. Vaping has affected me personally, as I know it has some of you. Back when what was named "EVALI" sickened more than 2,000 people and took the lives of more than 60 of them, there were constant news reports and statements by some in the public health community that alarmingly, but erroneously, conflated concerns with youth nicotine vaping and the lethal events caused by illicit use of devices containing THC and vitamin E acetate.

Two from Dave Cross, Planet of the Vapes:
A new report, published on Tuesday, raises major questions on the anti-vaping arguments and approach of the World Health Organisation (WHO) and billionaire Michael Bloomberg. The WHO and Bloomberg have both made clear their opposition to safer nicotine alternatives despite growing evidence of lower harm and efficacy for smoking cessation.

The WHO's tobacco control programme is funded in part by Bloomberg Philanthropies. In July of this year, the two parties restated their joint position at the launch of the WHO's 8th Report on the Global Tobacco Epidemic: Addressing New and Emerging Products. In this report, the WHO emphasised that Electronic Nicotine Delivery Systems are "a threat to tobacco control," are harmful, and should be banned or highly regulated.
The ninth Conference of Parties to the Framework Convention on Tobacco Control (FCTC) has ended and the 180-member nation's representatives turned off their computers to return to focus on their day jobs. Now they can look forward to spending time at COP10 in Panama in 2023.

Even before COP9 kicked off we knew that discussion about vaping would be limited to the presentation of "evidence", for what that is worth considering the exceptionally poor quality of the studies the WHO is relying upon and the independent evidence it is choosing to ignore.

Actual decisions were postponed to COP10, although there was always the possibility one nation could push for action during the proceedings.
---

---
Jim McDonald, Vaping 360
For the first time since vape companies began challenging the FDA's Marketing Denial Orders (MDOs), a federal court has denied a motion to stay an MDO pending completion of a review.

Michigan-based Breeze Smoke submitted PMTAs for 10 prefilled disposable devices with five percent-strength e-liquid—nine in flavors other than tobacco. The company filed a petition for review Oct. 4 in the 6th Circuit Court of Appeals, and a motion for a stay Oct. 13.

Last Friday, Nov. 12, a panel of three judges ruled 2-1 against Breeze Smoke on the motion for a stay. Two of the judges agreed Breeze Smoke "has not shown a strong likelihood of success on the merits." The third judge, Raymond Kethledge, dissented, citing the 5th Circuit Court's reasoning in its decision to grant a stay to Triton Distribution.

In high school students – Anna Kim
Though e-cigarettes were first introduced into the market as a safer alternative to smoking, their popularity among youth has raised concerns of increased rates of smoking. But, a study published in October pushes back against this worry. Researchers found that high school seniors who currently smoke e-cigarettes would likely have smoked traditional cigarettes.

The study was conducted by Natasha Sokol, assistant professor of psychiatry and human behavior and research scientist at The Miriam Hospital Center for Behavioral and Preventive Medicine, and Justin Feldman, research fellow at the Harvard FXB Center for Health & Human Rights.

Moves US Tobacco Policy In Right Direction – James K. Glassman
In a courageous decision that could save millions of lives, the Food & Drug Administration (FDA) authorized the marketing of an R.J. Reynolds vaping device called Vuse. Mitch Zeller, the FDA's director of tobacco regulation, said that the device "could benefit addicted adult smokers who switch to these products – either completely or with a significant reduction in cigarette consumption – by reducing their exposure to harmful chemicals."

The FDA's dramatic action recognizes one way — probably the best way — to get smokers to stop sickening and killing themselves at twice the COVID-19 mortality rate.
---
A look back at how things have moved on or otherwise…
American Heart Association strikes again with an e-cigarette "study" that insults scientific reasoning
Dr. Konstantinos Farsalinos
A new study presented as an abstract in the American Heart Association Scientific Sessions 2020 provides new evidence about clinical symptoms and EVALI-like symptoms experienced by e-cigarette users compared to non-users. At least that is what the study is supposed to show. There is also a press release by the American Heart Association, titled "Lung symptoms common among users of e-cigarettes and related products".
The study examined 1432 current e-cigarette users who completed an online survey in 2016 (please remember that). They asked if they had any of the following symptoms:

dry mouth, cough, nausea, headache, loss of taste/smell, shortness of breath, chest pain, irregular heartbeat, heartburn, high blood pressure, itching/burning skin, rash, bad breath, irritability, leg cramps, runny nose, stuffy nose, sore throat, upset stomach, hoarse voice, nightmares.
And the abolition of Public Health England on achieving a smokefree England by 2030
Bukky Balogun, Nikki Sutherland
A debate will be held in the Commons Chamber on Thursday 12 November 2020 on the effect of the Covid-19 outbreak and the abolition of Public Health England on achieving a smokefree England by 2030. The debate will be opened by Mary Kelly Foy MP. The subject for the debate has been nominated by the Backbench Business Committee.

In July 2019, the Government published a consultation on proposals to address the causes of preventable ill health in England.[1] Within the consultation document, Advancing our health: prevention in the 2020s, the Government set an ambition to go 'smoke-free' in England by 2030:
---
Visit Nicotine Science & Policy for more News from around the World

---