Vapers Digest 17th November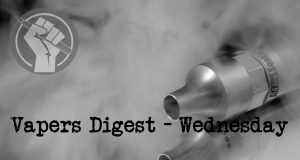 Wednesday's News at a glance:
---
In a move expected to generate an estimated $96 billion in funding for the president's Build Back Better Act (BBB) agenda, lawmakers are considering a tax on nicotine that would increase the cost of reduced-risk tobacco products such as e-cigarettes and vaping liquids. This is not a particularly novel idea, and it is also not a particularly good one.
Flavours are intrinsic to the success of vaping products as a harm reduction tool. This is the vital piece of information that was missing from the 8 November meeting of the Special Committee on Beating Cancer. Debate at the meeting was focussed on compromise amendments to the Rapporteur's Draft report, which could include banning certain flavours, see our article here. This has prompted ETHRA to write to all BECA members to outline the importance of flavours in smoking cessation, and to urge BECA to give serious consideration to the unintended consequences a ban on flavours would have. Our letter is below.
Michael Mirsky, Americans for Tax Reform
A new study highlights how restricting access to flavored nicotine vaping products would lead a significant number of vapers to switch back to smoking. The well-respected Addictive Behaviors Journal recently published a study examining the level of support and predictive behavioral responses to a hypothetical ban on non-tobacco flavored e-cigarettes among regular adult vapers. Most notably, the study found that, if a flavor ban were to be instituted, 17.1% of vapers would stop vaping and smoke instead.
---
WEDNESDAY, NOVEMBER 17, 2021 AT 5 AM – 7 AM EST
ALSO:
---
SOVAPE
Ce communiqué est un message co-signé par deux associations dans le domaine du vapotage et très inquiètes des effets négatifs que pourrait avoir une interdiction des arômes pour le vapotage, dont les dommages n'ont pas été objectivement évalués, pas plus que les bénéfices.

(English): This press release is a message co-signed by two associations in the vaping field and very concerned about the negative effects that a ban on vaping flavors could have, the damage of which has not been objectively assessed, nor the benefits.
---

---
TWO from Dave Cross, Planet of the Vapes
The voices of vapers, and their personal stories about how vaping helped them quit smoking and change their lives for the better, were broadcast all through the streets of Geneva to coincide with the WHO's Conference of Parties (COP9), the global tobacco control conference.
The Philippines delegation was the only one to stand tall and demand nations should focus on genuine evidence in policy formation. It was immediately accused of being an outlier and in thrall to the tobacco industry – by nations that own their own state-controlled tobacco monopolies.
---
Amanda Wheeler, Arizona Daily Independent
Inflation. Unemployment. Supply-Chain Disruptions. Debt Ceilings. Pandemics. And that just describes the last few months. Economic anxiety is gripping every American; the last thing we need is our leaders in Washington finding ways to make life even more expensive.

President Biden campaigned on not raising taxes on Americans making less than $400,000 a year, yet his party in Congress is pushing for a tax and spend plan that would break that pledge. In September, Democrats proposed increasing the tax on tobacco, nicotine, and vapor products.
Jim McDonald, Vaping 360
Israel is planning a tax on vaping products that would be the highest in the world, and Israelis have just a few days to make a public comment on the bizarre plan.

The new tax will take effect next week, according to one online publication—although Vaping360 hasn't been able to verify that elsewhere. According to the same article, government officials believe the tax will eliminate disposable e-cigarettes that have become popular with youth.
---

---
Jonathan H. Adler, Reason
Last Friday, a divided panel of the U.S. Court of Appeals for the Sixth Circuit rejected Breeze Smoke LLC's application of a stay of the Food and Drug Administration's order denying the companies Premarket Tobacco Product Application (PMTA) for some of its vaping products (also referred to as electronic nicotine delivery systems or "ENDS"). In Breeze Smoke LLC v. FDA, the Sixth Circuit rejected the Fifth Circuit's conclusion that the FDA had orchestrated a "surprise switcheroo" in the PMTA review process. This creates an interesting circuit split that might attract Supreme Court interest.
Joe Lofaro, CTV News
A Montreal mother is outraged that her teenaged had to lower his pants at his school last week during a search for vaping products — a search that one constitutional rights lawyer said went too far.

Andrew Forgione, a Grade 9 student at LaSalle Community Comprehensive High School, called it a traumatizing experience when he and three other students were implicated in the search, during which he had to lower his pants but not his underwear. All four students are between the ages of 13 and 16.
---
Dick Puddlecote
Boy, the effect of e-cigs in exposing tobacco controllers as vacuous loons just gets better and better.

The 'public health' movement would, I'd say, overwhelmingly self-identify as left of centre and 'progressive'. Tobacco control has leapt on the back of this by using terms such as "tackling health inequalities" to explain some pretty hideous policies which hurt the poor far more than the well off (more on that later in the week). Their biggest political supporters worldwide are invariably lefties. In the UK, Labour almost swoon whenever a tobacco controller speaks….
Clive Bates – The Counterfactual
On 20 October, I received an enigmatic reply (above) from the Editor-in-Chief of the New England Journal of Medicine. This was to my letter from April complaining about the publication of a flawed study on e-cigarettes and formaldehyde in the NEJM. His note didn't say much, but it was copied to around 40 others, so I thought I ought to reply. It is an opportunity to write explaining some of the fallout.
---
Visit Nicotine Science & Policy for more News from around the World

---