Vapers Digest 19th November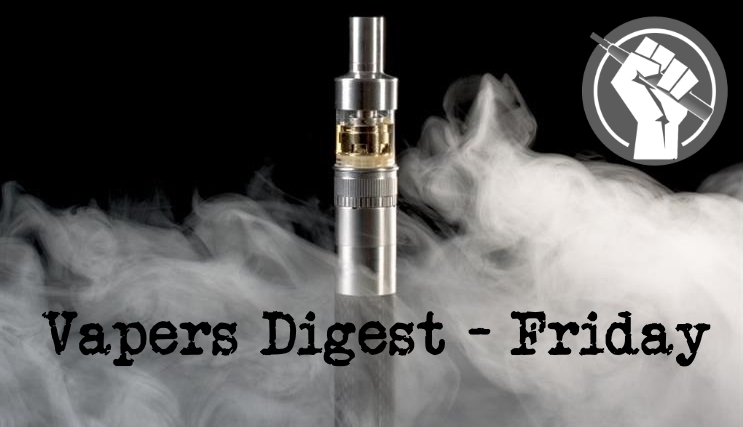 Friday's News at a glance:
Tobacco control and the wrath of God – Vapers Sent Back to Smoking By Employers – Flavoured vapes less harmful to young people than smoking – 'Impossible to ignore snus' in EU's beating cancer plan – Covid credited as stop smoking service reports rise in referrals – Harm reduction holds the key – Learn About the Vaping Policy Making in the UK – ETHRA Pushes Flavour Case – 85% Quit Using Ecigs – Tobacco Control Is Failing – Dr M's Book Of Truth – Vapers praise Filipino Secretary for COP9 bravery – Dr Marquizo Closing Address at COP9 – COP9 President's Closing Speech – RJ Reynolds Settles Lawsuit – Quebec Students Strip-Searched for Vapes – Are e-cigs beneficial to public health? – FDA Turned the Industry into a Regulatory Mess – Nicotine Science and Policy Daily Digest
Harry's blog 112.
In a previous blog, I described a particularly absurd situation regarding tobacco control paranoia about the industry. An anti-smoking NGO operating in Southeast Asia announced an anti-smoking poster competition for young people. Buried in the terms and conditions of entry was the stipulation that entrants could not have any connection with the industry to the 'fourth level of consanguinity'. In other words, teenagers were barred if their great-great grandfathers had any industry connections.

What were the organisers thinking – that somehow a teenager would sneak a poster lauding the benefits of cigarettes past the judges?? A couple of days ago, it struck me that the basis of this rule was more sinister, while also confirming what I (and many others) have always thought about the basis of anti-tobacco harm reduction propaganda.
 James Dunworth – Ashtray Blog
Imagine you have been a smoker for decades…. You've tried to quit smoking many times. You tried with nicotine patches for weeks, despite that annoying rash on your arm. You put up with Champix, despite the weird dreams it gave you. You tried nicotine gum, despite the unpleasant, burning sensation in your mouth. But in a moment of weakness – and it only takes one in the midst of many moments of strength – your old friend, the cigarette, lures you back in.

But then one day you try vaping. The hand to mouth action, the sensation of breathing in vapour, the sudden hit on the back of your throat, the vapour dancing and swirling across the room – it may not be smoking, but it's so damn close it works for you.
To young people than smoking and could help teen smokers quit
Flavoured vapes are much less harmful to young people than smoking, and could help teen smokers quit tobacco – according to new research from the University of East Anglia.

A new study published today looks at young peoples' use of vape flavours, reporting the views and experiences of more than 500,000 under 18s.

It finds that flavours are an important aspect of vaping that young people enjoy, suggesting that flavoured products may help them switch away from harmful tobacco smoking.
---

---
In EU's beating cancer plan – Snusforumet
Swedish MEP Sara Skyttedal remains critical of the European Commission's continued unwillingness to recognise the potential for snus and other harm reduction alternatives for reducing tobacco-related mortality as part of the EU's beating cancer plan.

Work on the EU's plan for beating cancer continues ahead of a European Parliament vote on amendments planned for December 6th. One of the plan's main priorities is to "ensure that less than 5% of the population uses tobacco by 2040".
As stop smoking service reports rise in referrals – BBC
The number of people referring themselves to a service aimed at helping them stop smoking has increased rapidly since the start of the coronavirus pandemic.

In 2020, a total of 1,242 people applied to the Northamptonshire Stop Smoking Service – an increase of 200% on the previous year.

Richard Holley, from the service, said the increase was "very positive". Ben Williams, who quit smoking after 30 years, said he felt much better.
---
"Most arguments promoting flavour bans are absurd. Allegedly, flavours attract kids because, in the minds of anti-vaping activists, kids are the only humans who enjoy flavours."https://t.co/9XkPTskW98

— European Tobacco Harm Reduction Advocates (@europethra) November 19, 2021
---
To finally overcoming tobacco – European Views
The issue of tobacco harm reduction (THR) is not new in Europe, but now it has received support from an unlikely direction: German dentists. Several doctors associated with the University of Leipzig Medical Center and clinics in Cologne are calling for the integration of tobacco harm reduction strategies into dental care, citing the immediate health benefits that can be derived from stopping the use of combustible tobacco products. One dentist has even begun keeping novel nicotine products in his clinic to show them to patients struggling to kick conventional cigarettes.
Learn About the Vaping Policy Making in the UK
Globally speaking, the United Kingdom has the most support rate on electronic cigarettes. In other words, in the UK e-cigarettes share the most prevalence among smokers, ex-smokers and those people who have need in nicotine. But how come? We can simply explain that: 1. e-cigarettes as an alternative of combustible tobacco can significantly reduce the harmful health issues that smoking causes; 2. E-cigarettes use is compliant with and good for complementing the smokefree legislation in the UK. Therefore, vape products are highly recommended to help smokers quit smoking and enjoy a relatively high reputation in the UK.

Seven from Dave Cross, Planet of the Vapes:
The Special Committee on Beating Cancer (BECA) produces advisory reports investigating "the actions and policies the EU can support and undertake to fight cancer." The European Tobacco Harm Reduction Advocates (ETHRA) has written to it opposing the increasing use of language to banning e-liquid flavours in the European Union.

ETHRA is the voice of 27 million EU consumers of safer nicotine products. ETHRA is a consortium of 23 grassroots consumer associations in 16 European countries, supported by experts in the field of tobacco control and nicotine research. It is a voluntary operation, with no industry funding or conflicts of interest.
A recent survey has found that over 85 per cent of smokers have quit through vaping. The poll by VPZ, the UK's leading vaping retailer, revealed that 86 per cent of people had tried to quit smoking completely in the past and failed. Around a third of those had tried to go cold turkey and just over 30 per cent had tried nicotine patches and gum.

The survey has been announced as latest figures show that smoking has surged amongst young people during Covid Lockdown. Figures released by Cancer Research UK show that the number of 18-34-year-olds smoking increased by a quarter from 21.5 per cent to 26.8 per cent, during the first Lockdown.
WHO reports tobacco use falling – but the numbers show tobacco control failing, say experts. The Global State of Tobacco Harm Reduction spoke out in response to the WHO release entitled Tobacco use falling: WHO urges countries to invest in helping more people to quit tobacco.

The ninth Conference of the Parties (COP9) to the Framework Convention on Tobacco Control (FCTC) concluded on Friday, with the status quo of international tobacco control proudly maintained by its host body, the World Health Organization (WHO). Held online, the majority of the virtual meeting was closed to the public and all but a handful of selected media representatives.
Dr Colin Mendelsohn is one of Australia's leading experts on smoking and vaping, recognised around the world for his sterling contributions to the debate surrounding electronic cigarettes. He has written a soon to be released book detailing "the healthy truth about vaping", called Stop Smoking Start Vaping.

Dr Mendelsohn is the Founding Chairman of the Australian Tobacco Harm Reduction Association charity (ATHRA) and is a member of the committee that develops the Royal Australian College of GPs' national smoking cessation guidelines.
Worldwide praise from tobacco harm reduction advocates and vapers continues for Philippine Foreign Affairs Secretary, Teodoro Locsin Jr. Secretary Locsin told online delegates at COP9 – a key international tobacco control conference hosted by the World Health Organisation – they must consider "evolving and latest scientific information" if the global smoking problem is to be solved.

sCOPe wrap-up and COP9 review: COP9's key moments will be analysed during a post-sCOPe wrap-up and discussion. It will be broadcast at https://bit.ly/30v701b from 6.00pm (HKT) on Wednesday, 17 November.
Dr Adriana Blanco Marquizo, Head of the Secretariat of the World Health Organisation's (WHO) Framework Convention for Tobacco Control (FCTC) reflected on the "wonderful" attendance record. She also celebrated that the FCTC is fit for purpose "because the evidence".

"We know [the Framework Convention] is fit for purpose, because [of the] industry's endless attempts to impede our efforts," she exclaimed, ignoring that civil society and consumers are the main ones objecting to the FCTC's lack of transparency, inclusion, and ignoring key evidence.
H.E Esmaeil Baghaei Hamaneh, COP9 President to the Ninth Session of the Conference of the Parties to the WHO Convention on Tobacco Control, delivered the final closing address. He believes "this week we have borne witness to history", although it's possible that history will not be defined in the way he thinks.

"The highest number of Parties ever have been represented at this week's proceedings. This is truly a major achievement given the nature of our virtual meetings and the restrictions made necessary by the COVID 19 pandemic. Over the years we have seen an increasing number of Parties attending the COP. But this week we have welcomed 161 Parties – a wonderful new record."
---

---
Two from Jim McDonald, Vaping 360:
RJ Reynolds has settled a patent lawsuit with an Ohio e-cigarette manufacturer immediately after Reynolds' Vuse Solo became the first—and, so far, the only—vaping product authorized by the FDA for U.S. sale. The lawsuit was scheduled to be heard by a jury this week.

The settlement amount is not known, but Fuma had asked for $135 million.

RJ Reynolds Vapor Co., the vape product arm of tobacco giant Reynolds American Inc. (which is a division of British American Tobacco), was sued by Fuma International LLC for violating two Fuma patents.
Four Canadian students between ages 13 and 16 were forced to lower their pants last week to allow school personnel to search them for vapes. Some Canadian charter rights experts are questioning whether violating the teenagers' right to privacy to enforce school vaping rules is a reasonable—or legal—response to the problem.

The teenagers, all students at LaSalle Community Comprehensive High School in Montreal, Quebec, were forced to lower their pants to their knees, but did not remove their underwear. School board officials say what occurred shouldn't be called a strip search because the students were not touched and their underwear was not removed.
Brian P. Jenssen and Jonathan Foulds
Last month, for the first time, the U.S. Food and Drug Administration authorized certain electronic cigarette products, citing evidence that the products can help smokers cut back or quit by switching from smoking to vaping.

E-cigarettes are filled with a liquid that typically contains nicotine and flavorings, which is heated during use. Users inhale nicotine as vapor, not smoke — thus the term "vaping." Since the products don't burn tobacco, they don't expose users to the same levels of dangerous chemicals as conventional cigarettes.
On the company behind the popular e-cigarette brand:
Little is known about the company behind the most popular e-cigarette brand among high school and middle schoolers.

For two years, Puff Bar has been operating in the shadows. It listed its mailing address first to a shuttered storefront on skid row in Los Angeles and more recently to a P.O. box.

Puff Bar has teased the mystery of it all on its own website. Last year, the site read "Who Makes Puff Bar? Everyone wants to know."

Into a Regulatory Mess – Rachel Chiu
In recent months, the FDA has come under fire for its handling of the e-cigarette industry. Last year, they made vaping manufacturers shell out hundreds of thousands of dollars for "premarket tobacco applications" (PMTAs), which weren't cheap. More than 500 companies filed applications for over 6.5 million products. So far, only one company has received a green light.

The FDA wanted unchecked authority over the e-cigarette industry. It got it. It then proceeded to institute a confusing, onerous process that was procedurally unfair. Now it's rightfully being held accountable for its bungled power grab.
Barnaby Page
The news last week from Joe Biden's White House that Robert Califf has been nominated to serve again as head of the US Food and Drug Administration (FDA) has excited plenty of attention in the world of e-cigarettes, but there's been much less talk about the potential impact on heated tobacco, pouches and other novel nicotine products.

In vapour, Califf (pictured) has a track record of opposing flavoured products – though that's an opinion which now seems institutionally embedded in the FDA anyway, so his presence at the helm may not make much difference.
Scientists, data analysts and legal experts shared their insights into the rapidly changing U.S. nicotine business on Nov. 17, the first day of TMA's "From Chance to Change" webinar. Participants also heard from retailers and the industry regulator.

Mitch Zeller, director of the Food and Drug Administration's Center for Tobacco Products (CTP), reviewed the latest data on youth e-cigarette consumption, which he said continues to be concerning. However, Zeller was quick to point out that because the 2021 study was the first to be conducted completely during the Covid-19 pandemic, the data could not be compared to that of the previous year.
Satisfies Adult Cigarette Smokers
Bidi Vapor LLC, announced results of a newly published study that found its premium electronic nicotine delivery system (ENDS), a disposable device branded BIDI® Stick, mimicked the blood levels of nicotine when subjects smoked their usual brand of combustible cigarette, potentially providing a satisfying alternative to cigarette smoking.

In research published in November of 2021, comparative blood samples revealed a dramatic alignment between combustible cigarettes and BIDI® Sticks (both tobacco and flavored products).
Quit Rates for Smoking
India is among the countries with the lowest quit rate for smoking, with the rate for men less than 20 per cent, finds a study. The study by the International Commission to Reignite the Fight Against Smoking examined the trends in tobacco use, challenges to cessation efforts, the emergence of technological innovations, the role of physicians, the function of industry, economic and regulatory policy, smoking and youth, and lessons from the Covid-19 pandemic. The study showed that tobacco prevalence in India is three times higher among men than women. India also accounts for some of the highest rates of smokeless tobacco use and oral cancer in the world. However, India is among the countries with the lowest quit rate for smoking.
To Escape Unsuccessful "Quit or Die" Tobacco Strategy
Tobacco kills roughly eight million people around the world every year, mostly in low- and middle-income countries. The World Health Organization (WHO) has long aimed for complete eradication of the substance, calling it "one of the biggest public health threats the world has ever faced."

This month's ninth Conference of the Parties (COP9) of the WHO Framework Convention on Tobacco Control (FCTC) promotes a science-based public health approach to the tobacco epidemic. This represents an opportunity to acknowledge––on a global scale––that various tobacco products and modes of use have differing levels of risk, and that harm reduction should be included in its recommendations going forward.
---
A look back at how things have moved on or otherwise….
Nancy Loucas, Aotearoa Vape Community Advocacy

Its been a very strange year indeed…if 2020 could just fade into the sunset like an old cowboy on his trusted horse, that would be great…sigh

When AVCA was denied entry to a Public Health Seminar series this past February because of our alleged "tobacco industry connection", we all first laughed a bit at the ridiculousness of it, then we found out why we were designated thusly, and there was anger, then admittedly, disappointment.
City University of New York, Cornell University, Center of Excellence for the Acceleration of Harm Reduction (CoEHAR)
A research conducted by the City University of New York, Cornell University, and COEHAR sought to identify the extent and quality of respiratory sensations among those who failed to quit smoking with traditional drugs but succeed with electronic cigarettes. The study focused on the perceptions of ex-smokers on the influence that using Ecig had on their smoking cessation experience.
---
Visit Nicotine Science & Policy for more News from around the World

---