Vapers Digest 22nd November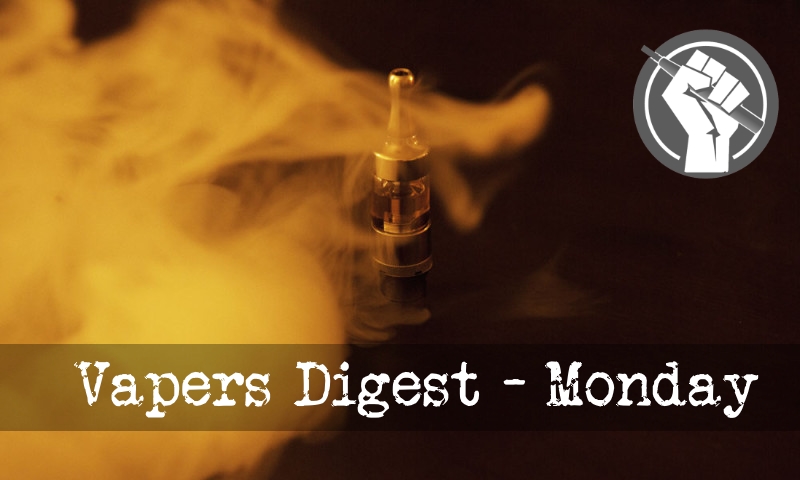 Monday's News at a glance:
Nicotine Tax Passes House, Must Be Stopped in Senate – Tax will make people smoke more – "Build Back Better" Bill Is Likely to Increase Smoking Rates – REVISED Truth Initiative InfoGraphic – Parliament – 'Good COP, Bad COP' Awards Announced – Vapor Rebounds From Post-EVALI Declines – Reward smokers who want to quit – Finance Minister Liberman signs order – Banning is not always the answer – Nicotine Science and Policy Daily Digest
Must Be Stopped in Senate – Jim McDonald
The Build Back Better bill passed the House of Representatives today by a 220-213 vote. No Republicans voted in favor of the nearly $2 trillion bill. It will now go to the Senate, where the legislation will need all 50 Democratic senators' votes and the Vice President's tie-breaker to pass.

As explained in the article below, a small number of Democratic senators have indicated they oppose certain components of the bill, including the nicotine tax. Opposition to the tax by any Democratic senator would probably lead to the tax language being removed from the final bill. But no senator will buck their party to oppose a popular position unless they hear from constituents who agree it should be opposed.
Is Likely to Increase Smoking Rates – Jonathan H. Adler
One of the provisions of the "Build Back Better" bill imposes a tax on non-combustible nicotine products (e.g. pouches and e-cigarettes). As Kenneth Warner, Dean emeritus of the University of Michigan's School of Public Health, explains in a Washington Post op-ed, this is bad for public health because it will lead to more smoking.

As Warner notes (and I have highlighted in prior blog posts) this is not a theoretical prediction. There are now multiple peer-reviewed academic studies showing the substitution effect, even for youth.
---

---
Will make people smoke more – Kenneth E. Warner
One of the many goals of the Build Back Better plan is to improve the health of the public. Yet members of Congress have undermined that goal by including a tax on nonconventional nicotine products, including e-cigarettes and nicotine pouches, but not raising taxes on cigarettes.

The tax on e-cigarettes is undoubtedly well-intentioned. Legislators rightly share the public's concerns about widespread youth vaping and about some manufactures' despicable marketing of e-cigarettes to children. By substantially raising the price of e-cigarettes — by about 25 percent, for a typical user — the tax will certainly discourage youths from using these products. That benefit comes at a steep public health cost, however: The tax will increase cigarette smoking among adults — and quite possibly teenagers, too. And any increase in smoking, which kills about 480,000 Americans annually, will lead to higher rates of disease and death in this country.
---
A handy list of Australian journalists and reporters who are willing to uncritically parrot whatever various pressure group activists want them to. https://t.co/14iaCxaetg

— Jukka Kelovuori (@jkelovuori) November 22, 2021
I'd be interested in reading a paper like this if it were written by people who don't regard vape shops & people who vape as objects of contempt.https://t.co/KL4kTRGGiR

— Phil (@phil_w888) November 21, 2021
---
Brad Rodu, Tobacco Truth
Recently, the tobacco-prohibitionist Truth Initiative published an infographic proclaiming that the tobacco industry has co-opted tobacco harm reduction (THR) in a dastardly plot to "expand its user base and grow the total market for nicotine products."

In fact, the Initiative itself is co-opting THR, as I explain in the revision at left.

Dave Cross, Planet of the Vapes
Parliament focusses its attention on the use of vaping for tobacco harm reduction and looks at actions overseas – both in Norway and at the World Health Organisation's Conference of Parties. Notably, there is an ongoing delay in the publication of the Tobacco Control Plan.

The Tobacco Control Plan should have been published by now and Mark Jenkinson, MP for Workington, asked the Secretary of State for Health and Social Care whether it is expected to be published before 2021 ends.

Maggie Throup, Parliamentary Under-Secretary for Health and Social Care, responded: "We are undertaking further policy development to support the Tobacco Control Plan, which will be published in due course."
---

---
Tobacco Reporter
Tobacco Harm Reduction (THR) advocates have handed out "Good COP, Bad COP" awards following the ninth Conference of the Parties to the World Health Organization Framework Convention on Tobacco Control (FCTC) from Nov. 8-12.

Banned from participating in the gathering the THR advocates organized a global livestream that ran simultaneously to the COP9.

Dubbed sCOPe, the round-the-clock YouTube simulcast attracted significant attention, adding to increasing international pressure on the WHO to embrace safer nicotine products, not demonise them.
Ignores the importance of flavors as an essential element in reducing harm from smoking
Los sabores son imprescindibles para mantener a los usuarios vapeadores alejados del tabaco: la capacidad de adaptar el vapeo a los gustos individuales de cada consumidor desempeña un papel muy importante en su eficacia para abandonar el tabaquismo. La recuperación del sentido del gusto y el poder degustar nuevos sabores incentivan el cambio a productos de riesgo reducido y previene a los fumadores de recaer en el tabaco.

Este elemento esencial parece ser ignorado por la Comisión BECA del Parlamento Europeo que actualmente se encuentra estudiando las enmiendas de los eurodiputados al Plan Europeo de Lucha contra el Cáncer. Desde ANESVAP y desde ETHRA (la asociación europea en favor de la reducción del daño por tabaquismo) queremos llamar la atención sobre las preocupantes manifestaciones de algunos de los eurodiputados que afirman de forma infundada que los sabores supondrían una puerta de entrada al tabaquismo para nuestros jóvenes.
Tobacco Reporter
After declining in 2019 and 2020, vapor industry sales grew 10-15 percent in 2021 to date, according to Management Science Associates (MSA). Speaking during TMA's "From Change to Change" webinar on Nov. 17, MSA Vice President Don Burke, said that he expects the industry to continue its growth into 2022.

"Vapor cartridges were up by 18.5 percent. Over … 2019 going into 2020, we were seeing some declines in vapor. One of the things to keep in mind is at the end of 2019 was that illegal THC vaping [EVALI] crisis," said Burke. "That turned a lot of people off of vapor, even though it was only an illegal product that caused the issues. No legitimate product caused any problems. It's about a year-and-a-half now since that occurred … because of that, consumers are starting to forget, vapor is coming back."

Not punish them with taxes – Adam Hoffer and Carmelo Ferlito
The current debate on tobacco harm reduction in Malaysia is unbalanced, with far too great an emphasis on taxation and the state's role in dictating the health of its citizens.

In a paper published recently by the Property Rights Alliance (International Best Practices for Tobacco and Nicotine Public Policy), which we co-authored with three Malaysian economists (Benedict Weerasena, Abel B Lim and Fariq Sazuki), we stressed how policymaking should instead be focused on respecting freedom and choice, while allowing innovation to thrive to produce better options for consumers.
Signs order taxing electronic cigarettes – Avigdor Liberman
Finance Minister Avigdor Liberman (Yisrael Beytenu) on Sunday evening signed an order placing a purchase tax on e-cigarette fluid and electronic cigarettes which cannot be refilled (disposable). The tax is equal in amount to that placed on other tobacco products.

The order is the result of a coordinated process by the Tax Authority and Health Ministry, and aims to reduce the consumption of electronic cigarettes, which raise the risk of heart disease and respiratory illnesses. It will take effect at midnight Monday morning.
Biden Vape Tax Pushes People Back to Smoking | RegWatch
Dr Ashar Ahmed
Cigarette smoking remains the leading preventable cause of high morbidity and mortality around the globe, leading tomore than 8 million deaths each year.

Various measures have been employed all over the world to reduce the burden of smoking, cigarette bans being the major one of them. However, there are still 1.3 billion smokers in the world today and if the trend continues, this number isexpected to increase to 1.6 billion by the year 2025. Major stakeholders and activists, when asked regarding a solution to this problem, simply resort to encouraging bans and implementing heavy taxes.

---
A look back at how things have moved on or otherwise…
James Dunworth, Ashtray Blog
At a time when vaping in Europe is again under threat, with taxes, flavour bans and restrictions looming, non-profit organisation European Tobacco Harm Reduction Advocates (ETHRA), are running an ambitious survey to draw a map of vaping and nicotine use across the EU (and, yes, that includes the UK!)

We got together with Philippe Poirson, who is directing the survey, to find out more about it – and why he needs more British vapers to help out.

The survey is organised by ETHRA, which brings together 22 European consumer advocate groups. We started ETHRA in the summer of 2019 to coordinate and join forces, particularly on European regulatory issues and especially in view of the Tobacco Products Directive (TPD) revision. This TPD review is fast approaching, as the TPD evaluation report will be presented by the European Commission next May.
Over impact of foreign group's donation on local FDA
An umbrella group of more than 35 national consumer organizations expressed concern over the growing influence of foreign grants on health regulators that may adversely affect the campaign to reduce the harm caused by combustible cigarettes in low- and middle-income countries including the Philippines.

The International Network of Nicotine Consumer Organizations cited the influence exerted by non-government organizations backed by Bloomberg Initiative on regulators, such as the Philippines' Food and Drug Administration.

"There is also an element of corruption aided by the Bloomberg NGOs, who are co-opting tobacco policy through the sheer force of money.
---
Visit Nicotine Science & Policy for more News from around the World

---