Vapers Digest 24th November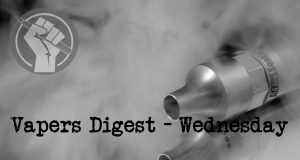 Wednesday's News at a glance:
---

---
TWO from Dave Cross, Planet of the Vapes
The Netherlands has announced a ban on tobacco-free nicotine pouches containing 0.035 milligrams or more of nicotine, describing them as harmful attempt. The government has also released further details of its comprehensive ban on e-liquid flavours.
With the international tobacco control conference COP9 now over, tobacco harm reduction (THR) advocates have handed out their 'Good COP, Bad COP' awards. The awards follow THR experts and consumer advocates organising a global livestream from 8 to 12 November during COP9 – the 9th Conference of Parties for the World Health Organization's Framework Convention on Tobacco Control (FCTC).
---
ETHealthWorld
Tobacco use is a widespread problem in India with major healthcare implications translating into a significant economic burden both from the cost of treatment and manhours lost. Yet it boggles the mind why this state of affairs has been allowed to continue for so long.
---

---
Ulrik Boesen, Washington Examiner
The late David Foster Wallace once said, "The great thing about irony is that it splits things apart, gets up above them so we can see the flaws and hypocrisies and duplicates."

Sadly, we are seeing many hypocrisies on full display in the Build Back Better tax agenda that Congress is considering.
Vince Leach, AZ Central
Arizonans have experienced their share of challenges throughout this pandemic, but in many ways, small businesses and the working class have borne the brunt of it.

That recovery is now in jeopardy as Democrats in Congress and President Joe Biden push large tax increases to fund their $1.75 trillion social safety plan. If signed into law, these taxes, including levies on tobacco products, will have unintended consequences for generations to come, threatening our state's economic recovery and national security.
---
Ashtray Blog
For the first time, we have a study which looks at the effect of vaping on the lungs over the long term. The result? No negative impact on the lungs over a period of several years.

Most vapers are ex-smokers, and could be expected to have some lung damage. To get round this problem, the researchers decided to seek out vapers who had never smoked.

This wasn't easy – at the time just 0.01% of people who have never smoked, vaped!
Simon Clark, Taking Liberties
Following the implementation of a workplace vaping ban in New York State producers wanted to debate the issue on the not unreasonable grounds that what happens in New York (the smoking ban, for example) could be adopted in the UK.

The item was scheduled for Wednesday but on Tuesday it was pushed back 24 hours. During that time my opponent changed. It was originally going to be an occasional Channel 4 presenter I'd never heard of.
---
Visit Nicotine Science & Policy for more News from around the World

---