Vapers Digest 26th November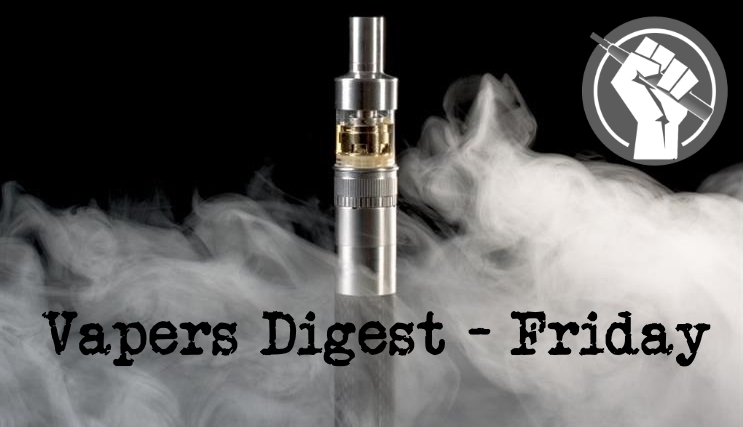 Friday's News at a glance:
Snus brings Sweden even closer to 'tobacco endgame' goal – Willingness to accept misinformation is based on perception – How vaping helped one 'hideously addicted' doctor – Smokers are switching from tobacco to vaping – Nicotine Tax Will Hurt Democrats – Pesko's Tax Proposals – Flavours Do Not Encourage Teens To Vape – PMI Response to Prescribed Vapes – Stroke Risk Research Criticised And Pulled – INNCO Round Table – The WHO's tobacco policy echo chamber – Stop the war on nicotine: Six Reasons – THR Has The Potential To Reduce Smoking – What caused a scrap in the Philippines government – Why a black market looms as NZ stubs out smoking – Let's reduce the deaths – Congress pushes for tobacco death and taxes – Building Back Cancer Rates – Nicotine Science and Policy Daily Digest
To 'tobacco endgame' goal – Snusforumet
Smoking rates in Sweden continue to fall, with levels now below the internationally recognised "tobacco endgame" goal of five percent for an increasing share of the population. The new figures also suggest snus plays a role in the drop.

Only six percent of Swedes smoke daily according to fresh figures from Sweden's Public Health Agency, Folkhälsomyndigheten, down from seven percent in 2020.

Since 2015, the percentage of daily smokers in Sweden has dropped by 40 percent. The new figures also reveal that daily smoking among people aged 16-29 has dropped to only three percent, down from eight percent in 2015 – a more than 60 percent drop in five years.
Is based on perception – Atakan Befrits
Sweden is usually referred to as the best example in Europe of a country that combined wide bans of places to smoke conventional cigarettes with an offer of 250-year alternative product snus, a functional and satisfactory product that the nicotine users understand is a dramatically less harmful alternative. In reality, Swedish regulatory authorities and influential groups of medical professionals are as negative to snus as to cigarettes as they cannot accept any other policy than the quit-or-die paradigm. The success of snus in the Scandinavian markets is a function of word of mouth, in that everyone has relatives that died of smoking-related diseases but nobody can recall a single relative or loved one ever getting ill from snus use.
---

---
Doctor quit smoking – Jill Margo
As a junior doctor in the UK, Kevin Murphy said he was "hideously addicted" to nicotine and would creep off the hospital campus to have a smoke, wearing disposable gloves and, on his way back, chewing as many mints as possible.

Before doing medicine, he'd worked as a radiographer and had seen "loads of lung cancer". Then he was at his mother's side when her 40-a-day habit for 40 years ended in lung cancer too.

"I detested myself for smoking and was acutely embarrassed about it … I was so hideously addicted to it," says Dr Murphy, 44, now a GP in Adelaide who used nicotine vaping to quit smoking, and eventually quit vaping too.
---
---
Grocery Trader
As demand for vaping products continues to grow, dedicating ample space to vaping products in store should be an important area of focus for any retailer.

As a result of the Covid-19 pandemic, many customers have started shopping locally or online, in part because they are less willing to go far from home for their products.

"As a result of the ban on characterising flavours, some consumers have been looking to vaping to fulfil their flavour needs," comments Duncan Cunningham, UK Corporate Affairs Director at Imperial Tobacco & blu. "In fact, our best-selling variant in the myblu range is the Menthol Intense Liquidpod so we would highly recommend this as a must-stock for all retailers."

Five from Dave Cross, Planet of the Vapes:
The "Build Back Better" nicotine tax will hurt Democrats in 2022, according to the American Vaping Association (AVA). The Bill was passed by the House of Representatives in a 220-213 vote and now passes to the Senate. Without concerted consumer action, it is looking as though American vaping is about to receive another nail in the coffin.

Heading into the vote, the American Vaping Association cautioned House Democrats that the excise tax on nicotine products contained within the BBB bill will harm public health and alienate millions of voters heading into the 2022 midterm elections.
The United States Congress is proposing to place "a gargantuan tax" on vaping, but government funded research shows this would cause "significant harm". The study was conducted by Professor Michael Pesko, a health economist and an Associate Professor in the Department of Economics at Georgia State University, using funding from the National Institutes of Health.

The tax proposal is a result of the need to source revenue to pay for President Biden's Build Back Better plan, introducing a massive hike in prices for eliquid – resulting in a tax dramatically higher than that imposed on packets of cigarettes.
A team of researchers led by Caitlin Notley at the University of East Anglia have conducted a study looking at youth use of e-liquid flavours. The systematic review explored patterns of use and associations with continued vaping, tobacco smoking uptake, or cessation. They found there is no evidence to support claims that flavoured e-liquids encourage teens to take up vaping.

The study says that flavoured vapes are much less harmful to young people than smoking and could help teen smokers quit tobacco. It finds that flavours are an important aspect of vaping that young people enjoy, suggesting that flavoured products may help them switch away from harmful tobacco smoking.
Philip Morris International (PMI) has applauded the U.K. Government's announcement to clear up medicalised vape products so prescribed ecigs can help it achieve its Smoke-Free 2030 ambition. It called on regulators around the world to follow the UK's example and open up access to reduced harm alternatives to continued tobacco smoking.

Recently, the U.K. government announced its plan to simplify the pathway to license electronic cigarettes and other inhaled nicotine-containing products (NCPs) as medicines in England. This would enable GPs to prescribe ecigs to patients who struggle to quit using traditional methods and currently lack confidence in vaping due to widespread misinformation.
Unpublished research that was presented to the American Heart Association's Scientific Sessions 2021. The AHA work claimed vapers have a 15% higher risk of having a stroke and sparked a number of negative news stories. It was never put up for peer review yet still manage to attract a lot of criticism. The AHA has responded by pulling its press release – but the damage has been done.

"Adults who used electronic cigarettes had a 15% higher risk of having a stroke at a younger age when compared with adults who smoked traditional combustible cigarettes and despite the high risk of stroke with tobacco smoking," wrote the AHA's press office
---

---
It is always a pleasure to greet you. For people who vape in the United States, CASAA is encouraging them to take the following survey as in previous years the purpose is to know how and why people in the USA use e-cigarettes and ensure that stakeholders and policymakers have a clearer understanding of the current behavior of vapers.

If you haven't got the chance to check out INNCO's Dossier "Bloomberg, the World Health Organisation & the Vaping Misinfodemic" released on November 9th, you can find it here.
Jason Reed
This month, the World Health Organisation (WHO) held two virtual meetings relating to its mission to eliminate illicit trade in tobacco products, called Conference of the Parties (COP9) —yes, another COP! — and Meeting of the Parties (MOP2). But those titles are misleading: key stakeholders were shut out of the conversation.

As is now typical of the WHO's Framework Convention on Tobacco Control (FCTC), key parties were excluded from these vital conversations. The media was shut out, as was law enforcement. Countless organizations and individuals with potential insight into the issue, such as scientists, were excluded because of alleged distant connections to tobacco interests. Perhaps most importantly of all, consumers had no voice at either COP9 or MOP2.
---
Vaping Works. International Best Practices:
---
In the past few years, we have witnessed great successes in reducing smoking rates globally, especially in countries where smokers had many alternatives to choose from. In the UK for example, Public Health England, an agency of the Ministry of Health, actively recommended smokers to switch to e-cigarettes. That allowed for very progressive frameworks on vaping to be introduced. Due to these policies, the UK has seen much better results in reducing smoking compared to more restrictive countries.

In the UK, smoking rates have fallen by 25% since 2013 (when vaping became popular). By contrast, in Australia, which has some of the world's toughest vaping regulations, smoking rates fell by just 8% in the same period.
To Reduce Smoking Prevalence
The Federation of Private Medical Practitioners Associations Malaysia (FPMPAM), a national body representing doctors in private practice in Malaysia, concluded its first tobacco harm reduction (THR) conference over the weekend, attended by more than 150 participants from the medical community.

In total, 13 speakers including three international THR experts, presented studies, opinions and recommendations on THR.

Dr. Steven Chow, President of the Federation of Private Medical Practitioners Associations Malaysia (FPMPAM), said, "We are pleased that the first THR conference in Malaysia was well attended by our fellow health practitioners. The conference highlighted the differing views, but there was agreement that the harm from smoking is a longstanding universal issue and needs to be effectively addressed."

Over tobacco alternatives? – Antonia di Lorenzo
Conflict between public health concerns and political-economic interests seems to be the main reason behind an internal dispute between the Philippine delegation to COP9 and officials at the country's Department of Health (DOH).

During the ninth Conference of the Parties to the World Health Organization Framework Convention on Tobacco Control (WHO FCTC), the Philippines' foreign affairs minister Teodoro Locsin (pictured) described tobacco alternatives as "salutary" and "a source of good", praising the tobacco industry for its efforts to develop these products. But health officials in Manila rapidly distanced themselves from the delegation's view, insisting: "There is no good in tobacco."
As NZ stubs out smoking – Dr Eric Crampton
Legislation banning smoking and vaping in cars with children will take effect on Sunday. At the Auckland boundary, police will not only be checking exit papers, but also whether cars comply with the new smokefree regulations.

Since May, the Government has been working on a new set of SmokeFree rules aimed at sharply reducing smoking rates by 2025. The new action plan may be released on Sunday in conjunction with the new rules on smoking and vaping in cars.
Peter Wallace
The proposed Vaporized Nicotine Products Regulation Act should have two goals: Encourage inveterate smokers to switch to vaping and discourage the youth from starting.

The Senate will be discussing what to do about vaping in the coming days. So let me add my two cents' worth (actually, with inflation it's two dollars' worth), particularly on one issue that has arisen that shouldn't even be an issue: the age to allow vaping.
To return to regular cigarettes
A new study shows that users of flavoured e-cigarettes — vapour devices — prefer having the flavours so much that if the flavour choice was taken away from them, many would just go back to smoking conventional cigarettes.

This is based in part on a study conducted by the International Tobacco Control Policy Evaluation Project at Ontario's University of Waterloo.

The study examined whether regular vapers from Canada, England and the United States who only use non-tobacco flavoured e-cigarettes would support or oppose a ban on all non-tobacco flavours and also, how they would potentially respond to such a policy.
The latest iteration of the Democrats' Build Back Better Act has placed electronic cigarettes firmly in its crosshairs. While most lawmakers have focused their attention on provisions such as expanded Medicare coverage, paid family leave, and prescription drug prices, few have paid attention to a proposed federal levy on electronic cigarettes.

Democrats have proposed a nicotine tax of $50.33 per 1,810 milligrams of nicotine that would see electronic cigarettes taxed at a broadly similar rate to combustible products—the new nicotine tax is estimated to bring in less than $10 billion over the next decade.
 Steven Greenhut
Sacramento — There are so many reasons to oppose the Democrats' $1.9 trillion Build Back Better legislation, not the least of which centers on the bill's asinine name. Forget about the moniker's iffy phrasing. We can't build a better society by running up debt, triggering even more inflation, building bigger bureaucracies and handing out freebies to more Americans.

Despite all the substantive flaws, one small matter is posing a bigger challenge for supporters than expected. It involves a proposed tax on e-cigarettes and related vaping products. As Reason explained, Sen. Catherine Cortez Masto, D-Nev., won't support a tax that hurts lower-income people. She joins moderate Democrats Joe Manchin of West Virginia and Kyrsten Sinema of Arizona as current opponents.
---
A look back at how things have moved on or otherwise….
Researchers in Mexico, New Zealand and Italy have conducted a modeling study suggesting that the risk of severe acute respiratory syndrome coronavirus 2 (SARS-CoV-2) being transmitted via indoor vaping is not significantly higher than the risk associated with other types of expiration.

SARS-CoV-2 is the agent responsible for the current COVID-19 pandemic that continues to sweep the globe devastating public health and the worldwide economy.
to examine various approaches of nicotine delivery using electronic cigarettes
Nature, Scientific Reports
Smokers who switch completely to e-cigarettes may reduce their relative risk of tobacco-related disease. Effective nicotine delivery from e-cigarettes is important in consumer acceptance. We assessed whether protonated nicotine and e-cigarette devices delivering greater aerosol mass increase nicotine delivery and product liking.
PubMed, National Library of Medicine
E-cigarette use is associated with concurrent use of combustible cigarettes among adults and may increase the risk of future combustible cigarette use in adolescents and young adults. Detrimental effects of combustible cigarette use on sleep health are well documented, but little is known about the additive effects of concurrent e-cigarette use.
---
Visit Nicotine Science & Policy for more News from around the World

---