Vaping Digest November 25th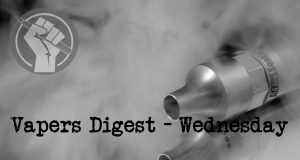 Wednesday's News at a glance:
Vaping does not appear to pose any significant additional risk of SARS-CoV-2 transmission ~ A randomised controlled single-centre open-label pharmacokinetic study to examine various approaches of nicotine delivery using electronic cigarettes ~ Main and Interactive Effects of Nicotine Product Type on Sleep Health Among Dual Combustible and E-Cigarette Users ~ Activists, health workers call for Tobacco Harm Reduction ~ It's time to make room for vaping in the harm reduction tent ~ In response ~ Capewell's Delusional Ignorance ~ WVA Welcomes MEP's Commitment ~ Immune Research At Odds With Reality ~ RCT Shows Vaping Reduces Harm ~ Coalition of clinicians, public policy experts and First Nations join forces to reduce incidences of cigarette smoking on Reserves
Researchers in Mexico, New Zealand and Italy have conducted a modeling study suggesting that the risk of severe acute respiratory syndrome coronavirus 2 (SARS-CoV-2) being transmitted via indoor vaping is not significantly higher than the risk associated with other types of expiration.

SARS-CoV-2 is the agent responsible for the current COVID-19 pandemic that continues to sweep the globe devastating public health and the worldwide economy.
to examine various approaches of nicotine delivery using electronic cigarettes
Nature, Scientific Reports
Smokers who switch completely to e-cigarettes may reduce their relative risk of tobacco-related disease. Effective nicotine delivery from e-cigarettes is important in consumer acceptance. We assessed whether protonated nicotine and e-cigarette devices delivering greater aerosol mass increase nicotine delivery and product liking.
PubMed, National Library of Medicine
E-cigarette use is associated with concurrent use of combustible cigarettes among adults and may increase the risk of future combustible cigarette use in adolescents and young adults. Detrimental effects of combustible cigarette use on sleep health are well documented, but little is known about the additive effects of concurrent e-cigarette use.
---
Umar Weswala, The Community Agenda
Human rights activists and health workers in Uganda have embarked on a Tobacco Harm Reduction (THR) campaign aimed at reducing or minimizing harm or risks suffered by people and communities as a result of using tobacco products.

---
, The Hamilton Spectator
It's taken a long time but when it comes to drug and alcohol addiction, the concept of harm reduction is increasingly accepted as both humane and an effective approach to addressing addiction by public health authorities and the general public.

Safe needle distribution. Condoms. Methadone maintenance programs. Naloxone kits. Managed alcohol programs. These are all examples of harm reduction initiatives that have been steered by dedicated front-line practitioners and gained the support of public health advocates and some governments, although there is still much work to do.
---
This motley collection has spurred myself and a few others into considering establishing a 'Peoples Library' of a limited # of carefully chosen studies WITH a plain worded short summary put onto a dedicated website.
If interested in helping in whatever capacity ..holler/SHOUT out https://t.co/LEYJCjnqwr

— Alan Beard (@Alan_Beard1) November 25, 2020
---
Hey, I admit I'm biased, but I think the updated CASAA website is beautiful and ten times as functional as it used to be.

Everyone should go check it out, and thank @RubrDuckyUrThe1 for the incredible work she's done.

(Also please donate.)https://t.co/eGRxciRlHC

— Jim McDonald (@whycherrywhy) November 25, 2020
---
---
FOUR from Dave Cross, Planet Of The Vapes
Anti-vape Professor Simon Capewell has distinguished himself once more with yet another display of delusional ignorance. In an attack on The E-Cigarette Summit and the list of distinguished speakers taking part, he accused them all of being "stooges" and "useful idiots" for the tobacco industry.
The World Vapers' Alliance (WVA) has praised Pietro Fiocchi, an Italian Entrepreneur and MEP, for showing his commitment to vaping in the EU Beating Cancer Plan (BECA). Fiocchi ensured the European Parliament's Special Committee's report to the European Commission will include paragraph on vaping.
American researchers at the University of North Carolina (UNC) School of Medicine have produced a study claiming vapers are at greater risk of contracting influenza and COVID-19. This contrasts starkly with consumer reports of lived experience; vapers are saying in overwhelming numbers that their health has markedly improved, and they suffer from far fewer infections.
A Randomized Clinical Trial from researchers at California State University, University of Kansas, Brown University, and (amazingly) the University of California San Francisco has shown that vaping "did not increase nicotine exposure and led to short-term reduction in the major pulmonary carcinogen, NNAL, compared with continued smoking."
---
to reduce incidences of cigarette smoking on Reserves
Canadian Coalition for Harm Reduction, Cision
The use of cigarettes on First Nations Reserves is exponentially higher than elsewhere and is a huge driver of disease and preventable death. The Canadian Coalition for Harm Reduction recently released its White Paper "Tobacco Control and Community Based Harm Reduction interventions The Case for Tobacco Harm Reduction in Canadian Indigenous Communities".  It proposes a research study on First Nation reserve(s) to study alternatives to cigarettes – like vape products – as a harm reduction tool.

---
Jim McDonald, Vaping 360
In a White House listening session that at times turned into a free-for-all shouting match, President Trump tried to get answers on the role of flavors in the adolescent "vaping epidemic," and how to best regulate vaping products. And the attendees representing vapers and small vaping businesses gave as good as they got—or even better.

Reporters and cameras were invited in for the first hour of the meeting, allowing the whole country to hear Campaign for Tobacco-Free Kids president Matthew Myers lie to the President's face about tobacco being the most popular vaping flavor for adults. That wasn't the only falsehood flung at Trump by anti-vaping activists.
Kevin Crowley, Vaping Links
President Trump asked to have a conversation with public health and vaping industry organizations. The purpose of the meeting was to get "representatives of the Vaping industry, together with medical professionals and individual state representatives" to "come up with an acceptable solution to the Vaping and E-cigarette dilemma. Children's health & safety, together with jobs, will be a focus!", according to his tweet.

If the President invited me to sit face to face with him along side of those who may not agree with science and data I'd be explaining, I'd certainly read the invite and be prepared to… Well, I'd take reasonable steps above and beyond to accommodate – by offering an acceptable, comprehensive solution he was asking for.
---
Visit Nicotine Science & Policy for more News from around the World

---