Vaping Digest 23rd November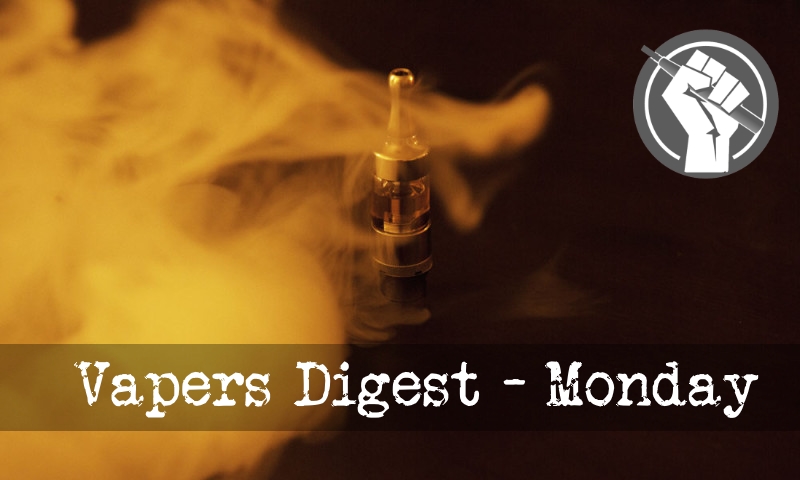 Monday's News at a glance:
Can consumers escape EU Restrictions? – EU tobacco mortality: snus a 'major factor' behind Sweden's low rates – What New Vape Legislation in Canada Means for You – Vaping is a gateway out of smoking – Vaping giant Juul to leave Irish market after less than two years – You Don't Know Nicotine – Irreconcilable Conflict – Nicotine Science and Policy Daily Digest
Dave Cross, Planet of the Vapes
The New Nicotine Alliance (NNA) is hosting a Zoom webcast looking at whether UK nicotine consumers can escape forthcoming EU Restrictions. This week's presentation will feature pro-vaping MP Mark Pawsey, harm reduction expert Clive Bates, and the NNA's vice chair Louise Ross and promises to be highly informative. The event is the latest in a series of highly successful and well attended webinars so act quickly to secure your free ticket.

The event takes place this Thursday:
26th November, between 6pm – 7pm GMT

The NNA says: "We are delighted to invite you to join us for an online webinar discussion with Mark Pawsey MP, Clive Bates and Louise Ross. We will be discussing the subject 'UK harm reduction post-Brexit: Can consumers escape EU Restrictions?'.
Snus a 'major factor' behind Sweden's low rates
A new analysis of EU tobacco mortality rates reveals that snus use is a "major factor" in explaining why men in Sweden have a significantly lower chance of dying from tobacco-related illnesses compared to men elsewhere in Europe.

The study, carried out by Dr. Lars Ramström of the Institute of Tobacco Studies in Sweden, shows that Swedish men have a 44 percent lower tobacco-related mortality rate compared to men elsewhere in the EU.

"The results should be an eye opener for politicians and policymakers," says Ramström.
---

---
Saddlehorse Blues
Under the Vaping Products Labelling and Packaging Regulations, all open-systems sold in Canada after January 1st, 2021 must be certified child-resistant. We break down the practical implications of the new legislation and what it means for specific groups.

There will be a serious reduction in the selection of rebuildable atomizers available for sale in Canada. The atomizers sold through Canadian retailers will be certified child resistant. As of this time (November 2020), no RDAs or tanks that use rebuildable coils have been manufactured to meet the new requirements.

It is important to note that the products themselves will not be illegal: the act of selling them within Canada will be. Anything that you own that is not child resistant is still perfectly fine for you to have. It is also still legal to purchase non-child-resistant atomizers from outside of Canada.
---
---
Linda Kumar
A 2020 report by an American advocacy group, the Consumer Choice Center, debunks the common belief that "vaping is the gateway to smoking for adults and adolescents."

Titled "Vaping and the Gateway Myth", the report highlighted findings that vaping is 95 per cent less harmful than smoking.

It also presents a viewpoint that vaping actually helps conventional smokers "divert from traditional and harmful tobacco consumption."

Dave Cross, Planet of the Vapes
Questions have been asked and answers given about vaping, tobacco harm reduction, and EVALI in the House of Lords and the House of Commons. Importantly, the position of vape shops being forced to close during the second COVID-19 lockdown has been questioned in both Houses although the responses were far from satisfactory.

Gareth Johnson, the Conservative MP for Dartford, asked the Secretary of State for Health and Social Care how many manufacturers, distributors and importers of e-cigarette products provided data on any adverse effects linked to their products.
John Mulligan
US vaping giant Juul Labs will exit the Irish market at the end of the year after entering the country less than two years ago to huge fanfare, the Irish Independent has learned.

In September, under-pressure Juul Labs told its workers that it planned to exit some European and Asia-Pacific markets and axe more of its remaining 2,200 employees.

"Although much has been achieved in a short space of time, at a global level the company has had to make some difficult decisions about how best to serve its mission," the company told suppliers in Ireland in recent weeks.
---

---
Third Line Films
---

---
Principle Behind Public Health's War on Vaping | RegWatch
---
A look back at how things have moved on or otherwise…
Brad Rodu, Tobacco Truth
On November 15, you reported that the American Heart Association launched a "game-changing research initiative" that "will help us answer critical questions about the health consequences of vaping and nicotine addiction…"  You emphasized an issue important to every health professional and parent: youth e-cigarette use.  And you used an especially relevant but ironic hashtag: #QuitLying.

Your flagship publication, the Journal of the American Heart Association, on June 5, 2019, published a bogus research article, "Electronic cigarette use and myocardial infarction among adults in the US Population Assessment of Tobacco and Health [PATH]," by Dharma N. Bhatta and Stanton A. Glantz (here).
Kevin Crowley, Vaping Links
While we're still waiting on President Trump to make decisions on banning flavors of less harmful products, or keeping them on the market, the Non-Governmental Organizations (NGO's) posing as "public health" have no real interest in the health of the public, are politically and financially motivated. They can't quit lying, and have completely lost their minds.

Can they quit lying? I didn't think I'd have to use their own words against them, but I personally tracked down, quoted, and linked the hard to find (often halfhearted but necessary to voice – just to cover their asses) these comments and positions of these NGO's and government officials for a reason.
---
Visit Nicotine Science & Policy for more News from around the World

---