Vaping Digest 20th November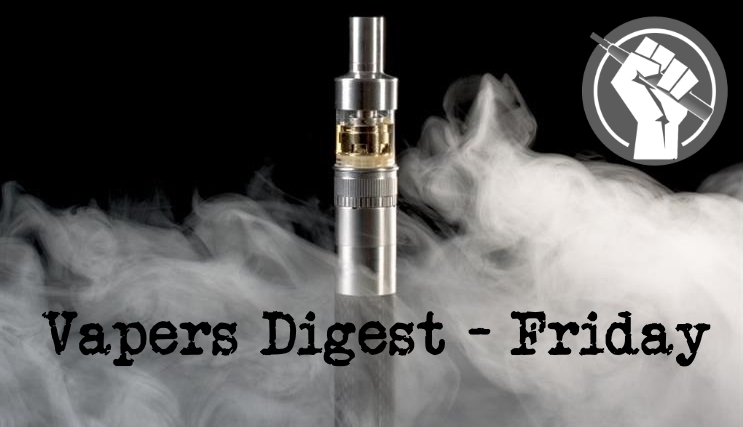 Friday's News at a glance:
Nicotine & the EU: Your chance to be heard – INNCO expresses concern – Suffolk County Tobacco 25 Law Tabled – Nova Scotia's Constitution Challenged – Positive Evidence About Vaping – New Laws for NZ – Anti-Vape MEP Heading Up Working Group – Be Wary of the Bangkok Cops – Dutch to ban cigarette sales in supermarkets from 2024 – A harm reduction strategy for smoking cessation – San Francisco Considers Ban – Switching to e-cigarettes from smoking reduces toxic exposure – Pod e-cigarettes less harmful than regular cigarettes – Nicotine Science and Policy Daily Digest
James Dunworth, Ashtray Blog
At a time when vaping in Europe is again under threat, with taxes, flavour bans and restrictions looming, non-profit organisation European Tobacco Harm Reduction Advocates (ETHRA), are running an ambitious survey to draw a map of vaping and nicotine use across the EU (and, yes, that includes the UK!)

We got together with Philippe Poirson, who is directing the survey, to find out more about it – and why he needs more British vapers to help out.

The survey is organised by ETHRA, which brings together 22 European consumer advocate groups. We started ETHRA in the summer of 2019 to coordinate and join forces, particularly on European regulatory issues and especially in view of the Tobacco Products Directive (TPD) revision. This TPD review is fast approaching, as the TPD evaluation report will be presented by the European Commission next May.
Over impact of foreign group's donation on local FDA
An umbrella group of more than 35 national consumer organizations expressed concern over the growing influence of foreign grants on health regulators that may adversely affect the campaign to reduce the harm caused by combustible cigarettes in low- and middle-income countries including the Philippines.

The International Network of Nicotine Consumer Organizations cited the influence exerted by non-government organizations backed by Bloomberg Initiative on regulators, such as the Philippines' Food and Drug Administration.

"There is also an element of corruption aided by the Bloomberg NGOs, who are co-opting tobacco policy through the sheer force of money.
---

---
Jim McDonald, Vaping 360
The Tobacco 25 bill has been tabled for now, according to the New York State Vapor Association. That means it was set aside without a vote at today's meeting of the Suffolk County Legislature. The bill can still be brought up for a vote later.

Suffolk County vapers should continue to organize and contact their members of the Legislature. According to the NYSVA, very few vape consumers contacted the Legislature after the original Oct. 6 hearing on the proposed law.
---
---
Following The Implementation of Harsh Vape Laws – Diane Caruana
Last May, Nova Scotia approved a 20mg/ml nicotine cap on vaping products, making it the first Canadian province to adopt such a restriction. The move followed an amendment banning all kinds of flavoured e-cigarettes and juices, gone into effect on April 1st.

"This is about reducing the rates," said Health Minister Randy Delorey about the ban. "What we've seen in the last couple of years since e-cigarettes have become widely available in Canada and indeed throughout much of North America is a rapidly growing rate, in particular youth vaping."

Four from Dave Cross, Planet of the Vapes
Experts at the University of Oxford have conducted an extensive review of all the current evidence covering more than 50 papers and 12,000 people and found that "e-cigarettes with nicotine can help more people to quit smoking than traditional nicotine replacement therapy". While there are some experts that argue nicotine gums and patches should be the only option, the facts say differently.

Jamie Hartmann-Boyce and Nicola Lindson's evidence review has led them to say that there is "greater confidence" that vaping works. They do mention that more data is required to cover modern devices.
"Vaping advertising ban will see less Kiwis quit cigarettes," says a leading business. "Workplace vaping stops, but don't shun vapers," cries a consumer organisation. Meanwhile, the New Zealand government presses ahead with measures "to discourage young people from vaping" even though it will hit smokers and ex-smokers the hardest.

Announcing the changes that have come into effect, Health Minister Andrew Little said: "Today's changes mean the laws around vaping are now similar to those around tobacco smoking. These changes will prevent vaping products from being marketed or sold to non-smokers, especially young people, while ensuring that they are available for smokers who want to switch to a less harmful alternative.
The European Tobacco Harm Reduction Advocates (ETHRA) consumer organisation is warning that the anti-vaping MEP Michèle Rivasi has been placed in charge of the Tobacco Products Directive informal working group. Rivasi has a chequered past that has seen her oppose vaccinations and support evidence-free homeopathy.

Michèle Rivasi used to be a biology teacher in France before founding an "independent" commission for looking at research and information about the Chernobyl nuclear tragedy. She initially ran as an independent politician before joining the Green party.
Bangkok cops have cracked down on an individual flouting the ban on vape product sales despite the fact that they adopt a pretty hit and miss approach to enforcement of the legislation. Raiding a private home, officers proudly stood to be pictured with seventy-four confiscated vape devices.

Thai police have been pretty busy of late; arresting pro-democracy teens [link], closing down press conferences [link], and breaking out the water cannons to deal with pesky protestors [link].
---

---
In supermarkets from 2024 – Reuters
The Netherlands will ban the sale of cigarettes and other tobacco products in supermarkets from 2024 in a drive to get more people to give up smoking, the government said on Friday.

Together with a ban on cigarette vending machines from 2022, the supermarket ban will remove around 11,000 of the current 16,000 tobacco vending points in the country, the government said.
The Truth About Vaping – Dr Sharon Cox
For smoking cessation – Nada Adibah
Tobacco smoking is the world's leading cause of preventable death and disease, and quitting smoking can produce considerable and immediate health benefits. Most smokers who want to quit tend to do so without assistance, but some use prescription medication or nicotine replacement therapies. Initial efforts using these methods are often unsuccessful. In fact, approximately half of all smokers report trying to quit smoking, but only 7% succeed in any year.

Over the past decade, alternative nicotine products have evolved and are currently used by almost 100 million people. Preliminary evidence suggests that e-cigarettes may be a safe and effective way to help smokers quit, potentially adding a tool to the arsenal of smoking cessation products.

On Smoking and Vaping in Private Apartments – Michael McGrady
San Francisco lawmakers are considering a ban on all smoking and vaping inside private apartment buildings. The proposed ordinance is presented as an attempt to limit secondhand exposure to inhalants from both traditional smoking ("combustibles") and vaping.

Board of Supervisors President Norman Yee introduced the proposal to prohibit the use of these products inside housing and apartment complexes with at least three or more residential units, regardless of whether the units are occupied by renters or by the actual owners.
Reduces toxic chemical exposure – Brian P. Dunleavy
Smokers who switch from traditional cigarettes to pod-based e-cigarettes can limit their exposure to harmful chemicals in tobacco products, a study published Wednesday by JAMA Network Open found.

Among 186 Black and Latinx people who smoked about 12 conventional cigarettes — more than half a pack — every day, 28% transitioned completely to e-cigarettes by the end of the six-week study, while 58% continued to use both products, according to the researchers.
With Harm Reduction Expert Dr Alex Wodak
Than regular cigarettes, new study finds
In the first-ever clinical trial of fourth-generation electronic cigarettes, researchers found that adults who switched to e-cigarettes had lower levels of a major carcinogen compared to smokers who continued using combustible cigarettes.

Physicians and scientists have for many years explored the health benefits and drawbacks of nicotine-based alternatives to cigarettes, and new research offers significant evidence that "pod" e-cigarettes are less damaging to health than traditional cigarettes.
To assess e-cigarette versus traditional cigarette use – Emily Henderson
Scientists and medical professionals have long debated whether pod e-cigarettes are a safer alternative to traditional cigarettes. A new study provides some insight.

In a collaboration between The University of Kansas Cancer Center, California State University San Marcos and Brown University, scientists conducted a six-week-long randomized trial comparing e-cigarette use to traditional cigarette use in African American and Latinx smokers. E-cigarettes simulate tobacco smoke via battery-powered devices that work by heating a liquid into a vapor that the user inhales.
KUALA LUMPUR, Nov 19 — The use of electronic cigarettes, also known as vaping, will be jointly regulated by three ministries instead of just one, Health Minister Datuk Seri Dr Adham Baba told Parliament — reversing a policy proposal from the previous Pakatan Harapan (PH) government.

They are: the Health Ministry; the Science, Technology and Innovation Ministry; and the Domestic Trade and Consumer Affairs Ministry (KPDNHEP).
---
A look back at how things have moved on or otherwise….
An online experimental study exploring the effects of a comparative health message versus the EU nicotine addiction warnings on smokers' and non-smokers' risk perceptions and behavioural intentions.
Science Direct
This study investigated the effects of the European Union Tobacco Products Directive [EU-TPD] Article 20 E-cigarette (EC) health warnings ("This product contains nicotine which is a highly addictive substance. [It is not recommended for non-smokers.]") and a comparative harm message ("Use of this product is much less harmful than smoking" [COMP]) on smokers' and non-smokers' perceptions and behavioural intentions.
Xave Gregorio, CNN Philippines
President Rodrigo Duterte issued a verbal order to ban the use and importation of vapes, following the first confirmed report of electronic cigarette or vaping-associated lung injury (EVALI) in the country.

Duterte said he is banning vapes because it is "toxic" and has not been approved the Food and Drug Administration (FDA).
Molly Gluck, Medium
Vaping and lung illness cases and perspectives are infiltrating headlines, conversations, and policies across the nation — but medical professionals, the government, the public, and corporations can't seem to get on the same page. Michael Siegel, a physician and professor in the Department of Community Health Sciences at the Boston University School of Public Health has been a tobacco researcher for the past 30 years focusing on tobacco control, exposure, and policies.
---
Visit Nicotine Science & Policy for more News from around the World

---