Vaping Digest 18th November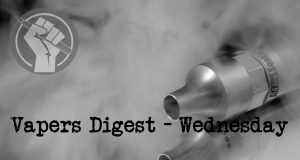 Wednesday's News at a glance:
Stuck in a Time Warp ~ Vaping: The Sensory Experience That Improves Your Chances To Quit Smoking ~ International consumer groups express concerns over foreign grant influence on FDA regulations ~ Africa: What are the Current Challenges for Tobacco Harm Reduction? ~ UK Parliamentary Debate ~ More Bluster From Bath ~ IBVTA Launches Battery Stewardship Guide ~ Foolish Doc's Letter Fail ~ Coronavirus saw people swapping e-cigarettes for tobacco, helping boost sales ~ Public Health: Similarities of e-cigarettes and COVID vaccination? Now or never
Nancy Loucas, Aotearoa Vape Community Advocacy

Its been a very strange year indeed…if 2020 could just fade into the sunset like an old cowboy on his trusted horse, that would be great…sigh

When AVCA was denied entry to a Public Health Seminar series this past February because of our alleged "tobacco industry connection", we all first laughed a bit at the ridiculousness of it, then we found out why we were designated thusly, and there was anger, then admittedly, disappointment.
City University of New York, Cornell University, Center of Excellence for the Acceleration of Harm Reduction (CoEHAR)
A research conducted by the City University of New York, Cornell University, and COEHAR sought to identify the extent and quality of respiratory sensations among those who failed to quit smoking with traditional drugs but succeed with electronic cigarettes. The study focused on the perceptions of ex-smokers on the influence that using Ecig had on their smoking cessation experience.
---
Manila Bulletin
Over 35 national consumer organizations under the International Network of Nicotine Consumer Organisations (INNCO) sounded the alarm over foreign grants on local health regulators that may adversely affect efforts to reduce the harm caused by combustible cigarettes in low and middle-income countries including the Philippines.

---
Marie Camara, All Africa
On November 4th, 2020, the United-Kingdom based public health organization Knowledge Action Change, which aims at promoting health through the concept of harm reduction, issued an expert report entitled: Burning Issues: The Global State of Tobacco Harm Reduction. In parallel, the organisation hosted two discussion sessions about the state of tobacco harm reduction in the world.
---
Click Liverpool | What's The Legal Status Of Snus In The UK? – https://t.co/PA18UpK7fV

— NSP (@NicotineSP) November 17, 2020
---
— Charles A. Gardner, PhD (@ChaunceyGardner) November 18, 2020
---
FOUR from Dave Cross, Planet Of The Vapes
Under Backbench Business, the House of Commons debated the effect of the COVID-19 outbreak and the abolition of Public Health England on achieving a smokefree England by 2030. The discussions featured knowledgeable politicians from both sides of the house who support vaping and argued for it to be further promoted to current smokers.
Advocates mobilised on social media to address the problems with the World Health Organization's (WHO) approach to vaping. The action took place during a meeting of signatories to the WHO's Framework Convention on Tobacco Control (FCTC) in 2018. Rather than accept the well-argued and referenced points being made, Department for Health at the University of Bath (a front group for unelected billionaire Michael Bloomberg) chose to accuse advocates of being in the pay of Big Tobacco.
The Independent British Vape Trade Association (IBVTA) launched its first ever comprehensive guide to battery stewardship last week. It says it utilises the sector-leading expertise of the IBVTA's steering committee, with significant engagement from external stakeholders, the IBVTA have produced the first comprehensive guide to battery stewardship for the UK vaping sector.
Dr Mohamad Haniki Nik Mohamed is a man of many titles. He is the President of Malaysia Association of Adolescent Health, the Principal of the Malaysian Academy of Pharmacy, and the Dean of the Centre for Foundation Studies. Readers of his anti-vape letter might give him another title, but one he would be less proud of.
---
Lucy Harley-McKeown, Yahoo
Cigarette company Imperial Brands' (IMBBY) full-year results have revealed a change of the habits of smokers, with a shift from e-cigarettes to tobacco.

This is despite warnings from health professionals around the world that both smoking and e-cigarettes exacerbate cases of COVID-19 with those that smoke likely to see an increased severity of illness and a higher incidence of death.
Jocelyn Marquis M.Sc. Senior MSL, LinkedIn
In one case, 250,000 deaths in the last few months. On the other, this year only 480,000 deaths. In both cases, regrettable and preventable deaths. Also, both are public health emergencies, one that has been in the news every day since January, the other no longer on the radar.

---
British Heart Foundation
A study from the University of Dundee, published in November 2019 and funded by the British Heart Foundation, suggests that vaping may be less harmful to your blood vessels than smoking cigarettes. Within just one month of switching tobacco for electronic cigarettes, measures of blood vessel health, including blood pressure and stiffness of their arteries, had started to improve. The study looked at 114 people who had smoked at least 15 cigarettes a day for at least two years.
Cardiovascular benefits as early as 1 month after switching from smoking to e-cigarette use
Dr Farsalinos, E-Cigarette Research
A study published today in the Journal of the American College of Cardiology (JACC) provides the most fascinating news for smokers who have managed to quit using e-cigarettes. Improvements in vascular function were observed as early as 1 month after making the switch. Similar improvements were observed for those using nicotine-containing and nicotine-free e-cigarettes, debunking a common myth (which has already been disproven through snus research) that nicotine contributes substantially to smoking-related cardiovascular risk.
---
Visit Nicotine Science & Policy for more News from around the World

---