Vapers Digest 29th November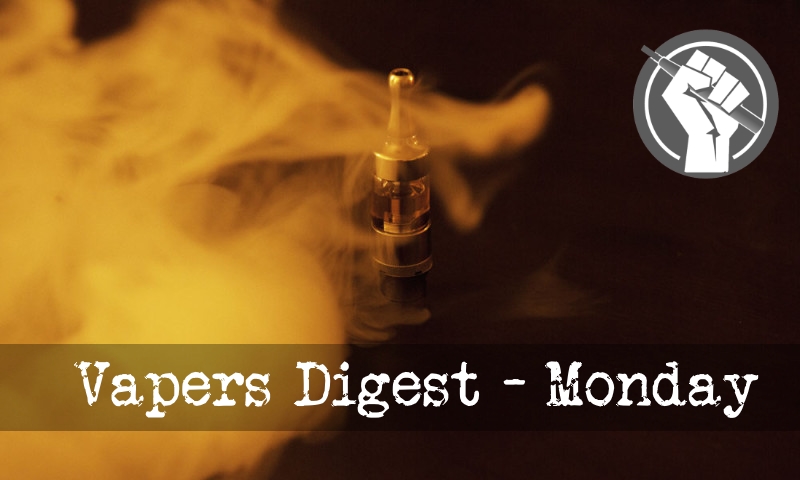 Monday's News at a glance:
Stop Smoking, Start Vaping – Book Review – SCOPE Launches THR Online Library – The Dangers of Misinformation on Vaping – New HRB paper examines the value and safety of electronic cigarettes – China's Tobacco Monopoly Will Control the Vaping Industry – Cochrane Hit By Cash Crisis – Questions in Parliament – Vaping products a smoking cessation tool…but? – The best choice a smoker can make – WHO digs in against tobacco – Nicotine tax raises price to quit smoking – The overlooked public health issue – Nicotine Science and Policy Daily Digest
James Dunworth, Ashtray Blog
The world of vaping exists in a cloud of confusion and misinformation. Arguably there's never been a greater need for clear, authoritative guidance for smokers who are considering switching to vaping.

A new book, Stop Smoking, Start Vaping, by Dr Dr Colin Mendelsohn, aims to do just that.

Colin is well qualified to write this book. Specialising in helping people to quit smoking, he has over 35 years experience both in tobacco treatment and in related research. Well known and respected amongst vaping advocates, he has been a strong voice for vapers in a country which is prepared to fine or even imprison smokers who try to quit smoking with electronic cigarettes.
Tobacco Reporter
SCOPE has launched a comprehensive library of online panel discussions and presentations relating to tobacco harm reduction (THR).

A global collaboration of THR consumer groups, SCOPE includes Consumer Advocates for Smoke-Free Alternatives Association (CASAA) in the United States, Iberoamerica (ARDT) in Latin America and the Coalition of Asia Pacific Tobacco Harm Reduction Advocates (CAPHRA).

SCOPE recently broadcast around the clock during the nineth Conference of Parties for the World Health Organization's Framework Convention on Tobacco Control (FCTC).
---

---
Martin Cullip
Earlier this month, news outlets all over the world reported breathlessly on new research which claimed to find that e-cigarette users were 15 percent more likely to have a stroke at young age than smokers. News sources as diverse as the Daily Mail in the UK, the South African Sunday Times, and all major U.S. TV stations picked up on it ensuring that a large portion of the global population were exposed to this bad news.

The problem is that this "research" was at best, highly misleading and, at worst, plain wrong.

First, this was not new published research as a casual reader might assume, but instead an unpublished conference presentation given a boost by the American Heart Association (AHA) which is explicitly opposed to reduced risk alternatives to smoking such as vaping.
And safety of electronic cigarettes as a smoking cessation intervention
thatgotmethinkingblog
The Health Research Board had added to its report on e-cigarettes as there have been a couple of Cochran reviews published that differ from the original HRB report.

Speaking about the findings, Dr Jean Long, Head of the HRB Evidence Centre and an author of the paper, says: "Current systematic review evidence on the value of e-cigarettes for smoking cessation shows inconsistent results. This means more high-quality primary evidence is needed before any conclusions can be made on e-cigarettes as a proven, safe and effective intervention to stop smoking".
---
Norway and Iceland have also experienced dramatic falls in Smoking prevalence. IF other countries were genuinely serious in Smoke free they would be clamouring all over this along with other Safer Nicotine Products (SNP) Are they? ….. https://t.co/O8cLGXV1jg

— Alan Beard (@Alan_Beard1) November 29, 2021
---
Will Control the Vaping Industry – Jim McDonald
China has amended its laws so that vaping manufacturers and sellers fall under the authority of the country's State Tobacco Monopoly Administration (STMA). The industry will now be tightly controlled by the authoritarian government's regulators.

The change was ordered by the State Council (cabinet) and signed off by Premier Li Keqian. It was announced last Friday, according to Reuters. The new policy has been expected since the Ministry of Industry and Information Technology released draft rules in March. It takes effect immediately.
China brings e-cigarettes under tobacco monopoly law – Reuters

Two from Dave Cross, Planet of the Vapes:
The Cochrane Tobacco Addiction Group (CTAG) has been responsible for excellent research but has now lost all funding from the National Institute for Health Research (NIHR). The funding for its work will run out in 2023, and CTAG has consulted on the best way to approach the future. It says this isn't the end for its informative independent work.

CTAG released a statement saying: "In August 2021, our principal funder, the National Institute for Health Research (NIHR) informed us that they will terminate all funding to Cochrane Review Groups as of March 2023. We are grateful to have benefitted from many years of stable funding from the NIHR.
Further vape and tobacco harm reduction activity has taken place in the House of Commons as politicians posed questions and received answers. Dan Jarvis, Damian Green, Rachael Maskell and Graham Brady have all received responses from Parliamentary Under-Secretary for Health and Social Care Maggie Throup.

Dan Jarvis asked the Secretary of State for Health and Social Care what assessment he has made of recent trends in smoking among young people in England and what steps he is currently taking to reduce smoking prevalence in them.
---

---
Twenty years ago, a Jamaican doctor picked up the habit of smoking cigarettes. It didn't take him long to decide that he needed to quit.

"It was not very hardcore but I did realise that it was affecting my health so I slowed down, but I still would get some smoking done every now and then," he says.

Even though the doctor thought that he had it under control, quitting smoking on his own proved to be a challenging feat. This all changed when he discovered vaping.
Ali Altaf
Traditionally, smokers have had two choices; stop smoking or continue smoking. No brownie points for guessing which option is the best. Yet, an estimated one billion people in the world continue to light up cigarettes every day. This is mostly out of force of habit and the nicotine dependence that they develop over time which makes it difficult for them to quit, ultimately leaving them with no other choice than to continue to smoke. Extensive studies including the ones by the US FDA, International Agency for Research on Cancer and the U.K. National Institute for Health and Care Excellence (NICE) have long established the fact that while nicotine is addictive, it is not the main culprit that puts the health of smokers at stake.

The just-ended ninth Conference of Parties (COP) of the World Health Organisation (WHO) Framework Convention on Tobacco Control (FCTC) held in the Netherlands did not disappoint.

As was largely expected, the global health body stuck to its guns by doubling down on its commitment to mobilise a multi-million-dollar fund "to strengthen global tobacco control measures".

COP9 ran from November 8-13, while the meeting of parties (MOP) was held in two days to November 17.
Inflation. Unemployment. Supply-chain disruptions. Debt ceilings. Pandemics. And that just describes the past few months. Economic anxiety is gripping every American – the last thing we need is our leaders in Washington finding ways to make life even more expensive.

President Biden campaigned on not raising taxes on Americans making less than $400,000 a year, yet his party in Congress is pushing for a tax-and-spend plan that would break that pledge. In September, Democrats proposed increasing the tax on tobacco, nicotine, and vapor products.

That could make or break Biden's new drug regulator
The next head of the Food and Drug Administration takes over an agency that studiously avoided answering one of the most pressing public health questions for over a decade: how to regulate the expansive tobacco product market.

Robert Califf, who President Joe Biden nominated this month to lead the agency, is being looked to by forces from all sides as someone who can reboot the FDA's Center for Tobacco Products, a division that has come under criticism for appearing inconsistent with its regulatory power and unwilling to challenge the largest players in the tobacco and e-cigarette industries.
---
A look back at how things have moved on or otherwise…
Guest post from ANESVAP, Spanish THR consumer association and ETHRA partner.
Last week the Spanish Ministry of Health published a horrifyingly biased report on e-cigarettes. We believe that the purpose of the report is to justify e-liquid flavour bans and punitive taxation on vaping products, proposals which are expected in 2021.

The Spanish government's report shares striking similarities with the recently published SCHEER preliminary Opinion on e-cigarettes, a key element of the review report of TPD2. Scientists and other experts have roundly criticised the SCHEER  preliminary Opinion for lacking objectivity and ignoring evidence. We are now waiting to see if SCHEER can redeem their reputation with the final Opinion, expected next month. Unfortunately, there is no such hope for the Spanish report, as the final version – which was issued without any public consultation – is already published.
Consumers are not tobacco industry minions – NNA
On Tuesday 17th November we wrote to Cancer Research UK to express our disappointment that they were "excited" about a Bloomberg-funded report which was designed to paint the consumer voice as somehow part of a mythical tobacco industry plot. We asked for "comments clarifying the position taken by CRUK towards consumer engagement on this matter" but have received no acknowledgement or reply.  Sadly, the tweet in question still remains, celebrating consumers being marginalised when – quite rightly – objecting to opaque policymaking.

We have also complained about the original article which prompted the ill-judged reaction from Cancer Research UK, by submitting a response to the publishing journal which you can read here.
---
Visit Nicotine Science & Policy for more News from around the World

---