Vapers Digest 1st December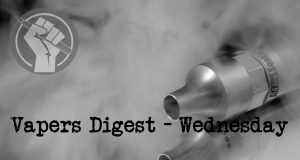 Wednesday's News at a glance:
---

---
TWO from Dave Cross, Planet of the Vapes
sCOPe, a global collaboration of tobacco harm reduction groups has launched an extensive tobacco harm reduction online library of streamed panel discussions and presentations. sCOPe includes leading THR associations CASAA (Consumer Advocates for Smoke-Free Alternatives Association) in the United States, ARDT Iberoamerica in Latin America, and CAPHRA (Coalition of Asia Pacific Tobacco Harm Reduction Advocates).
Knowledge of e-cigarettes is key to European Parliament support, according to market experts ECigIntelligence and TobaccoIntelligence. The two bodies are the leading providers of detailed global market and regulatory analysis, legal tracking, and quantitative data for the e-cigarette, heated tobacco and combustible-alternatives sector worldwide.
---
---

---
Tobacco Intelligence
The use of traditional tobacco products has been in decline across the EU in recent decades, and with the growth of new novel nicotine products it is expected to decline further.

We conducted a recent study to gauge the economic impact of novel nicotine products in Europe, covering vapour products, heated tobacco and nicotine pouch products. Using our own databases and trackers in addition to industry sources has enabled us to draw conclusions and insights into the current state of the market.
European Tobacco Harm Reduction Advocates, ETHRA
ETHRA's monthly roundup of news: BECA debate 'controversial' issue of flavours – ETHRA, Sovape & Aiduce letters to BECA  – ACPAN joins ETHRA – Vape shop support increases smoking cessation – Nicotine pouch ban – sCOPe Livestream Library – Country updates. Read on for more.
Adam Sullivan, The Gazette
As a candidate last year, President Joe Biden famously promised not to raise taxes on anyone making less than $400,000. In reality, the massive spending bill under consideration by Democrats in Congress would indeed hike taxes on a bunch of poor and middle-class people.
Amelia Lucas, CNBC
Altria and Philip Morris International are no longer able to sell or import Iqos tobacco devices in the U.S. after the Biden administration opted to take no action on an ongoing patent dispute.

Rival R.J. Reynolds, a subsidiary of British American Tobacco, had filed a claim with the U.S. International Trade Commission.
---
Dustin Erickson, ChurnMag
Once again it's Dr. Konstantinos Farsalinos that is fighting the good fight against false vaping information. This time he is calling into question research that was recently presented as part of the 2017 American Heart Association Scientific Sessions. The study in question was just published last week and was conducted by researchers at the University of California, San Francisco. Their report claimed to prove that the vapor produced by Heat not Burn (HnB) technology was as impactful to Flow-Mediated Dilation (FMD), as traditional tobacco smoke.
To Bet On The E-Cigarette Market
Cigarette smoking in the United States has dropped to the lowest level in generations, at 15.1% , according to the latest data supplied by the Centers for Disease Control and Prevention ( CDC ). The US has also witnessed the steepest decline in the smoking rate in the world. While this is good news, it has forced companies such as Altria ( MO ) to focus its efforts on looking for growth from other alternatives
---
Visit Nicotine Science & Policy for more News from around the World

---