Vapers Digest 3rd December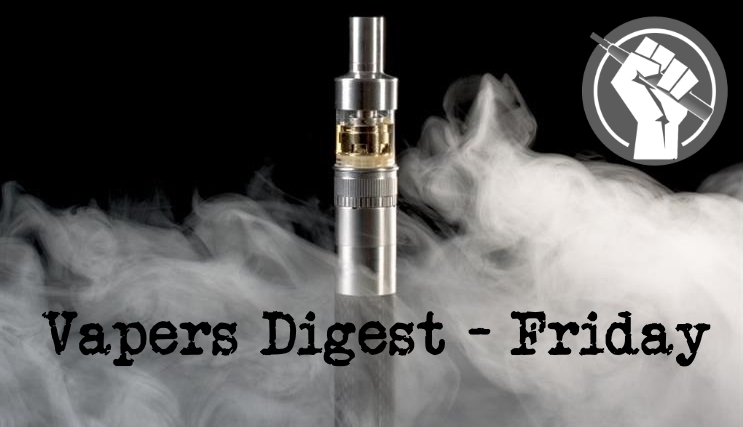 Friday's News at a glance:
NG209 NICE guidance – Transformers Versus Abolitionists – Vaping works in New Zealand – American Medical Association – Stop Smoking Start Vaping – Great Expectations – Work Survey Reveals Discrimination – Vapers' Voices Heard In Brussels – The Nelson Thomlinson School – Yorkshire Cancer Research Welcomes NICE Guidance – Innokin's "Why Smoke?" vaping campaign – World Vape Show London – Nice Work – Upstart e-cigarette makers push for NHS licences – China's Decision to Regulate Vaping – Hva vil effekten av et smaksforbud på e-sigaretter være? – Are bans good public policy in India? – How will TPD3 deal with newly emerged products? – The WHO's aversion to e-cigarettes – National Drug-User Union Emphasizes THR – Ottawa must listen to consumers – Denver shouldn't ban flavored products – Justice Kavanaugh Asks FDA to Respond – UK E-Cig Summit Highlights U.S. Failure – Nicotine Science and Policy Daily Digest
New Nicotine Alliance
In a world where tobacco harm reduction, specifically vaping, is stigmatised daily by policy-makers and scientists desperate to search for harms and dangers of a technology that, if adopted and supported worldwide, could have already slashed rates of smoking, the new NICE guidance Overview | Tobacco: preventing uptake, promoting quitting and treating dependence | Guidance | NICE published 30.11.21 is a welcome breath of fresh air. Although conservative and cautious, as NICE guidance has to be, based on evidence rather than testimony or optimism (as my Stop Smoking Service's vape-launch was in early 2014), this provides a clear message to the rest of the world that here in the UK at least, there is support for the use of vaping to stop smoking. Vaping for recreational purposes is not considered, of course; that is outside the scope of the guidance, but longer-term nicotine use is addressed, and that is welcome.
Clive Bates, Tobacco Reporter
In November, two major treaties had their Conference of the Parties (COP) meetings. COP26 of the U.N. Framework Convention on Climate Change (UNFCCC) was held in Glasgow, and COP9 of the WHO Framework Convention on Tobacco Control (FCTC) was held online. Both aim to address a globally significant problem, and both aim to achieve radical transformations in the markets for energy and tobacco, respectively.

Yet, the approach differs significantly. There is tremendous pressure in the climate change treaty to eliminate the combustion of fossil fuels to mitigate environmental risk as rapidly as possible. Climate change activists demand a rapid transition to "net zero," with energy production moving from coal, oil and gas to renewables such as solar, wind and hydro as soon as possible.
---

---
Christopher Snowdon, Velvet Glove Iron Fist
New Zealand legalised the sale of e-cigarettes in 2018 as part of its attempts to be 'tobacco-free' by 2025. The government now actively encourages smokers to switch with messages like this.

If you believe the claims of anti-smoking, anti-vaping, anti-nicotine fanatics, this should have led to a surge in smoking – because of the supposed 'gateway effect' and the supposed 'renormalisation' of smoking.

Instead, figures released yesterday show that it led to a sharp decline in the smoking rate which perfectly mirrors the sharp rise in the vaping rate.
Only Promotes and Protects Doctors, Not Public Health
Brad Rodu, Tobacco Truth
Dr. Gerald E. Harmon, president of the American Medical Association (AMA), authored a commentary November 19 claiming that the "FDA made the wrong choice in allowing Vuse marketing."

Dr. Harmon said that the FDA's decision "is wrong on many levels," but I will show that his commentary better fits that description.

Harmon says that the FDA's "gravest error is to frame its action as 'appropriate for the protection of the public health.'" Gravest error? Harmon tells his readers in the next paragraph that the FDA had no choice: Congress dictated that precise standard in legislation giving FDA regulatory authority over tobacco in 2009 (here).
---
---
For Potential Vapers – and Much More – Jim McDonald
Colin Mendelsohn's new book about vaping is out just in time to buy as a holiday gift for smokers, new vapers, nervous family members of smokers and vapers, and open-minded smoking cessation counselors. It would also benefit the elected officials in your city or state that are planning to make vaping a lot harder for you in the near future—if they had enough curiosity to make the gift worthwhile.

Stop Smoking Start Vaping is available online in the U.S. from Amazon and Barnes & Noble. It's available from multiple sites in Australia and the UK, all linked on Dr. Mendelsohn's website.
Stefanie Rossel
Ever since the Royal College of Physicians (RCP) recognized the case for tobacco harm reduction (THR) in a 2007 report and Public Health England concluded that e-cigarettes were at least 95 percent less harmful than combustible cigarettes in 2015, the United Kingdom has been a forerunner in including reduced-risk products in its tobacco control strategy. The country's 2017 Tobacco Control Plan (TCP), published by the department of health, stresses the importance of innovation and less harmful alternatives. Most anti-smoking and public health organizations as well as medical institutions in the U.K. support vape products as a reduced-risk alternative to cigarettes.

Data prove that the country is heading in the right direction: Smoking prevalence is at a record low level, down from around 20 percent in 2011 to between 13.8 percent and 16 percent now, depending on the survey, according to the U.K. government.

Seven from Dave Cross, Planet of the Vapes:
Results from a survey conducted by vape company E-Cigarette Direct has revealed that vapers are concerned about returning to the workplace due to restrictions and discrimination. The company discovered that people say they have been bullied, discriminated against, and even fired for being a vaper.

E-Cigarette Direct says: "In contrast to smoking, people are legally allowed to vape inside, there is no evidence that passive vapour causes harm to bystanders and the government actively encourages employers to provide a smoke-free area for vapers."
The World Vapers' Alliance says the "voices of vapers" arrived at MEPs' front door in Brussels. These voices, and their personal stories about how vaping helped them quit smoking and change their lives for the better, were broadcast across the focal point of the European Union to encourage European politicians to support pro-vaping policies.

Driving through Brussels in the iconic electric pink Vape Bus, the World Vapers' Alliance (WVA) says it was representing vapers worldwide, "displaying a powerful selection of quit stories from around Europe". The collection of stories from individual ex-smokers was gathered as part of the Back Vaping. Beat Smoking campaign, which travelled across Europe throughout 2021.
Judged to be "Outstanding" in its last Ofsted inspection, conducted eight years ago, The Nelson Thomlinson School isn't being described in such glowing terms by "outraged" and "shocked" parents after they discovered Headteacher Sam Northwood had installed closed circuit surveillance cameras in the school's toilets.

The Nelson Thomlinson School is a co-educational 11-18 Comprehensive School and Sixth Form located in Wigton, Cumbria. It has 1263 (48.6% boys 51.4% girls) on its roll, of which fewer than 10% are on free meal support.
Yorkshire Cancer Research (YCR) welcomes inclusion of vaping products in this week's National Institute for Health and Care Excellence (NICE) guidance for combatting tobacco-related disease and death. NICE, for the first time, included vaping products (also known as electronic cigarettes) as a recommended stop smoking aid in its newly released tobacco guidelines.

Dr Kathryn Scott, Chief Executive at Yorkshire Cancer Research, said: "We are delighted to see that vaping products have been included in the NICE tobacco guidelines.
London, UK – Innokin presents its "Why Smoke?" campaign in London, featuring branded buses, vans, and projection displays on buildings throughout the city.

Innokin is proud to create a vaping awareness campaign in the UK for the first time in two years. The "Why Smoke?" campaign is meant to make us think about our habits, even just for a moment. The campaign aims to inform smokers that there is an accessible, less harmful option to traditional cigarettes.
The World Vape Show (WVS) is coming to London and will be held in the ExCeL exhibition and international convention centre in the Royal Docks area of Newham in December 2021. The organisers of WVS London and WVS Dubai say it will be the first vape event in two years and the only one prioritising business to business interactions.

Heavily supported by the UK government as a healthier alternative to traditional cigarettes and an effective cessation tool, the UK vaping industry has experienced meteoric growth. Over 2,000 retail outlets and a burgeoning e-commerce industry, has driven one of the fastest growing consumer goods sectors of this century. Vaping is not only a growing trend, with 39 million users of e-cigarettes globally and projected to grow to £64 million by 2022.
The National Institute for Health and Care Excellence (NICE) has released updated guidance for promoting quitting smoking and treating dependence. It has been welcomed as "a breath of fresh air" by Louise Ross, the interim chair of the New Nicotine Alliance and former head of Leicestershire stop smoking service.

NICE worked with Public Health England to develop this updated guide. It covers "support to stop smoking for everyone aged 12 and over, and help to reduce people's harm from smoking if they are not ready to stop in one go."
---

---
Push for NHS licences ahead of Big Tobacco – Ian Johnston
The UK looks set to become the first country in the world to prescribe e-cigarettes after the Medicines and Healthcare products Regulatory Agency last month encouraged companies to apply for a medical licence by issuing new guidance.

Several companies are now pursuing a medicines authorisation. NJOY, which has 3.9 per cent of the $5bn US market, according to Nielsen data, is "far on in the development of its application", a person close to the company said.
Vaping Products Has Global Implications – Alex Norcia
China revealed on November 26 that it would officially regulate vaping products under its tobacco monopoly law.

The decision has massive implications for tobacco harm reduction worldwide: China is both the largest tobacco market and the largest e-cigarette producer on Earth. The country previously imposed restrictions on vapes, and some observers feared a crackdown on the industry. Now, vaping has a legal status in China that should secure its future.
Karl Erik Lund
Helse- og omsorgsdepartementet (HOD) har sendt et lovforslag på høring som forbyr alle andre smakstilsetninger enn tobakkssmak i e-sigaretter. Begrunnelsen er å forebygge en mulig framtidig oppgang i bruk av e-sigaretter blant ungdom. Imidlertid har utbredelsen blant ungdom vært stabilt lav til tross for det eksisterende mangfoldet av smaker. Hva som eventuelt skulle utløse en plutselig oppgang i bruk blant unge grunngis ikke i forslaget.

Brukerne av e-sigaretter i Norge er nesten utelukkende personer med tidligere røykeerfaring, og deres gjennomsnittsalder er 45 år. Anslagsvis 80 % bruker de smakene som foreslås forbudt – hovedsakelig for å slutte å røyke. E-sigaretter kun med tobakkssmak er lite populært, kan demotivere røykere fra et skadereduserende produktbytte, føre til illegal omsetning av e-væske, farlig selvblandingspraksis og mulig retur til røyking.
Professor Bejon Kumar Misra
We find a strange adherence and affection for the prohibition of products in our country even though such products are allowed to be manufactured and traded legally worldwide. As a consumer, we strongly feel bans can be placed on products and related services only if there is a risk that they may cause serious injury, illness, or death. Globally, countries are engaged in harmonising laws and standards to promote Universal Quality and Safety Standards in the interest of public health. It has been well documented that bans have done little to protect the consumer, rather they encourage accelerated growth of contraband products.

Barnaby Page
Sooner or later the European Union will have a new Tobacco Products Directive (TPD), and for the industry – as well as member state governments and the public health establishment – one of the big questions will be how it treats new product categories which barely existed at the time of TPD2 in 2014, notably heated tobacco.

Pouches, too, have grown from being a largely Scandinavian phenomenon to become a significant presence on the novel nicotine scene. And while much attention in the formulation of TPD3 is likely to focus on the question of banning or allowing e-cigarette flavours, the treatment of these new categories could be crucially important for the progress of the reduced-risk sector as well.
One of the World Health Organization's (WHO) most important meetings was recently held in Geneva, where the future health of millions of people may have been decided on from behind closed doors.

The meeting was the ninth Conference of the Parties (COP9) of the Framework Convention on Tobacco Control (FCTC), where authorities from all over the world meet to hash out health guidelines regarding tobacco and smoking. The discussions are famously secretive: journalists are not permitted to observe these talks, nor are members of the public. Even the 2018 Internet livestream of the event was cut off early in the proceedings.
Emphasizes Tobacco Harm Reduction – Helen Redmond
Cigarette smoking among people who use illicit drugs doesn't receive much attention, despite the fact that this population has some of the highest smoking rates. That's why it's particularly important that the Urban Survivors Union (USU), a national drug-user union, is hosting a public, online meeting to discuss tobacco harm reduction.

"As a community organization set on helping individuals understand the true meaning of harm reduction and the many different aspects of it, we are committed to working with people who use drugs and decreasing the harms associated with combustible tobacco," Robert Suarez, a veteran drug-user activist and USU's national coordinator, told Filter. "Vaping is a step towards doing less harm."
Bruce Cran
Health Canada proposes to ban all flavoured vaping products other than tobacco, mint and menthol. The Consumers' Association of Canada (CAC) has taken a position in favour of adult consumer choice on this issue, believing adults should be able to choose their preferred type of product, especially one that could help them reduce or quit smoking.

We know cigarettes cause illness and death to many smokers. However, vaping products have been shown to be 95 per cent less harmful than cigarettes by entities like Public Health England and the Royal College of Physicians. Therefore, logic ought to dictate that vaping products be given prominence.
How Vaping Regulations Are Decided, Drafted and Dev | RegWatch
Fighting Tobacco Use – Chris Woodward
A virtual summit in the UK next week aims to set the record straight: If you think smoking is bad, you're right. But if you think attacking alternatives like e-cigarettes will make things better, you're really wrong.

"The E-Cigarette Summit UK comes at an historical time for global tobacco policy, where restrictive bans and higher taxation on e-cigarettes has become the prevailing direction for tobacco control, with the emphasis on restricting big tobacco from addicting the next generation," the event's organizers said in a statement.
Guy Bentley
Denver is among the latest cities to consider a ban on flavored tobacco products. The Denver City Council is pushing the proposal in hopes that prohibiting flavored tobacco products will reduce the number of young people who experiment with e-cigarettes. But the experience of other cities and states that have implemented similar flavored tobacco bans and the federal data on the causes of youth vaping suggest that the prohibition of safer nicotine alternatives, like e-cigarettes, is unlikely to have a positive public health impact and could undermine it.
To Respond to Breeze Smoke Emergency Stay Application
Yesterday, Justice Brett Kavanaugh requested that the federal government file a response to Breeze Smoke LLC's application for an emergency stay to block the Food and Drug Administration's order denying approval of the manufacturer's flavored vaping products. I noted Breeze Smoke's application in this post last week. The government's response is due December 6. The case docket is here.

Breeze Smoke is seeking an emergency stay from the Supreme Court after a divided panel of the U.S. Court of Appeals for the Sixth Circuit refused its stay application.
Brandee Eubank
Welcome to another roundup of the month's top articles on vaping and tobacco harm reduction. As usual, there are a lot of interesting and informative articles to satisfy your craving for news and updates. Each article is linked so that you can read it in full. Brief excerpts are included for your browsing convenience and the articles are listed in order from most recent to oldest. Enjoy!
---
A look back at how things have moved on or otherwise….
Stefanie Rossel, Tobacco Reporter
The figures sound impressive: Globally, 98 million people have switched to safer nicotine products (SNP), according to the report Burning Issues: The Global State of Tobacco Harm Reduction (GSTHR) 2020, which was published by Knowledge Action Change (KAC) on Nov. 4.

Yet the data look less glorious when put into perspective. With 1.1 billion smokers worldwide, there are only nine SNP users for every 100 smokers.
Andrew Thompson, The THR Blog
From the 2020 Senate Select Committee Inquiry on Tobacco Harm Reduction

Here are some of the personal accounts of Australian residents, as submitted to the 2020 Senate Select Committee Inquiry on Tobacco Harm Reduction.

This is what they had to say on a variety of aspects of nicotine vaping including, quit attempts, concern for their loved ones, the flavours in e-liquid, the cost savings of switching, their success at switching & their fear of the future of the nicotine vaping that got them off smoking cigarettes.
---
Visit Nicotine Science & Policy for more News from around the World

---