Vaping Digest 2nd December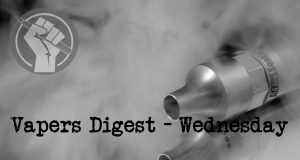 Wednesday's News at a glance:
Uphill Struggle ~ Australian Voices ~ As Expected, Nova Scotia Flavor Ban Is Increasing Smoking Rates ~ Center for Tobacco Products Director Gives PMTA Update ~ FDA Seeks Agency Support For Lucrative Anti-Tobacco Assignment ~ Deeming Rule Challenge Rejected by Federal Appeals Court ~ Vape Shops Blame Sales Decline More on "EVALI" than COVID-19 ~ Consumer Responds to Tobacco Control ~ E-Cigarette Summit 2020 ~ Payment Guidance Being Given to Businesses ~ Burning Issues: A Call to Liberate Vapes and Vapers
Stefanie Rossel, Tobacco Reporter
The figures sound impressive: Globally, 98 million people have switched to safer nicotine products (SNP), according to the report Burning Issues: The Global State of Tobacco Harm Reduction (GSTHR) 2020, which was published by Knowledge Action Change (KAC) on Nov. 4.

Yet the data look less glorious when put into perspective. With 1.1 billion smokers worldwide, there are only nine SNP users for every 100 smokers.
Christina Matthews, Vaping Daily
Nova Scotia became the only Canadian province to ban the sale of flavored nicotine products this past April. The ban is having some unintended, but expected consequences.

A new study commissioned by the Atlantic Convenience Stores Association showed that more people are buying combustible cigarettes.
---
, CSP News
More than two months after premarket tobacco product applications (PMTAs) were due to the U.S. Food and Drug Administration (FDA), the agency is still sifting through the applications and working on a public list of which companies have submitted applications.

The FDA's Center for Tobacco Products Director Mitch Zeller told CSP Daily News the FDA remains committed to releasing a public list of the new tobacco products deemed to be subject to a an FDA review, were on the market as of Aug. 8, 2016, and for which a premarket application was submitted by Sept. 9.
The FDA's Center for Tobacco Products is reviewing communications support for its public education initiative targeting teens at risk of getting hooked on e-cigarettes.

The FDA is looking for an agency to handle the latest incarnation of its youth tobacco prevention initiative, "The Real Cost," which focuses on reaching and educating the 10.7 million teens who have used e-cigarettes or are thinking about trying them, according to the RFP released Monday.
---

---
TWO from Jim McDonald, Vaping 360
A federal appeals court today upheld a lower court's rejection of a challenge to the FDA Deeming Rule brought by several small vaping businesses. The case, Moose Jooce, et al v. Food and Drug Administration, had previously failed in a federal district court in February.

A three-judge panel of the U.S. Circuit Court of Appeals for the District of Columbia upheld the earlier decision by U.S. District Court Judge Christopher Cooper.
If you had to guess what the largest vape shop sales obstacle was for vape shops in 2020, you'd probably say the coronavirus pandemic. And you'd be wrong.

According to a survey of vape shops by market research company ECigIntelligence, it was news coverage of last year's vaping-related lung injury outbreak that caused the most damage to small vape business sales this year. The lung injuries were caused by black market THC oil cartridges that were diluted with vitamin E acetate—not by commercial nicotine vaping products sold in vape shops.
---
Also found vaping attractive to current smokers who want to quit smoking.https://t.co/ep7rUQiRFn pic.twitter.com/sdZ9BpwyqW— Lisa McNally (@Lisa_McNally1) December 1, 2020
---
The International Association on Smoking Control & Harm Reduction (SCOHRE) issued a press release on the importance of raising awareness for #Tobacco #HarmReduction internationally. Where cessation fails, a switch to less harmful products reduces risks https://t.co/BQ3OZE31c6

— Prof. Heino Stöver (@HeinoStoever) December 1, 2020
---
THREE from Dave Cross, Planet Of The Vapes
Philippe Poirson has written a strongly worded letter to the Tobacco Control journal regarding last week's "vile" study. It looked at vapers' Twitter posts and categorised them as being part of a tobacco industry campaign. The journal has chosen to ignore Philippe and not publish his response – but Planet of the Vapes is reproducing his submission here.
The E-Cigarette Summit has "been at the forefront of expanding and forwarding the scientific and public health discussions around e-cigarettes and broader harm reduction debates". This year, its eighth, the Summit will again be hosting presentations from scientists, regulators, public health professionals and policy makers from around the world.
The number of businesses impacted by the PayPal crackdown has continued to grow since we first warned of the situation in mid-November. As the volume of frozen accounts escalated, we advised companies to draw down funds or risk them being locked away. Now one of the industry's trade bodies has issued clear guidance for businesses as yet unaffected.
---
Helen Redmond, Filter Magazine
"Tobacco harm reduction is good public health and health promotion, starting with the people who matter: smokers and those who have chosen alternatives. It's change driven from community level upwards—because it's people who do harm reduction, not experts."

Burning Issues: The Global State of Tobacco Harm Reduction 2020, the recently released second edition of a major biennial report produced by Knowledge-Action-Change*, is that rare report that passionately engages readers while supplying global data, powerful personal stories, common sense recommendations and a searing political analysis.

---
Ryan O'Hare, Imperial College London
Earlier this year vaping hit the headlines with reports of deaths in the United States linked to the use of e-cigarettes.

Vaping was the common factor, but a toxicologist from Imperial College London suggests the deaths could have been caused by oils or other unlicensed substances being added to the e-cigarette, rather than the approved contents of e-liquids.

While the jury is still out on the long-term health impacts of vaping, the evidence suggests that in the short to mid-term at least, switching from tobacco cigarettes to e-cigarettes could reduce the harm to smokers by as much as 95 per cent.
As we know it. Report from the e-Cigarette summit, Georgia Mannion-Krase
In this post Georgia Mannion-Krase (@GeorgiaMKrase) updates us on events at the E-Cigarette (EC) Summit held at the Royal Society on the 14th November 2019. The conference brings together leading experts in different aspects of EC research such as smoking cessation, youth uptake, harm reduction, marginalised groups and policy and was attended by academics, policy makers and industry.

Most of the speakers were researchers themselves, so it will surprise no one that there were a lot of findings to present, but it may surprise you to hear there was a lot of agreement among them. The climate around e-cigarettes and vaping changes day to day, and as such a lot of presenters had to adapt. Cliff Douglas (American Cancer Society Center for Tobacco Control) started his talk with "What the hell is happening in the US?" and the resounding answer from the data presented was "nothing rooted in evidence!"
---
Visit Nicotine Science & Policy for more News from around the World

---