Vaping Digest December 2nd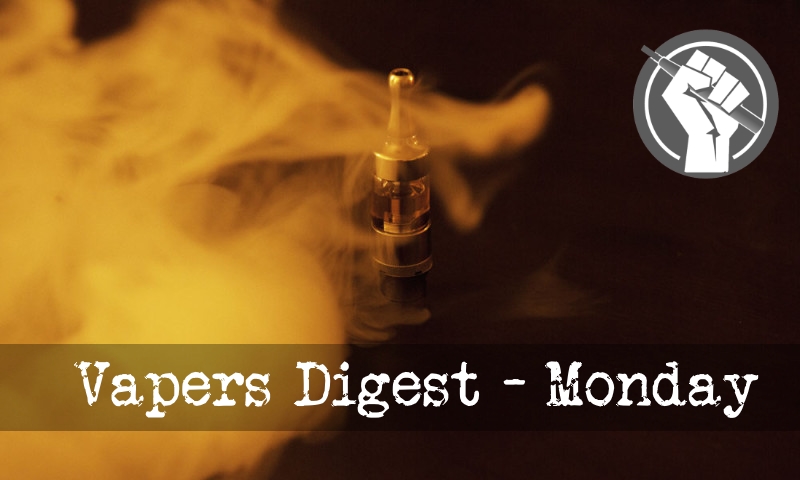 Monday's News at a glance:
How safe are e-cigarettes? – Smoking: it's the end of the word as we know it – Online Help Required – Vaping In The News – November 30th – The Deeming Rule: A Brief History – Vapid Approach to Vaping – Euro Docs Are Dangerous – Massachusetts State Health Department – The Black Market Is the Real Problem – ATHRA to challenge Northern Territory ban on vaping – Could life insurance go up in smoke – Snus: a compelling harm reduction alternative – A qualitative study of e-cigarette emergence – Rational approach towards vaping products – Nicotine Science and Policy Daily Digest
Ryan O'Hare, Imperial College London
Earlier this year vaping hit the headlines with reports of deaths in the United States linked to the use of e-cigarettes.

Vaping was the common factor, but a toxicologist from Imperial College London suggests the deaths could have been caused by oils or other unlicensed substances being added to the e-cigarette, rather than the approved contents of e-liquids.

While the jury is still out on the long-term health impacts of vaping, the evidence suggests that in the short to mid-term at least, switching from tobacco cigarettes to e-cigarettes could reduce the harm to smokers by as much as 95 per cent.
As we know it. Report from the e-Cigarette summit, Georgia Mannion-Krase
In this post Georgia Mannion-Krase (@GeorgiaMKrase) updates us on events at the E-Cigarette (EC) Summit held at the Royal Society on the 14th November 2019. The conference brings together leading experts in different aspects of EC research such as smoking cessation, youth uptake, harm reduction, marginalised groups and policy and was attended by academics, policy makers and industry.

Most of the speakers were researchers themselves, so it will surprise no one that there were a lot of findings to present, but it may surprise you to hear there was a lot of agreement among them. The climate around e-cigarettes and vaping changes day to day, and as such a lot of presenters had to adapt. Cliff Douglas (American Cancer Society Center for Tobacco Control) started his talk with "What the hell is happening in the US?" and the resounding answer from the data presented was "nothing rooted in evidence!"
---

---
Dave Cross, Planet of the Vapes
Mark Lucherini, a lecturer in Human Geography at Keele University, would like UK vapers to assist with an online study. The study is funded by a Research Development Fund award scheme from the Faculty of Natural Sciences at Keele University and aims to discover what people think of electronic cigarettes.

Mark explains: "The aim of this study is to understand the role of e-cigarettes in your everyday life. Most research so far, has been focused on how e-cigarettes can help people stop smoking. This is important research but there has been less work on how people feel about e-cigarettes, especially if they have helped long-term smokers stop smoking.
Dave Cross, Planet of the Vapes
As part of its effort to contribute "the medical profession's point of view to EU and European policy-making", The Standing Committee of European Doctors (CPME) has agreed its new policy on "Novel Tobacco and Nicotine Products". It is a combination of fear and a distortion of the precautionary principle.

The CPME is composed of 28 members. It is an organisation representing medical doctors from countries of the European Union. It receives its core funding from membership fees. The UK's member is the British Medical Association (BMA), and organisation that still advises caution over vaping and supports pharmacotherapy as the primary method of quitting smoking.
Kevin Crowley, Vaping Links
Bloomberg Grant ~ Sources of youth access to JUUL vaping products in the United States ~ FDA faces fire from researchers saying it has not prioritized e-cigarette testing ~ Tweet of the Week ~ Truth Initiative Logo ~ NYC Flavor Ban Passes as Vapers Throw Money at the Council ~ Grinch Relief Fund ~ CPSC Will Go After Vape Shops That Violate Bottle Rules ~ Harm Reduction ~ End The Lies
---
---
And Timeline of the FDA's Vaping Regulations – Jim McDonald
Probably no single event has rocked the vaping world like the announcement of the FDA Deeming Rule on May 5, 2016. The Deeming Rule is the regulation that gives the FDA authority over vapor products.

The first version was a long document — 499 double-spaced pages — and as readers made their way through it, what had only been rumored became reality: the FDA would impose a hard stop on the independent vaping industry two years after the rule took effect on Aug. 8, 2016. The agency would require submission of complex and expensive applications to prove that existing products are "appropriate for the protection on public health." And there was no assurance that those applications would be approved.
Steven Greenhut, The American Spectator
After news broke about a serious and sometimes deadly outbreak of vaping-related illnesses, my colleagues who work in the harm-reduction field — i.e., health activists who argue that smokers ought to reduce their potential harm by switching to less-deadly alternatives — called on health officials to figure out what's going on before issuing bans or edicts.

To their credit, many state health agencies, including (and surprisingly) those in California, took a measured and generally scientific approach to the matter. They sometimes passed emergency regulations temporarily limiting the sale of vape products, but they mostly issued warnings…
Elizabeth Clarke, Keith Thompson, Sarah Weaver, Joseph Thompson & Grant O'Connell
Snus is an oral smokeless tobacco product which is usually placed behind the upper lip, either in a loose form or in portioned sachets, and is primarily used in Sweden and Norway. The purpose of this review is to examine the reported effects of snus use in relation to specified health effects, namely lung cancer, cardiovascular disease, pancreatic cancer, diabetes, oral cancer and non-neoplastic oral disease. The review also examines the harm reduction potential of snus as an alternative to cigarettes by comparing the prevalence of snus use and cigarette smoking, and the reported incidence of tobacco-related diseases across European Union countries.

And the potential for renormalisation of smoking in UK youth
R.Brown, L.Bauld, E.de Lacy, B.Hallingberg, O.Maynard, J.McKell, L.Moore, G.Moore
Growth of e-cigarette use among smokers has raised concerns over uptake by non-smokers, particularly young people. Legislative changes aimed in part at reducing youth exposure to e-cigarettes include the EU Tobacco Products Directive (TPD). A core justification for such measures is the belief that e-cigarettes can lead to tobacco smoking through mechanisms of renormalisation including: mimicking and normalizing the act of smoking; increasing product acceptability via marketing; nicotine exposure. These mechanisms are here explored in relation to findings from qualitative research.
Is Completely Irresponsible in Hiding the Cause of Vaping-Associated Respiratory Illness
Dr. Michael Siegel, The Rest Of The Story
The Department of Public Health's Silence is Putting the Lives of the State's Youth at Risk

I was startled this morning to read what the Massachusetts Department of Public Health (DPH) is currently telling the public about the vaping-associated respiratory illness outbreak that has affected more than 2,000 people and resulted in 47 deaths. This information appears on the emergency web page that the Department has created , entitled "Vaping Public Health Emergency."

There are three critical pieces of information provided regarding the outbreak.
Colin McNickle
Vox's headline on its story two weeks ago said President Trump canceled his plan to pull flavored e-cigarettes from the market because "angry vapers and vaping companies convinced the president to kill" it.

In the text of the story, it quoted The Washington Post saying Trump backed off the ban "over fears that it could cause people to lose their jobs and cost him votes among supporters who use e-cigarettes."

The real reason is that it has become apparent in recent months that people who have been harmed by vaping were not harmed by legitimately made and sold products from the largest manufacturers, such as Juul and BLU, but rather from black market makers who often included marijuana – and in some cases fentanyl – in the chemicals being vaped.
---

---
All vapers using nicotine in the Northern Territory (even with a prescription) are committing a criminal offence with penalties up to $15,400 or 12 months in prison, according to the NT Minister of Health Natasha Fyles. ATHRA is seeking your support to get legal advice on this ruling which effectively bans all vaping.

Under federal law – the TGA Personal Importation Scheme -it is legal to import and use nicotine to quit smoking or to prevent relapse if you have a prescription from a doctor. Nicotine is then classified as a legal Schedule 4 'therapeutic' product (ie used for quitting or preventing relapse). Without a prescription, it is a Schedule 7 "dangerous poison" and use is forbidden.
University of Otago
Recent media reports have presented conflicting evidence on youth vaping in NZ. While some NZ school principals report concerns about increasing vaping on school grounds and confiscating vapes, ASH Year 10 survey data have been interpreted as suggesting few young people who are non-smokers are vaping. How can these apparently contradictory perceptions co-exist? In this blog, we begin by outlining recent findings on electronic nicotine delivery systems (ENDS) and their potential contribution to public health. We then explore possible explanations for why reports and perceptions about youth vaping sometimes differ and offer suggestions about how this behaviour needs to be more effectively monitored.

Carolyn Cohn, Suzanne Barlyn, Noor Zainab Hussain
Global reinsurers are stepping up their warnings to life insurer clients about the potential risks of vaping, putting pressure on underwriters to charge certain vapers higher rates than smokers, or even exclude them altogether.

U.S. authorities said last month that there had been 47 deaths this year from a lung illness tied to vaping. The health concerns about vaping have grown despite evidence showing e-cigarettes help smokers to quit, and has led to bans in some countries including India and Brazil.
Bangladesh plans to prohibit the sale and use of electronic cigarettes and vaporisers, a health official said on Sunday, as countries around the world move to ban devices that have been linked to health risks and teen addiction.

"We are actively working to impose a ban on the production, import and sale of e-cigarettes and all vaping tobaccos to prevent health risks," Shaikh Yusuf Harun, Secretary at the health education and family welfare division of the Ministry of Health and Family welfare, told Reuters.
Shahid Akhter
Shahid Akhter, editor, ETHealthworld, spoke to Prof. Tikki Pang, Lee Kaun Yew School of Public Policy, Singapore, to know more about the science behind alternative nicotine delivery system and how the world is addressing this complex issue.

Smoking epidemic: Progress made in harm reduction
I think we've made a lot of progress in the last 15 or 16 years. There is a lot more awareness about the harm which can result from smoking a cigarette. Governments have taken many measures to try and reduce the smoking epidemic.
Health groups urge Alberta government
As the UCP government's review into the Tobacco and Smoking Reduction Act closes Friday, Action on Smoking & Health and the Alberta Policy Coalition for Chronic Disease Prevention want Alberta to follow Saskatchewan, Prince Edward Island, Yukon and the Northwest Territories and ban flavoured vaping products.

"It's time to protect Alberta youth from flavoured vaping products," said Kayla Atkey of the Alberta Policy Coalition for Chronic Disease Prevention. "The provincial government needs to stop tobacco and vaping companies in their tracks before matters get worse. There are over 35,000 Alberta youth using flavoured vaping products and that's 35,000 too many."
Holds its breath as health concerns spiral
Online e-cigarette sales looked like a promising industry for Edwin Wong when he started his venture a year ago. The 34-year-old had studied Shenzhen's businesses and products since 2012, and saw a sure bet. Soon, he had developed a loyal base of more than 600 repeat customers and business was steady.

But suddenly, everything changed. Overnight his 2.2m yuan (£240,000) investment in a startup, called KiwiPod, disappeared.

"A lot of people have gone into this business who never knew anything about the business before, they just threw money into it. Most just thought it was hot, very profitable, and now they are gone," he says.
---
A look back at how things have moved on or otherwise….
To smoking relapse following brief lapse
Caitlin Notley, Emma Ward, Lynne Dawkins, Richard Holland, Sarah Jakes
E‐cigarettes are the most popular aid to quitting smoking in the UK. There is support for vaping as a harm reduction approach and an alternative to tobacco smoking from UK Medical and Public Health bodies. Although many smokers manage to quit, evidence (primarily predating the widespread use of e‐cigarettes) suggests that many successful quitters relapse over time. Most vapers use e‐cigarettes for smoking cessation or reduction, but we still have little understanding of how vapers use e‐cigarettes to avoid long‐term smoking relapse.
Martin Dockrell
Smoking rates are falling yet it is still too prevalent, with over 6m adults still smoking tobacco across the country. GPs will be well aware that helping more people quit tobacco is one of the single biggest things we can do to improve the nation's health and this has been echoed by the secretary of state in his prevention vision.

As a likely first point of contact for patients who smoke, GPs play a crucial role in identifying smokers and signposting expert support. The RCGP has guidance to help doctors feel confident in discussing smoking and this has recently been updated to include the very latest information on different types of quitting aids including e-cigarettes.
---
Visit Nicotine Science & Policy for more News from around the World

---