Vaping Digest December 4th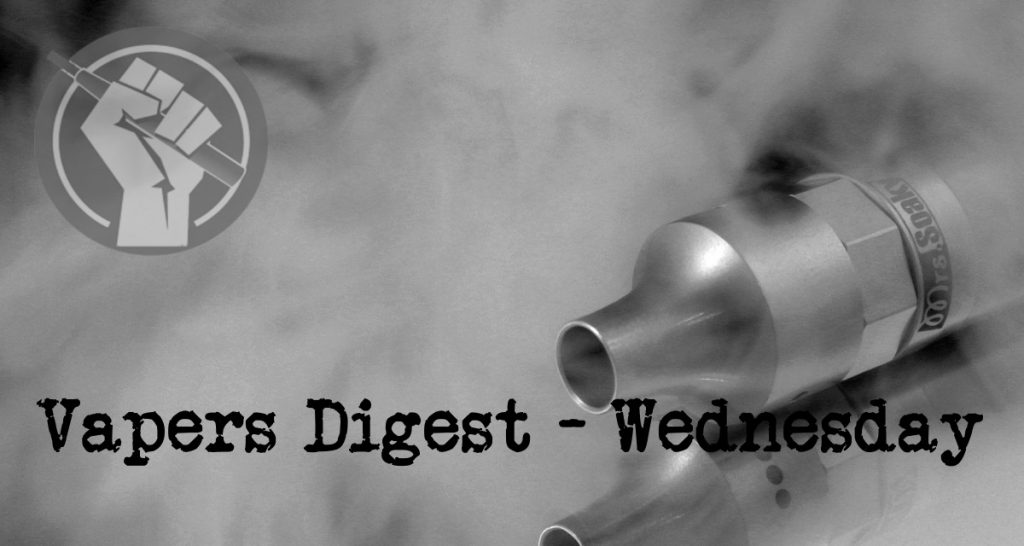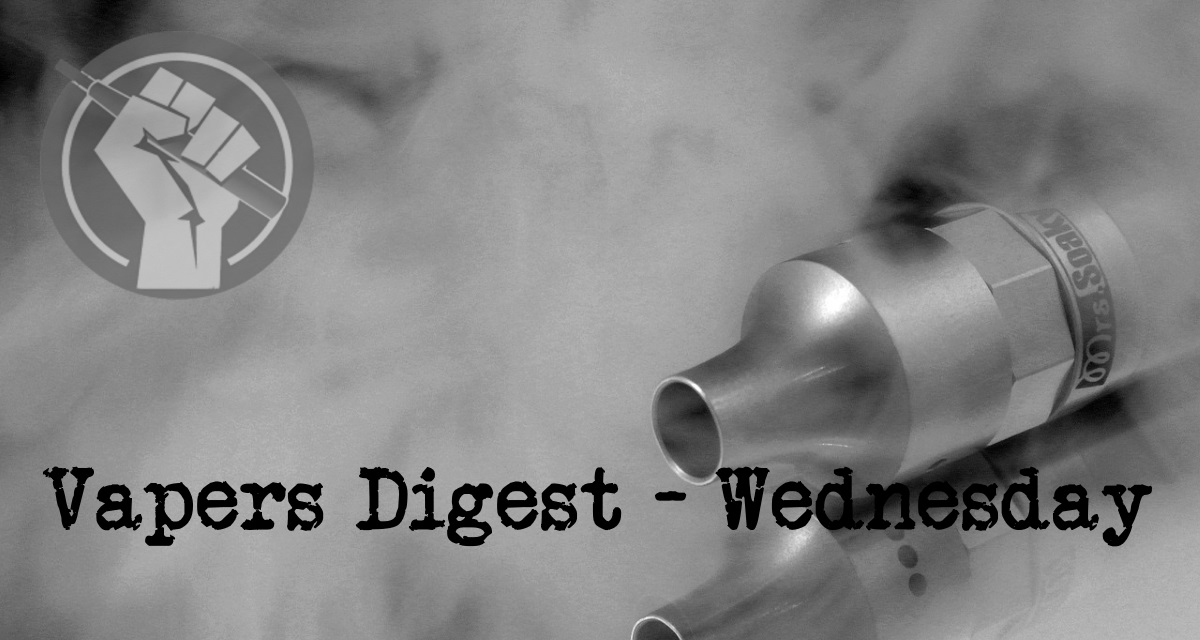 Wednesday's News at a glance:
Vaping policy – rapid questions and answers ~ Sarah Jakes – New Nicotine Alliance ~ The KAC Global Tobacco Harm Reduction Scholarship Programme 2020 ~ Lack of policies that support harm reduction affecting interventions ~ The CDC Botched Its Vaping Investigation And Helped Spark A National Panic ~ E-cigarettes do NOT increase pneumonia risks ~ Did a Canadian Teen Get Popcorn Lung from Vaping E-Juice? ~ Canada: Three Tobacco Companies Launch Vaping Trade Association ~ Canadian Vaping Association Welcomes Launch of the Quebec Special Task Force on Vaping ~ President Trump, I Will Tell You the Truth About Vaping ~ Oversight Subcommittee to question FDA tobacco director over status of Trump's vaping ban ~ E-cigarettes set to be banned in India as Parliament passes bill ~ Senate eyes passing sin tax bill soon to regulate vaping ~ UK Report: The Number of Vapers is on The Rise Again ~ Police warning after CBD oil incorrectly packaged as vape liquid sold in Nottingham ~ Duterte's Vape Death Threat ~ Dunne Talking ~ Broken Big Vape ~ Nicotine Replacement Therapy Does Not Drive Post Surgery Risks
Clive Bates, The Counterfactual
I just filed a submission with the Philippines House of Representatives for its Joint Trade & Health Industry Committee hearings on e-cigarettes, to be held 10 December.

The full submission (PDF) starts with an introductory Q&A and then goes on to provide more detail about specific issues with some backup material. I thought the 15 questions and answers might be of more general interest, so I have reproduced it below.
Sarah Jakes, 105FM
In response to our Health and Wellbeing expert, Kate Shemirani, and her thoughts and views on vaping, Sarah Jakes from the New Nicotine Alliance took up our invitation to put the other side of the issue.
Knowledge Action Change
We are looking for proposals that will inspire change! We have developed a scholarship package to ground scholars in the theory and practice of tobacco harm reduction (THR).

Go to prospectus page

The scholarships will commence at the Global Forum on Nicotine Conference (GFN), which will be held in Warsaw, Poland, between 10

th

& 13

th

June 2020
---
Joseph Magero

, Medium
Despite some effort by Africa in achieving some of the Sustainable Development Goals (SDGs), reducing tobacco use has proved the hardest to deliver. Reducing tobacco use plays a major role in global efforts to achieve the SDG target to reduce premature deaths from non-communicable diseases (NCDs) by one third by 2030.

Guy Bentley, Reason Foundation
The Centers for Disease Control and Prevention (CDC) finally identified a primary suspect in the wave of vaping-related lung illnesses and deaths. Examining lung tissue samples of patients hospitalized with vaping-related illnesses, CDC found 100 percent tested positive for vitamin E acetate, which is often used to cut marijuana oils. This finding was not a surprise to those who have been arguing that the cause of these illnesses is not the commercial e-cigarette market, but the illicit market for THC vapes.
Study suggests vapor does not weaken the immune system in the same way as cigarette smoke
Mary Kekatos, The Daily Mail
E-cigarettes may be safer for your immune system than traditional ones, a new mouse study suggests. While cigarettes are known to leave smokers more vulnerable to infections, vaping does not appear to have the same impact on pneumonia risks.

Researchers from the University of Louisiana at Lafayette infected mice with a strain of Streptococcus pneumoniae that is responsible for most cases of pneumonia that is acquired outside of a hospital.
---
Jim McDonald, Vaping 360
On Sept. 18, a regional medical center in London, Ontario held a news conference to report that a 17-year-old patient had nearly died from a lung condition the doctors believed was caused by vaping.

Middlesex-London Health Unit medical officer Dr. Chris Mackie told the assembled reporters that he knew which products the patient had used, but "We're not releasing information about the brand information because that would imply that this is something coming from one brand, when clearly looking at the international evidence, that's not the case."
Diane Caruana, Vaping Post
The Vaping Industry Trade Association (VITA) was officially launched last month, and president Daniel David said that the aim is ensuring that regulations aimed at preventing youth access, do not come in the way of adults smokers being able to make use of the devices. Juul Labs Canada, Imperial Tobacco Canada and JTI Canada Tech are three of VITA's founding members, and government relations firm, One Persuasion, has been hired to assist with lobbying efforts.
Benzinga
Canadian Vaping Association (CVA) and its members applaud the establishment of a provincial special task force led by Dr. Horacio Arruda as announced in Minister McCann's November 25th press release. The association's Quebec membership and provincial director wish to offer their expertise and experience, as they did during the consultations for Bill 44 in 2014, and we look forward to a confirmation of our participation in the task force, whose work is scheduled to begin in January 2020.
---
---
Dray Moorman, NewsMax
Mr. President, on Friday, November 22 you invited a range of stakeholders to a White House meeting on vaping. Thank you for taking the time to gather as much information as possible in order to make the best possible decision to protect kids, jobs, and access for adult smokers.

Sir, you patiently listened to a variety of voices in a wide-ranging and sometimes heated contest of ideas. However, Mr. President, the most important information that you need to know was not discussed. There was an elephant in the room that no one told you about. I will tell you the truth.
Rebecca Klar

, The Hill
A House subcommittee on Wednesday will question the Food and Drug Administration's (FDA) tobacco center director over the status of the Trump administration's pledge to ban flavored e-cigarette products amid a growing epidemic of young users.

The Oversight Subcommittee on Economic and Consumer Policy announced the hearing Tuesday, citing reports of President Trump backing off the proposed flavor vaping ban.
---
India Today
Parliament on Monday passed a bill which seeks to prohibit the production, trade, transport, storage and advertisement of electronic cigarettes in the country.

The Prohibition of Electronic Cigarettes Bill, 2019, was passed in Rajya Sabha with voice vote. The bill was passed in Lok Sabha earlier this month.
CNN Philippines Staff
The proposed law increasing excise taxes on e-cigarettes may be approved by the Senate this month amid calls to regulate vaping.

Senate President Vicente "Tito" Sotto III said the upper chamber plans to pass the bill on November 11 or the following week. He said January 2020 would be the latest that it is approved by the plenary.
---
Diane Caruana, Vaping Post
ASH has been releasing an annual survey since its inception in 2012. The latest one has indicated that the number of vapers in the UK has increased from 3.2 million last year, to 3.6 million this year. It has also revealed that 1.9 million of those 3.6 million have successfully switched from smoking to vaping exclusively.
Joseph Locker, Nottinghamshire Live
Nottinghamshire Police have issued a warning after a shop in Nottingham received incorrectly packaged CBD oil which as sold as a vape liquid. The cannabidiol oil, or CBD, which can legally be purchased in some stores in the UK, is only supposed to taken by dripping it onto the tongue.
---

Kevin Kunzmann, MD Magazine
Nicotine replacement therapy is a safe perioperative practice prior to invasive procedures, according to a new observational cohort assessment.

In a retrospective study of 140,000-plus active smokers to have undergone a major surgical procedure, investigators found no added complication risk in those treated with replacement therapy for a nicotine addiction or dependence—particularly for wound healing.
---
Visit Nicotine Science & Policy for more News from around the World

---