Vaping Digest December 6th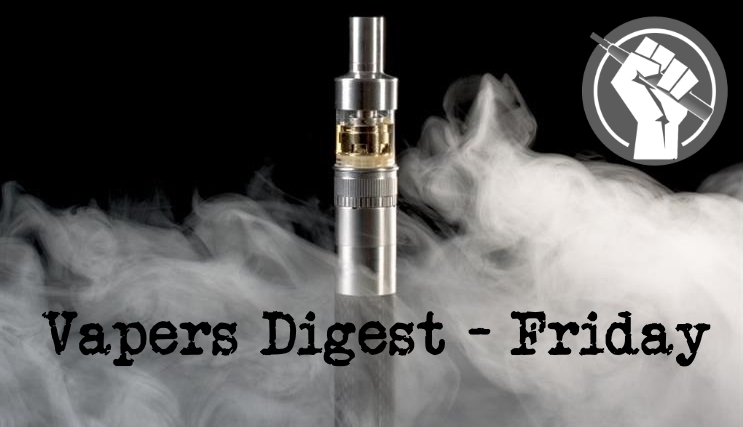 Friday's News at a glance:
Baby it's cold outside…so you may as well read this – Screw tightens on vapers – Norway to adopt the EU TPD and legalise vaping – Big Vape Netflix Broken Documentary – Sheffield's Pragmatic Approach – NZ Demands Sensible Regs – Hajek on Vaping – Problems for Particulate Profs – American Lung Association's Lies – The Vilification of Vaping – Teenagers Are 80% Less Likely to Smoke – Philadelphia to restrict sales of e-cigs – E-Cigs need to be regulated, not banned – Nova Scotia to ban flavoured e-cigs – Trump trying to find 'balance' on youth vaping issue – Report details vaping products used – We Need More Words for "Vaping" – Flavored tobacco ban expected to cost $93m – Nicotine Science and Policy Daily Digest
So you may as well read this – New Nicotine Alliance
With a general election imminent, we are all awaiting what landscape harm reduction in the UK may face under a new administration. Options for engaging with policymakers have been sparse but the NNA has been engaging where we can, nonetheless. 2020 could present some major challenges for which we will have to be ready so please keep watching our website and social media for news very soon, we will be asking for your help.

For now, though, Christmas is almost upon us and the weather is getting chilly, so stay warm inside and read a round-up of what the NNA has been up to in November.
USA, Philippines, Indonesia – Fergus Mason
With the US presidential election less than a year away, vapers are struggling to find anyone they can vote for. On one side is Donald Trump, a controversial figure who's almost certain to be the Republican nominee and who has delivered very mixed messages on e-cigs. On the other, a collection of increasingly left-wing Democrats who're almost universally hostile to tobacco harm reduction.

Meanwhile the autocratic leader of the Philippines is pushing forward with a total ban on public vaping that doesn't seem to be backed up by any actual laws, and Indonesia's government looks set to go down the same route.
---

---
ETHRA is pleased to welcome some promising news from Norway
The Norwegian government has declared that it will lift its ban on e-cigarettes with nicotine and replace it with an authorisation system as it belatedly moves to implement the EU's Tobacco Products Directive (TPD). Manufacturers of e-cigarettes and new tobacco products will have to apply for authorisation at least six months before they intend to put their product on the market, as the TPD requires. The government is also planning to allow e-cigarettes and refill containers to be advertised at the point of sale and be presented online neutrally, unlike cigarettes.

The Norwegian Directorate of Health, which will evaluate the applications, will look at "whether the product will contribute to tobacco harm reduction;" whether it appeals to youngsters; whether it will lead to the initiation and re-normalisation of tobacco use; and whether it's addictive, according to draft rules sent to notify the European Commission at the end of November.
Neil Humber, Ecig Click
The Big Vape Broken Netflix documentary is probably the first of what you could call mainstream documentaries taking a look at the world of vaping.

We have of course had the awesome and multi-award winning A Billion Lives – which I reviewed – and I guess director Aaron Biebert might be a bit miffed I'm not classing that as mainstream.

However, to some extent that was an independent film backed up by a lot of donations from the vape community – as is, I understand, the soon to be released and much anticipated follow up.
---
Still glowing from the buzz at the #Medway Ecig summit, seeing sceptical people literally changing their minds about vaping when presented with the evidence. Why can't it be like this around the world?

— Louise (@grannylouisa) December 5, 2019
In #Kanada läuft eine regelrechte Medienoffensive gegen die E-Dampfe, die Unsicherheit in der Bevölkerung schürt und dafür sorgt, dass Raucher erst gar nicht auf die sichere Alternative umsteigen.https://t.co/rJSTrTGD4G#ecigs #dampfen #propaganda #fud

— IG-ED (@ig_ed) December 6, 2019
---
Of an individual who developed a lung disease following use of a cannabis e-cigarette
"The case describes giant cell interstitial pneumonia, which the authors conclude is due to cobalt exposure from the patient's e-cigarette. Cobalt exposure can indeed cause this condition, but it is hard to see how they reached this conclusion given that no cobalt particles were detected in the lung samples from the patient. This case is thus yet another example of serious lung disease in someone using an electronic cigarette to vape cannabis, but the extreme rarity of such complications among people who do not vape cannabis demonstrates that the risk of similar acute lung disease among people who vape nicotine as an alternative to smoking tobacco is very low.
About E-Cigarettes are Dangerous and Irresponsible
Michael Siegel, The Rest Of The Story
Earlier this week, I revealed that, ironically, in a campaign attacking e-cigarette companies for lying to the public, the American Heart Association was itself lying to the public by asserting that e-cigarettes cannot help smokers quit.

Today I reveal that, not to be outdone, the American Lung Association is lying even more blatantly to the public and in a way that is not only irresponsible but dangerous for the public's health. In a press release issued yesterday, the American Lung Association made the following claims:

Four from Dave Cross, Planet of the Vapes
Sarah Hepworth, Tobacco Control Lead and Health Improvement Principal at Sheffield City Council, believes Smokefree Sheffield offers a "pragmatic approach" to tobacco related disease. She is keen that people understand the truth about vaping matters, especially in light of the scare stories cropping up following the US lung disease outbreak.

"Following reports of an outbreak in the US of serious lung disease and recent deaths linked to vaping the US Centre Disease Control (CDC) have discouraged people from vaping and there are moves to ban them in various US states such as San Francisco. Countries across the world such as Australia have already followed this line," states Sarah.
An open letter has been sent to Hon Jenny Salesa, the Associate Minister Health for New Zealand. The signatories point out that Salesa's reluctance to move forward with sensible regulations is a detriment to both adult smokers, vapers and children. Their call is supported by The Vaping Trade Association of New Zealand (VTANZ).

VTANZ says it supports the letter from over 60 health and community organisations, academics, and school representatives calling for legislation to be urgently introduced to regulate vaping.
Peter Hajek is Professor of Clinical Psychology and Director of the Tobacco Dependence Research Unit at the Wolfson Institute of Preventive Medicine, Queen Mary University of London. He is an acclaimed expert in tobacco harm reduction and this year published a truly groundbreaking study demonstrating that vaping works better than NRT.

Peter Hajek's research is concerned primarily with understanding health behaviours, and developing and evaluating behavioural and pharmacological treatments for dependent smokers. Professor Hajek is a member of a number of expert groups, advisory bodies and editorial boards, and has authored or co-authored over 350 publications.
Researchers from the University of Bari and the National Institute of Health in Rome have published a paper looking at second-hand ultrafine particles. They express concerns, but this topic of investigation was roundly debunked by leading advocate Clive Bates five years ago.

This "study aims to evaluate the impact of e-cig second-hand aerosol on indoor air quality in terms of ultrafine particles (UFPs) and potential inhalation exposure levels of passive bystanders," write the Italian authors.
---

---
Smoking cessation interventions tailored for disadvantaged socioeconomic position:
Loren Kock, Jamie Brown, Rosemary Hiscock, Harry Tattan-Birch, Charlie Smith, Lion Shahab
For this systematic review and meta-regression, we searched MEDLINE, PsycINFO, Embase, Cochrane Central Register, and Tobacco Addiction Register of Clinical Trials and the IC-SMOKE database from their inception until Aug 18, 2019, for randomised controlled trials of socioeconomic-position-tailored or non-socioeconomic-position-tailored individual-level behavioural interventions for smoking cessation at 6 months or longer of follow-up in disadvantaged groups. Studies measured socioeconomic position via income, eligibility for government financial assistance, occupation, and housing.
Than They Were in 1999, the CDC Insists No Progress Has Been Made
Brian King, deputy director of the Office on Smoking at Health at the U.S. Centers for Disease Control and Prevention (CDC), claims the latest survey data on teen tobacco consumption "indicate that past progress in reducing youth use of these products has been erased." That is true only if you define tobacco-free e-cigarettes as "tobacco products," which the CDC does, and if you ignore the enormous difference between the hazards of smoking and the hazards of vaping, which the CDC also does.
Ian Irvine
The emergence of vaping and e-cigarettes worldwide poses a twin challenge to health policy making.

Most vaping involves the inhalation of nicotine – some involves cannabis or simply flavoured e-juices. Since nicotine is an addictive substance, e-cigarettes are simultaneously a potential entry vehicle to nicotine dependence on the part of teens who choose to experiment with them, and a potential exit from the health horrors associated with smoking conventional cigarettes.
Shannon Palus, Slate
We need more words for vape. That has become enormously clear over the past few months as we have muddled our way through vaping-associated pulmonary illness, a mysterious phenomenon in its own right, and ended up perhaps even more confused and muddled than before. "A Google News search for 'vaping illness' yields more than 130,000 results, many of which fail to clearly communicate the type of products implicated in the outbreak," Jacob Grier pointed out in a recent piece for Slate. The policy responses to the vaping epidemic suffer problems that I think stem from the same cause: It's hard to understand what people are really talking about when they talk about "vaping"! Also, it's just hard to communicate to your friends that you have the good kind of vape.

Dr Patrick Basham
The recent ban on e-cigarettes imposed by the Indian government is not a wise decision. If it is implemented, it will condemn millions and millions of Indians to premature death because they will not have the opportunity to move from smoking traditional combustible cigarettes to far less harmful products like e-cigarettes etc.

Shahid Akhter, editor, ETHealthworld, spoke to Dr. Patrick Basham, Director, Democracy Institute, Washington to know his opinion on e-cigarettes and what does he think about India's recent ban on e-cigarettes.
Want sale of e-cigarettes legalised
69 per cent of Malaysian smokers say they want to see legislation that would allow for the distribution and sale of nicotine e-cigarettes so that they can have a viable alternative to help them quit regular cigarettes.

A majority of Malaysians, or about 66 per cent, believe the government is not doing enough to help smokers quit.
On youth vaping issue – Jessie Hellmann
Kellyanne Conway, a top adviser to President Trump, said Thursday that Trump is trying to strike a balance on regulating e-cigarette flavors that preserves the products for adults but keeps them from children.

"He's looking for a way to respect and recognize and accommodate the fact that e-cigarettes have a public health benefit for those legal adult users who are trying to come down from combustibles [cigarettes]," Conway told reporters.
Banning flavors hurts adults like me – Nick Orlando
I discovered vaping in 2008 after smoking cigarettes for 30 years. It was life changing. I had wanted to quit but nothing I tried helped me — not the patch, pills, nicotine gum or the cold turkey route.

The first couple of times I tried vaping, I was skeptical it could replace or even wean me off cigarettes. But I found that it helped me accomplish something I never thought was doable — quit smoking entirely.
Sarah Gantz
As soon as Mayor Jim Kenney signs a bill approved Thursday by City Council, Philadelphia will join a growing list of cities acting to keep nicotine products away from children.

The bill bans sales of flavored and high-nicotine e-cigarettes at stores that teens and children are allowed to enter. Kenney, who introduced the measure with Philadelphia Health Commissioner Thomas Farley, is expected to sign the legislation by the end of the year.
A ban on the sale of flavored tobacco products, even combined with a new 75% excise tax on e-cigarettes, is expected to cost the state $93 million in fiscal 2021, according to figures from the Department of Revenue included in testimony by the Beacon Hill Institute for Public Policy Research.

Gov. Charlie Baker last week signed a bill that will ban the sale of all flavored tobacco products — including mint and menthol cigarettes — beginning June 1, 2020.
By Minnesota patients with lung injury
Vitamin E acetate appears to be a common link among the products containing THC used by patients with electronic cigarette- or vaping-associated lung injury, or EVALI, in Minnesota, according to a report published in Morbidity and Mortality Weekly Report.

Sixteen of the 96 patients with confirmed or probable EVALI identified from Aug. 9 to Oct. 31, 2019, in Minnesota provided samples from 265 products for testing to the Minnesota Department of Health. Of the 67 products selected for testing, 46 contained THC and 21 contained nicotine. Samples were evaluated using gas chromatography-mass spectrometry.
Nova Scotia has joined a growing list of provinces clamping down on vaping. Health Minister Randy Delorey announced Thursday the province will be the first to ban sales of flavoured e-cigarettes and juices in regulatory changes that take effect April 1, 2020.

"This decision is in response to our concerns about the growth in particular of youth vaping," said Delorey.
---
A look back at how things have moved on or otherwise….
Diane Caruana, Vaping Post
An article on New Nicotine Alliance Australia (NNA AU), said that during a meeting with a number of well respected Tobacco Harm Reduction advocates, one of the topics brought up was the use of the word e-cigarette. This is the term most commonly used to describe a device that has helped millions successfully quit actual cigarettes worldwide.

Countless studies have indicated that these products are significantly safer than actual cigarettes, and yet a large portion of the public remains confused and misinformed about their relative safety.
Mawsley, Planet Of The Vapes
"Vaping as an alternative to smoking relapse following brief lapse" is a paper written by Caitlin Notley, Emma Ward, Lynne Dawkins, Richard Holland, and the New Nicotine Alliance's Sarah Jakes. The team argue that vaping helps prevent a brief lapse into smoking from becoming a full relapse. Clive Bates calls this study "cool" and a "must-read".
From Health Professionals versus Tobacco or Electronic Cigarette Companies: Differences by Subgroups and Implications for Tobacco Messaging.
Vereen RN, Pubmed
Smoking behavior may be influenced by perceived trust of information from tobacco and e-cigarette companies about their products. The purpose of this study was to identify sociodemographic subgroups with more trust in tobacco product (tobacco and e-cigarette) companies than health professionals and explore associations between this relative trust and tobacco product use.
---
Visit Nicotine Science & Policy for more News from around the World

---