Vaping Digest December 9th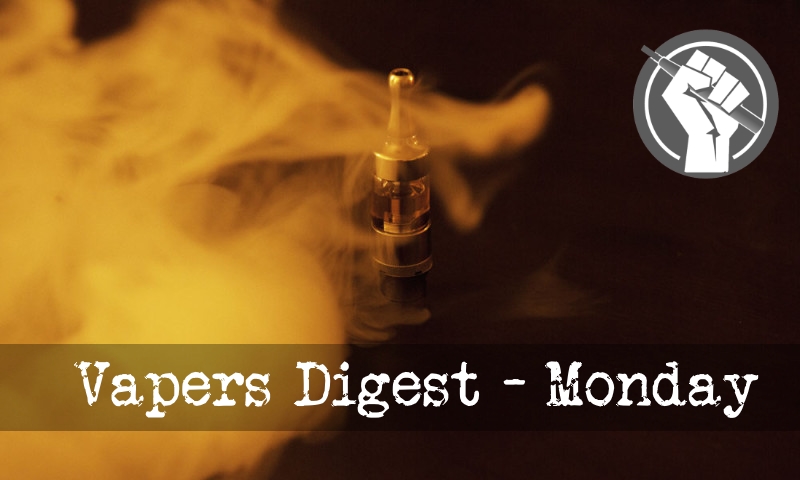 Monday's News at a glance:
FDA's So-Called Laser Targeted Advertising – Vaping In The News – December 7th – Flavors Aren't the Main Reason Kids Vape – A ban on flavours will not help reduce smoking levels – Outbreak of Salmonella Poisoning – Sommet De La Vape – Loopy Lung Reports Lambasted – Australia's ATHRA Heroes – Public Health Officials Should Support E-Cigs – This is the Real Reason Your State Wants to Ban Vaping – Bogus Studies Seek Ruin for Vaping – When patients ask about vaping – Does The ALA Have A Financial Conflict Of Interest? –  Officials list pot vape brands reported in US outbreak – Flavour ban will have 'little impact – Tobacco-free snus a viable alternative in Africa – Baker mystified by response to vaping ban – Nicotine Science and Policy Daily Digest
Brad Rodu, Tobacco Truth
The U.S. Food and Drug Administration for the last year has been investigating JUUL for targeting teens in their advertisements.  Then-FDA Commissioner Scott Gottlieb blamed JUUL in September 2018 for what he called an epidemic of high school vaping.

JUUL denies it targeted teens.  Writing in TheCut on August 27, 2018,, Katie Heany noted that "Juul's initial ad campaigns from 2015 included only models age 21 or over," but she suggested that the company was guilty of attracting teens through the use of "splashy design, minimalist lettering, and youthful styling."
Kevin Crowley, Vaping Links
Vape shop owner: I quit smoking thanks to vaping. Banning flavors hurts adults like me ~ American Lung Association's Lies About E-Cigarettes are Dangerous and Irresponsible ~ Although Teenagers Are 80% Less Likely to Smoke Than They Were in 1999, the CDC Insists No Progress Has Been Made ~ Read between the lines ~ Tweets of the week ~ Christmas for Massachusetts Vape Families ~ Grinch Relief Fund ~ Curiosity ~ Obsolete tobacco control themes can be hazardous to public health ~ Silly thoughts ~ Smoke-Free Radio
---

---
Jim McDonald, Vaping 360
How many times have you heard public health agencies and anti-vaping organizations claim that flavors are the primary reason teenagers vape? It's been repeated often enough that many, and maybe even most, people believe it.

But a new analysis of data from the 2019 National Youth Tobacco Survey (NYTS), released last week by the Centers for Disease Control and Prevention (CDC) and the FDA, shows that flavors are definitely not the main reason kids vape. The top spot belongs to curiosity.

Among the teens who were surveyed, 56.1 percent listed curiosity as a reason they tried e-cigarettes. That was more than double the next most popular reason, "friend or family member used them" (23.9 percent).
Will not help reduce smoking levels – Vape Business Ireland
Vape Business Ireland (VBI) does not support a ban on flavours as flavours play an important role for adult smokers looking for a less harmful alternative product. The intention of flavours is to give consumers product choice, and it is not intended for use by those under 18. There is no evidence to support the assertion that vaping is "normalising smoking" or that it is a gateway to smoking. 99% of those who vape in Ireland are adult ex-smokers according to the 2019 Healthy Ireland Survey, released by the Department of Health in November.

Over a period of four years, Vape Business Ireland (VBI) has directly called on the Minister for Health and the Department of Health to bring forward legislation to prohibit sale by, and to, those under the age of 18.
---
---
From Contaminated Vegetables in Massachusetts
Michael Siegel, The Rest of the Story
Despite an outbreak of vegetable-associated Salmonella poisoning linked to products sold at Massachusetts restaurants that has affected 90 Massachusetts residents and resulted in three deaths, the Massachusetts Department of Public Health is refusing to release any information on the restaurants at which the patients ate or the exact products they consumed. The Department has revealed only that the outbreak is associated with "vegetable products" and that some of the patients reported having eaten vegetables at restaurants in the Commonwealth.

Three from Dave Cross, Planet of the Vapes
The 3rd "Sommet de la Vape" vape summit was held last month in Paris. It is an annual event organised by the French Sovape consumer rights association. Nearly twenty experts, scientists, public health researchers, health professionals, and professionals from the independent vaping sector met to discuss the major issues and challenges to vaping and tobacco harm reduction.

Videos of the presentations and debates from Sommet de la Vape have now been released (either in English or with English subtitles/dubbing).
The Australian Tobacco Harm Reduction Association (ATHRA) is taking a heroic stand in fighting for the rights of smokers to reduce their exposure to harm and switch to vaping. It is reporting that vaping has been banned in the Northern Territory, the Australian Retail Vaping Industry Association has been launched and complains about the Chief Medical Officer of Australia misrepresenting evidence.

"The Northern Territory Minister for Health has ruled that all nicotine vaping is a criminal offence, whether the user has a nicotine prescription or not. All Territory vapers are now at risk of a $15,400 fine or 12 months in jail," writes Colin Mendelsohn.
University of California San Francisco (UCSF) quacks have hit the headlines again, this time with reports of a patient's breathing difficulties and claiming it demonstrated "hard-metal pneumoconiosis". They published their report in the compliant European Respiratory Journal. Professor John Britton strikes a damning blow on the team's writing and conclusions.

Hard-metal pneumoconiosis is an occupational disease impacting upon workers exposed to dust from hard metal objects. It is also known as tungsten carbide pneumoconiosis, hard metal lung, giant cell interstitial pneumonitis and cobalt lung.
---

---
In Effort to Make Conventional Cigarettes Obsolete – J.J. Rich
Amid an unprecedented percentage of teens reporting that they had vaped at least once during the past month, the Trump administration seemed poised to announce a ban on flavors in all nicotine vaping products earlier this month.

Yet after the American Medical Association (AMA) and other leading health organizations urged the White House to finalize the ban, President Donald Trump dissented and chose to delay the proposal. This prompted a temporary sigh of relief among many vaping advocates, but now the AMA is calling for a complete ban on all e-cigarette products, and many are worried about the public health implications of President Trump's impending final decision.
Kimberley Lloyd- Rees – Tandex
Vaping was all over the news towards the end of 2019 and the headlines were not good. The surge of bad publicity was due to a number of deaths in the US that had been attributed to vaping-related lung illness. This prompted the Centers for Disease Control and Prevention (CDC), to publish its recommendations.[i] As of late September, the CDC said it had received over 800 reports of cases of lung injury, with most involving patients aged between 18-32 who had a history of e-cigarette product use.
---
---
Your State Wants to Ban Vaping – Wayne Walker
It Has Nothing to do with Health or Your Children
Everywhere you look, headlines about vaping and vapor products have dominated the news. A quick Google search for "Vaping" pulls up article after article detailing how dangerous the technology is and paints a dooming picture of an industry created by Big Tobacco using a new technology to re-addict the members of the United States. On TV, discussions with health experts (many who haven't spent one minute researching the technology) preaching the harms of strawberry flavored steam and warning the parents of America that an epidemic is sweeping the nation. The news about vaping got so bad, according to a recent Reuters poll more Americans today believe vaping is more harmful than traditional cigarettes.
Have A Financial Conflict Of Interest? – Cameron English, ACSH
The ALA does not approve of e-cigarettes, despite the fact that thousands of smokers have used them to quit. Is their reluctance to acknowledge the utility of e-cigarettes due to a financial conflict?

I bought my first electronic cigarette (e-cigarette, e-cig) in 2012. After a month of smoking and using an e-cig (vaping), I finished off my last pack of Camels and gave up tobacco forever. There are thousands of Americans who have followed that same path to a smoke-free life.

Question industry motives for backing higher purchasing age – Jessie Hellmann
Public health and anti-tobacco advocates are no longer facing fierce opposition from the tobacco industry in their push to raise the legal purchasing age from 18 to 21.

The reversal, prompted in large part by rising youth vaping rates, means tobacco companies such as Altria are now on the front line pushing "Tobacco 21" legislation in state legislatures and on Capitol Hill in an effort to stave off stronger regulations that could have disastrous effects on the industry, including bans on the sale of flavored tobacco products that are appealing to kids.
On youth uptake' according to Canadian Vaping Association
"The first aspect for us, is that a full flavour ban will have very little impact on youth uptake, and the second is the impact it's going to have on tens of thousands of Nova Scotians who have chosen vaping as a far less harmful alternative to combustible tobacco," explains Temptest.

He continues, saying this will negatively impact both youth, and those attempting to quit smoking.
To cigarettes in Africa – Joseph Magero
Although smoking rates in Africa have increased, cessation rates have remained very low. Currently, Africa has about 77 million cigarette smokers, with over 250,000 of them dying of smoking related diseases every year. With cessation services hard to come by, Africa can benefit from the tobacco harm reduction approach, a public health strategy that lowers the health risks to individuals and wider society associated with smoking.
WITH HIS TEMPORARY BAN on vaping product sales set to end next week when public health officials adopt a new set of vaping rules, Gov. Charlie Baker this week expressed some surprise that other states did not follow his lead amid an outbreak of vaping-related illnesses.

After Baker spoke Thursday at the Pri-Med East conference, moderator Dr. Frank Domino from the UMass Medical School in Worcester thanked the governor for his "fantastic" work to address vaping and said it was widely appreciated in the medical community. The audience gave the governor a hearty round of applause.
Mike Stobbe
Health officials investigating a nationwide outbreak of vaping illnesses have listed, for the first time, the vape brands most commonly linked to hospitalizations. Most of the nearly 2,300 people who suffered lung damage had vaped liquids that contain THC, the high-inducing part of marijuana.

In a report released Friday, the U.S. Centers for Disease Control and Prevention listed the products most often cited by patients, noting that some of them said they vaped more than one. Dank Vapes was the brand used by 56% of the hospitalized patients nationwide.
Adam Saville
Last week we reported on a Reuters article revealing that three major reinsurers had issued updated guidance urging life insurers to be more cautious around pricing for some vapers, following a slew of e-cigarette related deaths in the US (a total that has reached 47).

The types of vapers mentioned included younger users (under 25) and those exposed to substances considered more toxic which are legal in the States, such as Tetrahydrocannabinol (THC) and cannibis oil.
---
A look back at how things have moved on or otherwise….
Michelle Minton – CEI
The rise of a vibrant market for e-cigarettes has been a blessing for many smokers. After many failed attempts to quit, e-cigarettes provide an exciting new means for smokers to reduce their exposure to the harmful aspects of combustible cigarettes or even break their life-threatening smoking habit entirely.

Although research on e-cigarettes has yet to definitively calculate the precise long-term risk associated with vaping, reputable scientific institutions are increasingly coming to the same conclusion—e-cigarettes are vastly safer than smoking, help smokers quit, and are a net positive for public health
Harry's blog 77
Sometime in the 1990s, the UK TV station Channel 4 conducted what was called A Citizens' Jury concerning drugs. A group of 12 citizens were chosen to hear some actual evidence-based information about drugs They were quizzed before the show about their knowledge and attitude to drugs with predictable results. Then over a period of days they heard testimony about drug harm reduction, the arguments for reform and drug effects.
---
Visit Nicotine Science & Policy for more News from around the World

---