Vaping Digest December 11th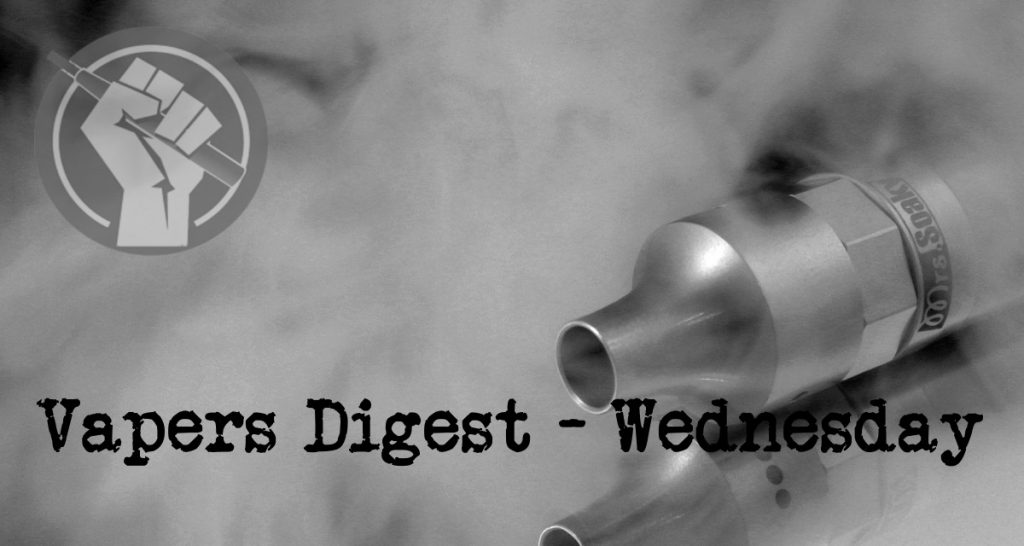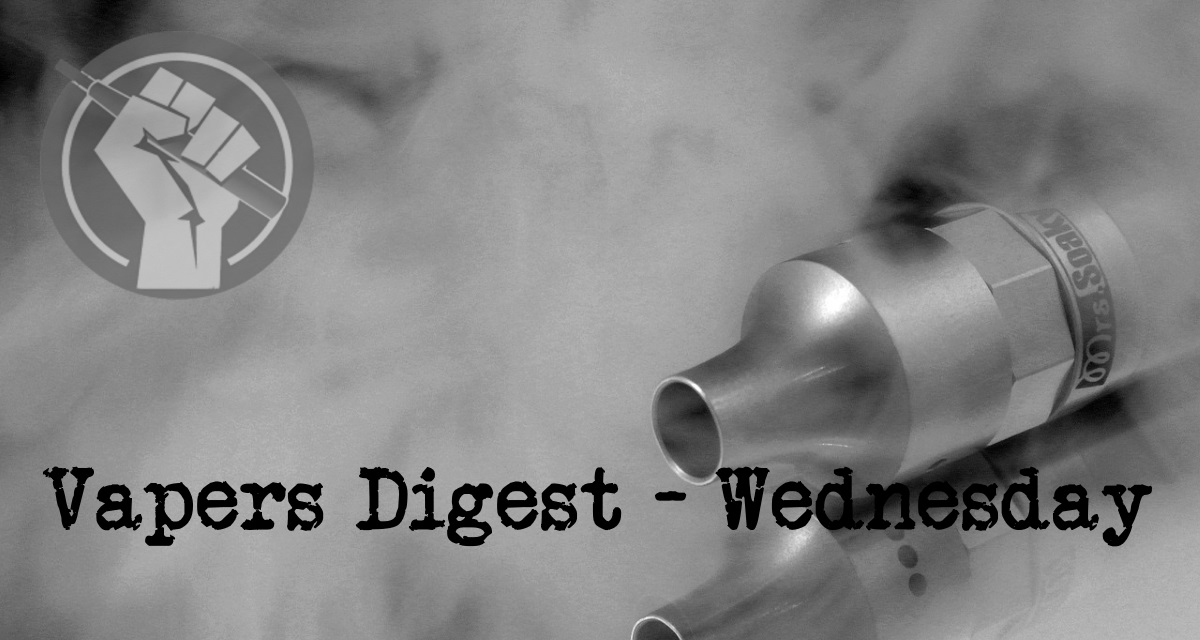 Wednesday's News at a glance:
The vaping crisis – Questions and answers by Clive Bates ~ Tobacco harm reduction and human rights ~ Study: Is There Carbon Monoxide in E-Cig Vapor? ~ Doctors raise concern that ban on e-cigarettes will increase lung cancer, lung disease cases ~ NNA Jakes on Radio ~ ASH Issues Pharmacist Advice ~ 2019 NYTS Provokes Rebuke ~ Here's More Evidence That Flavors Aren't the Reason Teens Vape ~ DEHUMANIZED | How Tactics Used in the "War on Drugs" Could Crush Vaping ~ Canada Pension Plan Investments in Top Mining, Oil & Tobacco Companies ~ Why demonize the electronic cigarette? ~ Federal Court Rejects Nicopure Appeal; What's Next? ~ Regulating e-cigs better for public health – harm reduction expert ~ In Campaign To Stop Teen Vaping, States Turn To Tried-And-True Remedy: Taxes ~ N.Y. set to renew flavored e-cigarette ban ~ Mass. Just Lifted Its Ban On Vaping Product Sales. Here's What You Need To Know ~ Juul Is Now Valued at $19 Billion, Down From $38 Billion a Year Ago
Clive Bates, Drug Science
Foreword by Professor David Nutt

Lies, damn lies and vaping statistics- To paraphrase Disraeli's famous critique of statistics the so-called science of vaping now seems to have become even worse than dishonest. In the past 6 months we have seen across the world a deliberate attempt to mislead the public over the harms of vaping nicotine and other cigarette substitute products by conflating them with the recent deaths from vaping d9THC I vitamin acetate oil. This set of FAQs by a leading tobacco harm expert Clive Bates sets out to put the record straight. We believe they need maximal exposure so have put them up on the Drug Science website to facilitate this.

Clive Bates is a former Director-General with the Welsh Government and has worked with the United Nations to formulate sensible policy.  Recently, he has written extensively on the topic of vaping and has kindly agreed to share some of his most frequently asked questions.
Joseph Magaro, Medium
Cigarettes are smoked by over 1 billion people, which is nearly 20% of the world's population . Smoking increases your risk of developing more than 50 serious health conditions,some may be fatal, and others can cause irreversible long-term damage to your health.Repressive tobacco control policies and practices create and exacerbate the harms associated with smoking. One of the barriers to smoking cessation via product switching is misinformation about nicotine products. Cigarette smokers can benefit from safer nicotine products even before abstaining from nicotine use, and the denial of access to these products makes them more vulnerable to a range of health and social problems.
Lee Johnson, Ecigarette Reviewed
™
Carbon monoxide is one of the many dangerous chemicals found in cigarette smoke, and the fact it isn't found in e-cigarette vapor has long been touted as one of the main benefits of switching. When you inhale carbon monoxide, it mixes with hemoglobin and disrupts the ability of your body's cells to carry oxygen, and this is why avoiding it is a big benefit of vaping.
---
Times Of India
After Parliament passed the Prohibition of Electronic Cigarettes Bill, 2019, doctors have raised concerns about people becoming vulnerable to chronic heart and lung diseases.

Suggesting that the government should have conducted more studies before banning e-cigarettes, Dr Bharat Gopal, Senior Pulmonologist and Director of National Chest Centre, Delhi, said, "There is data available regarding e-cigarettes as smoking cessation devices from the UK, so Indian studies should have been taken up by the government as well as health organisations.
Dave Cross, Planet Of The Vapes
New Nicotine Alliance's Sarah Jakes was invited on to 105 Uckfield to speak in response to comments about vaping made by "Health and Wellbeing expert" Kate Shemirani. Sarah put across, as 105 Uckfield termed it, "the other side of the issue."

Two MORE from Dave Cross, Planet Of The Vapes
Action on Smoking and Health (ASH UK) has issued advice to pharmacists on how to help smokers to stop smoking. Speaking for the organisation, chief executive Deborah Arnott told them that smoking cessation advice could and should include information about vaping.
The U.S. 2019 National Youth Tobacco Survey has provoked a strong rebuke for people campaigning against vaping from Paul Blair, the Director of Strategic Initiatives at Americans for Tax Reform. He said: "77.7% of youth do not cite flavours as the primary reason for their use of e-cigarettes. The FDA and HHS had this data in September and held it until today. We deserve answers."
---
Alex Norcia, Vice
During a meeting Donald Trump held about the vaping epidemic in November, Mitt Romney suggested a reason for the spike in teenage usage: unicorn poop.

Trump had invited both critics and advocates for e-cigarettes to the gathering in a rare moment of civilized debate, as if he were actually looking to better understand the issue. He had been waffling for weeks about what to do, entertaining at one point a full-on ban of flavored vaping products, though his campaign staff reportedly talked him out of it, fearing that such a strategy could antagonize a chunk of his political base.
---
Final push for this. Smokers/vapers – please help us by rating these text messages @CABR_LSBU @cat_kimber @VassilisSide @Sharon_ACox @FringsDaniel https://t.co/vwIF6J4m3D

— Lynne Dawkins (@LynneDawkins) December 11, 2019
---
Brent Stafford, Regulator Watch
Every attempt to isolate a cause to explain the war on vaping faces its difficulties, as no cause is entirely defective in explanation, yet neither is any satisfyingly sufficient to explain the level of hysteria engulfing the nation. Clues are best found by examining similar phenomenon and terrifyingly, there's no better example than the decades-long battle in the "War on Drugs."

In this edition of RegWatch we're joined by Ethan Nadelmann, founder and former director of the Drug Policy Alliance and member of the advisory board of the Open Society Foundation's Global Drug Policy Project.
---
Coat, NCF
A list of the top pension plan investments in mining, oil and tobacco companies
---
Editor note: (Must Translate to English using Google Chrome)
, College of Family Physicians of Canada
Quebec nevertheless requires the electronic cigarette (EC) to the same restrictions as tobacco cigarettes by caring wrongly proximity fumes 4 . Current negative publicity conceals the fact that EC is 95% safer than cigarettes because it does not contain tars (carcinogens), no fine particles (COPD, asthma) or carbon monoxide (MCAS, AVC). It contains certain substances whose long-term effect is unknown and which may be irritating to the bronchi, but these are in minute amounts compared to the concentration 10 to 450 times higher than the thousands of toxic substances found in cigarettes.
---
Jim McDonald, Vaping 360
A federal court has denied the vapor industry's appeal of a lower court decision that upheld major provisions of the FDA Deeming Rule. Whether the decision will be appealed further hasn't yet been decided.

A three-judge panel of the U.S. Circuit Court of Appeals for the District of Columbia unanimously rejected the arguments of the Right to be Smoke Free Coalition and Nicopure Labs. The original Nicopure lawsuit was filed less than a week after the FDA announced the Deeming Rule in May 2016.
Staff, Inquirer News
A Washington, D.C.-based harm reduction expert, who was invited to speak during the joint hearing of the House Committees on Health and Trade and Industry, is pleased that Congress is now leaning towards the regulation of electronic nicotine delivery systems (ENDS), otherwise known as e-cigarettes, versus an outright ban on the said products.

Carrie Wade, Director of Harm Reduction Policy of think tank R Street Institute, told DZIQ Radyo Inquirer in an interview that regulating e-cigarettes is a "better pathway for public health" as "a ban would only create criminalization".
---

Bethany Bump, Times Union
New York health officials intend to renew emergency regulations banning the sale of flavored e-cigarettes in the state, just days before existing regulations are set to expire without ever having been enforced.

State health officials approved the ban at Gov. Andrew Cuomo's direction in September, amid concern over nationwide reports of vaping-associated illnesses and deaths, and rising youth use. But its enforcement was blocked following a successful legal challenge by the vaping industry.
Angus Chen

, CommonHealth
Gov. Charlie Baker's administration lifted the emergency vaping products sales ban Wednesday during a meeting of the state's Public Health Council. That means some products will again be available for legal purchase, but the retail sale of flavored vaping liquids will remain illegal, under a recently passed state law.

Baker announced the temporary ban in September, citing a lack of information about the cause of a growing number of cases of lung illnesses and some deaths across the country and in Massachusetts. Public health officials have linked the illnesses to vaping.
Juul Labs is ending its troubled year with yet another valuation drop. The e-cigarette maker had one of its major investors, Tiger Global Management, value the startup at just $19 billion this week.

While the figure is still impressive, the news follows a recent reassessment of the tech unicorn's worth by hedge fund Darsana Capital Partners, which announced in October it had cut Juul's valuation to $24 billion.
---
Visit Nicotine Science & Policy for more News from around the World

---