Vapers Digest December 7th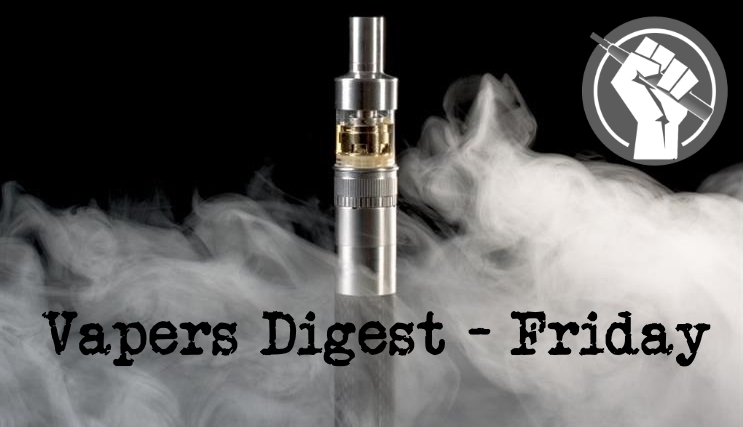 Friday's News at a glance:
Fear Profiteers – Between a hard rock and a soft face – Local tobacco control profiles for England – New Bipartisan Anti-Vaping Bill – AMA advice to MPs set to trigger more deaths from smoking – PMTA for low-nicotine cigarettes – The Lamentable Lancet – PMI Accuse Tobacco Controller Of Lying – UK vaping regulation after Brexit – Shake And Vape – Gottlieb Doesn't Monkey About – Erie County bans smoking in cars with kids – Need for a 'consistent' science-based view on e-cigarettes – Nicotine Science and Policy Daily Digest
Michelle Minton – CEI
The rise of a vibrant market for e-cigarettes has been a blessing for many smokers. After many failed attempts to quit, e-cigarettes provide an exciting new means for smokers to reduce their exposure to the harmful aspects of combustible cigarettes or even break their life-threatening smoking habit entirely.

Although research on e-cigarettes has yet to definitively calculate the precise long-term risk associated with vaping, reputable scientific institutions are increasingly coming to the same conclusion—e-cigarettes are vastly safer than smoking, help smokers quit, and are a net positive for public health
Harry's blog 77
Sometime in the 1990s, the UK TV station Channel 4 conducted what was called A Citizens' Jury concerning drugs. A group of 12 citizens were chosen to hear some actual evidence-based information about drugs They were quizzed before the show about their knowledge and attitude to drugs with predictable results. Then over a period of days they heard testimony about drug harm reduction, the arguments for reform and drug effects.
---

---
December 2018 update – Public Health England
The Local Tobacco Control Profiles data update for December 2018 has been published by Public Health England (PHE).

These profiles have been designed to help local government and health services to assess the effect of tobacco use on their local populations. The data are presented in an interactive tool that allows users to view them in a user-friendly format.
Jim McDonald, Vaping 360
A bipartisan bill to help schools fight the supposed "epidemic" of teenage vaping was introduced in the Senate this week. The legislation has the unintentionally hilarious name the Smoke Free Schools Act.

Vaping is by definition smoke-free, of course. A school with a thousand vaping students would still be smoke-free. But U.S. Senators, despite regularly speaking out on the issue, may not be aware of that. It's hard to tell exactly what they know, but you can bet that they get their information from the absolute worst sources.
---
---
Set to trigger more deaths from smoking – ATHRA
The West Australian AMA (Australian Medical Association) recently distributed a letter about vaping to West Australian federal MPs. Although well intentioned, ATHRA believes this advice is misinformed and will lead to additional premature deaths among West Australian smokers unless it is corrected.

This has occurred at a time when adult smoking rates have not fallen in WA since 2014. We should be doing everything we can to help smokers quit.
Tobacco Reporter
22nd Century Group has submitted a Premarket Tobacco Application (PMTA) with the U.S. Food and Drug Administration (FDA) seeking authorization to commercialize the company's Brand A cigarette products under the proposed brand name VLNTM (the product name is subject to FDA approval). 22nd Century's proposed VLNTM cigarettes are made with the company's proprietary VLNTM tobacco and, as a result, contain very low levels of nicotine.
---

---
Four from Mawsley – Planet of the Vapes:
The latest issue of The Lancet carries yet another anonymous piece, repeating the old arguments against vaping and tobacco harm reduction. It champions a return to the policies that failed millions of smokers and advocates getting tougher on vaping. While warning about history repeating itself, it pushes for a return to stalled smoking rates and failed approaches.
Dr Lindsay Robertson is a researcher at the Department of Preventive and Social Medicine at New Zealand's University of Otago. She claimed she visited an IQOS store in Seoul, South Korea, and was sold products without any checks. Philip Morris International (PMI) Vice President Dr. Moira Gilchrist was quick to rebuff claims, stating that video evidence proved the claimed events didn't happen.
Thanks as always to @dnglos for the YouTubage
The Sunday Times carried an article with the salacious title "Vaping flavours sold on Amazon dodge rules to appeal to children". It focussed on brands that steal the intellectual property of major food and confectionary products manufacturers. Trade body UK Vaping Industry Association (UKVIA) would support an increase in oversight of this unregulated section of the juice market.
The Food and Drug Administration's (FDA) Commissioner Scott Gottlieb has made one of the weirdest statements of the week, as he salutes test lab simians: "We honour the monkeys for their service and sacrifice to the FDA". The squadron of squirrel monkeys had been used for nicotine trials and have been seen by some as pouring cold water on the hysteria over its dangers.

The choice on vaping is a no-brainer
Should the government discourage a technology that can save your life because someone else might suffer ill, though nonlethal, effects from using the same technology foolishly? That's the crux of Washington's debate over electronic cigarettes (also known as "vaping").

E-cigarettes appear to be the most effective means for weaning smokers from the cancer-causing combustible tobacco. Fruity-flavored vapor boosts the likelihood of quitting smoking altogether.
County legislators in Buffalo have banned smoking tobacco products in a car with anyone 17 or younger present in the vehicle.

The new Erie County law, which was passed unanimously Wednesday, also bans smoking in and around bus shelters. WIVB-TV reports the law also prohibits any store with a pharmacy from selling tobacco products.
Face 'a make-or-break year' in Washington
"2019 will be a make-or-break year for alternative tobacco product manufacturers to regain control of the flavors debate," said Stefanie Miller of Height Capital Markets in a note Friday.

If they don't succeed on this front, these companies could face government regulations as soon as 2020 that aim to "ban virtually all flavors of every tobacco product — cigarettes and e-cigarettes alike," she said.
Sarantis Michalopoulos
The public health community needs to adopt a consistent science-based view on new generation tobacco products in order to properly inform regulators around the world and thereby shape a stable framework, James Murphy, the head of Reduced Risk Substantiation at British American Tobacco (BAT) told EURACTIV.com in an interview.
---
A look back at how things have moved on or otherwise….
Carl V. Phillips, The Daily Vaper
Last week's science lesson explained how we know that vaping poses little or no health risk, despite the claims that we just do not know enough. One of the favorite tropes offered in support of the latter claim is that it took decades to realize smoking is so harmful, and therefore we cannot know anything about vaping until decades have passed. This is wrong both because we have a good measure of vaping, as previously explained, and because today we would already know smoking is harmful if it had only come to exist in the past few years. ~ First Major Action of Foundation for a "Smoke-Free World" Shows that It is Largely a Scam ~
Lindsey Stroud, The Heartland Institute
In this Research & Commentary, Lindsey Stroud examines a November 2017 long-term study on the effects of e-cigarettes and vaping devices.

In a first-of-its-kind analysis, researchers found "no detectable changes in lung health in never smokers who have been regularly vaping for at least four years," according to a November study published in Scientific Reports. To date, this is the first long-term study analyzing electronic nicotine delivery system (ENDS) users.
Megan Weier, Wiley Online Library
A primary argument for why e-cigarettes should be treated with caution calls upon a lack of evidence concerning whether or not the devices 'work' as a safe and effective form of tobacco harm reduction [1, 2]. Work by Villanti and colleagues [3] adds to the growing body of work that demonstrates that, in controlled randomized settings, e-cigarettes may help adult smokers to quit or reduce their tobacco cigarette consumption. For users of e-cigarettes ('vapers'), this conclusion may serve as a frustrating confirmation of their own advocacy efforts, for many years, to have e-cigarettes recognized as a valid form of tobacco harm reduction [4].
---
Visit Nicotine Science & Policy for more News from around the World

---