Vapers Digest December 10th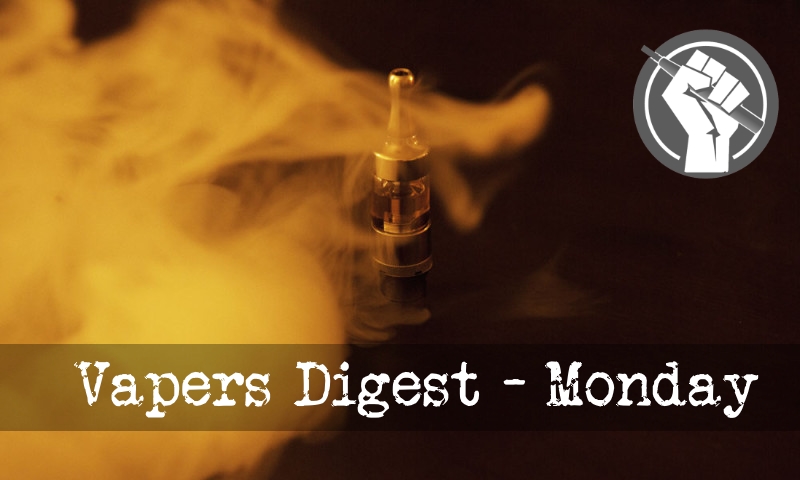 Monday's News at a glance:
Bad news dominates vaping headlines as BAT pushes back against opponents – Science and Technology Committee's Seventh Report on E-cigarettes – How do Vape Shops contribute to 'health on the high street' rankings? – Do not enact the Tobacco Law proposal in Sweden – Drakeford Elected Welsh First Minister – Oz Rates Quash Victory Claims – Youth! Youth! Youth! – Altria Says Goodbye to Vapor – Human Rights & Ethical Considerations – Juul tries to make friends in Washington – E-cigarette sellers held in Hyderabad – As tobacco disappears from shelves – Vaping In The News December 8th – Nicotine Science and Policy Daily Digest
As BAT pushes back against opponents – Fergus Mason
News about vaping was mostly negative this week, with the media portraying at least one more battery explosion as a hazard of e-cigarettes. A Canadian doctor has launched a media campaign that tries to link vaping with smoking, while Altria announced that it's discontinuing its current e-cig brands and cited FDA interference as a major reason for the move.
To the Science and Technology Committee's Seventh Report on E-cigarettes
The Government should conduct a review of regulations on e-cigarettes and novel tobacco products which are currently applied under EU legislation, to identify scope for change post-Brexit, including an evidence-based review of the case for discontinuing the ban on 'snus' oral tobacco. This should be part
of a wider shift to a more risk-proportionate regulatory environment; where regulations, advertising rules and tax/duties reflect the evidence on the relative harms of the various e-cigarette and tobacco products available…
---

---
To 'health on the high street' rankings? – Vaped
You may have seen your local town or city feature in the 'top 10 unhealthiest high streets in the UK' or visa versa. The Royal Society for Public Health (RSPH) has published the 2018 report which sees Grimsby as having the unhealthiest high street.

The ranking system determines bad health by taking into consideration the number of 'unhealthy' outlets, which includes bookmakers, payday lenders and fast food restaurants. A healthy high street is determined by the number places such as libraries, pharmacies and leisure centres.
---
---
New Nicotine Alliance Sweden
We are representatives of a global network of scientists, professionals and 36 civil society advocacy organisations from 34 countries. We, together with numerous national governments, represent a globally increasing movement in recognition and acceptance that "harm reduction" is clearly mandated in the original FCTC (Framework Convention on Tobacco Control). Harm reduction also in tobacco is clearly a human right and that is enshrined in the rights to health and autonomy.
---

---
A Triplet from Mawsley, Planet of the Vapes
Mark Drakeford is back; once Carywn Jones hands in his resignation to the Queen on Tuesday 11th December, Drakeford has been voted in by Welsh Labour to become the assembly's new first minister. Barely recognised by most of the Welsh electorate, he is very well known to vapers across the United Kingdom for his (failed) blinkered and inflexible approach to tobacco harm reduction.
Researchers Suzanne Zhou and Melanie Wakefield actually believe Australia's plain-packaging laws constitute a "Global Public Health Victory" in their latest research paper. News that there has been another rise in male Australian smoking rates stands in stark contrast to such ridiculous statements.
Researchers at the Institute for Therapy and Health Research in Germany have conducted a study looking at vape marketing. Despite data demonstrating that there is no significant increase in the numbers of young people smoking, they concluded that seeing ecig adverts drove teens to tobacco.

Jim McDonald, Vaping 360
Altria will dump its underperforming vapor products, the company announced today. The country's largest cigarette manufacturer is eliminating the MarkTen and Green Smoke brands, along with an obscure oral nicotine product called VERVE.

The company had already dropped its MarkTen Elite and Apex pod devices in October, when it announced its plan to help reduce youth vaping, as ordered by FDA Commissioner Scott Gottlieb. At that time, Altria also said it would stop selling its remaining vapor products in flavors other than tobacco, menthol and mint.
Joseph Magero
Most anti-tobacco policies and legislation ratified under the WHO Framework Convention on Tobacco Control (WHO F.C.T.C) aim to reduce smoking prevalence. Recent years, however, have seen the rise of smokefree products that are much safer for smokers and pose less health risks compared to the traditional cigarettes. This life saving technology under normal circumstances should have been integrated in the fight against smoking, but this has not been the case.
Mental Health Orgs Abandon Vulnerable Smokers
Recently, the Royal Australian and New Zealand College of Psychiatrists (RANZCP) came out in favor of the use of vaping products for people who have a psychiatric diagnosis. The organization released a statement saying, "The RANZCP acknowledges that e-cigarettes and vaporisers provide a less harmful way to deliver nicotine to people who smoke, thereby minimising the harm associated with smoking tobacco and reducing some of the health disparities experienced by people living with mental illness."
Lorraine Woellert & Sarah Owermohle
All the cool kids are doing it. And that's bad news for the nation's top e-cigarette maker.

Facing lawsuits from parents of teenage vaping-product users and threats of crackdowns from regulators over kid-friendly packaging and flavors, Juul Labs has gone on a hiring spree on K Street, ramping up its lobbying spending fourfold in recent months.
The City Commissioner's task force sleuths nabbed two businessmen who were clandestinely selling e-cigarettes with different flavours of tobacco in liquid form and seized e-cigarettes and tobacco products worth Rs 7 lakh from their posession, under the provisions of Cigarettes and Other Tobacco Products Act.

Telangana has banned the sale, manufacture, distribution and storage of noxious tobacco and all its variants.
Local smokers shrug: 'I'm supposed to be quitting anyway.'
Cigarette packs and vaping tools will come off the shelves at drugstores and some grocery and big-box stores within three months in Erie County.

County Health Department officials have pledged to aggressively enforce a law passed Thursday by the County Legislature and to fine any pharmacy retailer that doesn't pull the products.
To ban promotion, advertising of e-cigarettes
Concerned about increasing rates of youth smoking and vaping, the Canadian Cancer Society (CCS) is calling on the province to ban promotion and advertising of electronic cigarettes.

"Vaping is less harmful than smoking, but it's not harmless," said Donna Pasiechnik, a health policy analyst for the CCS in Saskatchewan.
Picking up fast among smokers in Malaysia?
The smoking ban in eateries that will kick in with the new year shows is another move on the part of the government to crack down on smoking. While non-smokers may be pleased with the outcome, how will this affect smokers' decision to quit?

Recently there has been a rise in the use of alternative tobacco products, such as IQOS, Glo and Ploom Tech which are heat-not-burn products that claim to have a significantly reduced harm on the body and environment, while giving smokers the same kick of a cigarette.
Kevin Crowley, Vaping Links
ECigIntelligence Annual U.S. Consumer Survey 2018 ~ Billions in anti-tobacco funds spent elsewhere ~ Glantz Debunked ~ Trust of Information about Tobacco and E-Cigarettes from Health Professionals ~ FDA Delay Costs the Lives of Smokers ~ Don't Be Shocked If Big Tobacco Invests In Juul ~ Unfounded E-Cigarette Fears Help Health Activist Groups But Harm Public Health ~ Required reading: Fear Profiteers ~ U.S. Surgeon General blocks Clive Bates.
---
A look back at how things have moved on or otherwise….
Dick Puddlecote
Many will have already seen this, but just in case you haven't, here is Simon Chapman taken to the cleaners by Senator David Leyonhjelm under parliamentary privilege.

The central point the Senator was making is that Chapman was so woeful in his submission to the Australian Senate Inquiry into e-cigs that Public Health England took the unprecedented step of writing and correcting him.
Fergus Mason, Vaping Post
One of vaping's most outspoken and controversial opponents was facing new questions this week – but now it isn't bad science and twisted data Stan Glantz is being grilled for. A former postdoc in his San Francisco department claims she was subjected to two years of harassment by the 71-year-old activist.

Meanwhile an Illinois city is forcing teen vapers into a programme run by an anti-nicotine extremist, while the UK government continues to push for more sensible regulations on the products and an education campaign to counter anti-vaping propaganda.
Kevin Crowley, Vaping Links
With credentials at stake, two of the top ("self-proclaimed") experts in the tobacco control world have had their reputations questioned this week. Both are were highly regarded by each other along with a select group of individuals. Both are under fire.

Both of the accused are presumed innocent until proven guilty, of course, in a court of law.
---
Visit Nicotine Science & Policy for more News from around the World

---