Vapers Digest December 12th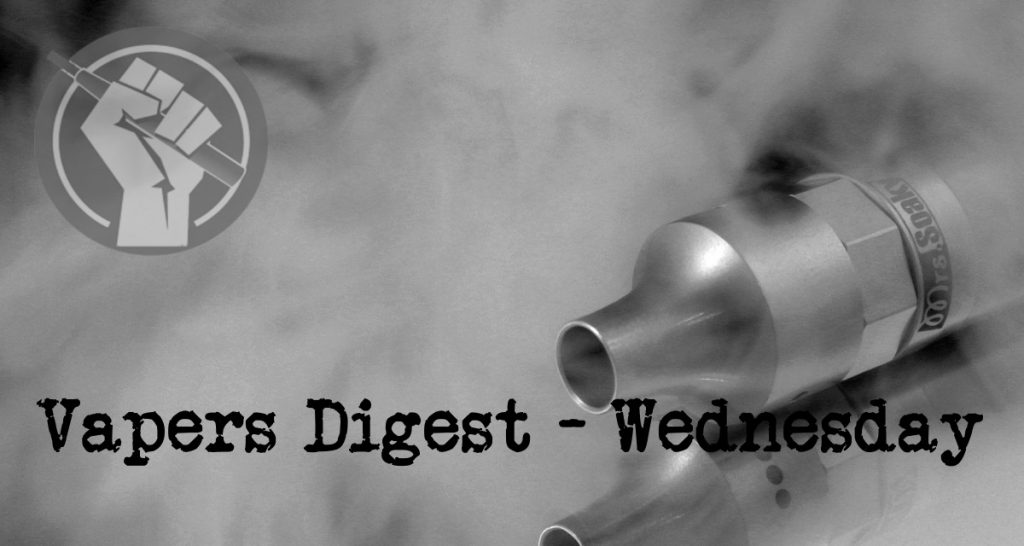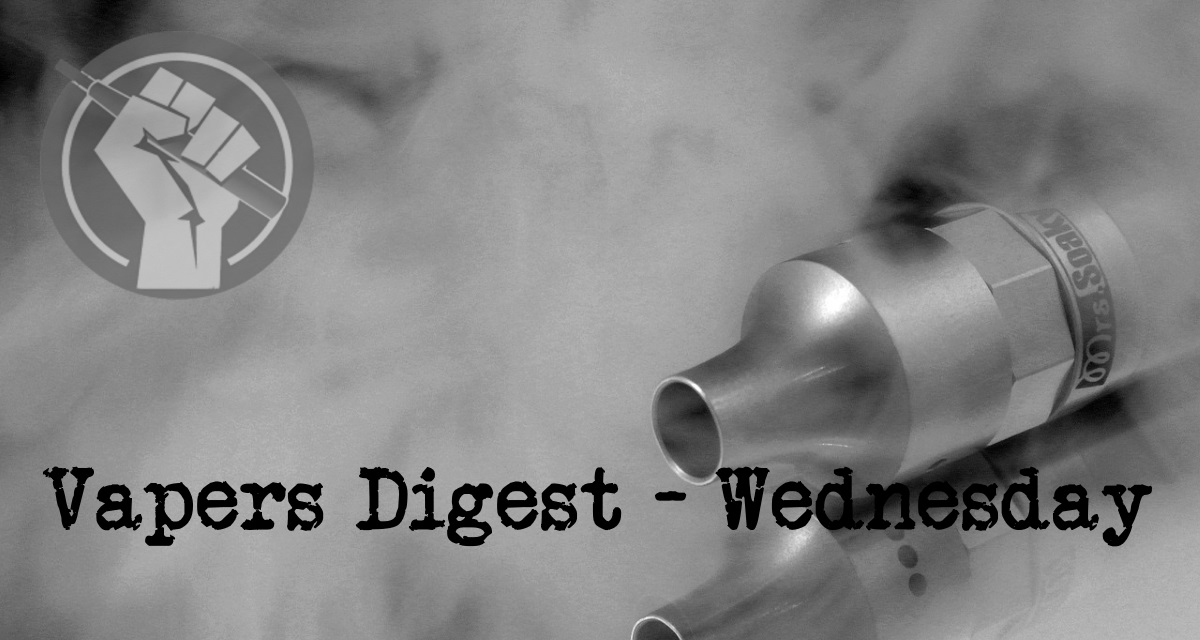 Wednesday's News at a glance:
Open Access Farsalinos ~ Increased e-cigarette regulation increases barriers to health ~ Government endorses the Science and Technology Committee report ~ Science and Technology Committee on e-cigs – the government responds ~ Vape Laws Changed in NZ ~ Ex-Smokers Who Vape: Smoking Lapses and Relapse ~ Oregon Vape Shop Owner Sues ~ Vape Shop Challenges Oregon's Nitpicky Censorship of E-Liquid Labels ~ Blocked Bates Blasts Back ~ Hapai Te Haoura release on tobacco and vaping ~ Altria to marry Canadian pot with big tobacco
Mawsley, Planet Of The Vapes
Dr Konstantinos Farsalinos works at the Department of Cardiology, Onassis Cardiac Surgery Centre, and the Department of Pharmacy at the University of Patras, both in Greece. In the first open access paper Farsalinos looks at the nicotine delivery from vape devices and heat-not-burn (HNB) products. In the second, he looked at how higher power levels change vape device use.

A noticeable difference between vape research conducted by independent sources (and that from the tobacco industry) is that it tends to be accessible by everybody. The majority of papers produced by tobacco control are inevitably locked away behind a paywall, restricting public access and scrutiny.
, Truth On The Market
The Food and Drug Administration has spoken, and its words have, once again, ruffled many feathers. Coinciding with the deadline for companies to lay out their plans to prevent youth access to e-cigarettes, the agency has announced new regulatory strategies that are sure to not only make it more difficult for young people to access e-cigarettes, but for adults who benefit from vaping to access them as well.

More surprising than the FDA's paradoxical strategy of preventing teen smoking by banning not combustible cigarettes, but their distant cousins, e-cigarettes, is that the biggest support for establishing barriers to accessing e-cigarettes seems to come from the tobacco industry itself.
New Nicotine Alliance
Mid-August saw the publication of a report by the influential House of Commons Science and Technology Committee on what the government's approach to vaping and other safer nicotine alternatives should be. It was by far the busiest day of the year for the NNA as our spokespeople were in demand on media from morning till night, as we described in our newsletter that month.
Christopher Snowden, Velvet Glove Iron Fist
The Government broadly accepts this recommendation and is committed to reviewing tobacco legislation as and when appropriate. While the UK Government is a member of the EU it will continue to comply with the requirements of the EU's Tobacco Products Directive 2014/40/EU (TPD), transposed into UK legislation through the Tobacco and Related Products Regulation 2016 (TRPR). The Government has made a commitment to review the TRPR by May 2021 to consider its regulatory impact.
---

---
Mawsley, Planet Of The Vapes
New Zealand has set out a common sense approach to the regulation of vaping and has been widely welcomed by consumers, advocates and experts. New Zealand's Associate Minister of Health Jenny Salesa announced the measures two weeks ago and some are hoping Australia can adopt a similar reasoned approach.
---
---
, Foundation For A Smoke-Free World
Small study; interesting findings. A new article published in Drug and Alcohol Review details how vaping (using e-cigarettes) helps some people avoid relapsing back to smoking. The authors, Caitlin Notley, Emma Ward, Lynne Dawkins, Richard Holland, and Sarah Jakes, have made a clear-headed and nuanced contribution to this controversial field.

The paper is especially interesting to me because it explores the often-rocky path toward smoking cessation. For ex-smokers who quit by switching to vaping, social cues and "trigger events"—like seeing someone smoke or being forced to vape "tobacco flavor" because your favorite fruit flavor was just banned—may lead to relapse. Which is bad.
Jim McDonald, Vaping 360
An Oregon vape shop owner is suing the state over rules that prevent vendors from truthfully describing the vapor products they sell. Paul Bates, who owns two Portland vape shops called Division Vapor, is challenging the Oregon Health Authority on free speech grounds.

Oregon has strong free speech laws. According to the Goldwater Institute, which filed the lawsuit on Bates' behalf, "The Oregon free-speech clause provides that 'no law shall be passed restraining the expression of [speech] freely on any subject whatsoever.' This means that, unless a recognized historical exception applies, the government cannot censor speech."

Related:

Jacob Sullom, Reason

In the stock room at Division Vapor in Portland, Oregon, there is a metal rack holding all manner of e-liquids with a sign reminding employees to "Censor Before Stock!" It refers to state regulations that require merchants to obscure allegedly child-enticing images and words before displaying vaping products to customers. Division Vapor uses stickers to comply with the state-mandated censorship, which in many cases requires covering almost the entire label.
---

---
Mawsley, Planet Of The Vapes
Clive Bates is one of the foremost global experts when it comes to tobacco harm reduction. Once with ASH UK, Britain's leading anti-smoking organisation, he has spoken internationally and writes about vaping and harm reduction. This week, the U.S. Surgeon General went further than ignoring Bates' opinions – he blocked him from all conversations on his social media account.

Staff, Scoop
Hpai Te Hauora hold the national contract for tobacco control, and after having listened to a recent interview on RNZ regarding rangatahi uptake of vaping, we would like to offer our perspective on this issue, which is informed by both evidence and …—

Hāpai Te Hauora hold the national contract for tobacco control, and after having listened to a recent interview on RNZ regarding rangatahi uptake of vaping, we would like to offer our perspective on this issue, which is informed by both evidence and first hand community experience engaging with Māori and Pasifika whanau who are disproportionately burdened by tobacco addiction.
---

---
, , Manitoba Co-0perator
Marlboro cigarette maker Altria Group announced a $2.4 billion investment in Cronos Group on Friday, which could give it up to 55 per cent ownership of the Canadian cannabis producer.

The deal represents by far the biggest investment by a major tobacco conglomerate in a cannabis company. It comes after Canada legalized the recreational use of marijuana this year, and several other jurisdictions, including some states in the United States, follow suit.
---
Visit Nicotine Science & Policy for more News from around the World

---