Vapers Digest December 14th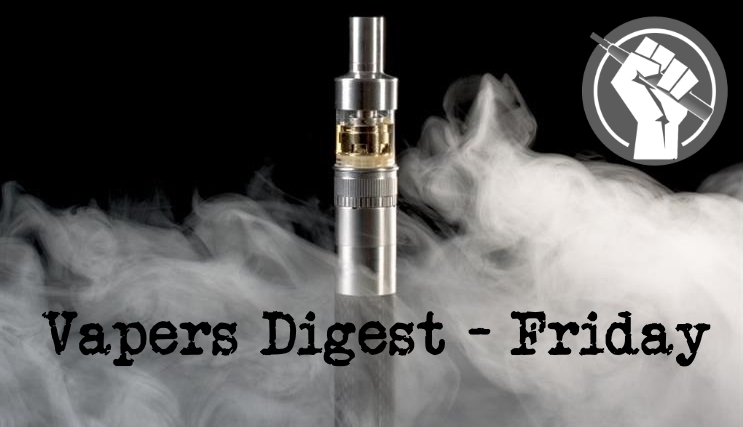 Friday's News at a glance:
Vape Predictions 2019 – Priority Setting Partnership Group – A breath of fresh air for Indigenous smokers – Supporting smokers to switch to significantly less harmful alternatives – NZ's first vape TV ad sparks complaints – BAT Reports On Harm Reduction – NHS Updates Fire Risk Advice – Vape laws in SA based on ideology – Did Ray Liotta really quit smoking with Chantix? – Nicotine Science and Policy Daily Digest
Expert Round Up from Scientists, Industry Leaders, Advocates & More
James Dunworth, Ashtray Blog
For the last seven years, we've been publishing expert predictions on the future of vaping.

The aim is to get a range of perspectives that stretches across geography and interest groups. This year we've stretched further around the globe featuring experts from the UK, France, Canada, the USA, Australasia and Asia. Each expert here has been involved in tobacco harm reduction for a number of years and is able to bring a unique perspective to the challenges and opportunities facing vaping.
First time on a Priority Setting Partnership Group
Louise Ross, UKCTAS
Louise Ross – Clinical Consultant, National Centre for Smoking Cessation and Training.

When I first got the invitation to join the Priority Setting Partnership (PSP) on electronic cigarettes, I had no idea what a PSP was or did, nor had I ever heard of the James Lind Alliance (JLA), the organisation that runs the PSPs.

However, because of what I do, I'm intensely interested in e-cigarettes as a means of stopping smoking and staying stopped, so I read on…
---

---
Colin Mendelsohn, ATHRA
A leading Maori Public Health organisation has provided a breath of fresh air in the tobacco harm reduction debate with a sensible, evidence-based and pragmatic statement on vaping.

Based on their community experience and the research evidence, Hapai Te Haoura strongly endorses vaping for Indigenous communities. The arguments are just as relevant for Australian Indigenous people whose smoking rates are 3 times those of the general population.
---
Thema der Woche:
Die JUUL kommt jetzt auch nach Deutschland und die WHO-Kollaborationsstelle für Tabakkontrolle hat zur 16. Konferenz gerufen.

weiterlesen: https://t.co/Xq70zlSCGT https://t.co/Xq70zlSCGT

— IG-ED (@ig_ed) December 14, 2018
Was yesterdays NIH #vaping Facebook session terminated due to technical difficulties? https://t.co/eaLZmgKAX4
Or did the person running it see that the comments were turning it into a shit show and pull the plug?
I hate to be a conspiracy theorist, but it seems a bit strange…

— VladTheVaper (@Vlad6718) December 14, 2018
---
To significantly less harmful alternatives
This Regulatory Impact Statement seeks to balance the objectives of supporting smokers to switch to significantly less harmful alternatives with protecting children and young people from any risks associated with vaping in particular.

The regulatory controls in the Smoke-free Environments Act 1990 were designed primarily for tobacco products that are smoked. They are inadequate for vaping and smokeless tobacco products, which are less harmful to users.
Damien Venuto
Vaping has arrived on New Zealand's television screens – and some Kiwis aren't happy about it.

The Advertising Standards Authority this week confirmed to the Herald that a new TV ad for Kiwi vape brand Alt has attracted two complaints from concerned members of the public.

ASA chief executive Hilary Souter said the complaints had only recently been made and the matter was yet to appear before the board.
---

---
A Trio from Mawsley, Planet of the Vapes
Many vapers remain uneasy with the presence of the tobacco industry in the vape market, but British American Tobacco (BAT) remains committed to shifting its business into reduced harm products. Supporting this changing focus, BAT has released a report looking at its progress and ambitions for the future.
According to the press release, The 2018 Harm Reduction Focus Report "highlights BAT's continued commitment to contributing to tobacco harm reduction. It demonstrates how the company has made tremendous progress in its long-held ambition to provide consumers with less risky tobacco and nicotine choices."
One of the reasons vaping is opposed in and around NHS property has been the claim that recharging the devices poses a risk greater than that of recharging any other electrical device. Following recent moves to push for vaping to be accepted across NHS sites, a new estates and facilities alert downgrades the risk to one comparable from recharging a mobile phone.
Estates & Facilities Alert EFA/2018/007 "Fire risk from personal rechargeable electronic devices" was released last week, and should now have been read by those with responsibility for ensuring on-site safety.
Claims coming from Ireland are that the lack of u-18 sales legislation has led to unscrupulous merchants selling vape kit to children. Spain's reluctance to be proactive like the UK has driven smoking rates back up. English health funding continues to drop. Tesco's One-Stop chain is now prominently displaying Imperial Tobacco vaping products. Parts of the United States are treating vaping as though it's worse than heroin and a paediatrician is pushing for a flavour ban in Massachusetts

Rather than science', but e-cigarette debate far from settled
A clampdown on South Australia's vaping industry has drawn fire from advocates who consider it a "perverse" reaction to ideological attitudes that will cost jobs and leave addicts little choice but to revert to smoking.

The state is the frontline of a debate that will continue for some time, as policy makers weigh any benefits for vapers who switch from smoking and the potential to reduce smoking rates, against inadequate knowledge about the risks of e-cigarettes themselves.
FDA Admits Youth-Targeted Ads Discourage Adult Smokers from Vaping
Brent Stafford, Regulator Watch
John R. Polito
Goodfellas star Ray Liotta is featured in a number of Chantix commercials. Pfizer's poster boy for its controversial stop smoking pill, Ray's image currently appears atop the Chantix.com homepage and the site is featuring his video quitting story.

The burning question? Is Pfizer's ad campaign honest and true? Did Ray Liotta actually quit smoking by using Chantix, or are we witnessing the performance of Ray's life?

Ray's many Chantix commercial claims include the following:
---
A look back at how things have moved on or otherwise….
SCPN Blog
We asked SCPN friends and advisors to tell us about a report/paper/findings/work on cancer screening and prevention that has been published this year and has made them stop and think. The works span a wide range of areas from very detailed scientific investigation, reviews of physical activities, and blogs of model work. We find them a complete inspiration. When only 3% of the NCRI research budget is spent on prevention and virtually nil on implementation research; these papers provide a window on some of the very good reasons why cancer screening and prevention should be a leading part of cancer control research.
American Vaping Association
Welcome to the 1st Annual #VapesGiving!™

The American Vaping Association is proud to host the first annual #VapesGiving™. This campaign provides a unique opportunity give thanks and appreciation for the countless hours and hard work that vaping advocates put in to protect our community and industry. We have undertaken this campaign because so many organizations — primarily those defending vaping at the state level — have expressed a need for assistance in fundraising to allow them to continue doing their important work. #VapesGiving™ offers the opportunity not only for you to donate to a spectrum of organizations, but to see your donation doubled thanks to the support of Naked 100 (up to $190,000!).
Earlier this year, Food and Drug Administration Commissioner Scott Gottlieb announced that the FDA would reevaluate and reorient its tobacco policies. Recognizing that the primary health threat from tobacco products comes not from nicotine, but from combustion, Gottlieb noted the role that "less harmful tobacco products" could play in reducing the death toll from cigarettes. He elaborated on the FDA's new approach in an article for the New England Journal of Medicine. Gottlieb's comments were welcome — yet more is needed. Even with recently announced reforms, the FDA's regulation of cigarette alternatives, such as electronic cigarettes, threatens to do more to harm than to help public health. It is likely unconstitutional to boot.
---
Visit Nicotine Science & Policy for more News from around the World

---