Vapers Digest 8th December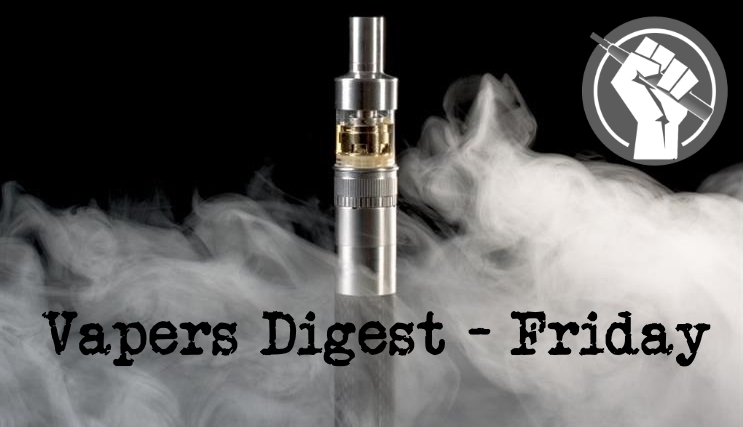 Friday's News at a glance:
Does Australia Punish Those Who Mislead Government? – Glantz sued for racist & sexist abuse – Tobacco Control experts are having a bad week – Challenging Prohibition campaign launches – An aid in smoking cessation, or a new health hazard? – Population-Level Proof – Is Germany finally embracing vaping? – Indoor E-cigarette restrictions increase prenatal smoking – So Many Questions About Glantz – Anti-vaping crusader Glantz accused of sexual harassment – Some Older Smokers Turn to Vaping – What Is The Reasoning Behind 'Tobacco 21'? – Nicotine Science and Policy Daily Digest
Dick Puddlecote
Many will have already seen this, but just in case you haven't, here is Simon Chapman taken to the cleaners by Senator David Leyonhjelm under parliamentary privilege.

The central point the Senator was making is that Chapman was so woeful in his submission to the Australian Senate Inquiry into e-cigs that Public Health England took the unprecedented step of writing and correcting him.
Fergus Mason, Vaping Post
One of vaping's most outspoken and controversial opponents was facing new questions this week – but now it isn't bad science and twisted data Stan Glantz is being grilled for. A former postdoc in his San Francisco department claims she was subjected to two years of harassment by the 71-year-old activist.

Meanwhile an Illinois city is forcing teen vapers into a programme run by an anti-nicotine extremist, while the UK government continues to push for more sensible regulations on the products and an education campaign to counter anti-vaping propaganda.
Kevin Crowley, Vaping Links
With credentials at stake, two of the top ("self-proclaimed") experts in the tobacco control world have had their reputations questioned this week. Both are were highly regarded by each other along with a select group of individuals. Both are under fire.

Both of the accused are presumed innocent until proven guilty, of course, in a court of law.
New Nicotine Alliance
We need your help to make this work.  Please look at our Challenging Prohibition pages, you can find them here.

The What you can do page includes actions you can take to challenge bans, such as writing to your local council, complaining to companies and helping to get positive vaping sign images into internet search results.

We have had some "vaping welcome" window stickers made up and we are selling them on eBay, here. Our Vaping welcome signs page has several sticker designs in various colours. which you can download and print or post on your social media accounts.
---
---

---
An aid in smoking cessation, or a new health hazard?
Dr Farsalinos
The issue of electronic cigarettes is one of the most controversial topics in public health. There is intense debate and dividing opinions about their use patterns, health effects and association with smoking. This is expected since they were only recently introduced to the market and they refer to a harm-reduction approach and strategy that is not universally accepted for smoking and tobacco use in the public health community. Three main factors determine the public health impact of electronic cigarettes
E-Cigarettes Are Popular & Successful Quit-Smoking Aids
Brad Rodu, Tobacco Truth
Tobacco harm reduction opponents have belittled reported use of e-cigarettes as smoking cessation aids, dismissing case studies as mere "anecdotes" (here) and claiming a lack of population evidence to support a quit-smoking claim.

Now that evidence exists.
---
---
Chad Taylor, EU Policies
In the United Kingdom, vaping is on the frontline in the battle against smoking. Electronic cigarettes are now a common sight, with Action on Smoking and Health finding earlier this year that some 2.9m Britons now vape.

But despite this apparent miracle weapon in the war on tobacco – the Royal College of Physicians and Public Health England have concluded that electronic cigarettes represent just five per cent of the cancer risk of conventional cigarettes – Britain has stood alone in embracing them as a viable alternative to smoking.
Jennifer French Giarratano, Medical Xpress
Laws that prohibit the use of e-cigarettes in private workplaces, bars and restaurants may increase cigarette use by as much as 30 percent for pregnant women, according to research published in the Journal of Health Economics by Georgia State University economist Michael Pesko.
---

---
Dick Puddlecote
So …

Following swiftly on from Chapman being excoriated in the Aussie parliament, let's talk about Mad Stan the aircraft mechanic. Because he's in a bit of a pickle, it seems.

A former UC San Francisco doctoral researcher Wednesday filed a lawsuit alleging sexual harassment by a prominent tobacco control activist and tenured UCSF professor Stanton Glantz that spanned nearly two years.
Jim McDonald, Vaping 360
Vaping's public enemy number one is facing an uncertain future — due to an all-too-familiar issue. Prof. Stanton Glantz has been accused of sexual harassment by a postdoctoral researcher who Glantz supervised at the University of California-San Francisco.

Eunice Neeley has filed a lawsuit against the University of California Board of Regents alleging that the university created a hostile work environment by allowing harassment based on sex, according to a story in the Daily Californian.

Carl V. Phillips, Daily Vaper
American tobacco control's latest political campaign is to push lawmakers to ban sales of vapor products, cigarettes and other tobacco products to adults under 21. The push is focused on towns and cities, as was previously reported in this series, where lawmakers with little access to policy analysis expertise can be more easily cajoled, tricked or bribed. But the ultimate goal is the states or a national ban.
Should be based on science, not misconceptions
Joel Nitzkin
Despite hype to the contrary, science has nothing to do with tobacco-control policy. The goal of a "tobacco-free-society" that condemns all use of non-pharmaceutical nicotine products regardless of addictiveness or risk, considers the "tobacco industry" to be the enemy, and labels smoking a disease, is based on long-standing perceptions and beliefs within the tobacco-control community.
Paula Span,  New York Times
Jeannie Cox currently enjoys a flavor called Coffee & Cream when she vapes. She's also fond of White Lotus, which tastes "kind of fruity."

She buys those nicotine-containing liquids, along with her other e-cigarette supplies, at Mountain Oak Vapors in Chattanooga, Tenn., where she lives. A retired secretary in her 70s, she's often the oldest customer in the shop.
With a public servant using cherry-picked information
"Specific to e-cigarettes, there are definitely two equally valid perspectives. On one side, supporters of e-cigarettes believe them to be a clean nicotine delivery system that helps smokers quit, or at least, avoid the harms of tobacco.
---
A look back at how things have moved on or otherwise….
Sarah Jakes, New Nicotine Alliance
Yesterday I spoke at the first meeting of the All Party Parliamentary Group on E-Cigarettes that has been held since trade body UKVIA took over the secretariat. The meeting was in two parts, the first part being an overview of the public health challenges and the second being "industry views" – I found myself rather incongruously in the second part.
Mawsley, Planet of the Vapes
Shrouded to contrary opinion, science or pleas from those they claim to be helping, public health officials and anti-vape campaigners are stepping up their efforts to crush electronic cigarettes. With distorted research and outright lies, they push legislators to continue the process of law making in order to make the final step of banning easy.
Fergus Mason, Vapers in Power
…I'm a man of wealth and taste.

All right, most of you know me too well to believe that, but never mind. What I am is a dedicated vaper who wants to see the technology made as widely available as possible. I firmly believe that vaping saved my own life – it's the only thing that could have stopped me smoking after a heart attack nearly killed me at the age of 42…
---
Visit Nicotine Science & Policy for more News from around the World

---