In the News December 8th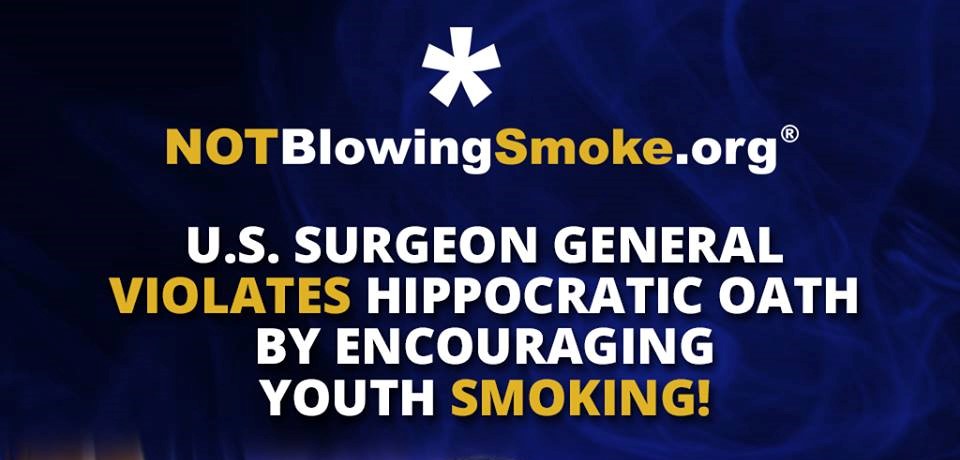 Thursdays News at a glance:
NNA at the APPG on E-Cigarettes – Vaping at the Crossroads – Undermining Tobacco Control – Please allow me to introduce myself… – US Surgeon General: World's Most Dangerous Man? – Bad science, poor insights and likely to do harm – Surgeon General's Report on E-Cigarettes is Scientifically Dishonest – Lies, damn lies, and statistics -E-cigarettes help smokers quit, so why crack down on them? – Smoking, alcohol sales restricted – Can China's Smoking Ban Stick? – Snuff Out Deadly Tobacco Rules – E Liquid Market Analysis – Nicotine Science and Policy Daily Digest – Thursday, 8 December 2016
Sarah Jakes, New Nicotine Alliance
Yesterday I spoke at the first meeting of the All Party Parliamentary Group on E-Cigarettes that has been held since trade body UKVIA took over the secretariat. The meeting was in two parts, the first part being an overview of the public health challenges and the second being "industry views" – I found myself rather incongruously in the second part.
Mawsley, Planet of the Vapes
Shrouded to contrary opinion, science or pleas from those they claim to be helping, public health officials and anti-vape campaigners are stepping up their efforts to crush electronic cigarettes. With distorted research and outright lies, they push legislators to continue the process of law making in order to make the final step of banning easy.
---
---
Fergus Mason, Vapers in Power
…I'm a man of wealth and taste.

All right, most of you know me too well to believe that, but never mind. What I am is a dedicated vaper who wants to see the technology made as widely available as possible. I firmly believe that vaping saved my own life – it's the only thing that could have stopped me smoking after a heart attack nearly killed me at the age of 42…
Bolton Smokers Club
Anyone who has been watching the 'goings on' about alcohol control cannot but be impressed by the sheer effrontery of the the anti-alcohol Zealots. Even the tiniest deviation from 'perfect heath' is highlighted as though it was disaster. 'Studies have shown ….'
---

---
And likely to do harm – Clive Bates, The Counterfactual
The Surgeon General's report on e-cigarettes is out. E-Cigarette Use Among Youth and Young Adults: A Report of the Surgeon General. It is truly terrible – a heady mix of emotive propaganda and a completely warped and one-sided account of the science built on a lack of insight into youth behaviors and no knowledge of the tobacco and nicotine market and its consumers.
Paul Barnes, Facts Do Matter
Having only had a few hours notice that the US Surgeon General would be releasing his "first" report on the subject of e-cigarettes, it should come as no surprise how quickly the news has spread that "e-cigs are bad mmmkay". Clive Bates eloquently put together three separate posts, two before the report and one after. Each delving deep into the minutiae of the US position on e-cigarettes.
Is Scientifically Dishonest – The Rest of the Story
Essentially, the entire premise of the report is a lie. The report repeatedly informs the public that vaping is a "form of tobacco use" and that electronic cigarettes are a "form of tobacco." This repeated statement could not be further from the truth. Vaping is not a form of tobacco use. Electronic cigarettes are not a form of tobacco. The truth is that electronic cigarettes do not contain tobacco. A person who vapes (but does not smoke) is not a user of tobacco. Such a person is not using any form of tobacco. A nonsmoking vaper is in fact "smoke-free" and "tobacco-free."
Jim McDonald, Vaping360
The U.S. Surgeon General today issued a report on e-cigarettes and youth that focuses entirely on potential risks of teen and young adult use, and ignores the massive benefits to public health that would come from encouraging adult smokers to adopt vaping. The release was accompanied by a press conference that opened with an introduction by a 16-year-old ex-vaper….
Greg Conley
"This is just another politically-motivated attack on an industry that is helping people quit smoking. Discussion of the risks and benefits of vapor products should center on the science, not moralizing platitudes. The Surgeon General has failed the American people by releasing such a biased report…"
See also:
---
---
Dr. Christopher Russell
Of the many issues addressed by the U.S. Surgeon General in his report on "E-Cigarettes and Young People", published today, I find the following paragraph characterises an attitude that is, for whatever reason, negligent of the work conducted by so many scientists in the UK, Europe and the United States on the potential for e-cigarettes to reduce substantially more harm than they cause.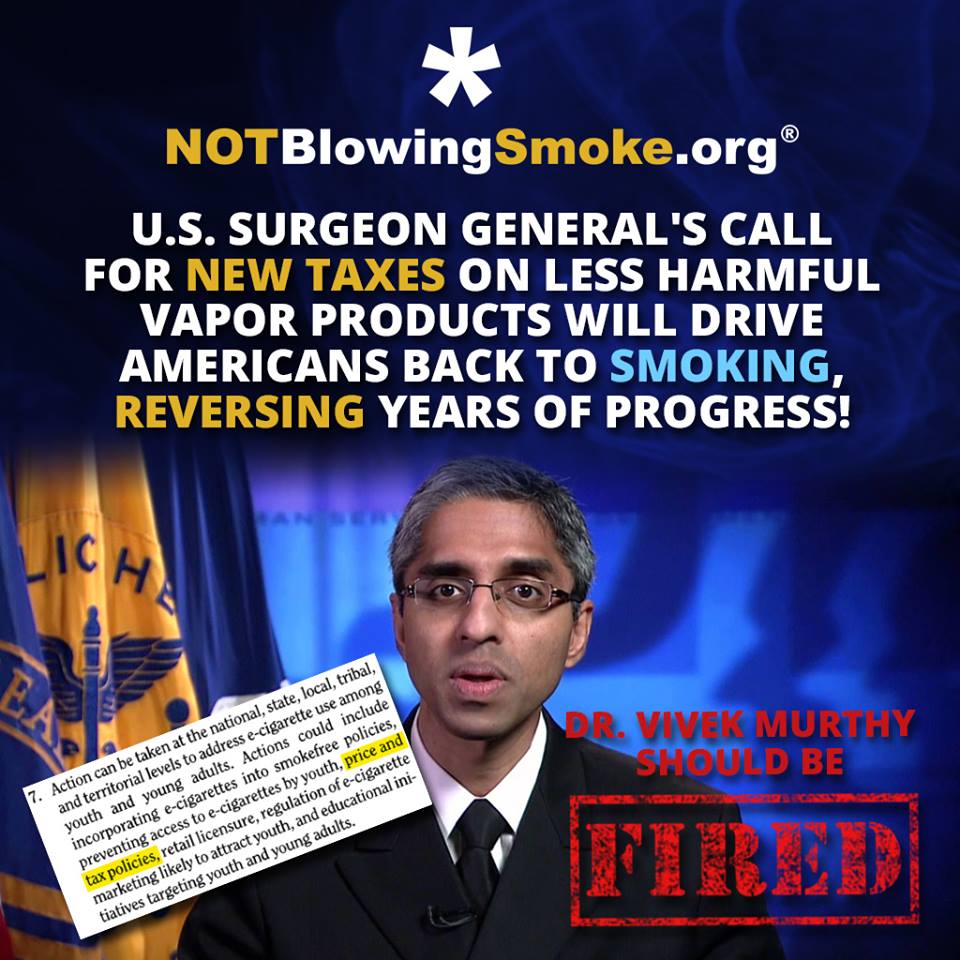 So why crack down on them? – David Bahr
When it comes to battling teen pregnancy, our nation's health officials have for two decades put aside moralism and focused on "harm reduction." For example, instead of continuing a failed $1 billion policy to promote abstinence, the Department of Health and Human Services shifted focus to promote "safe sex"—and teen pregnancy rates fell to record lows.
Steven Greenhut and David Bahr
Last month, Republican U.S. House leaders sent a pointed letter to federal agency heads warning them against finalizing "midnight regulations" — last-minute rules approved during a lame-duck session, without full oversight and hearings. Hastily approved regulations, they wrote, could have "unintended consequences" that "will harm consumers and businesses."
Susan Schulman – The Buffalo News
Buffalo's new Green Code will do more than restrict where houses can be built and how tall buildings may stand. It also will restrict where beer and cigarettes can be sold and where hookah bars and vaping lounges can locate.

Existing businesses are grandfathered and can continue operating, but any new businesses after the Green Code is enacted would be governed by the new rules.
---

---
C. Everett Koop
To date, most of the tobacco control efforts of this administration have focused on preventing young people from taking up smoking. Everyone can agree that teenagers and younger children should not smoke. Even the tobacco industry can safely join in that refrain, and frequently does, with characteristic and clamorous hypocrisy as it turns its marketing machines loose on the young. But at exactly what age does the plight of American smokers lose its poignancy?
Grace Guo – The Diplomat
In announcing its plans to roll out a public smoking ban across the country by the end of this year, China's National Health and Family Planning Commission is taking on a Herculean task. Considering that China has one of the world's most deeply ingrained and stubborn smoking cultures, getting 1.3 billion people to quit lighting up in public is going to take massive social and economic changes.
Stratistics Market Research Consulting Pvt Ltd
According to Stratistics MRC, E liquid Market is expected to grow from $XX billion in 2015 to $XX billion by 2022 with a CAGR of XX%. E liquid market is being driven on multiple promising factors such as slighter harmful ingredients compared to traditional cigarettes, cost-effectiveness, product customizations and presence of established brands. However, compatibility issues and tentative regulatory framework are the factors restraining the market growth.
---
A look back at how things have moved on or otherwise…
Just Another Ordinary Morning
The Welsh Health Minister, Mark Drakeford, isn't above deception. We can see this from his deliberate misleading of the Senedd earlier today during the debate on the Welsh Public Health bill.

Drakeford claimed, during his opening remarks, to have relaxed restrictions on the use of e-cigarettes in public places contained in the bill. He claimed that he had decided to do this as he had come to realise there was significant opposition to these measures, and so this was a compromise in order to ensure that his other measures, such as restrictions on tongue piercing and the construction of new public toilets, got the go ahead….
Vaped Crusader
So, we all know SMOKING is evil, yeah. For me I've known smoking was evil, way back to the 1980's when there were those superman posters with him battling "Nick O' Teen" – an 80 a day or so smoker, quite possibly Irish with that surname who, for some reason, wanted to get everyone smoking….
But exaggerates risks and fails to discuss about smoking –
Dr Farsalinos
As you all know, I have a strong opinion against the use of diacetyl and acetyl propionyl in e-liquids. In the study we published last year, we made this clear and we analyzed the potential risk from the use of these compounds at high levels (basically, when used as ingredients, or are present as contaminants but at high levels). We emphasized the fact that none should deliberately add these compounds in e-liquids and tests should be conducted to detect potential sources of contamination…
---
Visit Nicotine Science & Policy for more News from around the World

---