Vapers Digest December 5th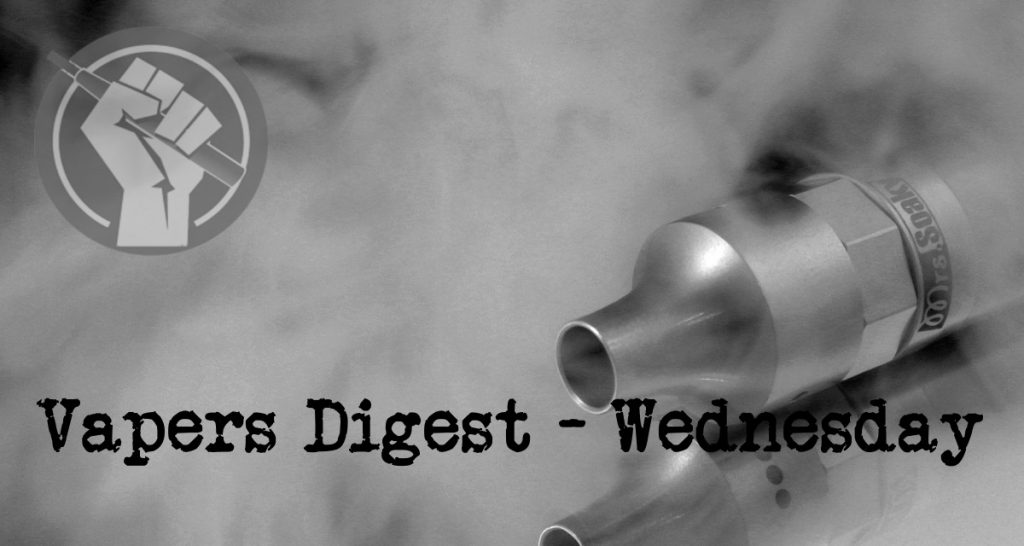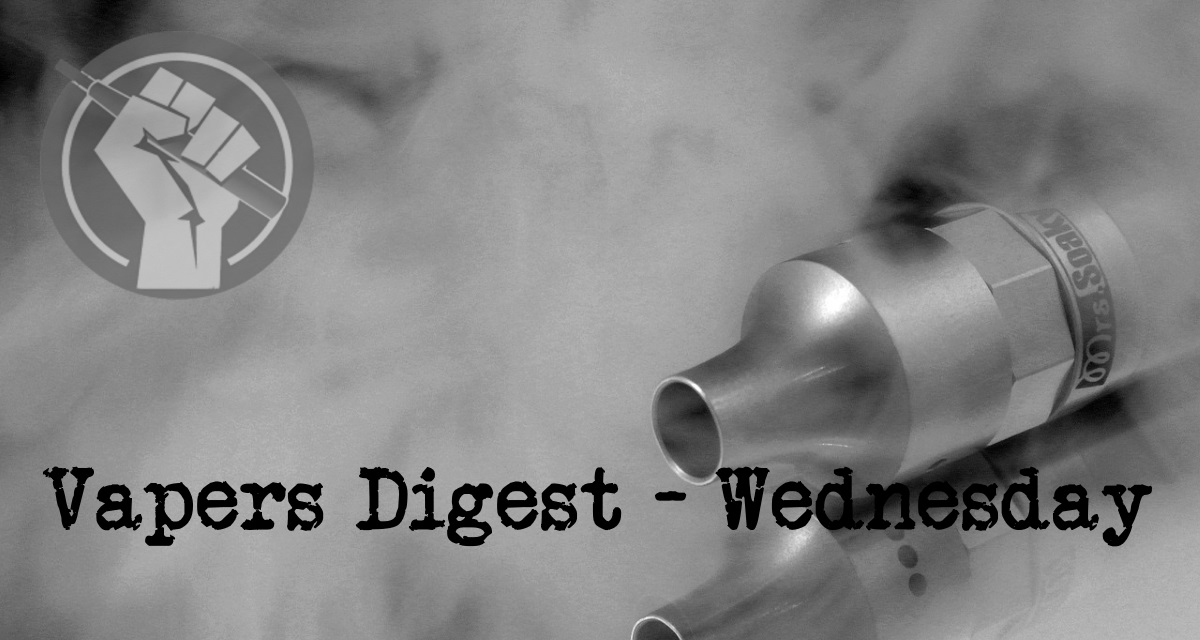 Wednesday's News at a glance:
Why We Should Drop The Term "E-Cigarettes" ~ Vaping Prevents Relapse ~ Trust of Information about Tobacco and E-Cigarettes ~ USA – Consumer Survey 2018 ~ Finally Some Good News for Italian Vapers ~ Canadian Tobacco, Alcohol and Drugs Survey (CTADS) ~ Pusillanimous BMJ ~ Smokers Who Switch to Vaping Less Likely to Relapse ~ Windsor council passes updated smoking bylaw extending ban to sidewalks, streets ~Stop smoking ~ Glantz Debunked ~ FDA Delay Costs the Lives of Smokers
Diane Caruana, Vaping Post
An article on New Nicotine Alliance Australia (NNA AU), said that during a meeting with a number of well respected Tobacco Harm Reduction advocates, one of the topics brought up was the use of the word e-cigarette. This is the term most commonly used to describe a device that has helped millions successfully quit actual cigarettes worldwide.

Countless studies have indicated that these products are significantly safer than actual cigarettes, and yet a large portion of the public remains confused and misinformed about their relative safety.
Mawsley, Planet Of The Vapes
"Vaping as an alternative to smoking relapse following brief lapse" is a paper written by Caitlin Notley, Emma Ward, Lynne Dawkins, Richard Holland, and the New Nicotine Alliance's Sarah Jakes. The team argue that vaping helps prevent a brief lapse into smoking from becoming a full relapse. Clive Bates calls this study "cool" and a "must-read".
from Health Professionals versus Tobacco or Electronic Cigarette Companies: Differences by Subgroups and Implications for Tobacco Messaging.
Vereen RN, Pubmed
Smoking behavior may be influenced by perceived trust of information from tobacco and e-cigarette companies about their products. The purpose of this study was to identify sociodemographic subgroups with more trust in tobacco product (tobacco and e-cigarette) companies than health professionals and explore associations between this relative trust and tobacco product use.
---

---
EcigIntelligence
This survey has been produced by ECigIntelligence, an independent information service focused on tracking regulatory change and market intelligence for the e-cigarette sector.

The purpose of this survey is to study how and why people use electronic cigarettes and to understand their journey in usage over time. The survey is done in conjunction with CASAA and the results will be used to ensure that stakeholders and policymakers have a clearer understanding of the current behaviour of vapers. The survey is completely anonymous and should take no more than 10 minutes to complete.
---
Not sure how Australia does it, but in the United States all funding granted by the joint NIH/@FDATobacco program comes from tobacco company user fees. In other words, cigarette sales fund the research Marita's American friends do.

Tobacco control depends on cigarettes. https://t.co/3ogdDdGAV9

— Jim McDonald (@whycherrywhy) December 5, 2018
---
Jim McDonald, Vaping 360
After four years of being crippled by a bizarre and unfair tax on e-liquid, the Italian vaping industry can finally begin to rebuild itself and once again help the country's smokers find safer alternatives at reasonable prices.

Two parties — League and the Five Star Movement — were able to push through an amendment to drastically reduce the crushing vape tax in a Nov. 26 Senate Finance Committee vote, according to Sigmagazine.
---

---
(summary of results for 2017)
Government Of Canada
The Canadian Tobacco, Alcohol and Drugs Survey (CTADS) is a biennial general population survey of tobacco, alcohol and drug use among Canadians aged 15 years and older. CTADS is conducted by Statistics Canada on behalf of Health Canada.

Understanding Canadian trends in tobacco, alcohol and drug use is vital to the effective development, implementation and evaluation of national and provincial strategies, policies and programs.

The following summary presents findings based on the third biennial CTADS data collection, which commenced in February 2017 and ended in December 2017.

Mawsley, Planet Of The Vapes
A soon to be published leading article in the BMJ has accused Public Health England of being "pusillanimous" in its approach to vaping. The trio of authors state that they are not experts in the area – which poses the question 'how did they find just the list of negative studies?' The finger of suspicion points towards a certain anti-vape zealot.
Diane Caruana, Vaping Post
The study titled "Vaping as an alternative to smoking relapse following brief lapse," was published in the journal Drug and Alcohol Review, and indicated that vaping not only promotes smoking cessation, but also long-term relapse prevention.

"E-cigarettes are the most popular aid to quitting smoking in the UK. Our previous research has shown that e-cigarettes are really important for helping people stay smoke free—by substituting the physical, psychological and social aspects of smoking. We wanted to know what happens when people who have switched to vaping, lapse back into smoking,"
, Kings County News
Windsor council has approved amending its smoking bylaw, expanding non-smoking areas to encompass essentially all public spaces in town – including sidewalks and streets. All members of council passed the amendment unanimously following a public hearing on Nov. 27.
---

---
Jordan Times
The Ministry of Awqaf and Islamic Affairs' Iftaa Department in Jordan has  issued a timely fatwa (religious edict) on Wednesday, declaring that smoking electronic cigarettes and argileh (water pipe)  is just as bad as smoking traditional tobacco products and is therefore prohibited by Sharia. The fatwa in question mentioned that both habits cause serious damage to one's health and are economically wasteful. The fact that the Iftaa Department has targeted smoking habits in the country, in all its forms, is most encouraging and commendable.
Mawsley, Planet Of The Vapes
Stanton Glantz has fingers in many pies and (going by a picture in the article below) likes to have his cake and eat it too. Quick to attach his name to studies attacking vaping, Glantz claimed a cross-sectional study revealed an association between vaping and myocardial infarctions (heart attacks).
Smoking tech that helps users quit delayed by FDA bureaucrats

For companies trying to bring potential life-saving products to the market, the least they can ask for is a responsive, timely bureaucracy.  Unfortunately, approving reduced harm technologies in a prompt manner seems to be beyond the ability of American regulatory agencies, with product evaluations often blowing past statutory deadlines and reasonable expectations of timeliness. Case in point: the Food and Drug Administration's (FDA) tedious review of the pre-market tobacco product (PMTA) and modified risk tobacco product (MRTP) authorizations for IQOS, a heat-not-burn product that provides the sensation of smoking without many of the health pitfalls.
---
---
Visit Nicotine Science & Policy for more News from around the World

---