Vapers Digest December 3rd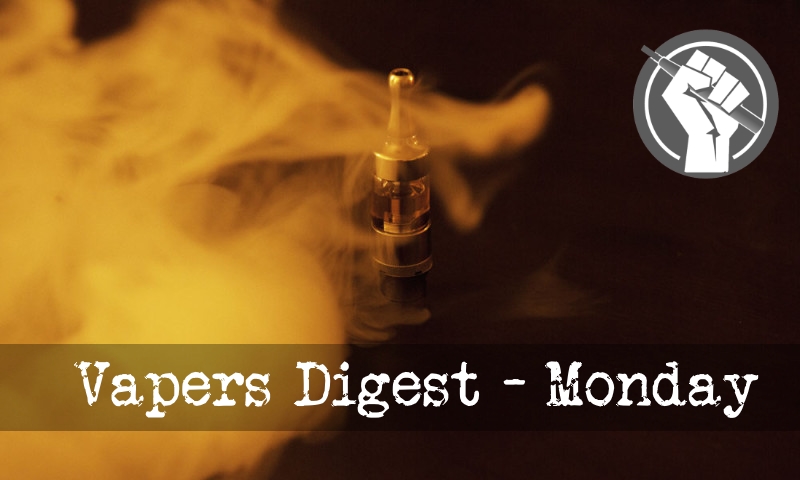 Monday's News at a glance:
NNA Newsletter Nov 2018 – Politicians Want Cali Flavour Ban – Store Owners Go To Court – #Snus – #ECJ, politically charged, opposes harm-reduction – Australia falls further behind – Don't believe everything you hear in the media! – What's so special about the Juul? – Youth smoking plummeted with advent of vaping – Vaping In The News December 1st – Nicotine Science and Policy Daily Digest
New Nicotine Alliance
Christmas is coming, and the goose is getting fat! But the NNA's coffers aren't so please note two ways of donating via online sources at the foot of this newsletter. Plenty has been going on in risk reduction policy this month so here's a round-up of what the NNA has been up to in November.

The highlight of the month was undoubtedly a new report from the All-Party Parliamentary Group on Vaping calling for better workplace policies. The document made five policy recommendations, all of them positive towards vaping….
Mawsley, Planet of the Vapes
Politicians in California are cloaking themselves in the outpourings from the Centres for Disease Control and the Food and Drug Administration to push for a total ban on eliquid flavours in California. The six legislators behind the move are proposing to implement stricter online selling regulations and end vaping in the name of protecting the children.
"Study after study shows flavoured tobacco products turn youths into users," says the shameless sextet, who all consider vaping to be tobacco product use.
---

---
Mawsley, Planet of the Vapes
Ron and Deanna Marshal's business has been under threat from narrow-minded action restricting how they trade. The tenacious owners of Freedom Vapes have progressed from their original Freedom of Information (FOI) requests and threats of taking the matter further – and have filed a lawsuit against the Gallatin City County Board of Health.
The hard-working entrepreneurs uncovered a wealth of information when they submitted an FOI request. After ploughing through the material they realised they had enough to mount a legal challenge against the legislation requiring their customers to stand outside their vape stores is they wanted to use their devices.
---
Greg, I have, and will continue to engage with anyone who wants to both protect kids and reduce harm to current smokers. There IS middle ground.

— Jerome Adams (@JeromeAdamsMD) December 2, 2018
In context, David … safe in relation to cigarettes and they could have if smokers had switched to them – a projection not a claim about facts. And I can only repeat: discussion about projections should be based on careful review of evidence. https://t.co/5wI18vAGe8

— Robert West (@robertjwest) December 3, 2018
---
EU Reporter
In January last year, the New Nicotine Alliance (NNA) appealed against the 1992 EU-ban on the smokeless tobacco snus. Snus is powdered tobacco, often sold in pre-packed bags of the size of an index finger, which the users place on the upper lip. It is sometimes confused with snuffed tobacco, which is legal. Snus does have associated health risks, and can also lead to nicotine addiction, yet it reduces the risk of pulmonary diseases. The product is particularly popular in Scandinavian countries.
---

---
Colin Mendelsohn – ATHRA
Smoking rates continue to stagnate or increase in Australia, while falling faster than ever in many other countries. This was confirmed in the recent release of the official Queensland smoking rates by the Chief Health Officer. The smoking rate in Queensland has not changed over the past two years. One in six Queensland adults, or 15.8% per cent of the population still smoke.
Colin Mendelsohn – ATHRA
Maurice Swanson, CEO of the Australian Council on Smoking and Health (ACOSH) was interviewed today on radio 6PR about vaping, following an interview with Associate Professor Colin Mendelsohn, whom he repeatedly called 'Mr Mendelsohn'. ATHRA 'fact-checked' some of the statements made by Mr Swanson. We found that many statements were misleading and did not accurately reflect the best available evidence.

Shrey Dua
It's hard to overstate the transformative effect the Juul has had on modern culture. People all over the country have become smitten with the e-cigarette and it's easy to see why — Juuls are cool. They're sleek, they fit in your pocket and they come in a variety of appealing flavors. But that really doesn't tell the whole story — Juuls are a staple of younger society, the University included. Whether it's at bars, house parties, libraries or even in large lecture halls, it's not uncommon to see one or more people "Juuling."
With advent of vaping – Paul Mirengoff
I've written several posts about e-cigarettes — i.e., vaping. I consider them the most effective response to the enormous public health problem posed by cigarette smoking — the leading cause of preventable death in this country. Vaping offers a relatively healthy alternative for smokers who want to be done with cigarettes (as a great many smokers desire, but haven't been able to accomplish). They deliver the nicotine that attracts people to cigarettes (and addicts them), but not the tar and other carcinogens that kill them.
Kevin Crowley, Vaping Links
More heat than light ~ Pace of US smoking rate decline mirrors rapid rise in popularity of vaping ~ Caught red-handed ~ Let them eat cake ~ Honor Among Thieves ~ Bozeman shop challenges Gallatin County ~ Altria is reportedly in talks to take a minority stake in Juul ~ Tobacco products promoted on Facebook despite policies ~ When money talks, the truth walks ~ Vaping and the Mic
---
A look back at how things have moved on or otherwise….
But Indonesia tells vapers to smoke
Fergus Mason, Vaping Post
A prominent New Zealand public health expert has urged faster and more ambitions progress towards vaping as a harm reduction option, while Britain's doctors' union – an ugly exception to the country's positive approach to vaping – now seems to be taking a more positive tone. However, Indonesia's government stunned health campaigners last week by openly telling vapers to go back to cigarettes – and California activist Stanton Glantz tried to match that with some fresh madness of his own.
Dick Puddlecote
Longer term readers here will remember the fiasco of the plain packs campaign in the UK. The often fraudulent abuses of process, democracy and common decency were quite shocking and this article would turn into a mini-book if they were all listed here. But here is a reminder of a few highlights:

Attempting to rig the consultation; producing literature containing bald-faced lies to MPs; enthusiastically encouraging corrupt multiple signatures; and attempting to influence government to exclude any consultation responses they disagreed with and then trying to hide the evidence….
---
Visit Nicotine Science & Policy for more News from around the World

---