Vapers Digest November 30th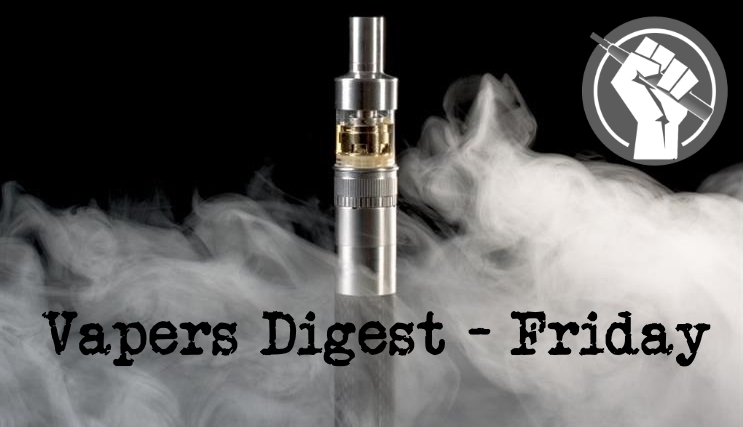 Friday's News at a glance:
Vaping as an alternative to smoking – How GPs can help smokers quit – GFN 2019 Programme and abstract submission – Italy Celebrates Huge Reductions in Excise Tax – Altria eyes JUUL purchase as FDA keeps attacking vapers – Vaporized ranked top Scots firm – Vapers Required – Vaping Dicussed in Parliament – RANZCP Announces Support For Vaping – Statewide Flavor Ban – Is Big Tobacco About to Buy a Piece of JUUL? – NZ progresses towards legalisation – The UK's Worst Overseas Blunder – Taxing e-cigarettes – Why Restrictions Won't Help – No ifs or butts – Nicotine Science and Policy Daily Digest
To smoking relapse following brief lapse
Caitlin Notley, Emma Ward, Lynne Dawkins, Richard Holland, Sarah Jakes
E‐cigarettes are the most popular aid to quitting smoking in the UK. There is support for vaping as a harm reduction approach and an alternative to tobacco smoking from UK Medical and Public Health bodies. Although many smokers manage to quit, evidence (primarily predating the widespread use of e‐cigarettes) suggests that many successful quitters relapse over time. Most vapers use e‐cigarettes for smoking cessation or reduction, but we still have little understanding of how vapers use e‐cigarettes to avoid long‐term smoking relapse.
Martin Dockrell
Smoking rates are falling yet it is still too prevalent, with over 6m adults still smoking tobacco across the country. GPs will be well aware that helping more people quit tobacco is one of the single biggest things we can do to improve the nation's health and this has been echoed by the secretary of state in his prevention vision.

As a likely first point of contact for patients who smoke, GPs play a crucial role in identifying smokers and signposting expert support. The RCGP has guidance to help doctors feel confident in discussing smoking and this has recently been updated to include the very latest information on different types of quitting aids including e-cigarettes.
And abstract submission
The theme for GFN 2019 is 'It's time to talk about nicotine'. The conference has two main tracks: Science and Policy, Advocacy and Practice.

The programme includes plenary sessions, symposia, panel discussions, poster presentations, and satellite sessions.

See the outline programme here.
---

---
In Excise Tax on E-Liquids – Diane Caruana
With votes by Italy's League and Five Stars (Coalition), the consumption tax on e-liquids is reduced by a significant 90% on non-nicotine-containing liquids, and 80% on the nicotine containing types.

With these votes, the amendment to the tax decree that reformulates the consumption tax on refill liquids for e-cigarettes, has passed into the Senate Finance Committee. The amounts equate to 4cents per ml of liquid without nicotine and 8cents on nicotine-containing types. This will be a significant reduction from the previous tax which equated to approximately 40 cents per ml on both kinds of liquids
As FDA keeps attacking vapers – Fergus Mason
Cigarette company Altria is considering buying a controlling stake in JUUL Labs, it was revealed this week. The move, believed to be sparked by the FDA's attacks on vaping, would give Altria a significant stake in the vaping industry for the first time. Meanwhile US senators have condemned the FDA's approach. Australian psychiatrists have also broken ranks, calling for the country to end its ban on nicotine e-liquids.
BBC Scotland
Edinburgh-based Vaporized was 24th in the Sunday Times Virgin Atlantic Top 100, which ranks UK companies by sales growth.

It achieved average annual growth of 97% over the last three years, reaching sales of £22.7m last year.

Vaporized was established in 2012 with a single store in Leith and now has more than 110 stores throughout the UK.
---
---
Mawsley, Planet of the Vapes
Can you help? Vapers and dual-users (people who smoke and vape) are required by researchers at Queen Mary University of London and the University of Leicester. One requires the completion of an online survey while the other needs participants to be prepared to take telephone interviews.

Dr. Charlotte Smith and Professor Jason Hughes are two sociologists at the University of Leicester who have been funded by The Tobacco Advisory Group at Cancer Research UK. Their project looks at how organisations are managing vaping in workplaces and how employees engage in the practice at work.
Dr. Charlotte Smith
This is a survey about vaping and e-cigarette use in organisations and workplaces. An electronic cigarette or e-cigarette is a handheld electronic device that creates a vapour by heating a liquid. The user then inhales the vapour. The devices are sometimes called vapes. Using e-cigarettes is sometimes called vaping.
Mawsley, Planet of the Vapes
Jim Shannon continues to be a prolific submitter of questions to the government on all matters vaping and tobacco harm reduction. Recently, the government has been asked about nic shots, shortfills, vaping helping in mental health settings, vaping's efficacy, and the future role for snus.
Andrew Rosindell, Conservative MP for Romford, asked the Minister for the Cabinet Office what contribution the vaping industry has made to the economy. Chloe Smith was unable to provide a figure but has referred the matter to the UK Statistics Authority and asked them to deliver the figures.
Mawsley, Planet of the Vapes
The Royal Australian and New Zealand College of Psychiatrists (RANZCP) has issued a new position statement on the use of vaping as a tobacco harm reduction tool. The organisation adds to the pressure on the Australian government to act responsibly and end the ludicrous vape-related bans being implement across the nation.
RANZCP's statement is issued in support of "the legalisation and regulation of nicotine-containing e-cigarettes and other vaporised nicotine products." It contains the following key messages:
---

---
Jim McDonald, Vaping 360
When San Francisco voters upheld that city's ban on flavored vapor and tobacco products in June, supporters of the new law predicted it would spark a prohibition trend, and they were right. More than two dozen California municipalities have enacted some sort of flavored tobacco ban, and now the bandwagon is getting full and rolling downhill fast.
Jim McDonald, Vaping 360
Altria may be planning to acquire "a significant minority stake" in JUUL Labs, according to the Wall Street Journal. But the Journal adds that "no deal is imminent," quoting unnamed sources.

JUUL's sales for the 52 weeks ending Nov. 17 were $1.8 billion, according to Wells Fargo tobacco analyst Bonnie Herzog. Herzog's report says that JUUL controls about 76 percent of the Nielsen-tracked convenience store/gas station vaping market.
Legalise Vaping in Australia
Last week, the New Zealand Government announced that it would appropriately regulate the vaping market. They did this because they realise that vapes and e-cigarettes, are a less harmful alternative to cigarettes while being a credible quit-smoking aid. Why? because unlike traditional cigarette, these products do not burn tobacco and create smoke. They are smoke-free.

In fact, New Zealand's Associate Minister of Health, Jenny Salesa, said: "We are supporting New Zealanders to be healthier by helping smokers switch to safer products, and at the same time protecting people who don't smoke, especially young people."

Guido Fawkes
This has nothing to do with Oxfam. Indeed DFID is also innocent in this. No – this scandal is brought to you by the Department of Health which is the dominant funder of the world's most counterproductive anti-smoking policy.

Five years ago DH was forced by the EU to allow vaping in the UK. However the department's true instincts are being unleashed on the rest of the world through its funding of the World Health Organization.
Eric Fruits
To fill an anticipated $876 million budget hole in the 2019-21 biennium, the Oregon Health Authority is pursuing a $300 million increase in taxes on tobacco products, including e-cigarettes and other vapor products. The agency has not provided any indication what an e-cigarette tax would look like, which invites the question whether e-cigarettes and other vapor products should be taxed at all and, if so, at what rate?
Ullekh NP
IN THE MOVIE Tourist, Johnny Depp, who plays Frank Tupelo, an American in Venice who lands in mysterious circumstances after meeting a fascinating woman (Angelina Jolie), puffs on a vaporised cigarette, also called electronic or non-combustible cigarette, that is said to be 95 per cent less harmful than its burning counterpart.
Tiffany Kirkwood
A man in his early 40s sits in the driver's seat of a small truck. He holds a short cigarette in his right hand, gesturing with it as he speaks to his passenger. The man pauses to take another puff from the cigarette before tossing it out his window. The light changes and the truck drives away. The man will probably never think about that cigarette again. But that is not the end of this cigarette's life.
As more dangerous than heroin
Under threat of federal intervention, manufacturer Juul vowed to stop selling most flavors for e-cigs. It will end social-media advertisements of the product, too. FDA and public health officials argued it leads to higher numbers of teens using the product.
New trend created by Kentucky jailer
Tobacco products are banned in Kentucky jails, and some jail officials find this makes their jobs more difficult, WYMT reports.

Laurel County Jailer Jamie Mosley came up with an innovative solution. He invented the Crossbar – an e-cigarette designed to be safe for inmates. HBO's VICE News interviewed Mosley about his creation.

"I was just trying to solve a problem within my own facility," said Mosley.
---
A look back at how things have moved on or otherwise….
New Nicotine Alliance
We are pleased to note the ambition of the Mayor of London's Health Inequalities Strategy. The intention to help Londoner's make healthier choices including those from the most disadvantaged groups is one we particularly applaud. This is an area where we believe the Mayor can and should play an important leadership role in terms of reducing ill health and premature death by endorsing evidence based approaches to support smoking cessation….
Dr Colin Mendelsohn
The British Medical Association released a new and supportive position statement today on e-cigarettes. The BMA was very cautious previously, but has now changed its position to reflect the growing evidence.

The report, E-cigarettes: Balancing risks and opportunities, concludes

'There are clear potential benefits to their use in reducing the substantial harms associated with smoking, and a growing consensus that they are significantly less harmful than tobacco use'.

'With appropriate regulation, e-cigarettes have the potential to make an important contribution towards the BMA's ambition to achieve a tobacco-free society, leading to substantially reduced mortality from tobacco-related disease
Read the full report here (PDF)
---
Visit Nicotine Science & Policy for more News from around the World

---